Andy Warhol, Ukrainian Icon
Standfirst
The new Warhol show at the Whitney Museum in New York is gigantic and exciting. But for more on the artist as a young man, the show you want to see is across town.


Body
Andy Warhol (1928–1987), Ethel Scull 36 Times, 1963. [See notes: 1]
"Everybody has their own America, and then they have the pieces of a fantasy America that they think is out there but they can't see. … And you live in your dream America that you've custom made from art and schmaltz and emotions just as much as you live in your real one."
This statement may be more valid today than when Andy Warhol spoke it in 1985, and just how contemporary he still is remains a major takeaway from the show at the Whitney in New York. This is a magnificent retrospective of 350 works from 100 lenders sprawled over most of three floors, and offsite. And the exhibition's catalog, From A to B and Back Again (a Warhol quote), is a gold-covered 400-page coffee table book with 12 essays by major critics. For those wanting to get an up-to-date and comprehensive survey of the artist and his career, this six-pound tome is the one to have.
But for insight on how his 'fantasy America' was formed, the Ukrainian Museum in the old Ukrainian district of New York is where you can learn how his Slavic heritage shaped his dreams. Warhol's parents immigrated from a town that has been part of Poland, Ukraine and now Slovakia.
First though, let's look at the Whitney show and what it says about his relevance today.
Other artists were influenced for different reasons: use of color and silk screen; use of iconography so anyone can relate to the work; presenting strong women situated within their times. 
One of the catalog's writers, Lynne Tillman, suggests one reason: "Warhol's not knowing where one begins or ends is central to his … work. His project makes, unmakes and revisits meanings that surge with relevance, since his dilemma is ours. There is an epidemic of uncertainty and insecurity at all borders, whether on the Internet, between nations, or among computers. And always between the artificial and the real."
In a recent New York Times article seven contemporary artists credit Warhol as a major influence, each for a different reason: relationship between handicraft and mass production; use of color; use of silk screen, "a technology made for seriality"; changing people's ideas of reality and what is acceptable; use of iconography so anyone can relate to the work; presenting strong women situated within their times. 
And, by making his business his life, Warhol sparked the entrepreneurial impulse of artists like Damien Hirst, Jeff Koons, Takashi Yarakami, Gabriel Orozco and, recently, sell-a-painting-then-destroy-it Banksy. Indeed, Warhol's mashup of culture and commerce may be his most enduring legacy. Says Blake Gopnik in a Times article on this theme, "The heart of Warhol's idea — that by playing the role of businessman, an artist could turn himself into the latest, living example of a commodification he believed none of us can avoid — was perhaps as revolutionary in its time as Marcel Duchamp presenting a humble urinal as sculpture had been in 1917." (Many artists consider Duchamp the father of Pop Art.)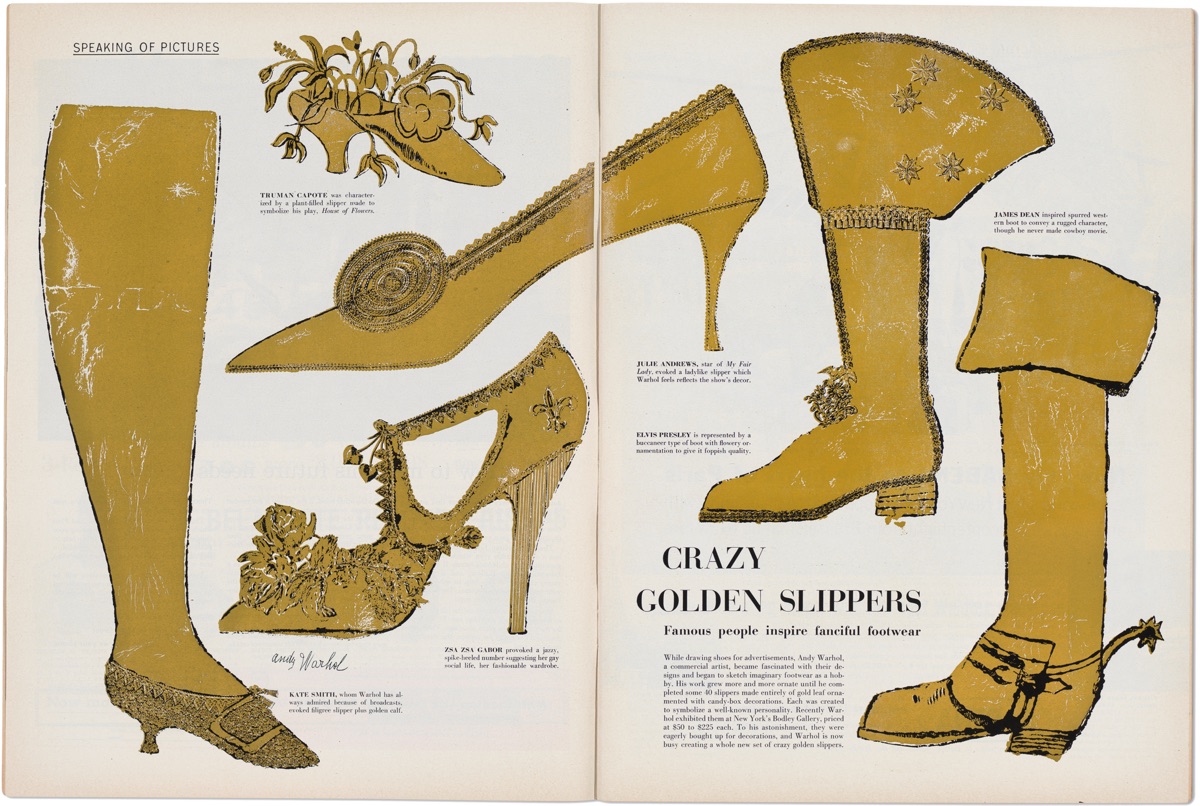 Famous people inspire fanciful interpretations . . . Warhol illustration work for LIFE Magazine, 1957 January 21. [o]
Supposedly apolitical, Andy in fact sold silk-screened portraits of Edward Kennedy to help raise money for Kennedy's Presidential run. And he saw Nixon much as some see Trump today. One of his most effective uses of fake colors on a portrait is a smiling green Nixon, with yellow lips and bright white eyeballs on an inferno-orange background — looking as if he relishes being in charge of hell. The title, referring to Nixon's unsuccessful opponent for President in 1972, is "Vote McGovern."
'From A to B and Back Again' is a rich and satisfying show, and Whitney director Adam Weinberg's boast is likely to prove true: "This is a retrospective by which all will be judged." Go expecting to spend several days. If you miss it, there are two more chances: at the San Francisco Museum of Modern Art next spring or the Art Institute of Chicago in the fall.
The first stage covered at the Whitney is Warhol's start as a commercial artist in New York in September 1949. Just four months after graduating from the Carnegie Mellon School of Art in his native Pittsburgh, Warhol landed major work from important magazines as a commercial artist, and enjoyed uninterrupted success from then on. But that's as far back as this mammoth effort goes. Though the catalog touches here and there on Warhol's childhood, the show does not.
For that, luckily, you can go to a largely overlooked exhibit that steeps you in his family life (as well as showing art not on view at the Whitney). I only learned about it from two engaging men at the Whitney show, John Gilman and Robert Heide. Gilman has written a half dozen books on popular culture, and Heide, a playwright whose "The Bed" was filmed by Warhol, knew him well and was in two of his movies. "In Dracula/Batman I wore a hat that said 'suicide' on it and can be seen putting lipstick on a beautiful Japanese girl." He grins sheepishly. "I don't remember making it."
So I journey to the East Village where the Ukrainian Museum is devoting half its Warhol exhibition to his early life in a cloistered Slavic world; since he lived at home until he was 21, there's a good chance I'll discover something useful. There are five exhibits in all at the museum, two on modern themes — the one on Andy and one, sadly current again, on the war with Russia. The other three are on eternal Ukraine. Sort of like the dichotomy in Andy himself.
I start by viewing the video on the ancient custom of painting Easter eggs. "Easter" in this case is a misnomer, since eggs as a symbol of spring and fertility, and painted to thwart demons, seriously predate Christianity in Ukraine. "We clothed you in colors like the sun," says the narrator. "We took you in our hands and made you magic." Not a bad description of what Warhol did with his own icons.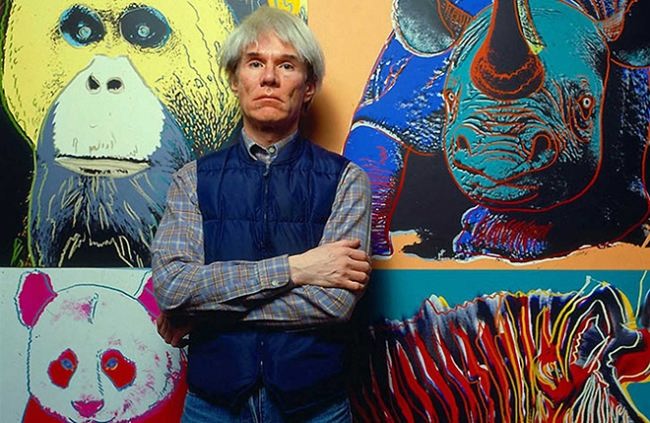 The artist and one set of his species. [o]
I climb the stairs to the two Warhol exhibits. One is a display of his "Endangered Species" series, of which there is no mention at the Whitney. Each of 11 silk screen prints shows a single endangered animal, from the giant African elephant to the tiny San Francisco Silver Spot butterfly. Amongst various conservation organizations he donated 100 of these prints.
Here we see one particular influence from his Slavic childhood. The series is in Easter egg colors; not the bland pastels of American eggs, but the burnt orange, turquoise, emerald, black and mustard of Ukrainian ones. The registers and the placement on the page are sometimes off-kilter. Whether these were accidents or not, Warhol exploited such results — random oddities of form and format — that energized many of his pictures.
The other half of the Warhol show is a room devoted to his early life and work, and here one senses that for this museum, Andy is family. A poster of 'Double Marilyn' is on loan from the museum's Director of Programs, Hanya Krill, and a youthful self-portrait is on loan from his nephew James Warhola, a consultant to the exhibit. (Andy dropped the final 'a' in the family name by the time he moved to New York.) A birthday card to Andy from that same nephew in 1962 shows a seven-year-old's drawing of a Campbell pepper pot soup can; Andy's series first appeared that year. Seven years later James paints his own soup can for Uncle Andy's approval, and Andy encouraged his artistic career from then forward. 
"Living Room,'' part of the Warhola family collection, was painted when Andy was a student at Carnegie Tech; it shows his boyhood home in South Oakland, Pittsburgh. (Courtesy of James Warhola) [o]
And two of James's books for children, Andy's Cats and Uncle Andy, create an unforgettable picture of how frequently and easily Andy dealt with his birth family. Not only did Andy's mother live with him, but James relates that eight of his own family would turn up unannounced every few months for multi-day visits. Andy seemed "very, very surprised", but took it in stride. He would provide a door, covered with cushions, that was propped up on paint cans as an impromptu bed for James.
Roughing it would not seem unusual to Andy. When he was growing up the family was so poor that at one point all five of them lived in the attic so that they could rent out the floor below. At his New York house Andy had 26 cats, 25 of them named Sam, who slept in his wig drawer. "Uncle Andy had wigs for every occasion," writes James, "messy wake-up wigs, multi-colored afternoon wigs, and formal wigs for parties." He gave the old ones to his brother's family and they played with them back home. When visiting Andy, they had the run of the house, playing hide and seek among his art work.
Yet while Andy allowed his family into his life with ease and warmth, each visit must also have underlined how far he had veered from where he grew up. Brother Paul, James's father, was a junkman living in the countryside on a dirt road a mile from the junkyard. Their father had been a construction worker. By contrast, "at night, Uncle Andy went out to parties to see other famous people," recalls James.
Andy's high school graduation picture is on the wall. A very handsome and seductive teenager looks straight at you through intelligent, savvy eyes. He graduated 51st in his high school class of 278 at the age of 16. His hairline already appears to be receding, which ultimately led to his frank use of wigs.
1945, Schenley High School graduation picture. [o]
Though manifestly smart, he played dumb much of the time. It was part of the culture Andy created at the Factory, his friend Robert Heide reports.  "There wasn't much verbalizing. Silence was considered very cool." And Andy, famous for monosyllabic answers, would deflect requests for more. "I asked him for a quote once for something I was writing. He said 'Just say what you want and sign my name to it,' " Heide recalls. "And he would ask others 'What should we do next?' and frequently use their suggestions. I think he knew that saying less was good for him."
My dominant image of Warhol, before seeing the Ukrainian Museum show, was of a brilliant marketer unable or unwilling to connect with his feelings, and thus presenting a hard, surface-y, unemotional and consequently flat set of images, as if he was curious about the things he turned into art, but not involved in them.
But here one learns how deeply attached he was to his family, his religion, and to American celebrities. He worshiped at the Byzantine Catholic Church and kept a Christ statuette, Bible and prayer book by his bed. A sickly child, he spent hours pasting images of movie stars in a scrapbook. His first language was his parents' dialect, Rusyn. From his laborer father he inherited a fierce work ethic: "I work seven days a week" is a Warhol quote at the top of curator Donna De Salvo's essay in the Whitney catalog.
He was particularly close to his mother, not just as a parent but as an artistic influence as well. After her husband died, Julia Warhola, who was an amateur artist, lived with Andy in New York for 18 years. He used her delicate, spidery and rather European script on some of his early commercial work. In 1957, Julia won an Art Director's Club award for her script on the cover of an album Andy did for jazz musician Moondog.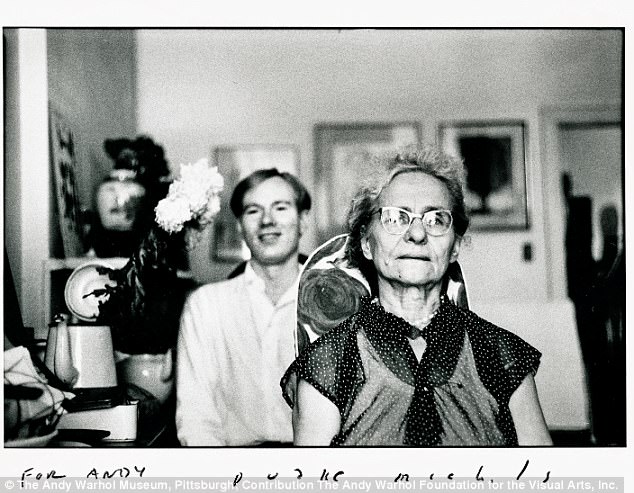 Pre-Pop days . . . Andy with his mother, Julia Warhola, in 1958. [o]
Yet my earlier image remains. How to reconcile the two? Co-curator and historian Alexander Motyl, explains, "Andy was able to compartmentalize his life very effectively. On the one hand, he's the shy mama's boy and family man; on the other, he's the guru of wannabe superstars and an astute businessman. I think his ethnic origins — growing up in an East Slavic ghetto, feeling out of place, speaking a different language — hold the key to his ability to negotiate two (or more) competing worlds. The point is that Andy always lived in at least two worlds. His life in NYC was just a more visible manifestation of that lived contradiction."
Warhol's first exposure to art was the icons at the St. John Chrysostom Byzantine Catholic Church that the family regularly attended. Maybe for an insecure young man like Andy, poor and sickly in his youth and quite literally from the wrong side of the tracks, icons — whether from the church or popular culture — were bulwarks, solid things in an uncertain and in some ways unpleasant world.
And of course popular icons were central to his art. In the Whitney exhibition catalog [page 32] De Salvo finds "irony" in the extent to which Warhol "is identified with a set of iconic American images that can seem fixed or intractable, when so much of his art-making , with its repetitions, distortions, camouflages, incongruous colors and endless recyclings, hinges on a destabilizing of the image."
But is this really ironic? Isn't it rather a tribute to the durability of those icons, that they shine right through all his destabilizing, just as religious icons endure through centuries of reimaginings? And might his repetitions and distortions have been, not at all an attempt to destabilize, but, rather, a form of worship? ō
Andy Warhol: Endangered Species
Ukrainian Museum
222 East 6th Street, New York
To February 17, 2019
Andy Warhol: From A to B and Back Again
Whitney Museum of American Art
99 Gansevoort Street, New York
To March 31, 2019
LINKS
The Whitney Museum catalog, From A to Be and Back Again >
The Wit and Wisdom of Andy Warhol >
For more on his family life >
NOTES
1. Ethel Scull 36 Times, 1963. Silkscreen ink and acrylic on linen, thirty-six panels: 80 × 144 in. (203.2 × 365.8 cm) overall. Whitney Museum of American Art, New York; jointly owned by the Whitney Museum of American Art and The Metropolitan Museum of Art; gift of Ethel Redner Scull 86.61a‒jj © The Andy Warhol Foundation for the Visual Arts, Inc. / Artists Rights Society (ARS) New York.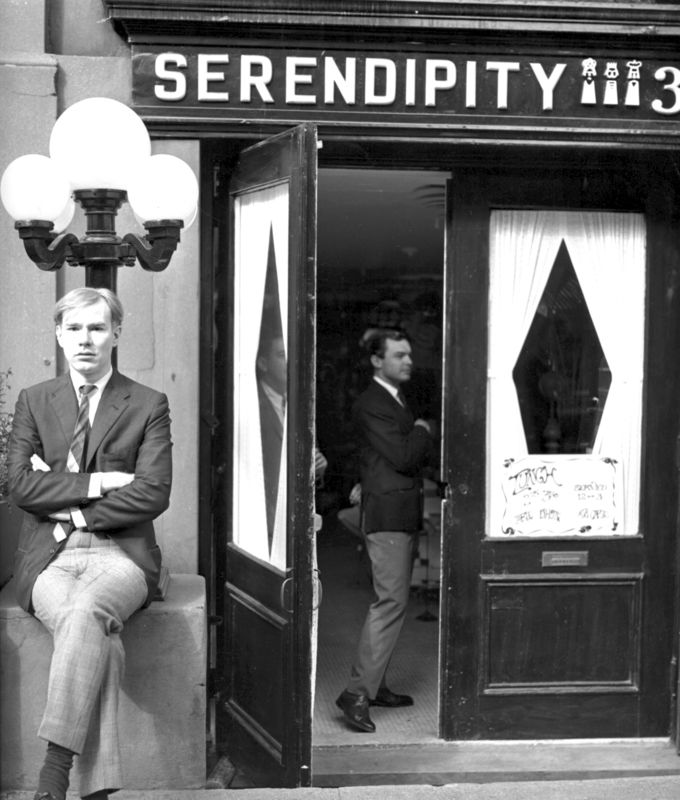 Andy Warhol and Stephen Bruce, 1962. Photo by John Ardoin. In the heart of Little Italy, sharing a cold water flat with creepies, crawlies and things that go bump in the night lived Serendipity 3. Serendipity meant the art of finding the pleasantly unexpected by chance or sagacity. The word was invented by eighteenth century wordsmith Sir Horace Walpole; it evoked the ancient legend of the three princes of the island no longer known as Serendip. Serendipity 3 was New York's first coffee house boutique. Before he was anyone, Andy Warhol declared it his favorite sweet shop, and paid his chits in drawings. (Courtesy Revolver Warhol Gallery — [o] )

HEIDI FISKE is a writer and former journalist who wrote for many years about top management in the financial industries. Today her efforts are focussed on political and cultural issues. She lives in New York.
Comments
Impressive! Enjoyable, interesting read, well written, new/original perspective on a well-documented artist.
Congrats to the author.
Heidi Fiske, your review of Andy Warhol at the Whitney Museum and The Ukrainian Museum is excellent, and quite a fascination for me as a Ukrainian American. I, as a former member of The Ukrainian Museum Board, congratulate you on your intense interest in this review. I am sure that The Ukrainian Museum will extend the Andy Warhol exhibit to March 31, 2019.
Thank you, Mr. Milanytch. From such a knowledgable person as you, this is particularly gratifying. Your museum is wonderful. I hope many more go to the show.
I only knew Warhol as an icon, himself. A brilliant one, and one I admired. And, now, it is touching to see him as a person. I like the more full picture. Thank you.
Add new comment