Happy Days - Enniskillen Beckett Festival 2013
Standfirst
ENNISKILLEN: Megan Orpwood-Russell reports from the second annual Samuel Beckett festival in the hometown of the poet and playwright.
Body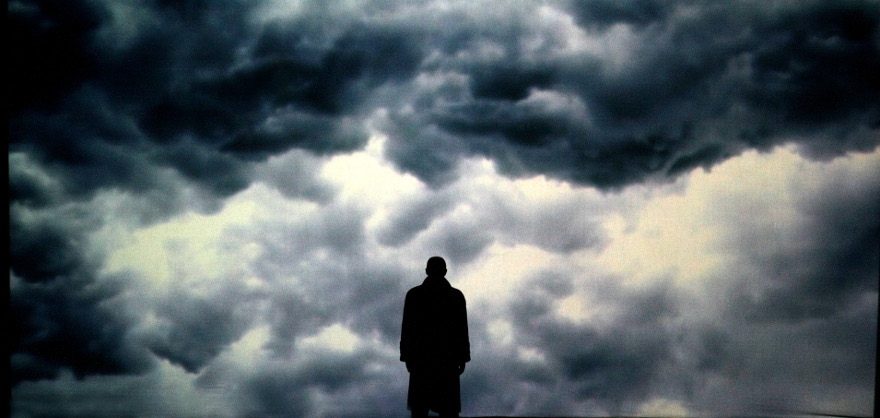 A brisk and misty Saturday morning, and I find myself on a jetty in Enniskillen about to board a ferry to take me to the Isle of Devenish. Whilst Beckett enthusiasts settle on board with mugs of hot tea, a group of friends don their robes to row local actor Adrian Dunbar over just ahead of us, to perform a reading of Krapp's Last Tapes as part of a series of Dante-inspired Purgatorio performances. As we set off, the ferry draws alongside the rowing 'monks' in dawn's purpling light, and it is hard not to feel as though we are involved in something magical. Devenish is home to a 12th century monastic site, and it is here that Dunbar reads. But before he does, he makes a comment that shapes my experience of the festival - "Beckett is literal, Beckett is abstract, Beckett is difficult, but none of that matters because it should be about what Beckett makes you feel'". It's a sentiment I found myself returning to throughout the five-day festival.

For the second year running, the small, sleepy town of Enniskillen has played host to Happy Days, an annual international multi-arts Beckett festival. To programme two productions each of Endgame, Come and Go and What Where in one festival fits with Beckett's interests in play and repetition. There's also a clear nod to the binary nature of chess, something that festival director Seán Doran has toyed with throughout – even the programme has 64 pages, and is printed square.

This is a truly international festival, with work from Portugal, France, Australia, Japan, and more – which shows the wide-ranging appeal of Beckett's work. Even temperamental surtitles couldn't detract from the power of Teatro Plastico's interpretation of What Where. Starkly staged and deliberately slow, it struck a particularly resonant chord politically, whereas the Irish Sugarglass production felt more self-reflexive.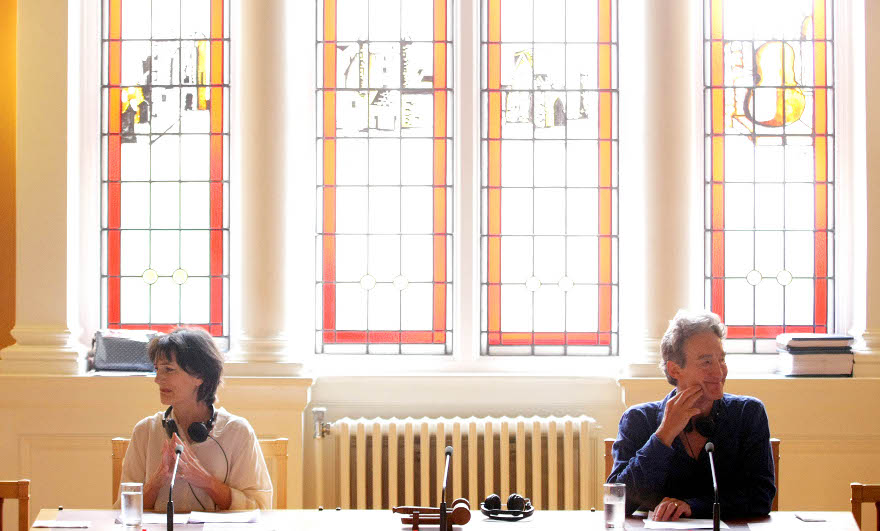 One thing that really struck me about Happy Days was the exceptional use of space. Harriet Walter and Guy Paul read
Stirrings Still
, Beckett's final piece of prose, in the council chamber of the Enniskillen Town Hall. I imagine that I was not the only audience member who had not previously been in such a space, and the experience of sitting at the arced desk facing the speakers was unique. It was a necessity to don headphones despite their proximity, and there was something wholly new about experiencing Beckett's words in this way.
Words without Acts
was an excellent addition to the programme and a means of expressing Beckett's lesser known works.
It seems important to use unusual or unknown spaces to re-place Beckett. Festival director Seán Doran mentioned that he did not use the Unionist Hall last year because he simply hadn't known it existed. It seems baffling that the largest public space in Enniskillen could be hidden, but as artist Rita Duffy points out to me, "here, there are places you go and there are places you don't – this has opened up a dialogue between those spaces". I certainly imagine it is the first time that the hall has played host to scenes akin to Chris Lynam's delightfully surreal compering of the cabaret. Placing a lit rocket between his buttocks and singing There's No Business Like Show Business, Lynam rather redefined the phrase, "ended with a bang".

It was the truly magical performance of Not I in the Marble Arch Caves that was the festival highlight. A limited audience of 30 were taken on boats across a glassy-still underground river to the grating shale of the shore, where we were thrust into darkness. Senses removed, Lisa Dwan's mouth appeared like a Beckett Cheshire Cat, and battered the audience with her performance. It was intensely disorienting, her bright red mouth seemed to leap through the cavern, the machine-gun dialogue ricocheting from the vaulted walls. It is an extraordinary act of violence as a piece – towards Dwan, the audience, the senses. When the lights came up there was an audible sigh of relief from many.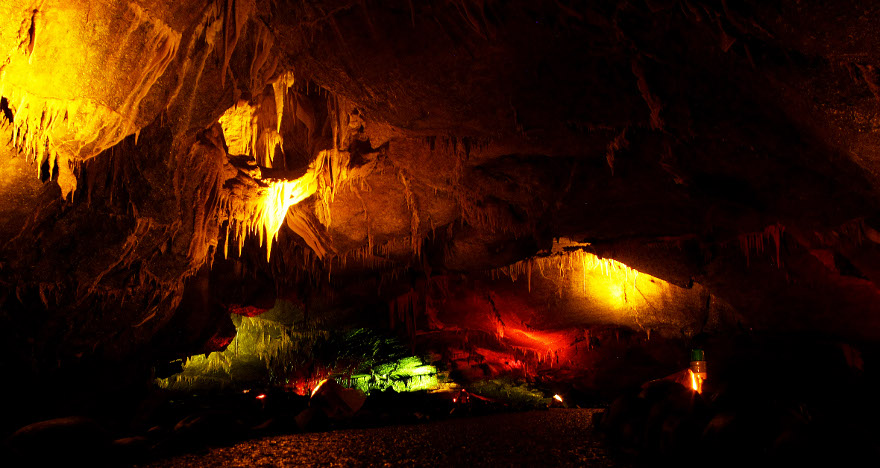 Then, we were led through the caves, passing a cast of 40 dotted around the space, all reciting Dante's
Inferno
, at different times and in many tongues. It was genuinely terrifying; the stalactites like jagged teeth emerging from the maws of shadow, all overlaid with the drip and rushing of the subterranean river. The cacophonous sound babbled and deafened. Teamed with the inevitable claustrophobia of being inside the earth, it truly felt as though we were in hell. Time became irrelevant, I longed for the sound to end – and just at the point at which it felt unbearable, we came to a stop.
On a bridge across the river, we met with the sound of Ruby Philogene singing
Dido's Lament
. She was not in sight, and after the initial surge of wanting to see her, I found that I settled into simply listening to the performance, immersing myself in the words and the heavenly acoustics set over the bubbling and rushing of the  river. After a brief pause, Ruby began singing
Amazing Grace
, and walked through the audience to then lead us out of our subterranean immersion. The soaring notes completely transformed the space, and the fear and terror I had felt evaporated. The claustrophobia was supplanted with hope and joy, as the caves became a glorious cathedral of sound. It was truly one of the most extraordinary pieces of performance I have ever witnessed. Wholly immersive, it felt a privilege to experience.                    
This was a festival proving its worth. Doran was keen to avoid the pressure of comparison with the inaugural festival, and programmed an entirely different sort of festival for this year. Programming which, to a relative Beckett novice, looked chaotic, but the more I learned about his work, and about the festival, the more it seemed fitting. This festival celebrated the sheer diversity and breadth of Beckett's work – an ambitious move for the second festival. Yet one that I can only admire for it's sheer range and commitment to innovation. I was deeply impressed with the packed venues, the imaginative settings, the clear support and enthusiasm of the community. Enniskillen is a town that has suffered, and I can see how vital it is to create some kind of cultural palimpsest that redefines the sleepy Fermanagh town. This is not an out-of-town festival that descends and then vanishes; Happy Days is truly the work of a community, and all the more powerful for this visiting outsider.

Megan Orpwood-Russell is a ukulele-playing, fairytale-telling, zoo-working, synaesthetic writer based in Hackney, London.
www.happy-days-enniskillen.com