Standfirst
Catherine Deneuve once said, "Life can be hard, so we French know how enjoy our pleasures." In the spirit of that thought, we present some brief rich scenes from movie — like good pieces of chocolate: a delicious mood modifier. Let's call it wild cinema talent meeting commercial culture. If you want to help out, send in your suggestions — just the clip itself or with a little blurb about why you like it. Happy foraging!
Body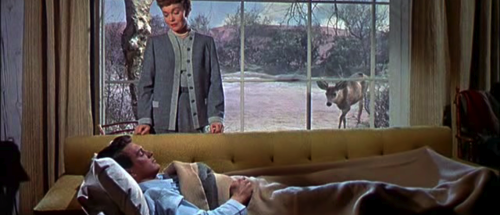 From Douglas Sirk's All That Heaven Allows, one of the great Hollywood melodramas by a master who understood the use of 'trashy content'.
WHERE THE SONG 'JUST YOU, JUST ME' WAS FIRST INTRODUCED — FROM 'MARIANNE' (1929)
A pre-Code romantic drama about a French farm girl who, despite already having a French fiancé, falls in love with an American soldier during World War I. This film Marion Davies' 'talkie' debut. (We love Marion.)
THE SONG 'JUST YOU, JUST ME'
'Just You, Just Me' is a great American standard composed by Jesse Greer, with lyrics by Raymond Klages, and much admired by jazz musicians. It was one of Theolonius Monk's favourite tunes, and you can hear him playing it here. Big musical brain Monk was so intrigued by it that he wrote a song in hommage: 'Evidence'. Sure, this is a pretty esoteric 'hommage', but if you listen carefully it serves as a good musical brain-puzzle — connecting the original and its derivative.
One of our favourite versions of 'Just You, Just Me' is by the great Nat King Cole with his trio — for anybody's money, jazz at its best. Not bad singing, either.
Finally, here's a better quality and longer audio recording of Nat playing it.
~
Thinking about John Lennon — what he was, what he said and did, what his life would've been like if he'd lived — never seems to go away.
Interview from the Dick Cavett Show, 1971.
~
STEPHEN FRYE: HOW UK AND US COMEDIANS ARE DIFFERENT
~
KNOWLEDGE AND THE NEED TO KNOW IT: A RUMSFELDIAN PRIMER, UK STYLE
From the UK TV program, Yes, Minister! episode, Man Overboard. A conversation between Bernard, the Principal Private Secretary to a government minister, and Humphrey, Permanent Secretary. Simply, Bernard's loyalities are split between his minister and Humphrey. 
BERNARD : You only need to know things on a need to know basis.
HUMPHREY: I need to know everything. How else can I judge whether or not I need to know it?
BERNARD: So you need to know things, even when you don't need to know them. You need to know them not because you need to know them, but because you need to know whether or not you need to know. And if you don't need to know you still need to know so that you know that there was no need to know.
HUMPHREY: Yes!