Chief Seattle's Grave & other poems from Cascadia
As if using a diving rod to track the geomantic beckonings of a lost force, the author offers notes on the Cascadia bioregion's mix of hurt, ill-attuned motives and . . . the hope that some things might come back.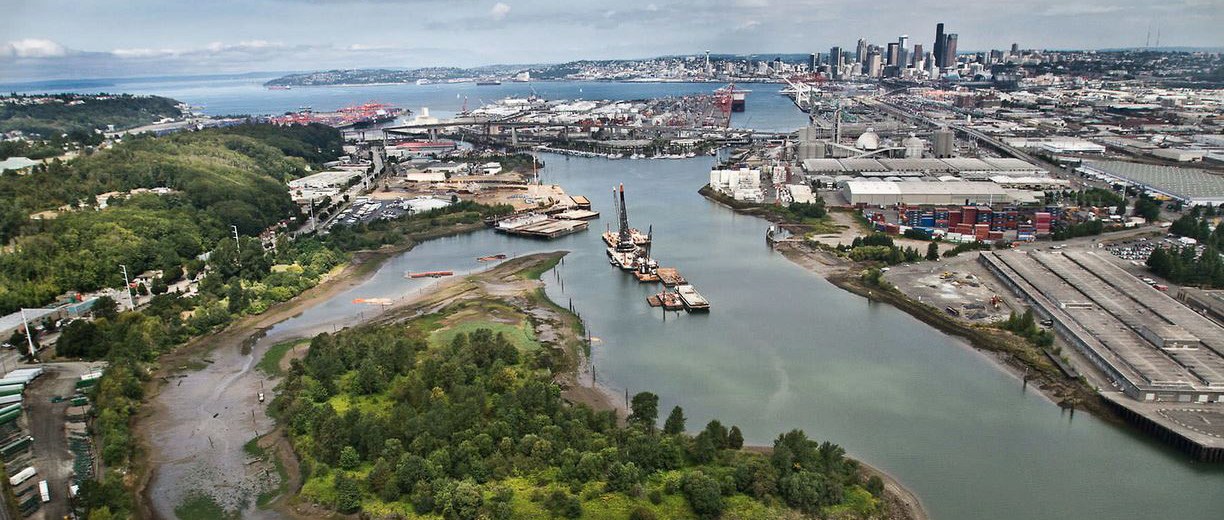 The Duwamish River . . . waterway as political object. [o]
IN THE BEGINNING: WHERE SEATTLE WOULD BE
The Duwamish River curved past longhouses
      to the wide salt water
Songs came easy as breath their vocables flowing
     with the salmon-thrashed river
Songs for the spirits
     and for the seasons
     songs of praise
     and songs of death
     along the journey we all must make
In 1851 the Changers arrived.
    Sooner, not later, the word "reservation" was said
In 1913 they began work to change the River — straight
     as a Roman road
In 2001 they declared the River's lower stretch
   a Superfund site
Downtown's steel and glass towers
     especially the corner offices
look down on the barges & tugs
     doing the clean-up.
One hundred fifty years was all it took
The First People had been here 10,000 years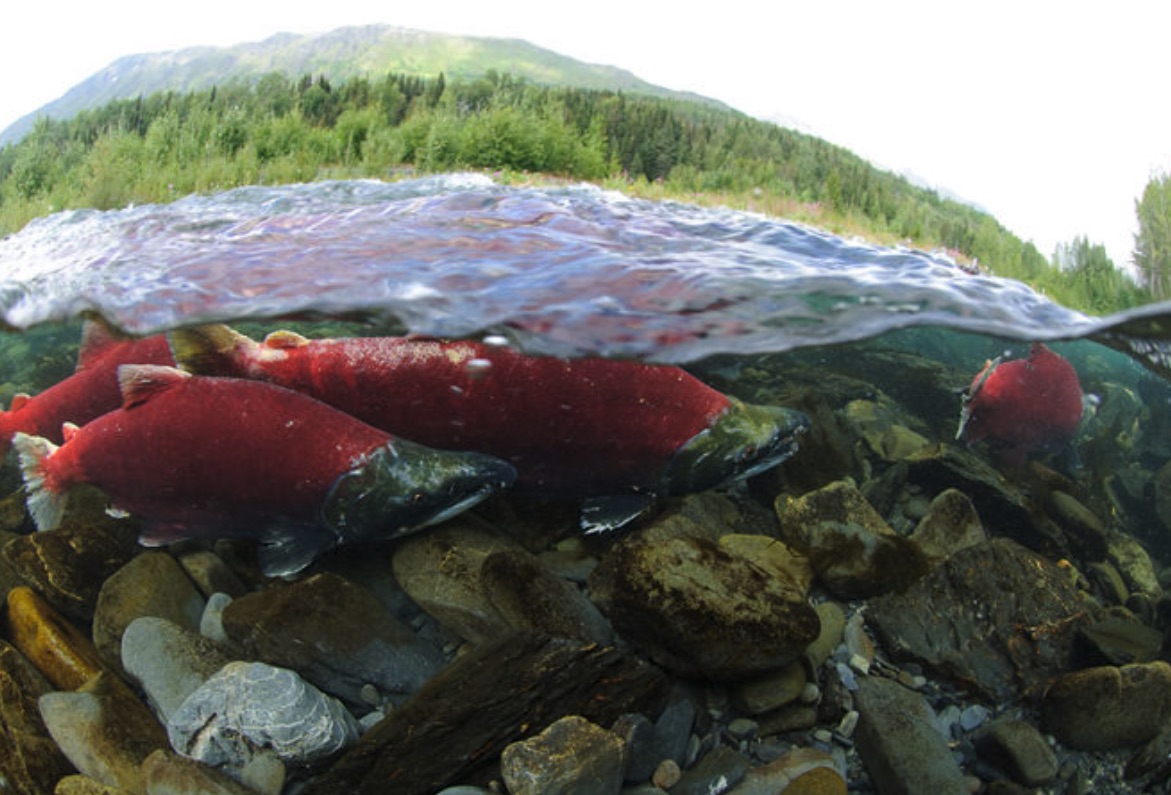 Sockeye running up the Kenai River in Alaska to spawn. [o]
SUQUAMISH, WASHINGTON: CHIEF SEATTLE'S GRAVE
A few cottages stand among the trees
beside the churchyard. Smoke drifts
from their chimneys into a grisaille
grained with rain
A white marble cross flanked by two cedar poles
marks the great chief's grave
his feet aimed sunrise
Clamshells mound the tumulus's base
Down the knoll white-painted St. Peter Mission
imprinter of  Christ's five wounds
upon the salmon drumming moon
remains too tiny for any but candid prayer
Farther down, the reservation town stands
beside gray waters that reach to Seattle
twelve miles southeast a city named
after the white tongue's failure
to utter "Si'ahl" in Lushootseed
Such vocables proved beyond reach as the moonlit
talc of  salmon bones deep down
nearby Agate Pass
"And the light shineth in the darkness
and the darkness comprehended it not,"
said John the Apostle. It may be in the end
salvation depends upon right pronunciation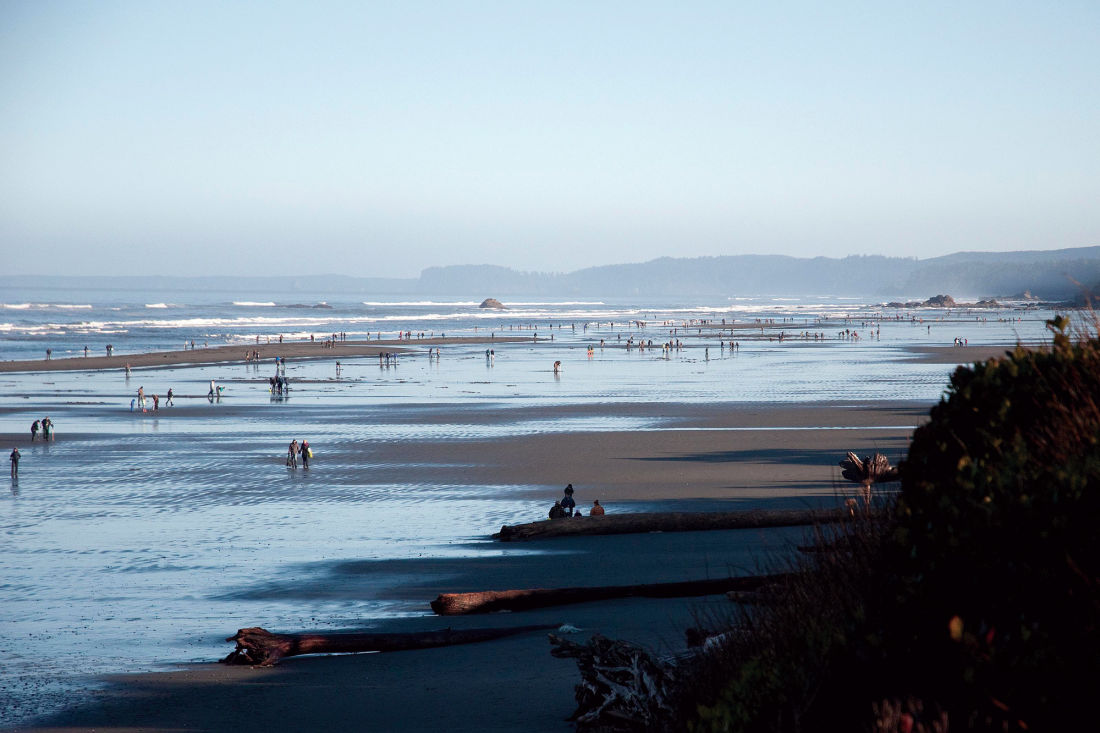 On Puget Sound. [o]
THE BEACH ON PUGET SOUND
The old tribal trail climbs from the beach
into madrona woods sunsets kindle blood red
A trail used just enough these days to leave
a trace of the old ways
I've been told a nearly hidden side path
leads through the brush to a small clearing
where a stone cairn with feathers
presides over a small fire pit
I've never seen the path If I do
I won't follow it It's not mine to take
Some trails are valuable for the places they go
Others for the reasons why we leave them alone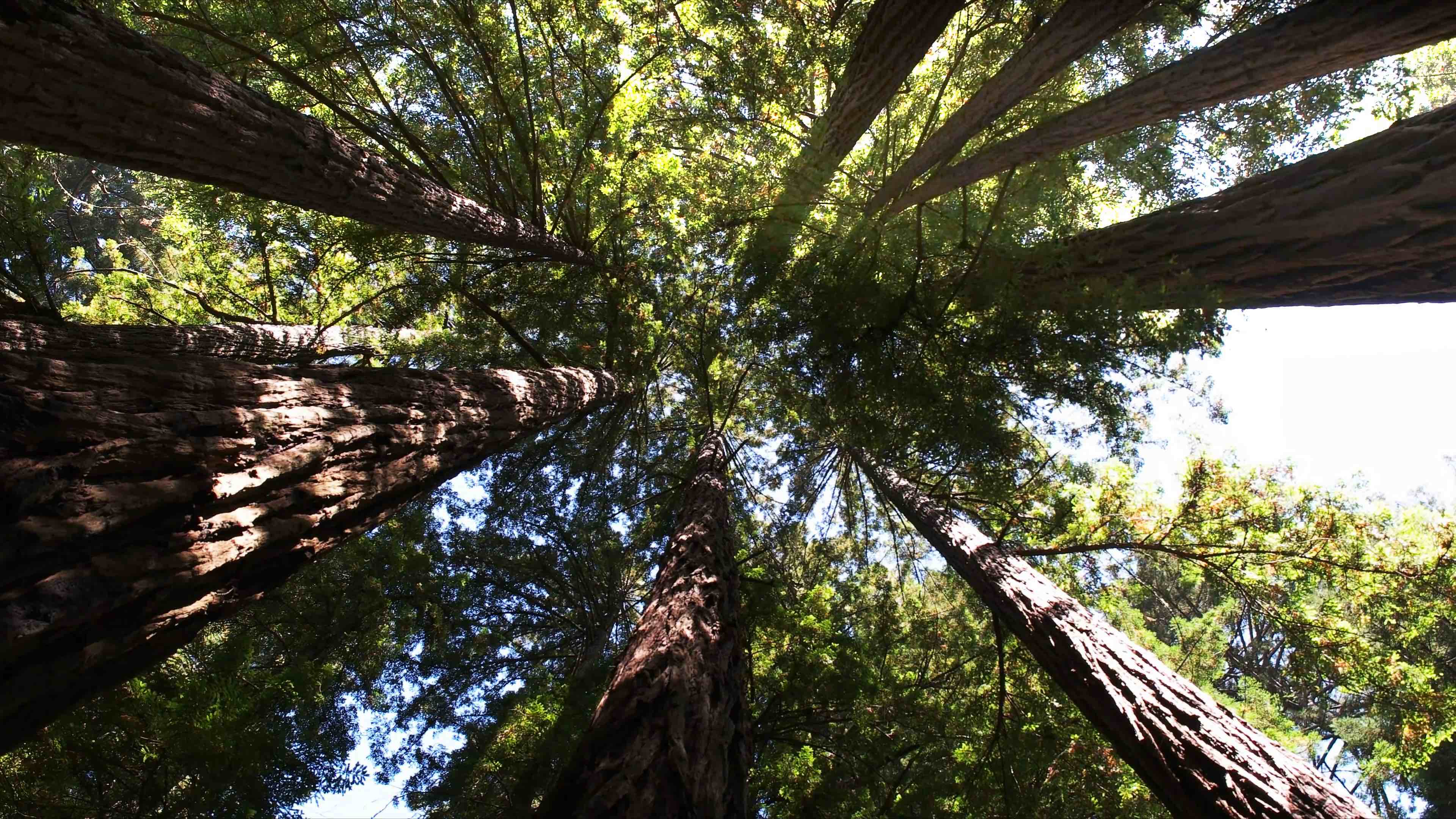 Shards of blue sky held steady . . . [o]
 
THE RETURN
A culture is no better than its woods. — W.H. Auden

I've come here alone to watch a bulldozer sneer my green, childhood domain of
maples, salal, silence and moss into a wasteland caricature of Flanders, 1918
Now someone will build their castle with a million dollar view

Now only memory can recoup how, where I once looked up, shards of blue sky
held steady through the leaves with the angelic precision of stained glass. This is
where I came to be alone and dream my future life. This is where
maybe I was eight I stopped to listen to a robin's sweet liquid carol

Now that every green thing is bulldozed into heaps the sky is freed to arc its daft
blank blue seven miles across the salt water to Seattle's thicket of steel and glass
towers

And I to walk away like a man with no horse to lead

Mike Dillon fills out
THE WILD CULTURE SCRIBBLER'S QUESTIONNAIRE
What is your first memory and what does it tell you about your life at that time and your life at this time?
Sitting alone on a sunlit patch of moss. Whoever set me down knew where I wanted to be.
Can you name a handful of artists in your field, or other fields, who have influenced you — who come to mind immediately?
Ernest Hemingway, Emily Dickinson, Dante, Basho.
Where did you grow up, and did that place and your experience of it help form your sense about place and the environment in general?
I grew up on Bainbridge Island, eight miles west of Seattle. I was born in 1950. Anyone could live on Bainbridge then, at a time when there was no such thing as a "million dollar view." There were strawberry fields, Native Americans, Filipinos and Japanese Americans, most of whom had been taken away to high desert camps during World War II. Now Bainbridge is mostly a high-end bedroom community for Seattle, linked by efficient commuter ferries. I have seen how a place can change and how 'regular people' can be displaced by those with more money.
If you were going away on a very long journey and you could only take four books — one poetry, one fiction, one non-fiction, one literary criticism  — what would they be?
William Blake's collected poems, War and Peace, Walden, and The Mystical Imagination of Patrick Kavanagh by Una Agnew.
What was your most keen interest between the ages of 10 and 12?
Baseball.
At what point did you discover your ability with poetry?
I always wonder about the next poem to come, about what's next. Writing poetry, in a sense, is a performance that can't be done the same way twice. Rather than ability, my faith lies with my willingness to push ahead to see what might happen, which includes failure.
Do you have an 'engine' that drives your artistic practice, and if so, can you comment on it?
I have an abiding fascination with juxtapositions and transition zones. Some examples are: those places where salt and fresh water mix; border crossings, where language, architecture, and food begin to change before crossing a human-drawn border; the cresting of a mountains pass where the vegetation and weather change; the juxtaposition of the sacred and profane (Rome is the perfect place for that). Also, the shadow in the fold of my napkin at a crowded, noisy, dinner table.
If you were to meet a person who seriously wants to do work in your field — someone who admires and resonates with the type of work you do, and they clearly have real talent — and they asked you for some general advice, what would that be?
I would advise that they do a serious gut check, and then set out — keeping prow to wave. Also, I'd strongly advise that they read, read, read the new and old masters. Those  who propose to write and do not read are of no use.
Do you have a current question or preoccupation that you could share with us?
The sea of narcissism eating away at our bulkheads.
What does the term 'wild culture' mean to you?
I think of the French poet, Arthur Rimbaud. He was the spear tip of modern poetry who stopped writing at what — 19, 20, 21? He went silent, except for barely-interesting letters, and eventually wound up in east Africa running guns and trading in coffee. It was only from the middle of nowhere, as his poetic admirers back home would regard it, that he could see Paris with ruthless clarity. Rimbaud could write rings around the writers of his, and subsequent, generations, yet here he was in Ethiopia and Somalia undergoing unremitting hardships under the noonday sun. So, to answer your question, I can only point to Rimbaud.
If you would like to ask yourself a final question, what would it be?
How long before the rock you've been chipping away at all these years finally splits?

MIKE DILLON is the author of four books of poetry and three books of haiku. Several of his haiku were included in "Haiku in English: The First Hundred Years" (2013). "Departures," a book of poetry and prose about the forced removal of Bainbridge Island's Japanese Americans after Pearl Harbor will be published by Unsolicited Press in April 2019. He lives in Indianola, Washington, a small town on Puget Sound, northwest of Seattle.