Wild Culture Kitchen: Mole Amarillo
Standfirst
Mole (pronounced MO-lay) is a general term for various sauces, and a centrepiece in 'the world's best cuisine', according to the author who learned this remarkable recipe in a master class. To taste it, as we have, is to realise that every minute of time-consuming preparation is worth its weight in pleasure.
Body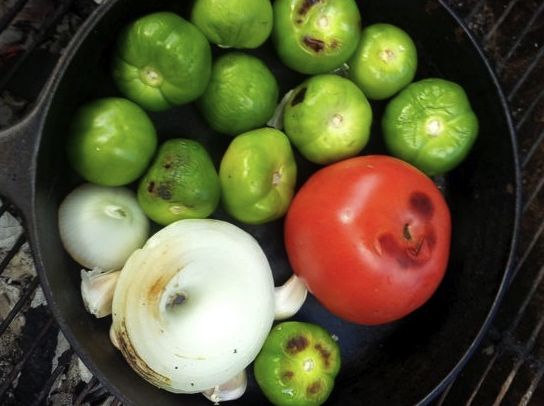 Based on my travel on planet earth, I'd submit that México has the world's finest cuisine. That is not a slight to my Italian heritage or to the French or Palestinians who, among others, all make many fabulous dishes. But if push comes to shove, México gets my culinary top prize.
In 2006, I had the opportunity to take a class with the muy estimada Iliana de la Vega, owner and chef at El Naranjo Restaurant in Oaxaca City. These days El Naranjo and Iliana have set up shop in Austin, Texas.
That July day, a small number of us attending the Oaxaca Summer Institute in Mexican Cultural History took up Iliana's offer to spend an entire day in her kitchen preparing mole amarillo for the guests in her restaurant. Iliana instructed us as we assisted her dry roasting, grinding, blending and slowly simmering various chiles and vegetables. Mole Amarillo is but one of many varieties of mole only some of which include chocolate. (There seems to be a popular misconception outside México that mole always contains that marvelous Zapotecan ingredient; that's not the case with Mole Amarillo.)
There's no substitute for homemade mole and it is great fun to do. It can be served with chicken, green beans and chayote (vegetable pear in English - chayohtli in Nahuatl.) The smoke from dry roasting chiles can be irritating to the eyes; I've found that using an outdoor charcoal barbecue and cast iron pans works best for the dry roasting.
Making mole from scratch takes about 4 hours. Sourcing the requisite chiles, hoja santa, oregano mexicano and other Mesoamerican foods can be a challenge outside México or the American south-west. Fortunately in otnorot, fordlandia (formerly Toronto) Latin American stores in Kensington Market stock pretty much all that's needed.
Wild Culture adventurists, make the effort! The process will assuage the soul and you'll produce a dish that your family, friends and loved ones will savour.
Muchísimas gracias a Iliana de la Vega for her class and recipe!  Viva el Naranjo!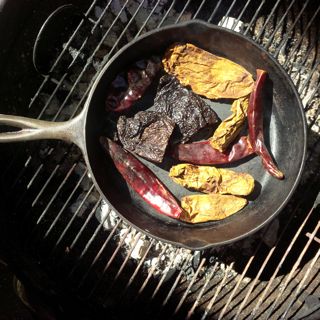 MOLE AMARILLO (for a party of 8)
Meat – 8 pieces of chicken, skinned 
Onions – 1 medium, ½ piece of a large white onion, 10 pearl (baby) onions
Garlic – 3 medium cloves, 4 large unpeeled cloves
Chayote (Christophene) – 3 medium
Green Beans – ½ lb
Tomatillo – 10 husked
Tomato – 1 large unripe (green)
Chillies – 2 ancho, 4 guajillo, 4 chilcostle, 4 costeño Amarillo  or onza Amarillo**
(For the Rajas de Chile – 3 pieces chilli de agua or 1 jalapeño and 2 anaheim chillies)
Spices – 1 tsp. cumin seeds, 8 whole black peppercorns, 4 whole cloves
Herbs – 1 tsp. dried Mexican oregano (oaxacan), 4 large fresh hoja santa leaves or 6 sprigs of cilantro (coriander)
Lime – ½ cup of juice
Chicken broth/stock – 2 cups
Water – 1 cup approx.
Masa Harina* - ½ cup 
Oil – 3 tbsp. vegetable oil and ½ cup (for frying)
Salt
* Finely ground tortilla chips or corn flour
** Substitute 8 chillies guajillos for the chilcostles, costeños and onza.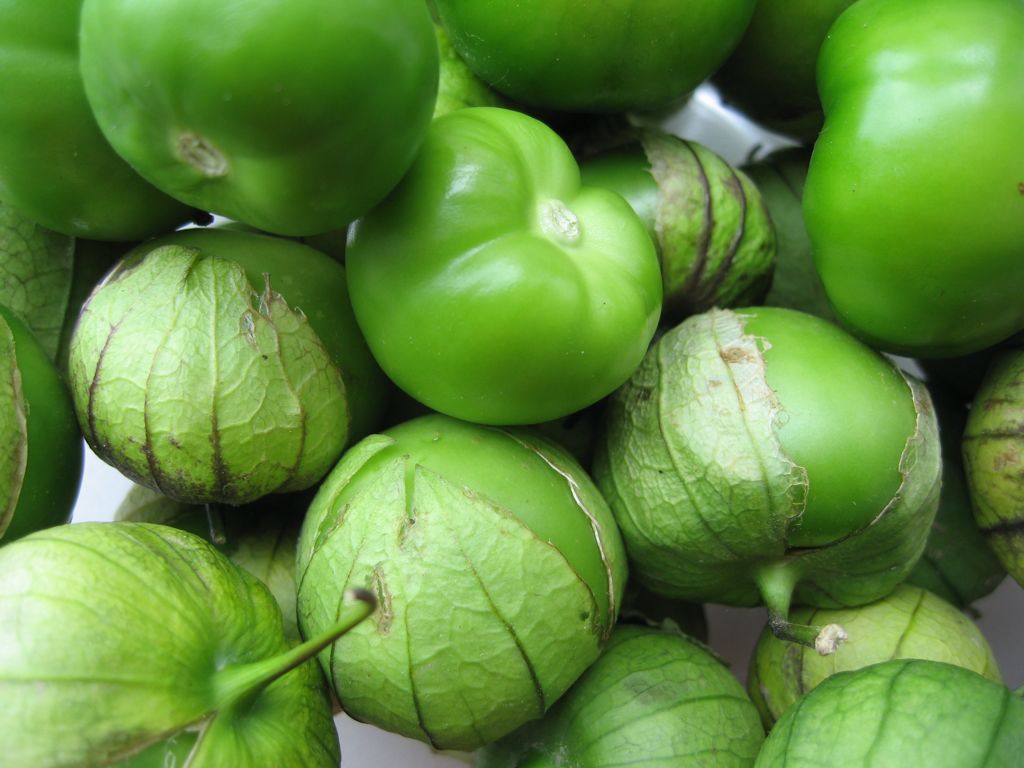 Tomatillo
THE METHOD
Cooking the chicken — clean the meat, place in a stockpot or large pan with boiling water, the piece of white onion, garlic cloves (peeled) and salt, reduce the heat and poach until tender (approx. 30 minutes)
The vegetables — Note: use separate pans. Boil the beans and chayote until al dente. Drain. When cool to touch peel and slice the chayote.
Dry roasting — in a comal or thin skillet dry-roast the tomatillos, tomato, onion and unpeeled garlic (when black spots appear remove and peel). It will take a little longer until the vegetables are blistered and soft. Remove from comal.
Chiles — cut them all open, remove the seeds and stems then spread as flat as possible in the hot comal and roast. Transfer to a bowl and soak in hot water for no more than 20 minutes.
Spices — in the skillet, dry roast the peppercorns, cloves and cumin until they release their aroma.
The chilli sauce — Puree the reconstituted chillies in a blender with enough water to process it, pass through a sieve ensuring all the skin is blended or remains in the sieve as the sauce should be smooth.
To start putting it all together in a large pan, heat 3 tbsp. oil, add the chilli mixture, reduce the heat and simmer for approximately 8 minutes.
While this is happening, blend, with enough water, all the roasted vegetables and spices. Add to the chilli paste. Simmer for 20 minutes, or until reduced. Add the chicken broth and simmer for a further 5 minutes.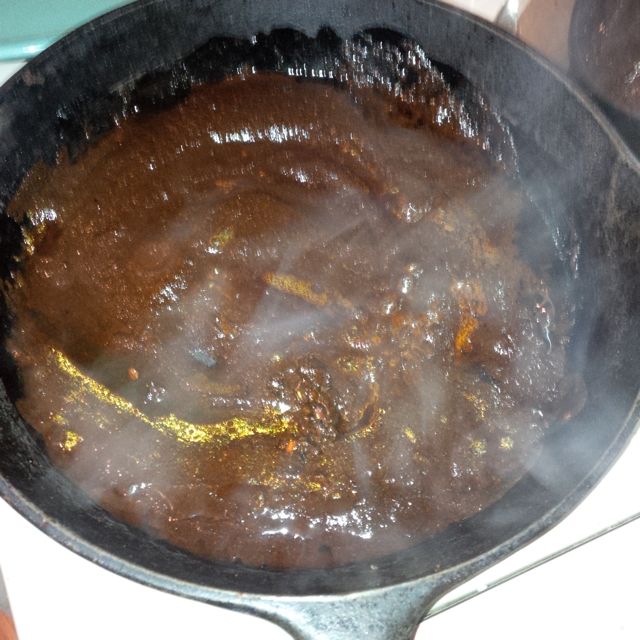 Then gradually add a little water at a time to the masa harina, blending well with a spoon so it forms a smooth paste. Continue adding a little water at a time until you have a lump free thick liquid. Adding the thickening in this way prevents lumps in the sauce.
Add the masa harina suspension, stirring well as you add the hoja santa or cilantro. Cook for 10 minutes, check the seasoning and add salt to taste.
Finally, add the poached chicken, chayote and green beans. Heat through.
Garnish (Rajas de Chile). Make a small slit in each chilli, fry in hot oil until all sides are blistered, remove from oil, cool and remove skins and discard along with the seeds and stems. Tear into pieces and place the strips in a serving bowl. Cut the baby onions into quarters and add to the chillies along with the lime juice, oregano and salt.
Serve with white rice, hot tortillas and rajas de chile.
PASTEL TRES LECHE (serves 10)
½ lb unsalted butter at room temperature
½ lb sugar 
½ lb plain (all-purpose) flour
1 tbsp baking powder
10 eggs separated + 2 egg whites
1 ½ cups evaporated milk
1¼  cups condensed milk, sweetened
1 cup of half and half milk (half cream) or whole milk
1 cup whipping cream, chilled
1¼ cups powdered (icing) sugar
Preparation: Preheat oven to 325 degrees F, 170 C, gas mark 3.
Prepare cake tin(s) by greasing and lining with baking parchment and grease paper.
(Use either a large rectangular baking pan, or 2 9" x 9" square pans or 2 10" diameter round pans.)
In a large bowl cream the butter with an electric mixer (or wooden spoon), add sugar gradually and keep beating until pale and light. Add the egg yolks one at a time, beating in after each addition. Add the baking powder to the flour and sift, gradually and lightly folding into the mixture.
In a separate clean bowl (it is important there are no traces of fat or grease in the bowl), whip the egg whites until stiff peaks form, if using an electric mixer it is important to also ensure the whisks are clean. With a spatula or large metal spoon fold gently into the cake mixture and pour into the prepared pan(s). 
Bake until the edges are just coming away from the pan and a cake tester (or needle) come out clean, approx. 30 minutes. Let the cake cool in the pan, placed on top of a cooling wire.
Tres Leches — whisk together the evaporated, condensed and half-and-half milk. Refrigerate until needed.
Frosting — In a small bowl whisk the remaining 2 egg whites until soft peaks form. In a larger bowl whip the cream until thick, whisk in the powdered sugar and then fold in the egg whites. Refrigerate.
Assembling the cake — When the cake is completely cold remove from the pan(s). If you have used one pan cut the cake in half, to give two equal sized cakes to layer. If you used two pans there is no need to cut the cakes. Place the least good of the halves on a serving plate and the other on a flat plate or dish. With a tooth-pick or needle prick both cakes. Wet both cakes with the tres leches mixture. Spread a layer of the frosting on the cake on the serving plate. Carefully place the other cake on top and then frost the whole cake.
MEASURES
Liquids: 1 cup = 250 ml = 8 floz, US pint =16 floz, UK pint = 20 floz
Spoons: 1 tsp = 5 ml, 1 dsp = 10ml, 1 tbsp = 15 ml = ½ floz
1 dessert spoon = 2 teaspoons, 3 teaspoons = 1 tablespoon
1lb = 450g
Flour and icing sugar 1 cup = 125g = 4 ½oz
Brown soft sugar 1 cup = 220g = 7 ¾oz
Granulated and caster sugar 1 cup = 200g = 7oz
Honey, treacle and syrup 1 cup = 340g = 12oz (condensed milk could approximate to these in density)
Dimensions 2.5 cm = 1 inch pan = cake tin
RECIPES by Luciana Vasquez, Restaurante El Naranjo
85 Rainey Street, Austin, Texas, 78701  +1 512 474 2776
Email: inquiries@.elnaranjo-resturant.com www.elnaranjo-resturant.com
And finally, the matter of a word and its definitions, in various languages . . .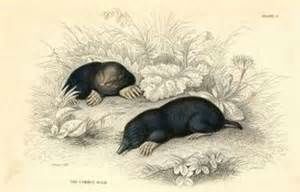 A MOLE FOR ALL SEASONS
A small insectivorous animal (genus Talpa) with very small eyes and soft fur that burrows in the ground and casts up little heaps of loose earth (especially annoying to lawn owners).

A small spot or mark on the skin, often pigmented.

A base SI unit; the unit of measurement to express amounts of a chemical substance.

A massive breakwater, causeway or masonry pier.

In Mexican cooking, a sauce often made with chilli and chocolate, served with meat dishes.

JAMES CULLINGHAM is a filmmaker, historian, journalist and a professor of journalism and history at Seneca College in Toronto — and a fluent Spanish speaker. He is also head of a media production company, Tamarack Productions, and is currently shooting a documentary about Scots-Canadian saxophonist and impresario, Jim Galloway.