In John Clare's Footsteps
Standfirst
A poet recalls his first chance encounter with describing things in verse — "a tear in reality" — and how teaching poetry today brings it around full circle.
Body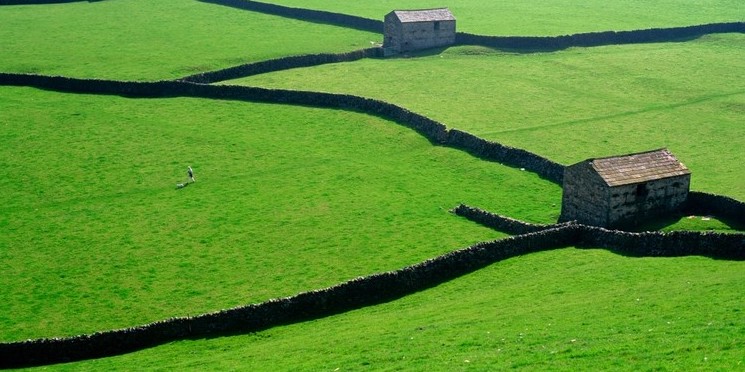 The English enclosure movement . . . "a plain enough case of class robbery." [o]
WHEN I WAS 13, growing up in Bristol, UK in the 1960's, I wrote a poem titled 'Harvest Festival' for school homework. It was a long standing tradition to celebrate harvest time and pupils were asked to bring in food and other produce from the land, to be put on display, and then afterwards distributed to those in the community who might be isolated or in need. Our teacher asked us to write a poem about what was on display and what it meant to us, but entering the school hall to see what had been brought in so far, all I could see was a lonely can of beans. I went home and told my mother what I had to do and what there was to write about. She said, well, you have your choice, either write about the beans or make it up. So, I did the latter. Being a rather innocent and wanting-to-please kind of a child, I ignored the beans and wrote a 'proper' poem. My teacher liked it and put it in the school magazine.I was thrilled. A few months later I got a phone call from the Macmillan Publishing company, asking if they could include my poem in their anthology series Poetry and Song. I'd even get paid, a guinea no less [about $5], so hey, I was rich!
His voice of protest over what was happening to nature during his time – the destruction of a rural way of life . . .
When the book arrived in the post, I opened the first page onto Robert Frost's "Two roads diverged in a yellow wood..." Wow, far out. Looking further in, I found myself sandwiched between two Johns, Keats and Clare. Crazy, here I was, in amongst these famous poets, and as it turned out, the only 'unknown,' and a child at that. Later, more requests for permission to publish the poem came forth, even one for it to be included on a vinyl record with musical accompaniment. Something very strange had happened to my universe, some kind of tear in reality, a magic portal?
Skipping forward then to 2016 – now living in rural County Galway, Ireland – surrounded by trees and with lake and bog nearby, I found myself immersed again in nature. On publication of a collection of my poems, a magazine compared my work with John Clare (1793-1864), not so much stylistically, more at sharing his voice of protest over what was happening to nature during his time – the destruction of a whole rural way of life through the early 19th century Enclosure Acts in the UK.
These days, I find myself returning to him again and again, those wonderful poems about badgers, ladybirds (he calls them "clock o' clay"), mice, the "groundlark." They still make me cry and rejoice in equal measure. And like Clare, I get angry too. And maybe too, thinking about that Frost poem, how a moment of intervention from some kind of guiding star — or in my case the combination of a tuned-in teacher and inspired book editor — can steer you onto a path of discovery.
Yesterday I was back in the classroom, teaching poetry through Zoom to kids the same age as I was when I wrote my harvest poem. We're working around themes of climate change, threats to biodiversity, and getting in touch with nature. In their poems they take on the voices of animals, plants, rivers, even the grass and soil – as it all comes round again – taking Frost's path already a little trodden, with John Clare's footsteps leading the way.
HARVEST FESTIVAL
Bread, golden, crispy, curled and
sculptured into intricate shapes.
Sniff the clean baked fragrance,
long to break off that tiny, sharp,
knobbly corner.
And let it melt on the tongue
tasting delicious.
Flowers piled high,
gorgeous explosions of colour,
russet apples, amber, yellow,
crimson blazing.
Black frosty grapes,
cabbages, green-leaved, crimped
and earthy.
Festival of food as summer fades.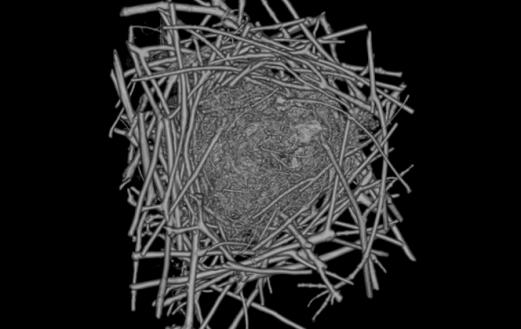 An X-ray CT scan of the interior of a bird's nest. [o]
HOW TO BUILD A BIRD'S NEST
The first twig must be balanced
in such a way say between
two fingers of a fork in a branch
so as not to fall
when a second is laid across
and then the third carried in
the bird's beak
slid in between
again and again like a game
of spillikins in reverse
even as a breeze shakes
this fragile creation  
don't sneeze, bird
until there it is
a symmetrical bowl
perfect
of twigs and moss
glued by spittle
curved into a cosy ring
or
if it's a crow
a mad-looking rough assemblage
offering shelter
for parents and young
cup the eggs will not fall
from the tree allowing
this feathered thing
a construction worker
to crow and sing
OWLS
(i)
Coming in at dusk from checking the clothesline
I hear a flapping and for a moment think
it must be the remaining
washing left overnight to dry
when over my head passes
a low flying UFO
our owls are back
They migrate here each year
from across the lake
once it gets cold enough on this side
or so I'm told
Huge for a bird it glides
away between the pine and monkey-puzzle
I try to turn my head around
but it's gone
for the moment
Usually there are two
the female is much larger
and one year the distinctive call
of a chick and then
in late summer three in the air
at once
Such a privilege to be here
the stars, the moving shadows
underneath it all
(ii)
It's three in the morning I can't sleep
heartbeat breath outside
the wind in the trees
I hope they are well tucked-in
on these quieter nights as dawn arrives
I hear their wheezing
the sound they make before
setting off to hunt
it builds like an engine
A badger family foraging out of their sett. [o]
BOARDERS
A scuffling in the bushes
I soften my breathing and wait
a perfect badger face
emerges from the dark
and then another
rough shape reversing
out of the compost heap
a tangled up hairbrush
a few moments of nosing
they both melt back
into the shadows
I feel honoured
does this mean they'll be staying
cousins to otter and mink
pine martin and wolverine
I've heard how they trample down flowers
make a golf course of the lawn
rooting for grubs. Perhaps if
I learn their language
we can set up a dialogue,
come to a reasonable compromise
over rights of way and borders
find some natural accommodation
who knows with all that digging
those squat snouts
may even unearth
a poem or two.

PETE MULLINEAUX has had four poetry collections published, most recently How to Bake a Planet (Salmon Poetry 2016), and a number of plays produced on RTE radio [the principal radio channel of Irish public-service broadcaster Raidió Teilifís Éireann]. He lives in Galway, Ireland.