Speculative Morphology of Recurring Terrains
Standfirst
Straddling the fields of architecture and art, Ryota Matsumoto's paintings call to mind unexplored rooms off the main corridor of the movie, The Matrix. What's revealed is a wildly attractive and fantastic mythology. Yet within the flurry and fury of competing strands is embedded, remarkably, a sense of the logical weave of urban cosmologies. ¶ This is a three-part series of visual essays, 'Notes on the Genealogy of Cities,' began in 2016 in the Journal of Wild Culture to showcase Ryota's visualization of predominant themes shaping present-day cities beyond the conventional protocols of architectural and artistic formalities.
Body

Matsumoto, Ryota. Those Who Affirm the Spontaneity of Every Event (detail). 2015.
Throughout my career as an urban planner, designer and artist, I have defined my artistic and architectural projects as a series of critical reflections and visual commentaries on contemporary culture and its influence on our urban environment in semiotic and narrative terms. The synergy of social, political and economic realms has influenced the role of urban life and the multiplicity of cultural outlooks — especially at the initial stages of urbanization. This phenomenon could be attributed to a multitude of spatial practices constructed by the economic imperatives of consumer societies in various forms.
Eventually, cities take on a life of their own and posit themselves as self-adaptive, biomorphic entities.  
As cities grow, their urban fabrics can be characterized by paradoxical relationships and dichotomies between seemingly contradictory factors comprised of the structural and amorphous elements that accumulate into interwoven and multilayered urban fabrics over the course of decades. As cities are conceived, much like their living and breathing inhabitants, the urban tissues constantly interact, cross-fertilize, collide and merge with no equilibrium in sight. Even at the macro-level of urban tissue, forms merge into other forms. Ground planes sweep into their man-made structures and entangle with one another simultaneously. The boundaries between walls, floors and buildings are said to be indeterminate and porous; the mutable topology of architecture repeats across all spatial scales.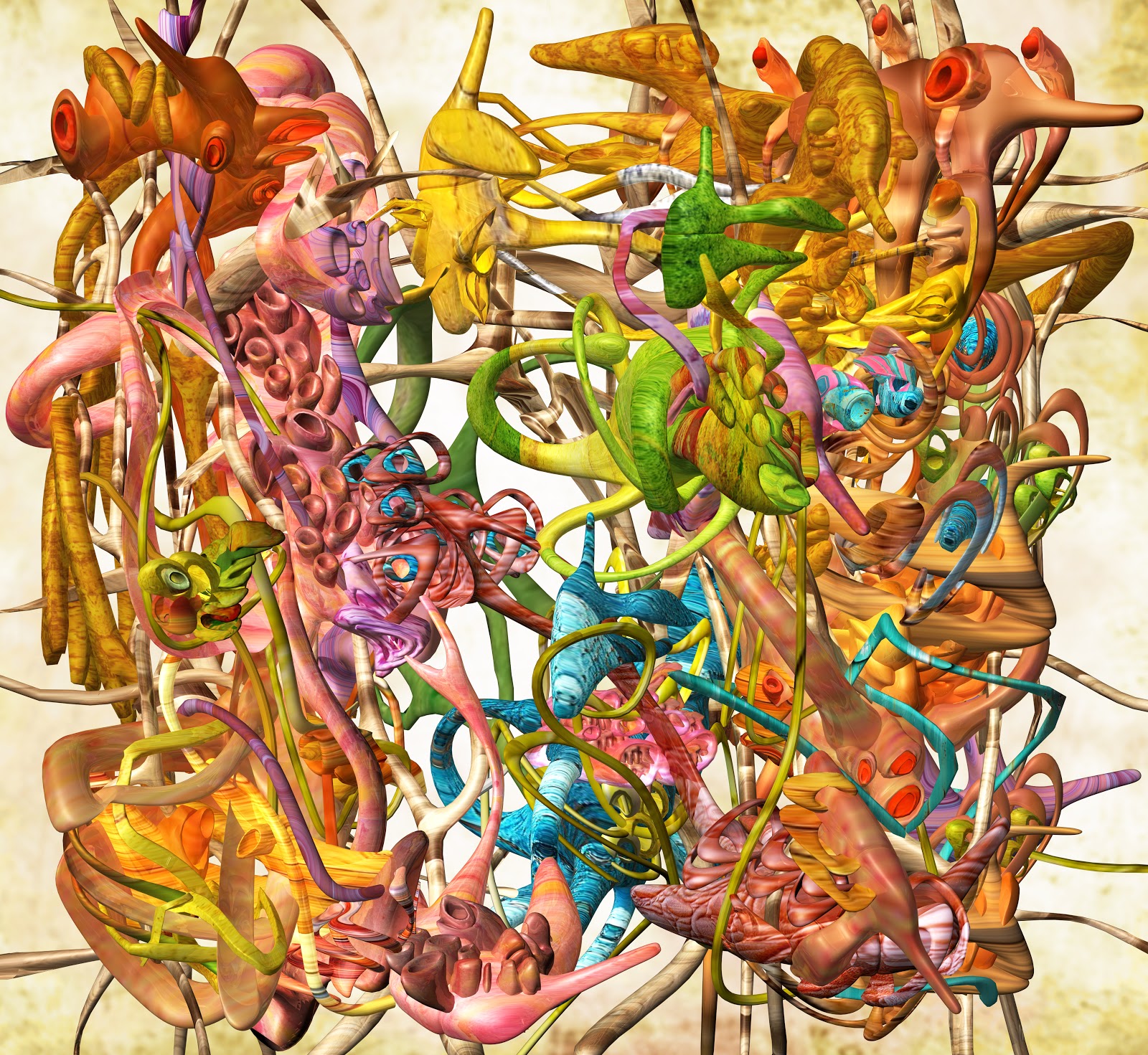 Matsumoto, Ryota. Imaginary Echo Chamber. 2016. Mixed Media. 27 in x 29 in; 68.6 cm x 73.6 cm.
Our urban milieus can be defined as organic agglomerations made of multiplied, heterogeneous and discontinuous entities stratified by the myriad of communication and transport infrastructures that operate like neural pathways and arteries of living beings. Consequently, the intrinsic context of contemporary urbanism can be conceived as a self-generative, evolutionary system condensed into meshed structures with channels of connections — channels which embody different, interlacing sequences among stratified subsystems. The organic networks of cities facilitate augmented interchanges amongst their interrelated clusters, but also invariably engender indeterminacy and unpredictability in the forms of interconnected meshes generated by the geo-political dynamics. Eventually, cities take on a life of their own and posit themselves as self-adaptive, biomorphic entities.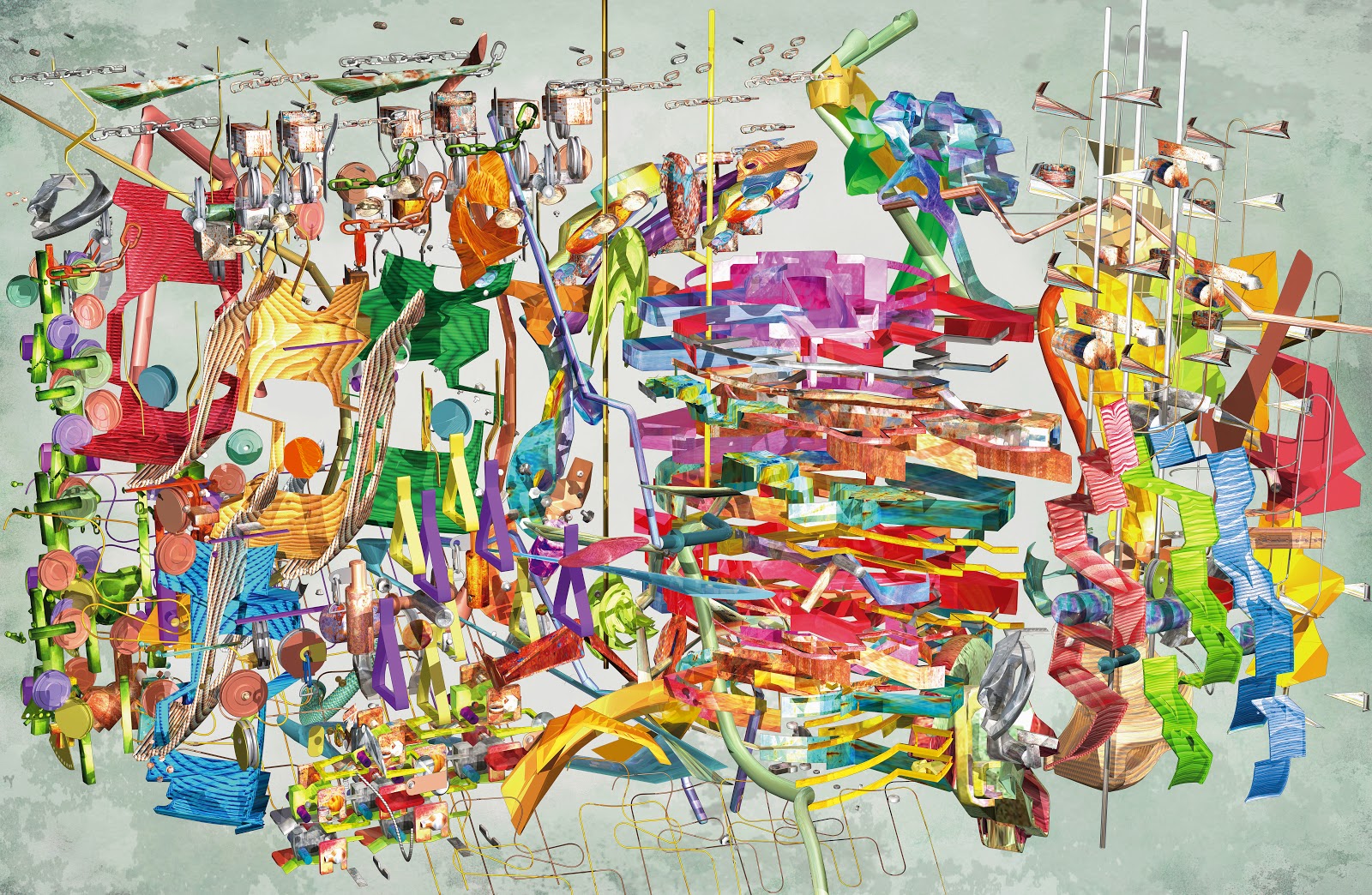 Matsumoto, Ryota. Hollow Ghosts for Those Restless Spirits. 2015. Mixed Media. 30 in x 47 in; 76 cm x 119.4 cm.
In the wake of observing the morphological nature of shifting urban topography, I explore new medium combinations that incorporate both analog and digital techniques to visualize predominant themes that shape present-day cities. The spatial-temporal conditions of our ever-evolving urban and ecological environments are thoroughly analyzed to act as catalysts to establish the above-mentioned optical phenomena. That is, the various constituent methods of architectural, graphic and mixed media conventions are synthesized in the hybrid drawing techniques. These techniques involve base 2D/3D images that are constructed digitally and then overlaid with traditional media such as acrylic, ink and graphite, as well as scanned images of found objects. These are then further processed and looped through algorithmic, stochastic and morphological operations by image processing software. By employing this specific approach, the degree of depth, dimensional and scaled information varies and warps in both the finer details and the overall composition. Finally, the drawings are liberated from the constraint of realism and material property so inherent in conventional architectural visualizations.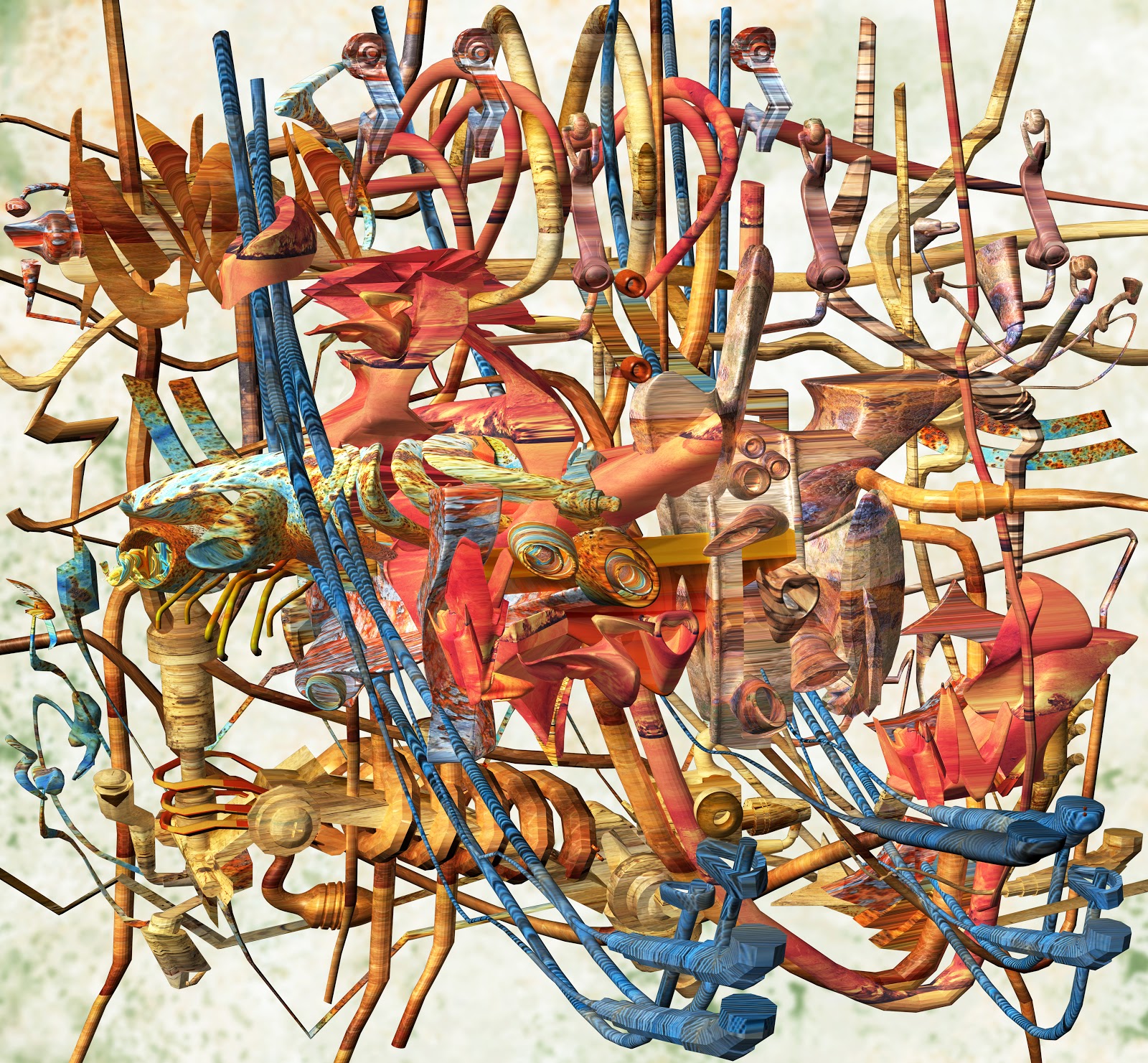 Matsumoto, Ryota. Swirling Effects and Their Wayside Phenomena. 2016. Mixed Media. 27 in x 29 in; 68.6 cm x 73.6 cm.
Furthermore, the juxtaposition of different forms/patterns, intertwined textures/tones, oblique/anamorphic projections and visual metamorphoses are employed to question and investigate the ubiquitous nature of urban meta-morphologies and their visual representation in the context of non-Euclidean configuration. The application of these strategies allow the work to transcend the boundaries between analog and digital media as well as between two- and multi-dimensional domains. At the same time, the underlying issue of precision, accuracy and the sense of realism, which is characteristic of conventional architectural production, is addressed.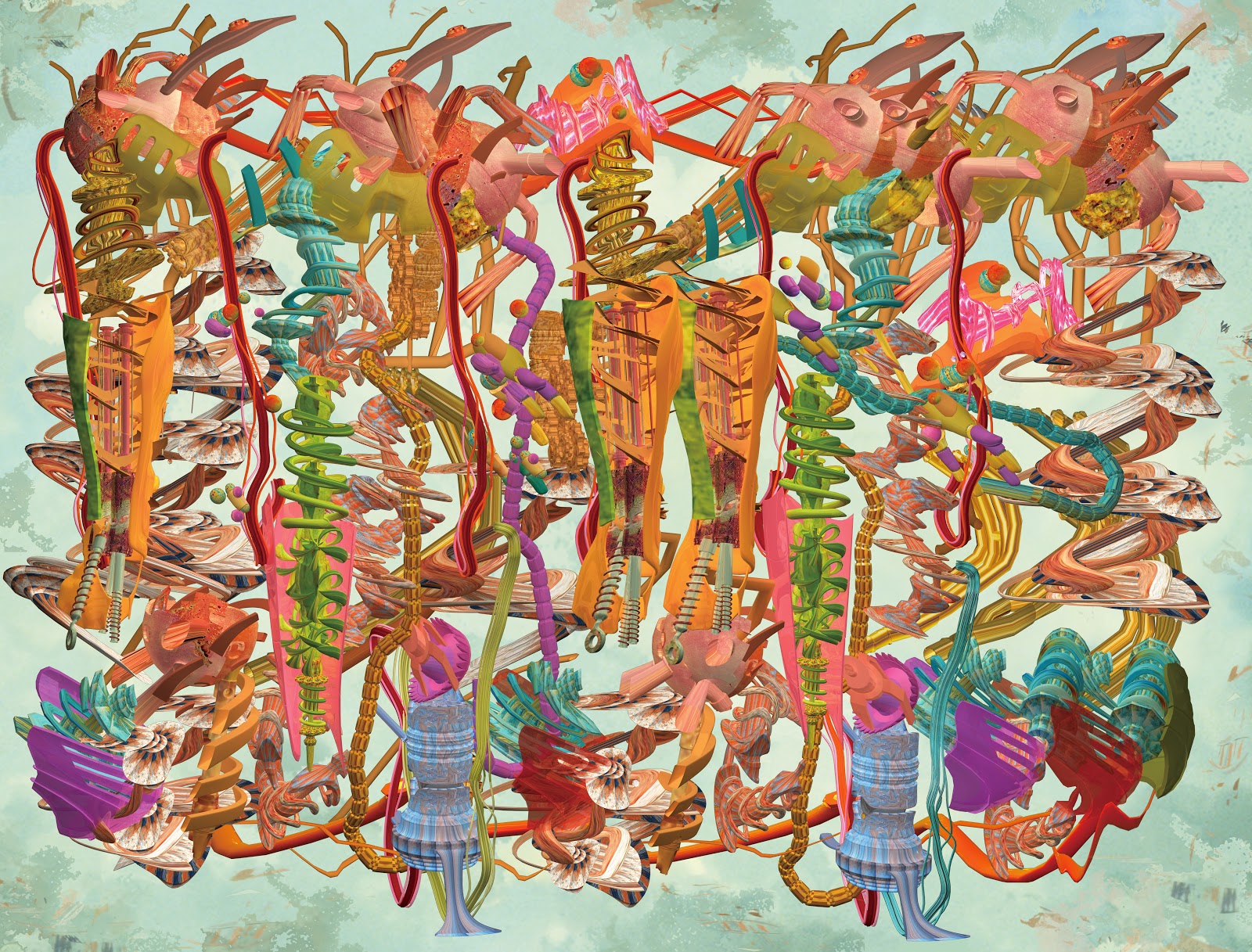 Matsumoto, Ryota. The Chronology of Imaginary Scrolls. 2015. Mixed Media. 26 in x 35 in; 66 cm x 89 cm.
One of my prime goals is that my compositional methodologies imbue the drawings with what I see as the very essence of our social and cultural milieus beyond the conventional protocols of architectural and artistic formalities. And, that they conjure up the synthetic possibilities within which the spatial and temporal variations of existing spatial semiotics emerge as the potential products of alchemical procedures.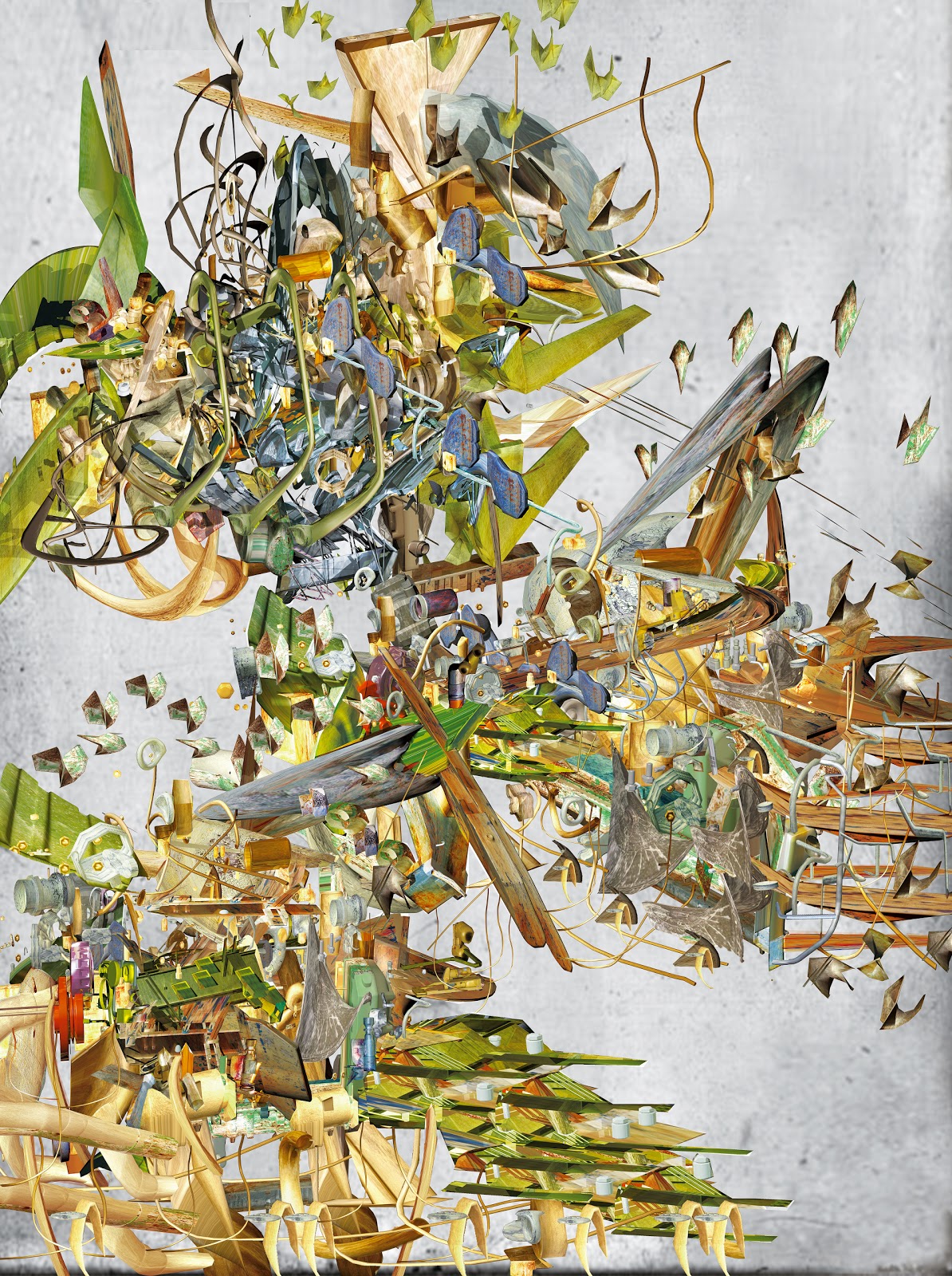 Matsumoto, Ryota. The Indistinct Notion of an Object Trajectory. 2014. Mixed Media. 30 in x 22 in; 76 cm x 56 cm.
Matsumoto, Ryota. Quantized Crackles of Emotional Scales. 2015. Mixed Media. 24 in x 38 in; 61 cm x 96.5 cm.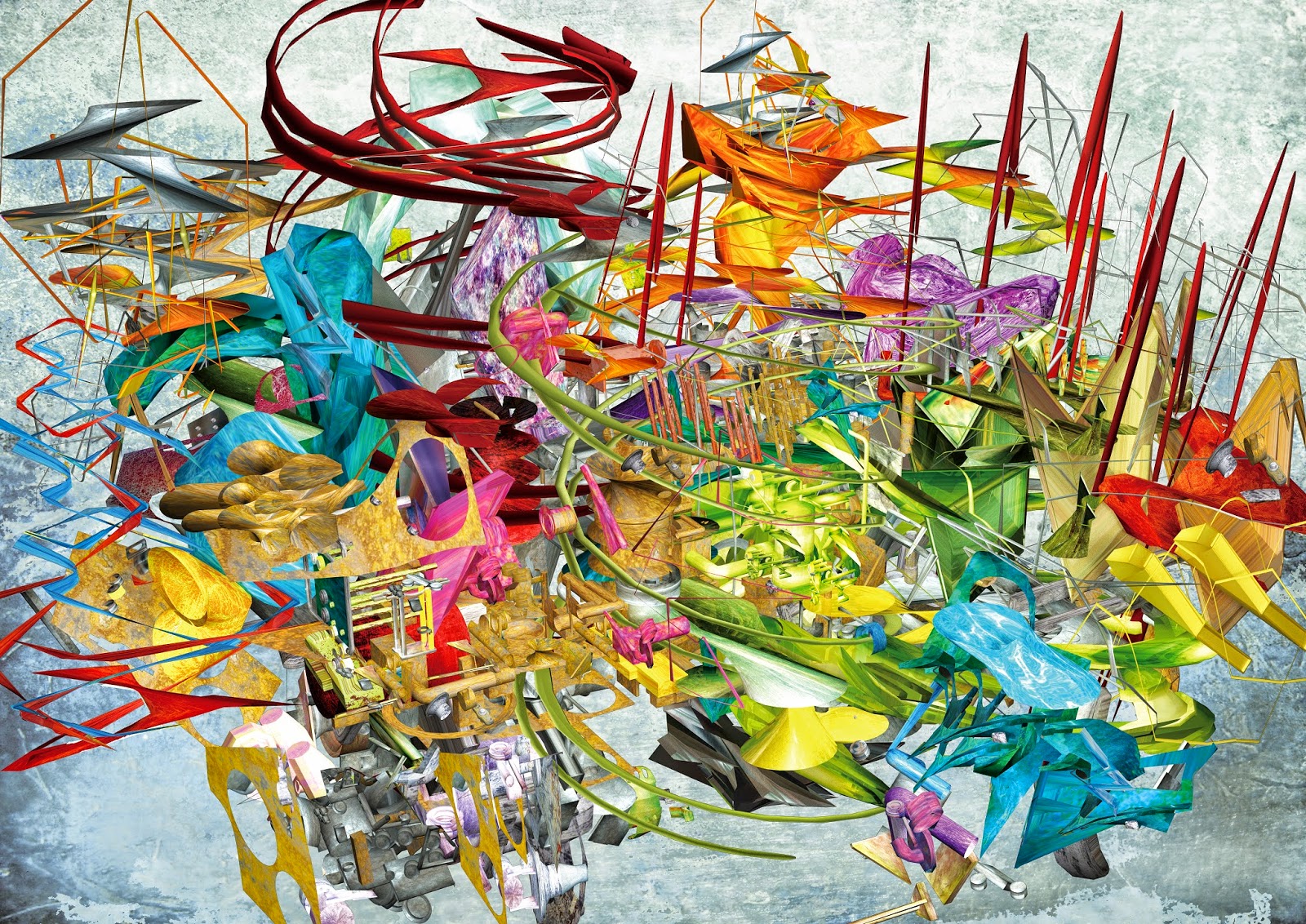 Matsumoto, Ryota. Those Who Affirm the Spontaneity of Every Event. 2014, mixed Media. 33 in x 47 in; 83.8 cm x 119.4 cm.
Matsumoto, Ryota. The Reverberant Ambience of Interpretative Codes for an Ancient Artifact. 2015, mixed Media. 27 in x 37 in; 68.6 cm x 99 cm.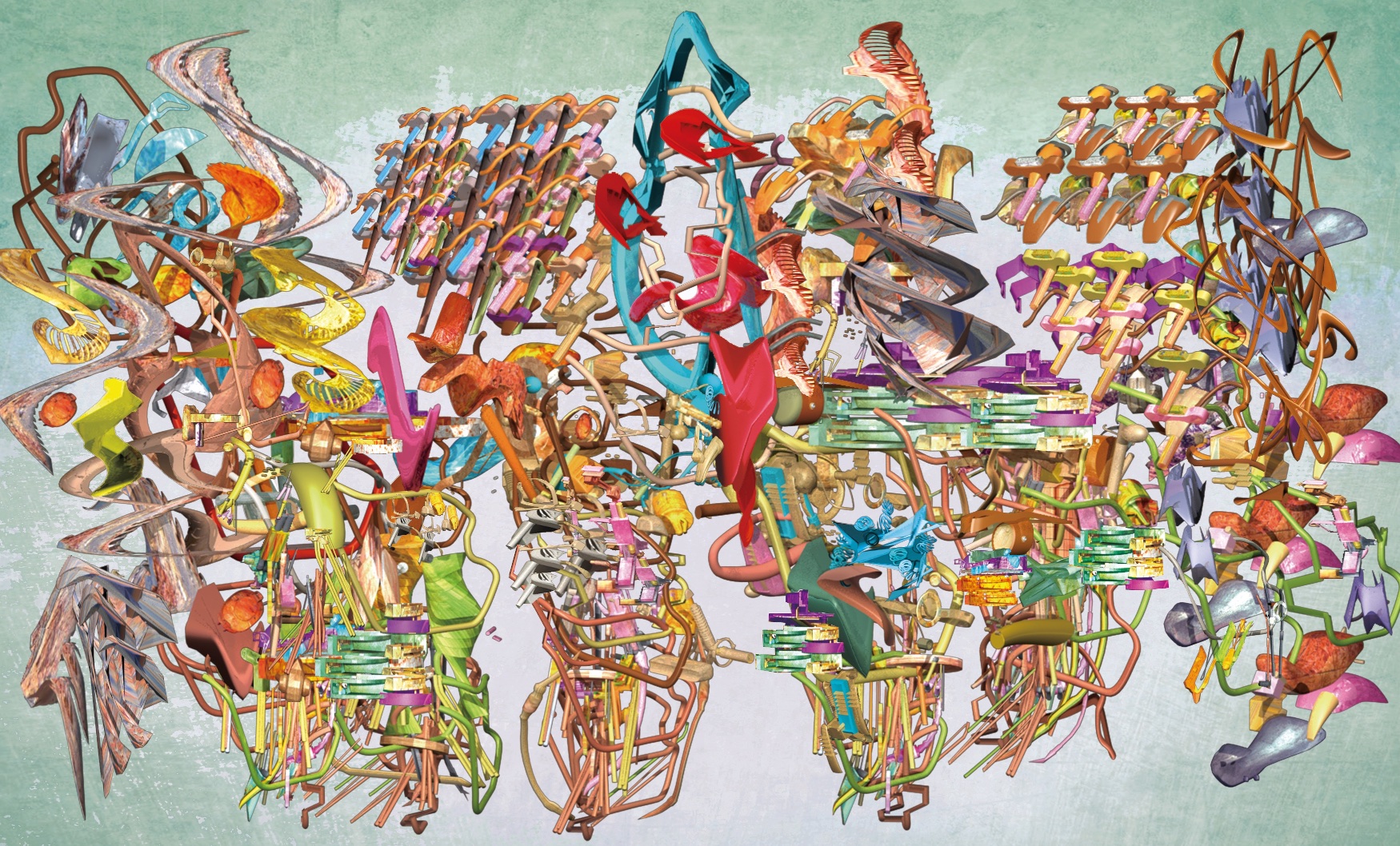 Matsumoto, Ryota. Stretched into an Infinite Vapor of Spectral Resonance. 2014. Mixed media. 28 in x 47 in; 72 cm x 119 cm.
This article first published in The Journal of Wild Culture, July 24, 2016.
View part two and part three of this series.

RYOTA MATSUMOTO is a principal of Ryota Matsumoto Studio, an interdisciplinary research office based in Tokyo. Born in Tokyo, Ryota was raised in Hong Kong and Japan. After studying at Architectural Association in London and the Mackintosh School of Architecture of the Glasgow School of Art in early 90's, he received a Master of Architecture degree from the University of Pennsylvania in 2007. His art and design work are featured in numerous publications and exhibitions internationally.
Comments
You work is very interesting visually. I am a practicing land planner and have my Masters degree from Virginia tech studying both architecture and landscape architecture so, similar to you, I am interested in the language between the human world, the natural land, and the built forms mixing together. I also play a lot of different musical instruments and find the analogy of music scores of songs best to describe what I'm asking.
What anchors your design style? For example, I can listen to your song but am not sure what dialogue holds it in the built world. Would you please help me see your thinking so that I can fully appreciate your drawings as blueprints for built worlds. Thank you for your time.
This a very useful information.
I understand completely about that topic.
Morphology is very important for languages.
Add new comment