Lucy Gilliam: Leading with Science & Eco-feminism
Standfirst
Epic adventures can start with chance encounters. In the case of scientist Lucy Gilliam, attending a talk about ocean pollution with an experienced eco-sailor led to a cross Atlantic mission — but not just with any old crew. Part 1 in a 2-part series.
Body

LONDON — Dr. Lucy Gilliam — adventurer, scientist, feminist, navigator, innovator and contributor to The Journal of Wild Culture — is enjoying some home comforts in Somerset, England. Things like Jaffa Cakes (a fiendishly addictive biscuit with orange jelly) and eggie bread (it involves eggs, bread and frying). Who can blame her? Just last November she was taking an all-female crew of 14 across the Atlantic, making vital readings to fill in gaps of our knowledge about plastics in the ocean — and toxins in us. Since then she's been promoting zero-emission cargo trade. Lucy is passionate about the planet, and particularly the perils of plastic pollution. Even if she wasn't heavily pregnant she'd deserve a bloody big break.
That epic and inspirational Atlantic voyage set off from Lanzarote in the Canaries last November in a 22m rugged steel-hulled yacht called the Sea Dragon, to land in Martinique almost three weeks later. The project was called eXXpedition Atlantic, the first of what will be annual eXXpeditions.
Lucy credits her mother for revealing the interconnectedness of life, and speaking up for the world we live in.     
That XX means it's pronounced ex-expedition, the letters representing the female chromosomes, and not (as your correspondent thought) an anti-reference to ExxonMobil — the corporate giant driving the global petrol economy that has spawned much of the plastics. "To be honest," Lucy says, "we hadn't thought of that".   
A core scientific objective of eXXpedition Atlantic was measuring ocean plastics. There's about 270,000 tonnes of it out there, including 5 trillion plastic particles less than 5mm across. They have formed five ocean-sized swirls called gyres. Fish ingest plastics and the chemicals in them enter our food chains. It is one the big environmental issues of our time.
But let's back-tack before we set out with the crew. Where did Lucy's environmental interest come from? Her connection to the sea and her experience in the English countryside in her childhood are at the root of it; and she was brought up in a thatched cottage in the hamlet of Ilford in Somerset. "We had ducks and chickens and geese," says Lucy, "and at one point pigs and sheep and an orchard".

Lucy's early boating experience was with the family's Salcombe yawl.
She couldn't see the sea from there, but in nearby Salcombe the family had a fishing dory and a sort of traditional local fishing boat, a Salcombe yawl. She wearily notes these are "now poncey and very expensive — status symbols for bankers from London". But Lucy credits her mother for revealing the interconnectedness of life, and speaking up for the world we live in. A biology teacher, she would identify things in hedgerows on family walks and was an activist councillor in Somerset.
"We have an intimate connection between the country and the city" says Lucy. "Our ecosystem serves everyone, not just those in the countryside. Having biodiversity — having clean air and water and having a climate that we can all live in — is impacted by people managing our landscape".
She knows what she's talking about. Lucy's PhD is in molecular soil microbiology, earned at the world's oldest agricultural research station, founded in 1843 — Rothamsted Research, near London. Using DNA techniques, she studied soil microbes on the roots of genetically-modified and non-GM plants, and "was developing diagnostic tools for environmental risk assessment", she reports.
From there, Lucy went on to be a scientist advising on policy-making for four-and-a-half years at the UK's Department of Environment, Food and Rural Affairs — DEFRA. "I worked on climate change, food security, chemicals and toxics", she explains. "I loved the work but really struggled in the civil service system". The culture at DEFRA changed after the Lib-Dem-Conservative Coalition replaced Labour in government. The Minister put in charge was Caroline Spelman, who a Commons Committee ruled had misused allowances to pay her nanny; she now co-owns a lobbying company. "There were huge cut-backs", Lucy recalls, "[and] policy started going in a different direction."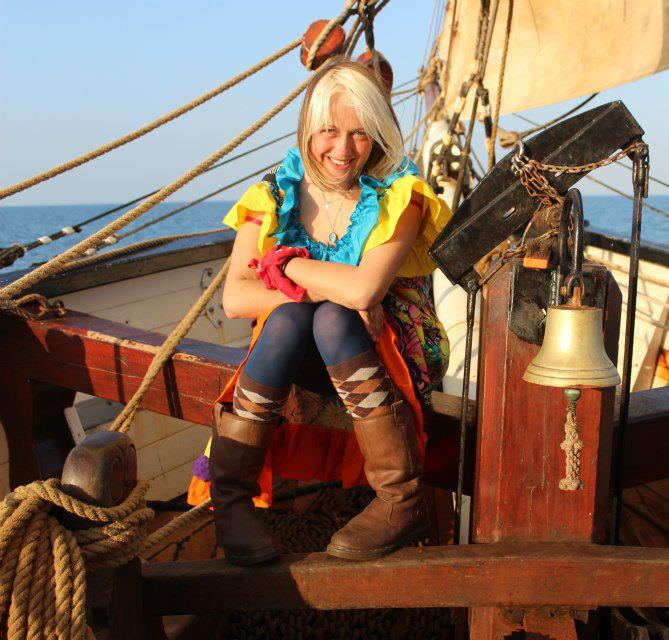 Lucy aboard the engineless cargo ship, the TresHombres.
She might have stayed longer to try to make more of a difference, but one encounter changed everything. She was at a talk about oceanic plastic pollution where she met Emily Penn. Emily was running Pangea Exploration, an organisation dedicated to exploration, education and conservation of marine life.
"She'd been mapping the five plastic gyres around the world," explains Lucy, "and we had a lot to talk about. I filled in a lot of gaps in the toxics [poisonous substances that can be chemically manufactured] story. They can act like little sponges and transfer pollutants into the food chain if they're ingested. We started brainstorming".
They talked about the endocrine disruptors Lucy had looked into at DEFRA — chemicals that disrupt your hormones. An example is bisphenol A, used in epoxy resins that line food cans. Lucy points out that this "is BIG business' and the subject of "a very contentious long running debate". Some studies have suggested health concerns, while various governmental bodies have often cleared it but sometimes questioned maximum exposure levels. The EU and some American states have banned it in baby feeding bottles. Similarly, some phthalates (used in PVC manufacture and found in many products, from synthetic perfumes, air fresheners, sex toys and paints to food packaging) have been linked to breast cancer, amongst other things. Phthalates are restricted in the manufacture of toys by the US and EU.
We weren't really having an impact . . . I saw the trip as an opportunity to move into a positive form of activism.                  
And then, independently, Lucy was "offered a dream" . . . a place on the Irene, a 34m wooden West Country trading ketch sailing around the Caribbean, with Jamie Pike and Alex Geldenhuys. "I thought, wow, this is really exciting, doing something quite radical! After [the 2009 UN Climate Change Conference at] Copenhagen, somehow things were going wrong in the environmental movement. We weren't really having an impact, maybe because everything had been framed in a perspective of doom-and-gloom environmental apocalypse. I saw [the trip] as a great opportunity to move into a positive form of activism".
Lucy quit DEFRA in January 2012 and sailed to the Caribbean on the Irene. Back in London, she campaigned, and with Jamie and Alex, co-founded New Dawn Traders, a company currently dealing in ethical Caribbean rum. She subsequently met her partner Arjen on his ship the Tres Hombres which she had been working with after the Irene. Then she spent three months as an advisor at Singularity University in California's Silicon Valley. Throughout the two women stayed in touch.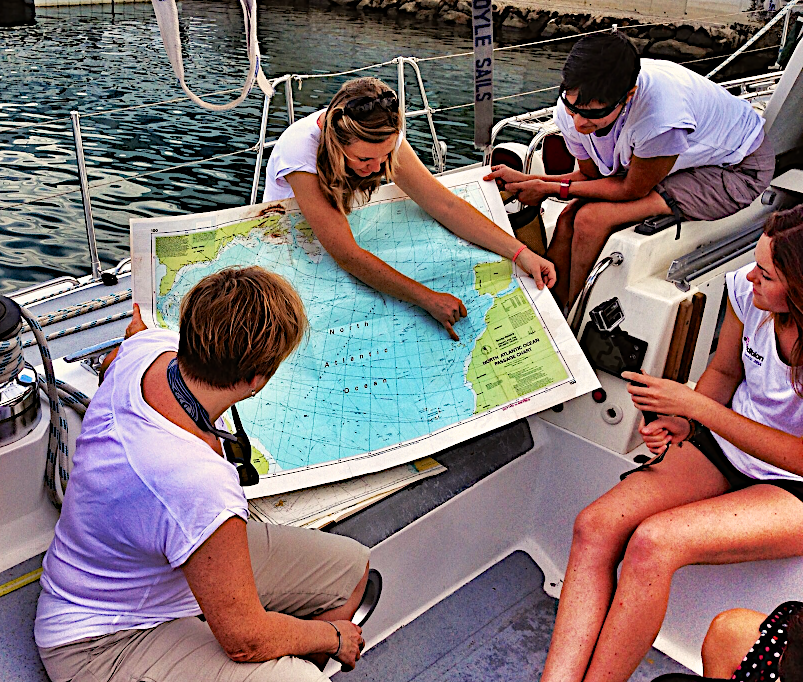 Emily Penn briefing the team.
In September 2013, Lucy reports that Emily said, "Right! I've cleared a slot in [the Pangea Exploration vessel] Sea Dragon's diary . . . Let's do an all-women voyage, and let's do it about toxics". Thus began eXXpedition.
Lucy had spent two months on the TresHombres (of which more later), when she alighted in Portugal with just €700 to survive on for three months. "I decided to go to Morocco, work remotely and live very cheaply, setting up eXXpedition", she says. She and Emily drew up their plans and, as Lucy explains, "we launched the idea in January 2014 with a call for crew." From over 50 applicants, they hand-picked their "perfect dream inter-disciplinary crew" that including an artist, activist, technologist and designer. Between them, the international group of women — from the UK, US, Italy, Norway, Portugal, Denmark and Canada — brought an impressive set of scientific knowledge covering biology, environmental engineering, marine ecology and ecotoxology. And only half the crew were experienced sailors.
They all met up in London in April 2014 when the eXXpedition's first scientific work began. Everyone gave blood samples, which would be analysed as part of the Safe Planet campaign initiated by the UN looking at 30 industrial pollutants in blood. But it would be in November that the 14 women would gather in Lanzarote, in the Canary Islands, and eXXpedition Atlantic would set sail. When they did, their vessel the Sea Dragon would also be carrying a stowaway . . .
READ PART 2 OF THIS SERIES — Herbert Wright tracks the women's journey from Lanzarote to Martinique, explores Lucy's feminism and finds out what comes next.
The crew of the Sea Dragon.

HERBERT WRIGHT is editor-at-large of The Journal of Wild Culture and a London-based author and journalist specializing in architecture, art and environment. He studied physics and astrophysics at the University of London. He is currently a contributing editor of Blueprint magazine, and contributor-at-large to Design Curial. www.herbertwright.co.uk
Photo credits: 1) Salcombe yawl. 2) Lucy on the Tres Hombres; 3) The Sea Dragon.