Making Alterations - Clothing and Conscious Consumption
Standfirst
Anonymity and opacity are the names of the fashion game - at the highest and lowest ends of the spectrum. While most of us can't afford to buy sustainably-produced clothes, the author asks: can we afford not to?
Body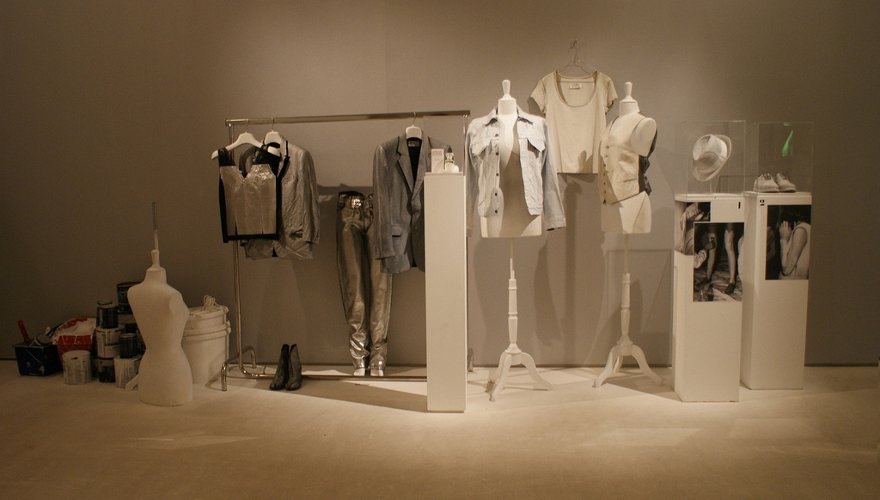 There are two types of people. Those who buy a lot, and those who don't. In fashion, this has very little to do with income, passion for quality design, or good cloth. For the most committed type of consumer, whether they're chasing basics or luxury couture, the label always seems to get in the way.
Prior to the delivery of a design collaboration for Autumn/Winter 2012 between the world's second largest retailer H&M and pioneering French fashion house Maison Martin Margiela, a brand "constantly questioning the norms of fashion", both retailers have clearly laid out their comparative intentions in the tabular press release. While Margiela supports "conceptual and timeless fashion", H&M sells "democratic fashion". H&M's values are "fashion and quality at the best price", whereas Margiela trades, as it states here, under the banner of "Anonymity, Whites, Ambiguity."
In an ingenious ploy, the teaser photos mirror Margiela's no-label advertising and look uniformly utilitarian. White cardboard cut-outs and blank wooden signs, paper silhouettes and homogenous garment patterns. Anonymity already belongs to fashion at the highest and lowest ends of the spectrum. Take out the designer label, and exclusive fashion becomes fashion for all.
According to Simon Chilvers in The Guardian, all of the H&M pieces, akin to a nest of origami doves, are remakes of Margiela originals, and will be labelled with the year and collection they originate from. "Everything has been created from the original sketches and cut as they were originally seen on the catwalk," a representative from Margiela explains, with compromises on material and price. "What was originally a fur coat is now a faux fur coat and so on."
What any high street/designer collaboration amounts to is paying more for less. Retailers have cottoned on that weird-looking means expensive-looking. Add a skewed hem or an inflated silhouette, experiments with androgynous tailoring and visible seams and stitching, and voila. What you get is pieces which look ten times more expensive than the standard shop fare, but can be cut just as cheaply from the same scratchy cloth. Unlike the expensive designs they ape, these clothes will not last longer than they absolutely have to. The Margiela for H&M pieces are just more fuel for the fast-fashion fire.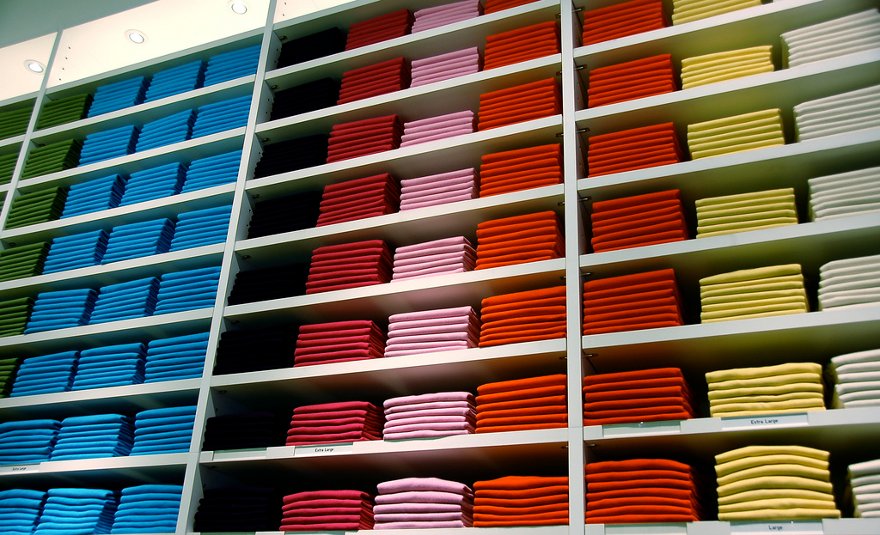 DEFRA's research tells us that in the UK we buy two million tonnes of clothes every year, one fifth of which is bought from "fast fashion" brands like H&M, Uniqlo and Zara. One million tonnes of clothes are thrown away every year, with 50 % of the total ending up in landfill.
In fast fashion outlets, skinny T-shirts are tossed around in rainbow showers like Skittles. On luxury clothing websites, The T-shirt, The Jeans, and The Ankle Boot are presented by trend under "Trophy Knits", "Opulence", "Shape and Form" or in colour order, with little correlation to season. In addition to their twice yearly seasonal collections, fashion houses release Resort ranges, for holiday-goers or year-round residents of Dubai, Florida or the Bahamas. Nearly instantaneous supply chains transfer catwalk sensations into shops within weeks.
Swanning around glass-fronted high street stores, past the podiums of lamb's leather purses and patent pointed feet, I find I don't want to buy anything. For me, the clothes on offer are not so much besmirched by greed, but drowned in apathy. So caricatured they appear like Danish art collective Superflex's empty McDonald's, slowly being submerged in flood water or a shop window art work by Josephine Meckseper, with its rotating rabbit, Pringle sock and perfume bottle [
pictured below
]: ugly, hard, isolated artefacts which will forever be stuck behind glass.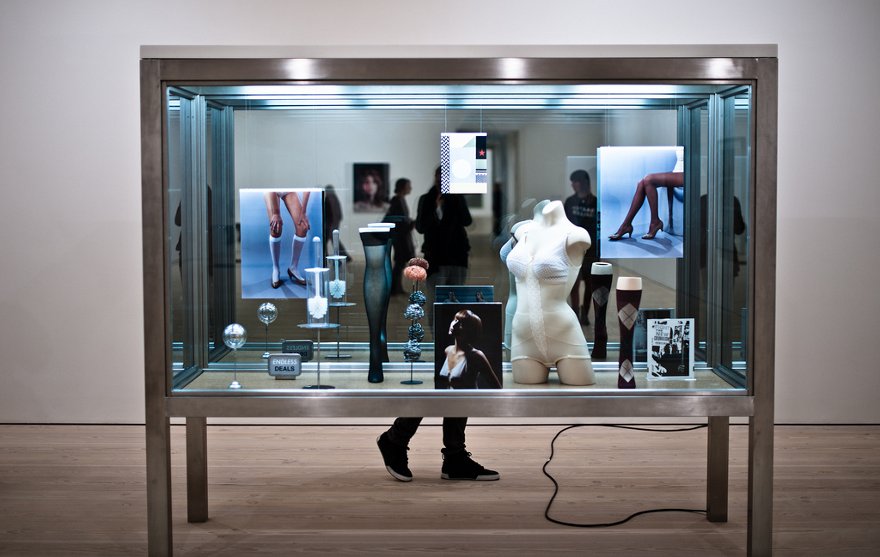 Brands are making changes. H&M, for example, has upped its game in the corporate social responsibility stakes. With 2,500 stores in 44 countries selling 80 billion garments, the brand haemorrhages resources. However a 2011 sustainability report, released in April, records a water saving of 50 million litres due to streamlining of the denim manufacture process, proving that change, and fast change, is possible.
Although companies have begun to implement more sustainable business models, Allana McAspurn of Dutch sustainability NGO, Made-By, explains that this is not just about rebranding for a new kind of ethically-confused consumer. "High street brands are feeling the effect of inflationary hikes in raw material prices and the overall rise in production costs," she says. "One way of dealing with this is to think of how these costs can be controlled and create efficiencies."
Celebrity-led Fairtrade initiatives, like Bono and Ali Hewson's label Edun, purport to add value to people's lives – if the garment is produced and finished in the developing world it creates more work opportunities in those countries. Countless other labels like this attempt to make the production process more visible. Like Paddington bear, these garments wear their histories like a luggage tag.
But the increased concern produces a glut of labels, many of which are inconsequential fluff – 'eco', 'ethical', 'sustainable', 'green', 'fair-trade', 'organic' – clogging up our vision of clean clothing. Manufacture, processing, designing and finishing: there are so many layers to garment production, which makes it easy to make big differences at one juncture of the chain but less at the other. Fairtrade cotton, for example, is introduced to supply chains that are not particularly clean, and is tagged with what the consumer erroneously sees as an honest label. Ten thousand people die every year from accidental pesticide poisoning in cotton agriculture. West African farmers are forced to sign a contract to buy the pesticides – before they can get a contract to sell their cotton. Buying organic cotton reduces pesticides, but uses a huge amount of water. The product may be organic, but the process is not sustainable. We need flags, like free-range chickens.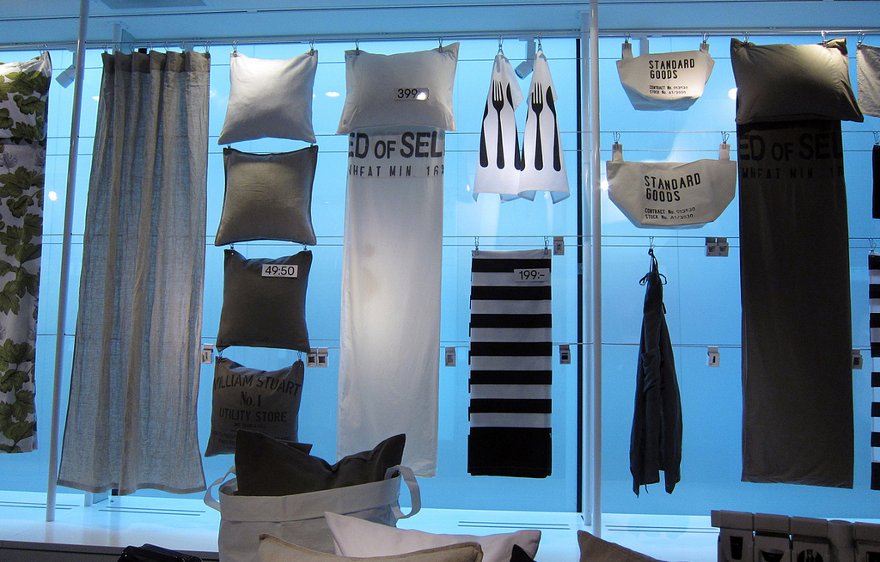 As it becomes more fashionable to be a conscious consumer, a massive achievement in itself, the desire to be mindful has infiltrated the average shopper's experience. In a survey, Made-By asked 1,00 British consumers between the ages of 16 and 65 what they valued in fashion. 75% of consumers felt that cotton farmers should be paid fair prices, while 60% expressed a wish for their clothing to be made in an eco-friendly way. Of course the idea of wisely weighing up possible purchases in the midst of the high street maelstrom is ridiculous. In any neon-lit shopping outlet, a conscious, fairtrade or green label by any other name seems as sweet. Consumer views are dictated by press releases. And despite exposure of bad practice, they continue to buy. There is a huge gap between what the consumer says and does.
Of course a discerning consumer, with an expendable income, will always gravitate towards independent designers. Whereas the high street fails to sell authenticity, when it comes to genuine emotional attachment, slow fashion labels flourish, with limited product runs and higher prices bearing out their affinity with idiosyncrasy. Those who can afford to buy exclusive and sustainably produced designs will.
An 100% organic jumper from Chinti and Parker which comes in cotton, bamboo and cotton-cashmere, is stocked at Browns, Harvey Nichols and Matches fashion boutique. Why spend £300 on a cashmere jumper, when you buy ecologically-produced cashmere? Scores of new sustainably-minded labels, like Friederike von Wedel-Parlow's Project No1, are employing natural dyes, eco-friendly materials, and radical pattern systems producing zero waste to construct products just as desirable as the big name fashion houses. On the whole though, if you want truly beautiful design, clean or not, you have to pay for it.
With the arrival of H&M's Conscious Clothing range, which utilises sustainably-produced fabrics like Tencel and Bamboo, Topshop's collaboration with clothes salvage stalwart From Somewhere on a Reclaim to Wear upcycled collection, and Tesco's partnership with high street surplus specialist GoodOne, affordable products for the mainstream market have already materialised, but you'll still have to look hard for them, if you want to.
Fleeting fashion trends might be throwaway. But new designs from independent labels, generation-spanning pieces, or vintage one-offs are still highly emotionally charged. Assigning more value to the clothes which warrant it might make a convincing case for buying less, wearing longer, and reusing. Unlike shops, which have to sell, consumers don't have to buy. Retailers just need to keep giving them a good reason not to.
For further information on sustainable fabrics, read Breakdown: Fabrics in Question, also by Rosie Jackson.
Image credits (from top to bottom):
albadawn
,
HAPPYFAMOUSARTISTS
,
smcgee
,
pocketmonsterd
.

Comments
M&S (on their clothes' labels) ask you to "Recycle their clothes with Oxfam" and "Wash at 30C save up to 40% energy"
Economics? Producing better quality, sustainable, non polluting, pesticide reduced yarns and fabrics requires more intensive labour - helping employment figures. Colours which require less harmful chemicals to produce and garments that cost more but because they are better quality, take longer and cost more to make still could produce the equivalent income and employment - just production volume is less. If work is more skilled a better level of family income may be generated so children have a better chance if going to school or perhaps of childhood instead if working as their parents can better afford them.
Recycling fabric? This depends on the chemicals and processes used but is it preferable to landfill and land lost from food production with ever rising food prices which is a consequence of growing ever more raw materials to feed the trend Rosie talks about so eloquently.
Gap's multi-buy offers encourage overt consumption as in food stores they encourage waste and over-eating. Ok, so with Gap the t-shirts (and especially the nickers) fall to pieces frequently so 3 lasts as long as one from M&S! but back to Rosie's point - if it was 3x the price, lasted 3x as long, didn't use nasty chemicals and dyes in it's production - better off?
Add new comment