Rewriting history to justify current actions
Standfirst
Egerton Ryerson (1803-1882) was an innovator in the field of education in 19th century Ontario who almost single-handedly originated its school system. He was also a friend to Indigenous people, and recommended a curriculum for Indigenous education that would have allowed Indigenous inhabitants to prosper in a rapidly changing environment. As a result of his involvement in Indigenous education, in 2017 the students' union of the post-secondary institution named after him, Ryerson University, called for the changing of its name and the removal of Egerton Ryerson's on-campus statue. A recent report with recommendations has been accepted by the university, resulting in its decision to change its name. ¶ The following letter was sent February 10 the university president. We are publishing a response to it, plus some commentary on the decision.
Body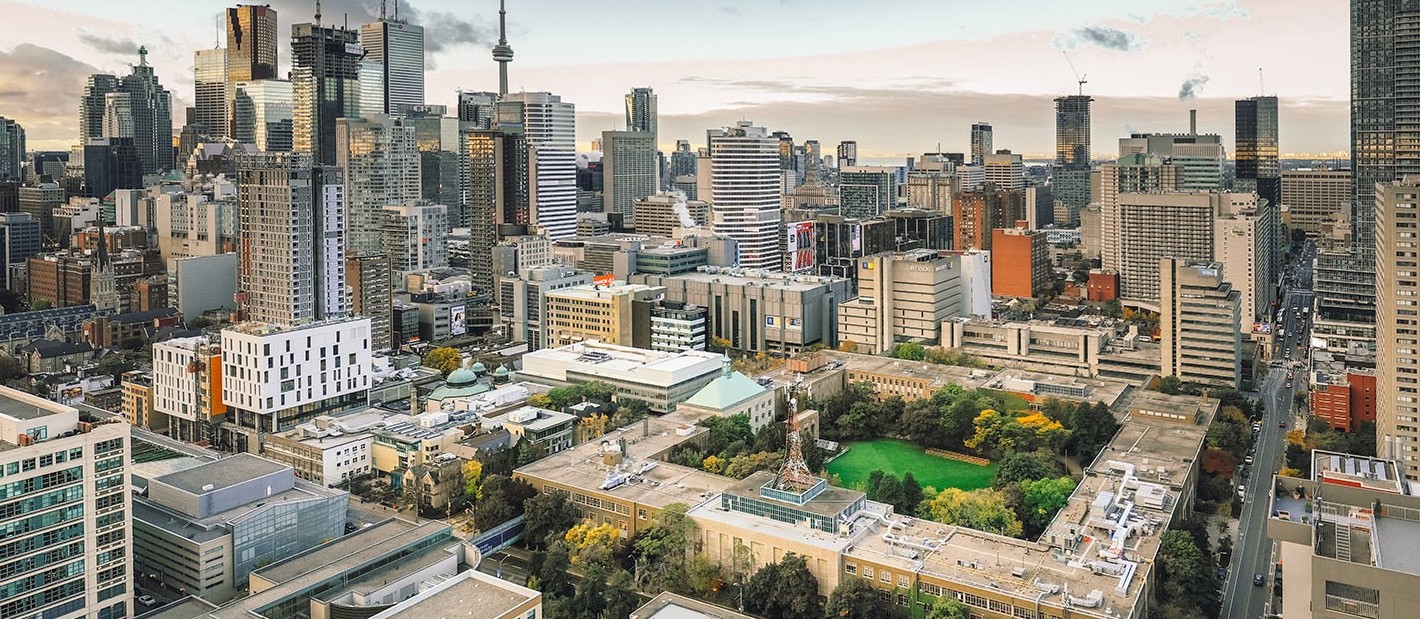 Ryerson University campus, Toronto.
Letter to Dr. Mohamed Lachemi, president and vice-chancellor of Ryerson University from Gilbert Reid, journalist and author
Dear Professor Lachemi,
I would advise against changing the name of Ryerson University.
1) It seems, so far as I can ascertain, that the man Egerton Ryerson was not guilty of the various nefarious crimes attributed to him.
I see, from a recent letter that you signed, that Ryerson was never on trial. Really? That is certainly news to me and to everyone I know.
 
2) Canceling Ryerson — and let's not prettify it, that is what it is — is equivalent to canceling the efforts of many generations of school teachers, intellectuals, and teachers of all kinds who worked hard have made this province the relatively well-educated and relatively welcoming place it is.  
 
It also cancels all the generations that did all sorts of work of all kinds.
 
This place — Ontario — did not come originally equipped with a literate population, banks, supermarkets, streets, sewers, literacy, numeracy, condos, and electric lighting, streetcars and the rule of law, though we may now be told — or given the impression — that it did.
 
Irony, I know, is forbidden. I really must be careful.
 
You are canceling, among other people, my ancestors who have lived and worked here for quite a few generations — back into the 18th century I believe on one branch; we were in the fur trade, then fishing, then mining, and farming — real farming where you get your hands reddened and where you work dawn to dusk. And real mining, too, where, in those days, you certainly risked your life — as my father did.
 
Our history is suddenly irrelevant — as is that of everybody else who worked up until yesterday to make this place what it is.
 
The rich industrial and post-industrial society — yes, it has problems — that is Ontario was just conjured up by magic. Whoopee! Here it is! And who are these horrible people — these "settlers" — who live here, camping like parasites on this ground?
 
This is deeply "disrespectful."
 
3) I think we are seeing presently, in the horrendous so-called truckers convoys, part of the blowback from political correctness and Wokeism and conformity run amok.
 
Renaming streets and universities and tearing down statues may seem costless and cute — mostly gesture politics of the most vacuous, useless, showy, vain, and counter-productive kind — but it isn't; it costs money and it creates, in many sectors of opinion, not just disgruntled grumpy old white folks, lots of simmering, then boiling, then exploding resentment.
 
And it costs money that could be better spent, say, on scholarships and fellowships for Black or Indigenous students.
 
4) By the way, in my experience some of the most virulently anti-Woke and anti-political correctness people are young so-called BIPOC (horrendously dehumanizing, reifying, alienating acronym adored by militant tacticians & academics and bureaucrats and mocked by everybody else) and worse "racialized" people — I won't go into how offensive on almost all l levels this term "racialized" is, and how it embodies Agitprop in its most hypocritical, devious, and insidious form. It reminds me of Orwell and NewSpeak and of Stalinism at its most lethal. Use words that make straight and honest thinking about almost anything impossible — then you can get away with anything.
 
Sorry, I am getting carried away.
 
I was saying I keep meeting young people, not white young people, who tell me how students are not allowed to express their feelings or thoughts, and how they have to cease thinking to be approved.  
 
Small anecdote: I was in a cafe discussing a whole range of issues with a young Chinese-Canadian friend of mine (he's 33, I'm almost 80). We were arguing about everything. Suddenly, a tall gangly young Black guy was standing there. He said he couldn't help but overhear us. "You guys are really discussing things," he said, in amazement. He asked if he could join us. So he did and we've had some great discussions since then. He also told us that any free discussion in the context of the university was virtually impossible. "We have much better & freer discussions back in our community," he said (an East African community in Toronto), "In my community, we discuss everything. In the university, we don't discuss anything. People are afraid to."
 
I have heard similar things from a great many young people.
 
Universities are, I am afraid to say, committing suicide.
 
So is the tradition of civil, open, honest discussion and reasonable politics.
This will not end well.
 
With my very sincere best wishes,
 
Yours sincerely,
 
Gilbert Reid

Egerton Ryerson (1803-1882). [o]

Response to the letter by Patrice Dutil, Professor at Ryerson University
Dear Gilbert,
You will get an FU letter from RU. I know.
Some hope it will help RU "think." It is not capable.
Mohamed Lachemi, the President, has been a passionate advocate of the name change since the beginning of his tenure. Smart engineer that he no doubt is, he does not understand Canada the way most people on this list-serv do. Egerton Ryerson represents the past and for him, whatever roots the nineteenth century thinker/advocate/doer might have sunk in the province's culture (namely, respect for the indigenous, respect of religious minorities, free education for all, standardized textbooks, public libraries, democratically engaged school boards and friendship) are now rotted. Gilbert, you clearly stand for those values: Ryerson is therefore to be ignored, dismissed, erased.
Lachemi railroaded the debate by nominating a committee of name-change advocates who wrote a report that exculpated Egerton Ryerson, but that still insisted that he represented something abhorrent. The report is here and worth spending 15 minutes on.
There were no experts on Canadian history on this commission (that would have been ridiculous).
To say the least, this is not a "thinking document." Lachemi sought a PR company to make sure everything smelled of roses, ensured that the 130 year-old statue remained vulnerable despite repeated vandalism, and applauded its violent destruction (as did the co-chairs of the committee that issued the report).
The next shoe to drop is the new name. Watch for it. The chosen name is a very closely guarded secret.
There is a valiant group afoot.
We need your help. We're thinking of legal challenges, debates, pressuring the Ontario government (Doug Ford has been utterly and totally useless on this file) to at least secure the Ryerson statue and its plinth before it is destroyed by the university that once bore its name), setting up a sort of Egerton Ryerson think tank that would at least seek to protect his reputation. Any ideas would be helpful. Help would also be good!
Patrice Dutil
Statue of Egerton Ryerson by Hamilton McCarthy, 1887. [o]
Comments on the issue
There are two aspects to the question. Any historical figure must be understood in the context of his or her time. If you choose to apply modern values in judging, you must acknowledge what the judgement would have been in the past. The second aspect applies in the Egerton Ryerson case. You must not start out with a conclusion and then look in the past for proof of that conclusion, ignoring any facts or interpretations that do not fit your conclusion, including ignoring any interpretation of terms that have changed over time. This is rewriting history to justify current actions.
— Ron Stagg, Professor of History, Ryerson University
In cases like this it is important to acknowledge that Indigenous people, their cultures, languages and political systems faced policies of outright erasure in Canadian culture and politics for at least a century following the establishment of Confederation in 1867. They also contributed mightily to the Canadian project. Think fur trade. Think War of 1812. There would be no Canada without Indigenous people. They too are nation builders. And the contribution continues.
In weighing these complex issues, it is also important to acknowledge the pain, revulsion and trauma that many Indigenous people feel over the history of the treatment they have received in Canada.
To my understanding, Egerton Ryerson, not unlike many or possibly most celebrated nation and culture builders, was one complicated character. Sanitizing individuals from earlier historic periods because of what we generally agree is acceptable moral behaviour is sketchy territory. It's not possible, or is it?
For my part, erasing history is a bad idea. It's a dangerous cop-out for people of our day to suggest that we should ignore those individuals who built the country from the historical record. They are us. We need to study and understand them, not cancel them.
Rather than censure and erasure, better to contextualize. Put up a statue of Mississauga educator and Methodist minister Peter Jones — aka, Sacred Feathers — next to Egerton Ryerson. Put Métis political leader Louis Riel and Plains Cree chief Big Bear next to Canada's first prime minister John A. Macdonald.
Do not erase.
— James Cullingham, filmmaker, historian and adjunct graduate faculty member in Indigenous and Canadian Studies at Trent University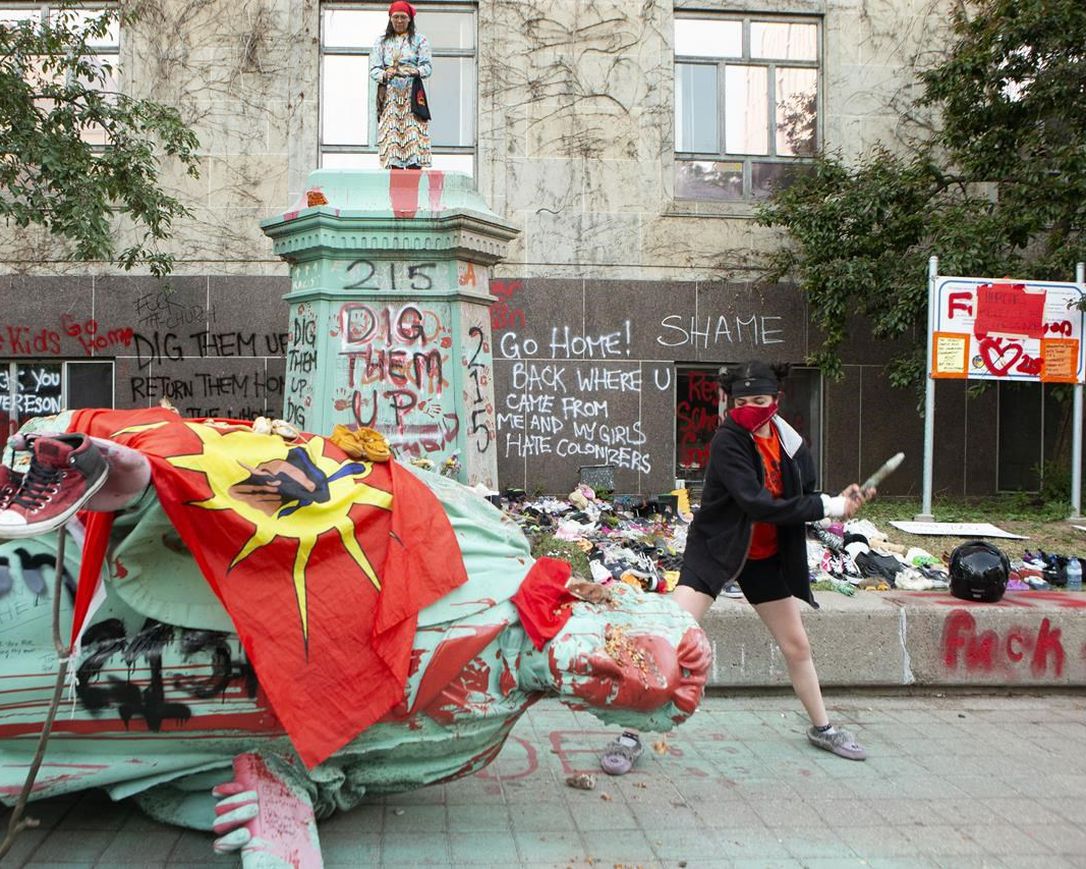 Following the discovery of 215 unmarked graves at the Kamloops Indian Residential School, on June 6, 2021, the Egerton Ryerson statue was toppled. [o]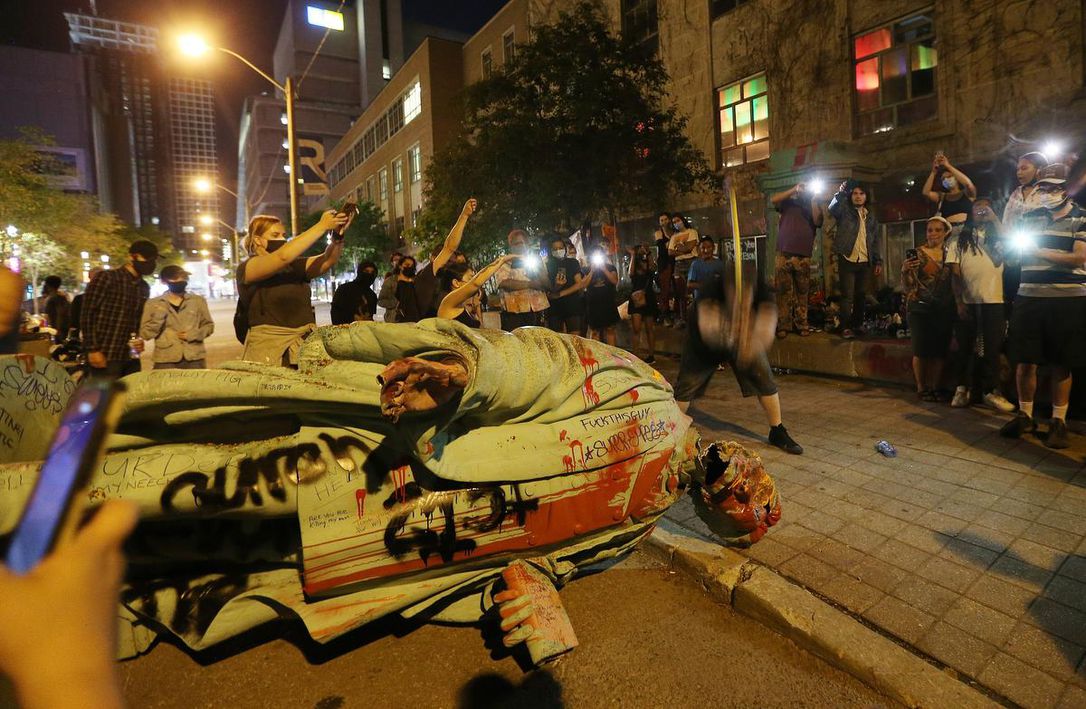 Later, it decapitated and thrown into Toronto Harbour. Ryerson University stated that the statue will not be restored or replaced. [o]
Quiz on Egerton Ryerson
(from the Friends of Egerton Ryerson website)
Choose one or more suggested answers (answers below)
    1. What Indigenous language(s) did Ryerson learn?
    a. Cree
    b. Ojibway
    c. No Indigenous language
    d. Two or more Indigenous languages
    2. How long did it take Ryerson to learn the language?
    a. Two years or more
    b. One to two years
    c. 6-11 months
    d. not applicable (no Indigenous language)
    3. What was Egerton Ryerson's Indigenous name?
    a. Kakeqaquonaby (Sacred Feathers)
    b. Cheechock (Bird on a Wing)
    c. no Indigenous name
    4. Who gave Ryerson his Indigenous name?
    a. an Indigenous chief
    b. an Indigenous council
    c. nobody (no Indigenous name)
    5. Egerton Ryerson supported what kind of schools for Indigenous children? (choose two answers)
    a. English only instruction
    b. Indigenous only instruction
    c. bilingual (Indigenous and English)
    d. voluntary attendance
    e. compulsory attendance
    6. The schools Ryerson supported for Indigenous children were
    a. residential (pupils boarded at school)
    b. day (pupils lived with parents)

    Answers: 1 b. 2 c (8 months). 3 b. 4 a. 5 c & d. 6 b.
FURTHER READING
'Egerton Ryerson is Being Misjudged,' by Patrice Dutil and Ron Stagg
'Now ain't the time for your tears' by James Cullingham

GILBERT REID lived and worked for 30 years in Europe as a diplomat, economist, and university lecturer as well as a journalist for major publications. Upon returning to Canada he worked as a broadcaster, writer, and producer for radio and television. His most recent work includes three dystopian novels, an erotic trilogy, and a historical novel set in the Italian Renaissance. He lives in Toronto. View Gilbert's website.
PATRICE DUTIL is a Professor in the Department of Politics and Public Administration at Ryerson University, which he joined in 2006 following 19 years in the public and non-profit sectors. He is the author, co-author or editor of eight books and of dozens of scholarly articles. He lives in Toronto. View Patrice's website. 
RON STAGG has taught at Ryerson University for over 30 years, and twice has served terms as chair of the Department of History. His research interests lie in Canadian social history and social protest and in the relationship between film and history.
JAMES CULLINGHAM is a documentary filmmaker, historian and journalist. He recently released a film, The Cost of Freedom: Refugee Journalists in Canada, and a book, Two Dead White Men: Duncan Campbell Scott, Jacques Soustelle and the Failure of Indigenous Policy (Seneca Press). He is an adjunct graduate faculty member in Indigenous and Canadian Studies at Trent University in Peterborough [Nogojiwanong], Ontario.