The Best and Brightest Who Failed Indigenous Peoples
Standfirst
A Frenchman and a Canadian, decent, talented men with insight and compassion, advised their governments to enact legislation that had disastrous consequences. A new book explores the careers of Duncan Campbell Scott (1862-1947) and Jacques Soustelle (1912-1990), once revered figures in their societies but whose legacies are now vigorously contested.
Body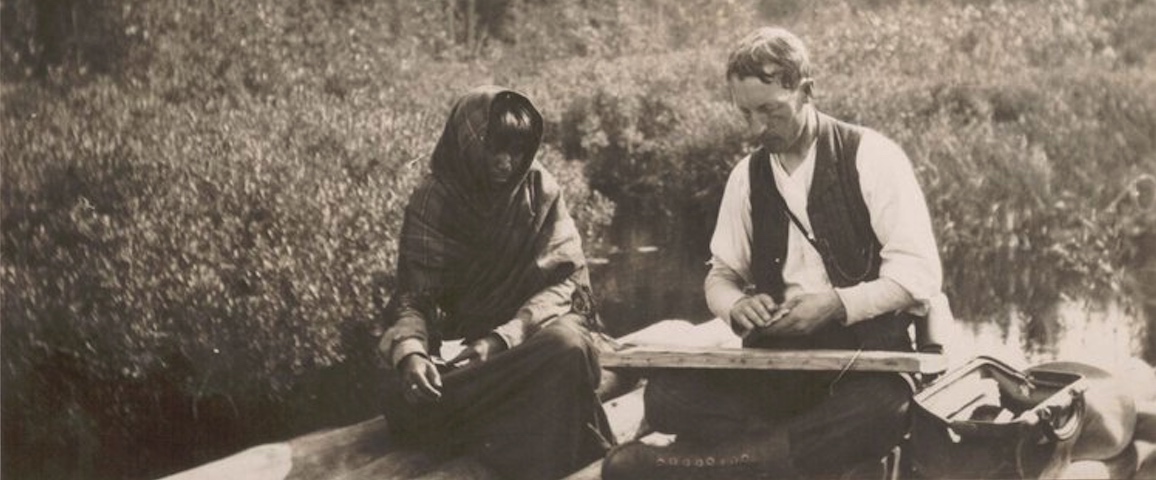 On site, in place . . . Duncan Campbell Scott Scott with Anishnaabe woman. [o]
They were brilliant, deeply perplexing men.
Each had major roles in dealing with Indigenous peoples in Canada, Mexico and Algeria. Their experiences resonate in the present day of attempted reconciliation and decolonization.
The new book, Two Dead White Men: Duncan Campbell Scott, Jacques Soustelle and the Failure of Indigenous Policy by James Cullingham, investigates their careers and their ideas.
Scott was a poet, musician, playwright, journalist and a top bureaucrat in the Canadian Indian Department. He is well known to many Canadians, yet notoriously so in recent years for his historic role in managing residential schools for Indigenous children. Once a paragon of Canadian culture, Scott is now viewed by many as an architect of cultural genocide.
Soustelle was an eminent French ethnologist of Mexico, an anti-Nazi resistance figure and maverick politician who became one of the last French Governor Generals of Algeria. Notoriously in French political history, Soustelle was once mentored, and later fired by Charles de Gaulle.
Both men were among 'the best and brightest' of their generations.
How is it that he could remain detached from what — in the light of 21st century hindsight — are the worst human rights crimes in Canadian history?
The book is concerned with questions of justice for Indigenous people that must be asked throughout the post-colonial world. It is a book of fascinating history that explores perennial moral dilemmas. Why do otherwise good, talented people do bad things? What is the social responsibility of prominent artists and social scientists? How do we judge societal leaders decades after their once popular policies have been discredited?
Driven by empathy and curiosity, Cullingham has written a transnational book that puts the lie to notions of Canadian or French exceptionalism. Two Dead White Men makes the convincing case that Scott and Soustelle manifested the fundamental failures of their supposedly liberal societies in dealings with Indigenous peoples.
The following is an excerpt from the chapter Past is Present.
On June 11, 2008 a crowd gathered outside the House of Commons in Ottawa. A giant video screen on a flat-bed trailer hitched to a pick-up truck was in position for an overflow crowd of curious onlookers that gathered waiting to hear Prime Minister Stephen Harper speak to Parliament. Inside Parliament, Indigenous Elders, some accompanied by their grandchildren, filed into an upper lobby that leads to the public gallery overlooking the House floor. Harper was about to apologize to the Indigenous people of Canada on behalf of all Canadians for the abuses and injustices of the residential school system.
In the gallery where I stood, Indigenous Elders, their children and grandchildren looked down upon the prime minister. An elderly woman stood and looked directly at Harper while clutching an eagle feather in her fist. A young man in the same gallery section caressed a skin drum. On the floor of the House of Commons, members of Parliament and the leaders of Indigenous organizations turned their attention to the prime minister as he rose. When Harper acknowledged the presence of Elders in the gallery all of Parliament erupted in loud applause. In his preamble, Harper thanked the leader of the New Democratic Party Jack Layton for influencing his thinking about the issue. In a strong, clear voice, Harper said in part:
The government recognizes that the absence of an apology has been an impediment to healing and reconciliation. Therefore, on behalf of the government and all Canadians, I stand before you, in this chamber so central to our life as a country, to apologize to the Aboriginal peoples for Canada's role in the residential school system…
The prime minister apologized for one of the principal policies that Duncan Campbell Scott had implemented as a senior civil servant for the government of Canada.
Jacques Soustelle (L) as Governor General in 1955 in the mountainous Nementcha region of Algeria — with administrator Maurice Dupuy who would be assassinated a few days later. [o]
In Paris on June 18, 2010, solemn commemorations marked the 70th anniversary of the 1940 appel that Charles de Gaulle transmitted from London letting les français and the world know that he had decided to lead the resistance to the Nazi occupation of France. Across the Atlantic Ocean, a military attaché to the French ambassador responded to that appel. Twenty-eight-year-old Jacques Soustelle soon sent word from the Mexican capital that he would serve de Gaulle. Soustelle joined Paul Rivet, Germaine Tillion, and others associated with le Musée de l'Homme in joining the resistance.
At the city hall of Paris, a huge photo of de Gaulle during the Second World War framed against hundreds of smaller photos of those who had served the resistance towered over the square. Media was replete with anniversary coverage of de Gaulle's BBC broadcast, announcing the creation of the France libre movement.
In 2008, French President Nicolas Sarkozy inaugurated l'Historial Charles-de-Gaulle, a multi-media digital museum at the les Invalides defence establishment in the centre of Paris. Images of Soustelle appear in digital video displays by de Gaulle's side in Algeria when the general visited following his return to power in 1958. At that time, de Gaulle vowed to maintain l'Algérie française. Within two years, he had changed his mind on Algeria and fired a disobedient Soustelle from his cabinet. Soustelle's role in plotting an assassination attempt on de Gaulle is not referenced at l'Historial Charles-de-Gaulle.
Governor General Soustelle visiting an Algerian classroom, 1955. [Image: Editions Plon].
In their biography of Pierre Trudeau, Trudeau and Our Times, Vol. 1 & 2, authors Stephen Clarkson and Christina McCall added a phrase to the lexicon of Canadian political history and journalism. Trudeau, they wrote, "haunts us still." Clarkson and McCall argued that the highly atypical Canadian Trudeau, whose charisma, unapologetic intellectualism and sex appeal set him apart from "normal" political life in Canada, "haunted" a Canadian public which could never pin him down or figure him out.
Duncan Campbell Scott and Jacques Soustelle haunt me still. This work, which had its beginnings while floating in a canoe on Lake Superior waters off the mouth of the Pic River almost 30 years ago, has taken me on a wondrous journey of discovery. The overarching questions about these men linger and, yes, haunt.
How is it that Scott could blithely, or not so blithely, ignore or remain detached from what — in the light of 21st century hindsight — are the worst human rights crimes in Canadian history? Revelations regarding hundreds of unmarked graves of Indigenous children near the sites of former residential schools dominated Canadian media and tarnished Canada's image abroad throughout the spring and summer of 2021.
The inescapable truth is that Scott embodies, in stark cultural and policy terms, the fundamental disconnect between Canadian liberalism and a positive, meaningful expression of Indigenous economic, political and human rights in the settler state Canada. Scott was not merely an individual; he was a manifestation of a bad system made by humans and changeable by humans. The hell of the matter is that Scott, in my view, accomplished some great artistic works. The best of his poems and short stories deserve their place in the pantheon of Canadian literature.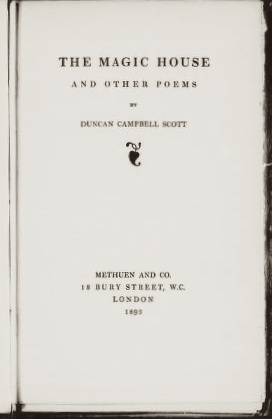 The Magic House..., still in print.
What intellectual, or dare I say, neat ethical summation can be made of Jacques Soustelle? Soustelle plotted, but failed to kill his mentor Charles de Gaulle. A contrarian to the end of his days, some of Soustelle's late life opinions about South Africa and the Middle East seem outlandish to many.  French journalist  and Soustelle biographer Bernard Ullmann labelled Soustelle, le mal aimé, "the unloved one," or perhaps more accurately still, "the black sheep." Soustelle's unruly presence hovers still over both the discipline of French ethnology and memories of the French-Algerian conflict to the present day. As a social scientist, the ringing clarity, profound curiosity and bold, genre-busting multi-disciplinary ambition of his best works about Mexico remain relevant. As a political iconoclast, his unpopular predictions and denunciations of theocratic Islamist excesses and his premature advocacy of a proto-federal cohabitation between a European métropole such as France and the decolonizing nations of Africa, such as Algeria, seem now, at times, to have the ring of prophecy.
§
Jacques Soustelle is central to an ongoing conversation among historians and political scientists about the decline of French imperial power in the modern era. In his lifetime, he engaged vociferously with the likes of Charles de Gaulle, Jean Paul Sartre, Simone de Beauvoir and Raymond Aron. Most recently, Soustelle is experiencing a moment of quasi rehabilitation. Author Alain Herbeth's biography puts a positive spin on le plan Soustelle in l'Algérie française. Julian Jackson, an eminent British historian of France, describes a Soustelle betrayed and belittled over his efforts in Algeria by his one-time mentor de Gaulle. Speaking about his book at the University of Toronto in April 2019, Jackson said that Soustelle was psychologically tortured by de Gaulle and was bitter after being spurned by a man Soustelle considered a father figure.
More controversially, in 2018, French journalist and broadcaster Éric Zemmour, a highly outspoken and visible political commentator of Algerian Jewish descent, offered his own lengthy analysis of Soustelle. Zemmour faintly praised Soustelle for his high-minded, but naive integrationist approach. Zemmour in turn slammed de Gaulle for ultimately defending a reductive vision of French national identity in his policies to- wards Algeria and Islam. His revisiting the antagonism between de Gaulle and his one-time protégé is testament to the way in which Soustelle's agonizing over intégration echoes persistently in French society. A lightning rod for persistent racial tensions in France, Zemmour has been fined for his views about immigration, Islam and crime in France. In late 2021, Zemmour announced his candidacy for the French presidency.
During Soustelle's career, the debate over Algeria became a nasty family feud among intellectuals in la métropole. It was a feud that Soustelle waded into with conviction and, at times, venom. Following his return to France in 1956 at the end of his administration, Soustelle did not pause. He quickly published a memoir of his year-long sojourn as governor general. In Aimée et souffrante Algérie, Soustelle argued for a maintenance of le plan Soustelle by a new leftist government. When he appeared on television after the book was released, he drew explicit links between his impressions of the situation in Algeria with the expertise he had gained in the 1930s as a doctoral student in Mexico. He argued passionately that intégration based on Mexican indigenismo would be vindicated.
Indigenous women leading the march on Canada's Parliament Hill, Ottawa, January 28, 2013. Photo credit: Justin Chin. [o]
In 2013 in Canada, places with names like Attawapiskat and Kesatchewan became staples of media and political discourse. These troubled James Bay region communities in northern Ontario sit in the James Bay area where Duncan Campbell Scott brought Treaty 9 in the summers of 1905 and 1906. A hunger strike by Attawapiskat Chief Theresa Spence in the shadow of Parliament Hill, rail blockades, pipeline construction delays and the Idle No More Indigenous rights movement rose to prominence on the Canadian national agenda. The investigation of residential schools, violence against Indigenous women and girls, fatalities among students from remote communities in places like Thunder Bay, Ontario and debates about fossil fuel pipeline construction through Indigenous territories are constant 21st century reminders of Canada's unfinished business in Indigenous-Settler relations. Since the final report in 2015 of The Truth and Reconciliation Commission, Canadians and the world have wondered whether The Fair Dominion is a genocidal state. In 2019, the final report of the National Inquiry into the Murder and Disappearance of Indigenous Women and Girls concluded that Canada treated Indigenous females with genocidal intent.
§
The discovery of unmarked graves in 2021 was sadly inevitable. Canada's complicity in the deaths of thousands of Indigenous children under its care in residential schools during the period Scott served the Indian Department was revealed nationally by the Truth and Reconciliation Commission. In 2016, activists allied with Reconciliation Canada added an accusatory plaque about Scott's role near his Ottawa gravesite stating that he was complicit in an act of cultural genocide.
In France, Jacques Soustelle remains an important figure in historical and political considerations of Algeria and the development of the social sciences. Under Presidents François Hollande and Nikolas Sarkoczy, the French government, military, and business have repeatedly asserted French influence in north Africa. These developments might suggest that Soustelle's vision of cooperation and even of federal arrangements between France, Algeria and the former French colonies in Africa was not pure fancy. While falling short of official apologies, Hollande and his successor Emmanual Macron have acknowledged French malfeasance in Algeria. Hollande labelled French policies in Algeria as "brutal." As a presidential candidate Macron controversially said France's policies were a "crime against humanity" and once in power he became the first French president to acknowledge the use of torture in Algeria by French troops as official policy in 1957. ≈ç
Two Dead White Men: Duncan Campbell Scott, Jacques Soustelle and the Failure of Indigenous Policy
by James Cullingham
(Toronto: Seneca Press. 2022. 242 pages.)
Purchase the book in paperback or Kindle.

JAMES CULLINGHAM is an author, filmmaker and journalist. He is an adjunct graduate faculty member at Trent University and part-time professor at Seneca College. He lives in Peterborough (Nogojiwanong), Ontario.