'Damsons are a girl's best friend'
Standfirst
A chef who learned at the feet of her foraging mother about how to make the most of what grows close and now.
Body
LONDON — As a rampant food lover, I am in the lucky position of having food as both my passion and my profession, which is as a private chef. Having spent winters living in the Swiss Alps and summers in Cornwall, I now find myself in London — but with a little garden, so all is not lost for this country-loving girl. So, what I cook very much depends on where I am in the world — and what time of year it is.
With seasonality in mind, my cooking is more fresh, relevant and eco-friendly, making the most of what is abundant, tasty, and sustainable — as well as good value. The way my mother taught me and her mother taught her is common sense, really: each season has its own gems.
Although I must admit I have a particular fondness for summer produce — succulent crab meat, juicy berries, vibrant salad leaves, lashings of crisp rosé wine — the long, lazy days of sunshine and holidays are now behind us and it's time to move into autumn, with all its produce now appearing in gardens, hedgerows and fields.
"It makes the kitchen look like the film set from a battle scene in Game of Thrones."
One of the best things about early autumn is the arrival of damson plums, a.k.a. damsons (Prunus domestica, subsp. insititia, or sometimes Prunus insititia). These little beauties are currently ripening on trees, just waiting to be picked and turned into all kinds of deliciousness.
My mother's Damson Ketchup deserves the first mention as it has attained almost mythical status amongst friends and family, with pleas for her recipe rolling in thick and fast around this time of year. The process makes the kitchen look like the film set from a battle scene in Game of Thrones, but the end result is well worth it! I'd recommend a good pair of (clean) rubber gloves and a rainy afternoon to while away in the kitchen.
DAMSON KETCHUP
INGREDIENTS
6-8 dried chillies
1 tablespoon black peppercorns
1 tablespoon mustard seeds
15 g (½ oz) dried root ginger, crushed a bit first (or 30 g / 1 oz of fresh ginger, grated)
15 g (½ oz) allspice berries
2 whole garlic cloves
3.6 kg (8 lbs) damsons
225 g (8 oz) currants
450 g (1 lb) onions chopped small
55 g (2 oz) course salt
450 g (1 lb) Demerara sugar
950 ml (2 pints) distilled white vinegar
METHOD
Tie up the chillies, peppercorns, mustard seeds, ginger, allspice berries and garlic cloves in muslin to make a little bag.
Very gently heat the damsons — until the juice runs and they go soft enough to put on the rubber gloves and squeeze the stones out, until most of them are out. Then put the pulp in a colander to trap the rest of the stones, being careful to put all the pulp back in the pan.
Add currants, onions and bag of spices. Add half of the vinegar, bring to the boil and simmer gently, uncovered, for about 30 mins or until mixture is soft.
Remove the bag of spices, place contents of pan in liquidiser and blend until perfectly smooth.
Rinse out the pan and return the purée and bag of spices to it, add salt, sugar and remaining vinegar.
Bring to simmer and cook gently, uncovered, for 1½ to 2 hours or until the ketchup has reduced to approximately 1.6 litres (3½ pints). At this stage, the ketchup should be slightly thinner than you would like it as it thickens as time goes by. Whilst cooking, stir occasionally to prevent it sticking.
Pour into sterilised bottles, label and store for at least 6 months and up to 3 years.
DAMSON GIN
Another favourite is Damson Gin. Like the ketchup, it takes a little patience — not just to make it but also for it to be ready to drink — but I promise you it's worth the wait. The trick is to make as much of it as you possibly can because — here's my warning — you'll dread running out of this fragrant, jewel-hued nectar.
I love drinking it with tonic on warmer days (no need for a wedge of lemon, or lime, as it's quite tart enough as it is) or sipping it neat as a digestif. I wasn't sure on the quantity of sugar to use as I'd previously only come across sloe gin; as sloes are much tarter, they require more sugar, which is why I prefer damsons: more natural sweetness and flavour, so less added sugar. I consulted Diana Henry's beautifully written and authorative book "Salt Sugar Smoke", a book that yields delicious results. Her recipe is below.
INGREDIENTS (Fills 1 x 1 litre [1 ¾ pint] bottle)
500 g (1 lb 2 oz) damsons
250 g (9 oz) caster sugar
600 ml (1 pint) gin
METHOD
Prick each damson with a skewer and put into large preserving jar or bottle with the sugar and gin. Seal the top and give the jar a really good shake.
Leave it somewhere so the damsons can infuse the gin with their flavour. Shake it every day for a week, then every week for 10 weeks or so. Taste and see whether you want to leave it for longer.
If you are happy with the flavour, pour through a nylon sieve and bottle. Matures after about 18 months and keeps for two years.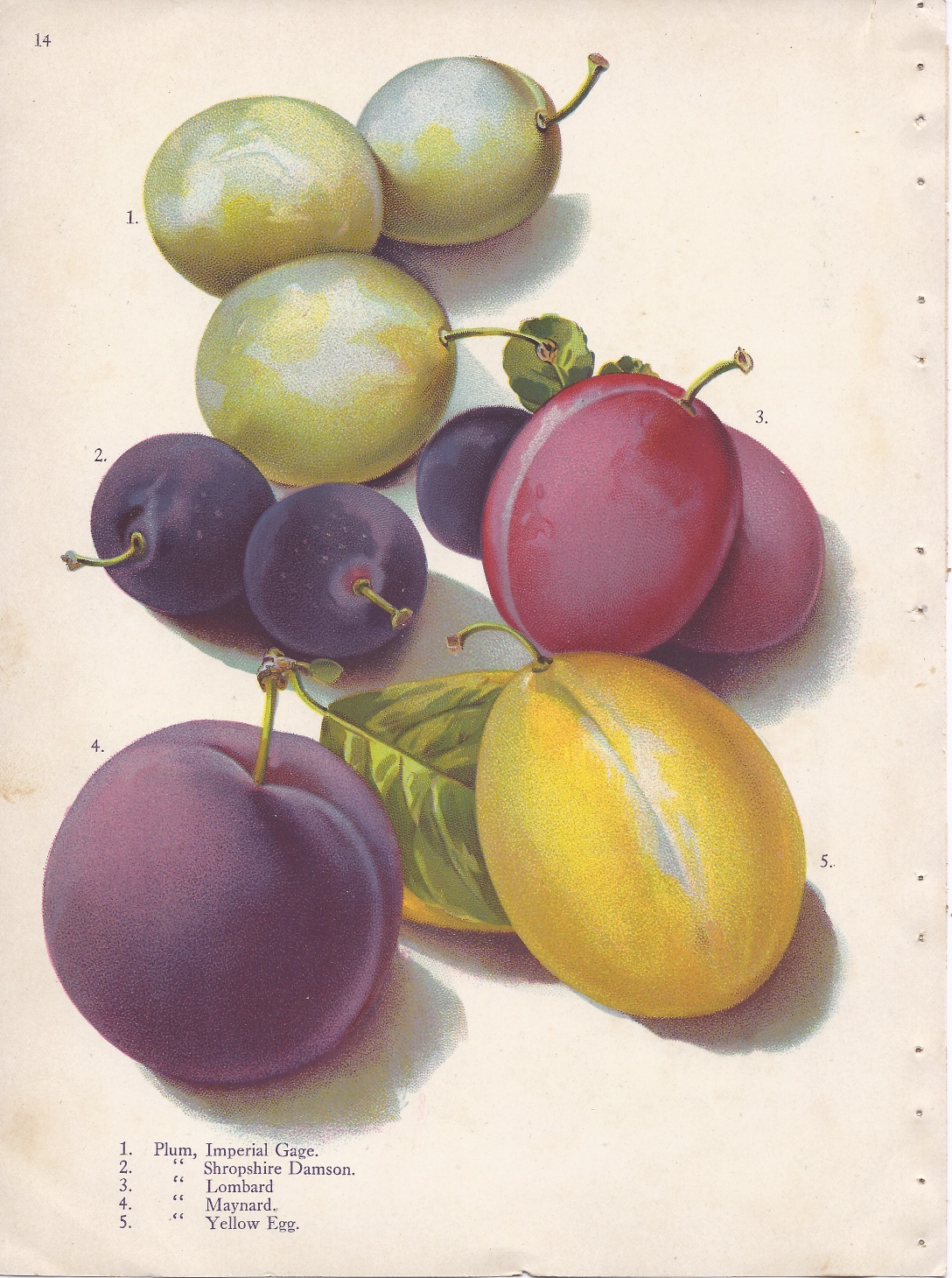 Plum varieties, by Alois Lunzer from the Brown Brothers Continental Nurseries Catalog, 1909.
DAMSON SORBET
But what if you want to enjoy damsons now — without the agonising wait? A sorbet is a great way to showcase damsons, as the sharpness of the fruit makes for a satisfyingly tart and assertive taste that really packs a punch. Whereas some sorbets can taste rather generic, there is no doubting the authenticity of the fruit here.
INGREDIENTS
1 kg (2 lb) damsons
450 g (14 ½ oz) caster sugar
Small pinch of salt
METHOD
Put the ingredients in a medium-sized pan over a low heat. Stir until the damsons begin to burst and release their juice.
Remove from the heat and strain through a sieve, pushing gently with a wooden spoon or ladle.
Chill the syrup in the fridge until cold, and then churn in an ice-cream maker until frozen.
Remove and store in a small container in the freezer until ready to use.
A teaspoon of the sorbet can be stirred into a glass of Champagne or Prosecco to make a refreshing apéritif — a modern take on the classic Champagne Cocktail. For a non-alcoholic version, mix the sorbet with a splash of elderflower cordial and top up with sparkling water, or homemade lemonade.
This article first appeared in The Journal of Wild Culutre, September 17, 2014.

LAURA POPE works as a private chef to clients in the UK and abroad. She has also cooked in some very wonderful establishments worldwide — from a boutique hotel in southwest France to the restaurants Chez Panisse in California and Ottolenghi in London. She is also a teacher on gluten-free cooking, a blogger, and a recipe app creator.
See Laura's website and Facebook page.
Photos by the author — other than the one of her below (cutting something other than a damson), by Edward Taylor. www.edwardtaylor.tumblr.com