The Making of a Modern Gin
Standfirst
A visit to an artisanal distillery testing the taste boundaries of the fragrantly complex elixir.
Body

LONDON — The French may lay claim to Champagne, the Belgians can boast about their beer, the Japanese will continue sipping their sake, and the Greeks are welcome to their dubious role as the originators of ouzo. In London, we have gin, that most quintessentially English drink, as much part of this city as Big Ben, the River Thames and the Queen, but with rather less illustrious beginnings. Yet, to be honest, it wasn't even originally British.
Gin derives from the juniper-flavoured Dutch liquor "jenever", which became extremely popular in England in the 1600s after our armies fought alongside those of the Dutch King William of Orange, giving rise to the expression "Dutch courage," William went on to become King of England and gin went on to become our favourite tipple.
The botanics were used to cover up the horrendous turpentine flavour. 
As gin mania took hold of London, every man and his dog set up a gin still (in which the spirit is distilled) at home, churning out pints of lethally-strong, pungent booze. Juniper was then, as it is now, an essential part of the drink. But whereas now it enhances gin's flavour, back in the 17th and 18th centuries, the spirits being produced were so rough that botanics were used to cover up the horrendous turpentine flavour. In 1751, the Gin Act came into force, making it a legal requirement for anyone distilling gin to buy a license for the astronomical sum of £50. This was far too much for most folk, whose homemade gin was now automatically classed as moonshine. Only the wealthiest families could afford the license, and so they went on to produce top-quality gin, creating world-renowned brands such as Tanqueray and Gordon's. These distillers have long since moved out of London and taken their production to a global scale. However, in the process, they also abandoned the traditional methods in favour of more economical means of mass-production.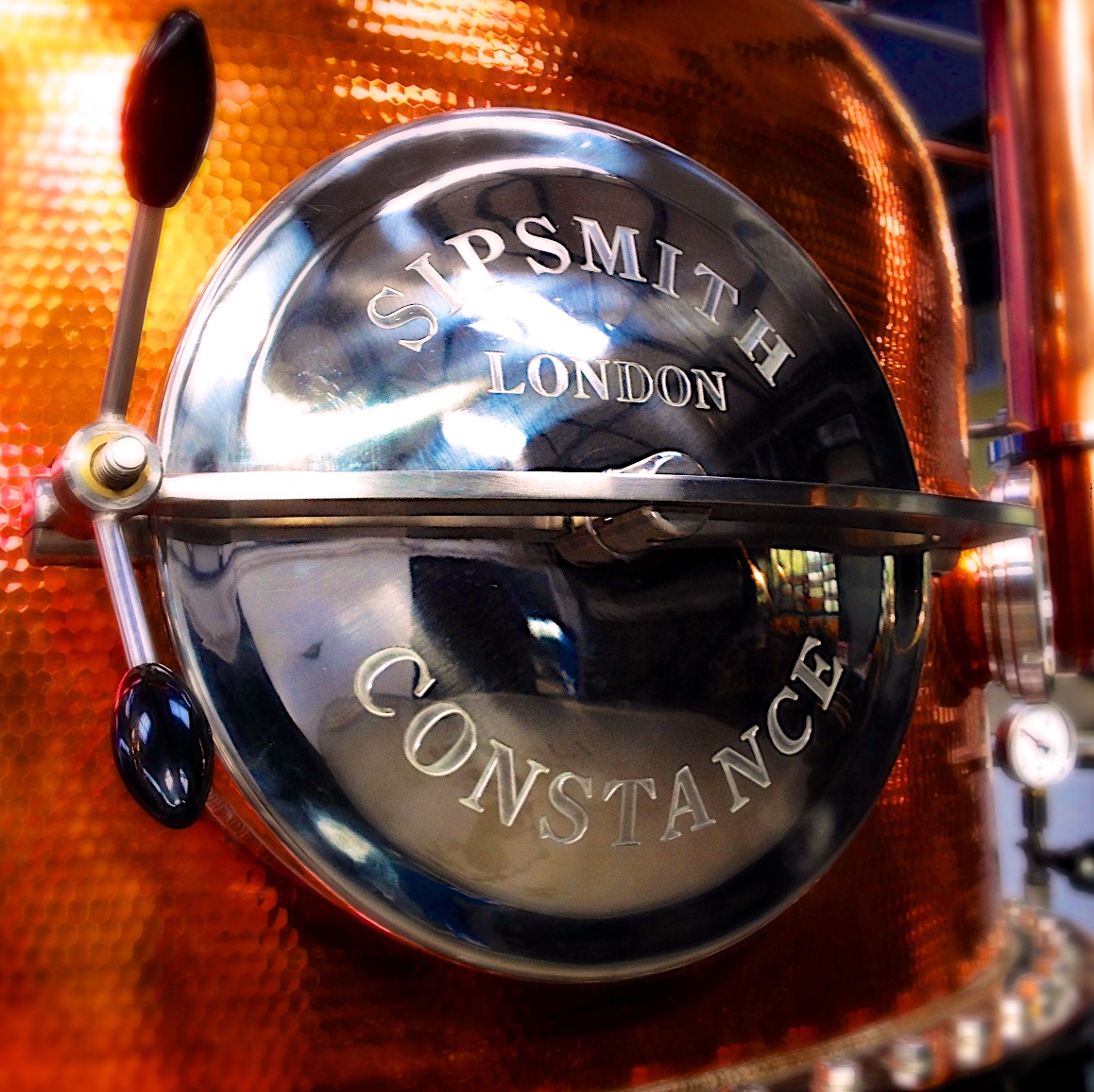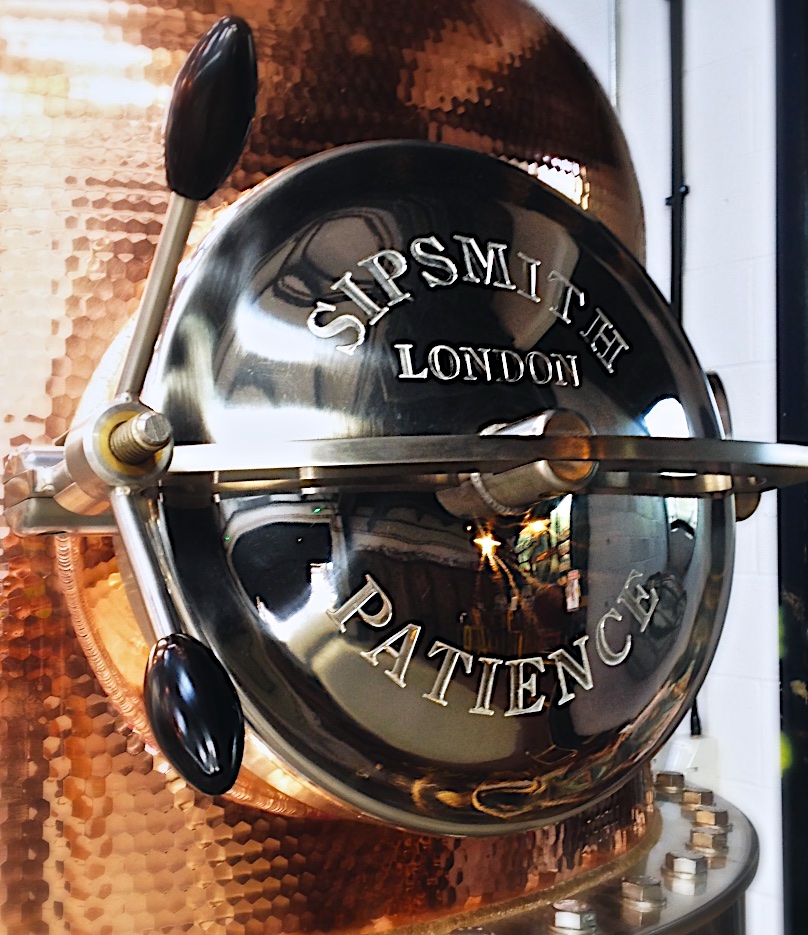 The stills — three curvy copper beauties. The first, Prudence, was named for Gordon Brown's economic counsel, then joined by Constance and Patience.
Though the big names may have left town, the traditional art of London gin distillation has not been lost. Six years ago, childhood friends Sam Galsworthy and Fairfax Hall opened Sipsmith, the first copper distillery in London for over 200 years. The timing for such a bold new venture would have put the fear of God into lesser men for, on the very same day that Sipsmith launched — January 11, 2009 — the London Stock Market (the FTSE 100) suffered its greatest ever fall, thus kicking off the recession in the UK and prompting the then Prime Minister, Gordon Brown, to advise his subjects to proceed with "economic prudence". Sipsmith took Mr Brown's advice very seriously. . . and named their first copper still "Prudence".
Their bold move paid off and, almost seven years later, "Prudence" has been joined by "Constance" and "Patience," three curvy copper beauties that reside in their West London distillery. In the words of Observer Food Monthly: "Sipsmith has spearheaded a revival in London gin — although it's hard to think that anyone else will go to quite such lengths for authenticity." But where Sipsmith has led, many others have followed, with old-school gin distilleries popping up all over town.
It's a heady mix of juniper berries, coriander seeds, lemon peel, orange peel, cinnamon bark, cassia root, liquorice root, almonds, orris root and angelica root. 
Sipsmith's dedicated team of eccentrics make spirits the old-fashioned way; their methods are extremely labour-intensive, time-consuming and produce tiny yields… but this is what makes the results so very special. Whereas one could compare the method for mass-producing gin and vodka to making orange juice from concentrate, Sipsmith's artisanal spirits are made along the lines of freshly-squeezed juice or cold-pressed extra virgin olive oil. The vodka contains only English wheat and water, but the ingredients list of gin is rather longer, which is what makes it a rather more nuanced drink of many different aromas and flavours.
Sipsmith's master distiller, Jared Brown, has created a recipe for the Sipsmith London Dry Gin that features a heady mix of juniper berries, coriander seeds, lemon peel, orange peel, cinnamon bark, cassia root, liquorice root, almonds, orris root and angelica root. Meanwhile, distiller Ollie Kitson was tinkering with his latest experiment in a "rotavapor" (a miniature still): a mince pie-flavoured gin that sadly won't be on sale to the public, but will be sent to very special clients for Christmas (now that is a Christmas list worth being on!).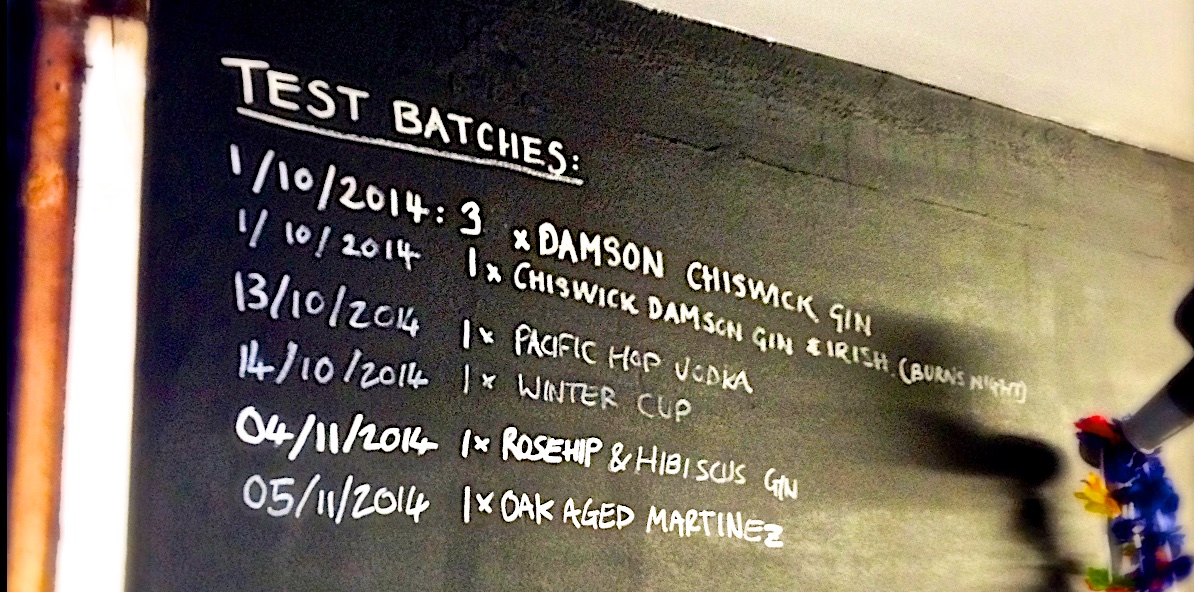 A list displaying the inventive thinking of modern gin distillers.
One of the newest and rarest additions to the range, which is available to all, is the Sipsmith VJOP: Very Junipery Over-Proofed gin. This giant of a gin has 57.7% ABV (Alcohol By Volume! Most gins are between 37 and 47%). Loads of juniper berries are added at various stages throughout its production, making it rather special — only four batches have been made in the 12 months since production started, which has done nothing to dampen the ardour of the finest bar tenders in town.
I love Sipsmith's Damson Vodka (you may remember my penchant for this lovely fruit when I eulogised about it in September). It's a tart and plummy, deliciously full-bodied drink made by steeping fresh English damsons in Sipsmith's own gorgeously smooth Sipping Vodka. If you're a fan of mixed drinks, I highly recommend the bold, complex and aromatic taste of their London Dry Gin for a perfectly-balanced gin and tonic, or a smooth dry martini.
Whilst in the company of Sipsmith's Georgie Woods, a self-confessed Martini Maestro, I took my chance to ask her for a few tips . . .
Flasks of test batches of flavoured gins and vodkas — presided over by the finished product.
SIPSMITH MARTINI
There are few better ways to get a party started than with a dry martini: timeless and elegant, whilst being potent enough to break the ice. How you take your martini is very much a matter of personal taste, but the Sipsmiths like theirs dry with a twist. With just three ingredients, it's deceptively complex to mix, but there are a few guidelines to attain the perfect Martini:
1. Make sure the glass is chilled. Ideally, it will come straight from the freezer.
2. Your ingredients should be of the highest quality. Since the drink is so simple, as with the weak link in the chain principle, you'll taste a lower quality ingredient instantly.
3. Martinis should be stirred or thrown, never shaken, as the ice crystals from shaking dilute the drink. Apologies to Mr Bond.
INGREDIENTS
70ml / 2½ fl oz Sipsmith London Dry Gin
1 teaspoon dry vermouth, such as Noilly Prat or Martini Extra Dry
A twist of lemon zest
METHOD
Fill a cocktail shaker with ice cubes and add the vermouth and gin.
Stir briskly for about 50 turns, then strain into a chilled Martini glass.
Spritz with a twist of lemon zest, which can be left in the glass as a garnish.
Drink immediately.
SIPSMITH GIN & TONIC
A well-made G&T is wonderful, but when poorly-made, it can be an absolute shambles. I'm talking about a single measure of low-quality gin sloshed into a glass over watery ice cubes, filled up with tonic from a bar soda dispenser and topped off with a tired slice of lemon that arrived in a catering pack. Hideous! So how should one make a truly excellent G&T?
Again, top notch ingredients are essential — a drink this simple relies on being made with only the very best.
Lime is tarter than lemon and therefore acts as a lovely balance to the sweeter hit of lemon already present in the gin. This is not a hard-and-fast rule, so do go for lemon if you prefer.
Take care not to squeeze your wedge of lime (or lemon) in your drink. It will overpower the aromas of the gin itself.
INGREDIENTS
1 part Sipsmith London Dry Gin
2 parts Fever-Tree Tonic Water (this is by far the best tonic water I've ever tasted — it's superior to others in every way)
A wedge of lime (or lemon)
METHOD
Half-fill a large balloon glass (so much better than a high-ball as it allows the aromas to circulate in the glass) with crisp ice cubes.
Add your gin, top up with freshly-opened tonic water and add a wedge of lime or lemon.
Drink immediately.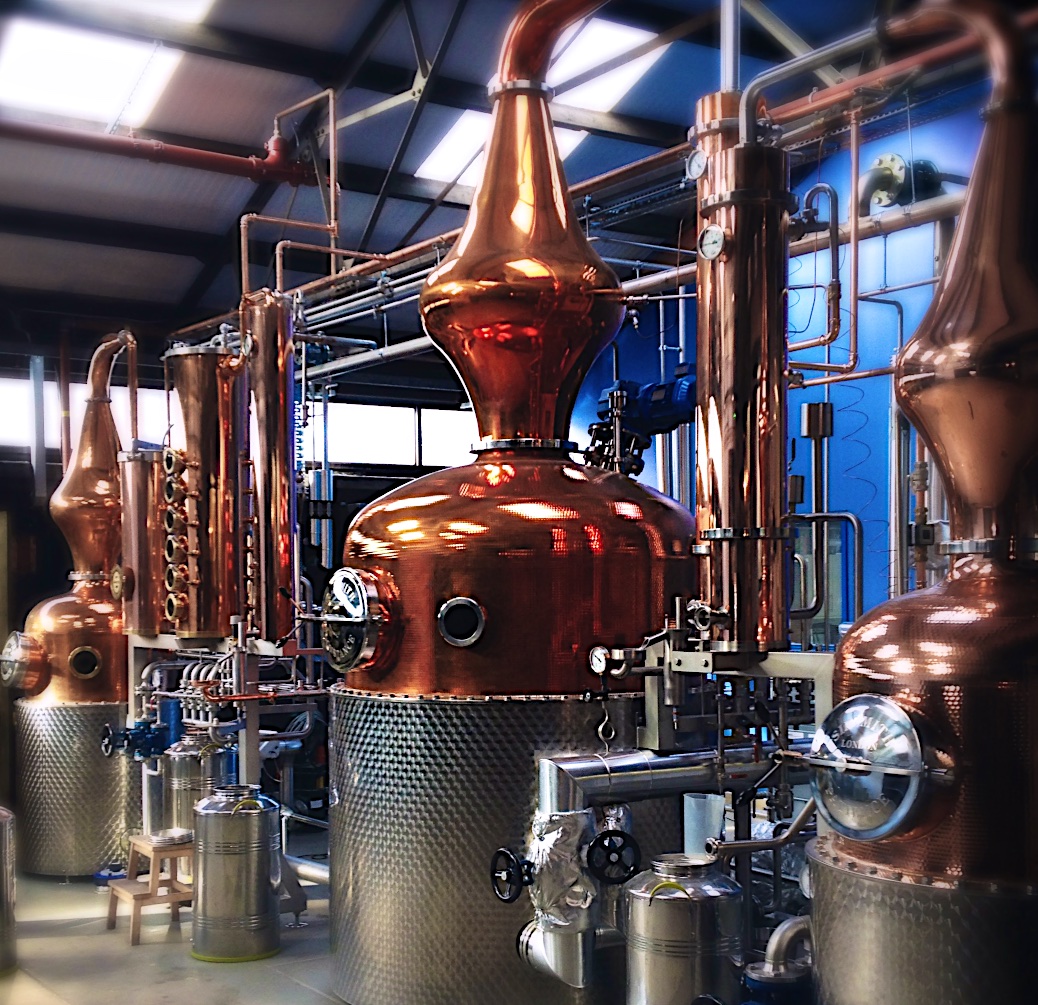 FRENCH 75
This cocktail was named after a French field gun of the same name for its comparable effect on the drinker. You will wonder what's hit you after drinking one of these… but you'll know it tasted extremely good! If Champagne seems a little extravagant (but then that's the whole point of cocktails, in my book), you could use a good quality sparkling wine.
INGREDIENTS
25ml / 5 teaspoons gin
20ml / 4 teaspoons lemon juice
15ml / 3 teaspoons sugar syrup (made by gently dissolving 1 part caster sugar (AKA castor sugar) to 1 part water, then bring to the boil and simmer for 10 minutes)
Champagne, to top up
METHOD
Fill a cocktail shaker with ice cubes and add the gin, lemon juice and sugar syrup.
Stir briskly for about 50 turns, then strain into a chilled Champagne flute.
Top up with Champagne.
Drink immediately.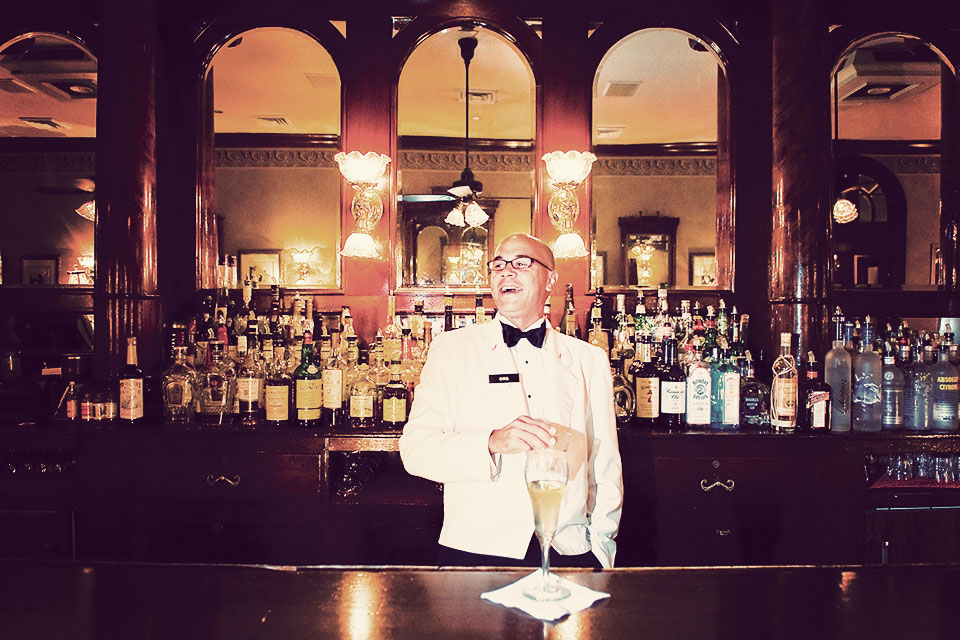 If you happen to find yourself in New Orleans with nothing to do, Arnaud's French 75 might be worth a visit. Master mixologist Chris Arnaud will make you a mean you-know-what. 
SLOE 75
I was introduced to a very tasty variation on the French 75 by mixologist Kai Dunn at Bistro Union in South London.
INGREDIENTS
30ml / 6 teaspoons gin
15ml / 3 teaspoons lemon juice
2 drops sugar syrup
A tot of sloe gin
Champagne, to top up
METHOD
Fill a cocktail shaker with ice cubes and add the gin, lemon juice and sugar syrup.
Stir briskly for about 50 turns, then strain into a chilled Champagne flute.
Top up with sloe gin and Champagne.
Drink immediately.
For more information on Sipsmith, visit www.sipsmith.com
This article first published in JWC, November 14, 2014.

LAURA POPE has worked as a private chef to clients in the UK and abroad. She has also cooked in some very wonderful establishments worldwide — from a boutique hotel in southwest France to the restaurants Chez Panisse in California and Ottolenghi in London. She is also a teacher on gluten-free cooking, a blogger, and creates recipe apps for the iPad.
See Laura's website and Facebook page.
Photos in this article by the author.