Drinking in the Forbidding City
Standfirst
TORONTO: Our resident artist-gardener explores the politics of public drinking in Trinity Bellwoods park.
Body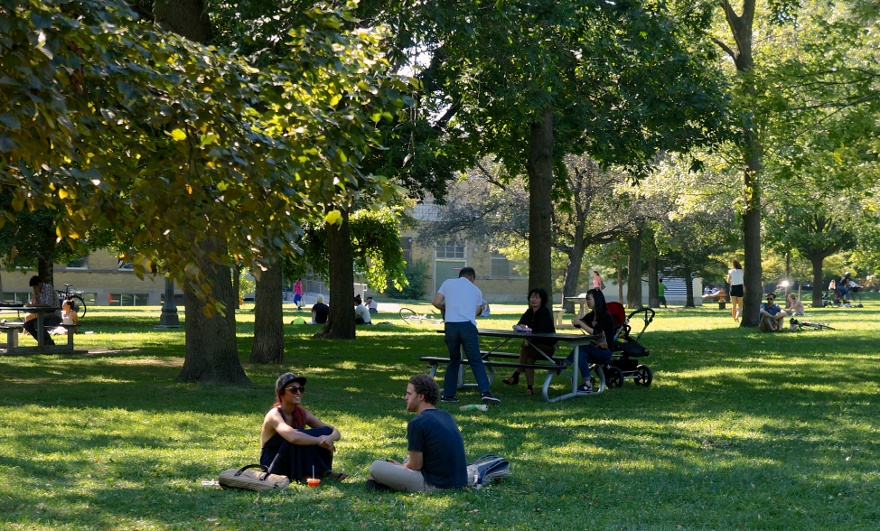 Last winter Jiva Mackay and I did a "pop-up" café in the community greenhouse in Trinity Bellwoods park in Toronto. I replaced the plastic, big box store shelves with rustic cedar ones, put in trellises and plants and a tiled counter.

I had asked advice from Jutta Mason on the best way to do this with out having the crushing hand of parks department bureaucracy swat us like a pesky house fly. She has instigated many community driven initiatives in Dufferin Grove Park, everything from engaging, parent-friendly playgrounds to bake ovens and community meals, to gardens and farmers' markets, through the local "friends" group.

She did advise me to not call it a café because that would be like waving a red flag. At the very least, she said that they would want permits for every time we did it, but more likely they would not allow it at all. They would have concerns about liability and health and safety. Then there is always the thorny issue of money and operating a "business" in a public park.

Instead she suggested we call it a discussion group where we would serve snacks and refreshments. That would be suitably boring enough that no bureaucracy would take offence or even notice. Really, it's the type of thing they might think up themselves. She was right.

We did ask permission of the 2 dozen or so individuals who use the greenhouse to start vegetables, the greenhouse volunteer committee, starting them in late March for planting out mid May. The volunteer co-ordinator, a very amiable woman who lives in one of the million-dollar-plus homes surrounding the park, was my main go-to-person before proceeding with our potentially reckless plan. She possesses a vibrant, wholesome persona and is socially adroit in a way that fills someone like myself with a mixture of awe, envy and despair.  I knew that anything with her backing would not be questioned.
 
Drinking rules are applied or not seemingly at the whim of those who see themselves as enforcers.

They greeted our plan not only with permission but enthusiasm. The first nine Sunday mornings in 2013, the little forlorn greenhouse that would have sat there mostly unused became a discussion group with pretty good coffee and Jiva's organic tacos. She picked up fresh corn tortillas each morning and produced unique and varied versions every event.

Our talks ranged from the recent closing of the Toronto School of Art, now re-opened, to a single mother taking her daughter from a condo in Toronto and raising her on a Greek Island, to heroic bike trips north of the Arctic Circle. Each of the speakers at these discussion groups brought their own very personal life experience to speak about.

Only one was a bit controversial with the volunteer committee. Andrew Harwood, a Winnipeg artist formerly from Toronto, delivered a performative talk. Performative because he included in it a reading from one of his works, "The Bitter Letters of Marsha McLuhan". Andrew's performances are most often in drag but not for this small informal gathering. This piece is a collection of fictitious letters back to Arts Council funding groups explaining how his character "Marsha" had used their money. One of them explained how she had spent the $5,000 she got to make a documentary on marijuana use in small town Ontario on pot and rent of a farmhouse outside Sarnia.

When Andrew lived in Toronto he was a veritable institution, starting a storefront gallery on Queen West, "Zsa Zsa", when there was just about no other galleries for blocks in any direction. He ran it until 2005 just before he moved to Winnipeg. As well as performance and a somewhat more usual gallery-wall-style art, for the last year he's also brought Manitoba "Zsa Zsa West" in Winnipeg's Chinatown.

As part of his talk that morning, he compared life in Winnipeg to his former life in Toronto. A Winnipeg talk show host and at least one event involving public consumption of alcohol spawned a character for him that he has yet to develop. "Sissy Triggers" gets herself into trouble just by doing what other people do but unfortunately not being them but "Sissy".

Andrew was about to give a performance in Winnipeg and was dressed for it while other artists were doing theirs. He carried a drink from the bar to the room of the performance just as others were doing and was demonstratively berated for doing so. The drinking of alcohol is fraught with many rules in Winnipeg as well as Toronto – rules that can be applied or not seemingly at the whim of those who see themselves as enforcers. "Sometimes Winnipeg is very United Church," Andrew explained.

And so, it would seem, is Toronto when it comes to public drinking. This summer during a two-week heat wave, the 30 acres of Trinity Bellwoods Park became a refuge for many apartment and condo dwellers. As usual, the forbidding city loosens up enough to allow some public pools hot weather hours staying open 'til 11:30pm. Rather than go home to still stifling non-air conditioned apartments, some may have wanted a cool one in the park. Doing so you may have encountered not just your neighbours but an increased police presence called for by home-owner complaints. This controversial policing project was dubbed "Green Glasses".
 
Proponents of public drinking decried the 'Presbyterian' era laws against alcohol while the opponents saw nothing but mayhem.

A local restaurant owner posted on his Facebook page that he had received a $125 fine for drinking in the park. Stick to serving oysters and stay out of trouble Adam! A meeting held in the gymnasium of the park rec centre drew about 100 people who behaved themselves in a sober fashion even though most of them wanted the right to drink publicly. Fewer people who own the ever-more-expensive homes around the park and other concerned about rowdiness and public urination were there to deny them this.

Proponents of public drinking decried the "Presbyterian" era laws against alcohol while the opponents saw nothing but mayhem and the dissolution of propriety in the public realm. The United Church is due some criticism as regards the historically draconian Ontario liquor laws, but the Presbyterians less so.

When the United Church formed sometime in the mid 1920s it was the merger of Methodist, Congregationalist and split-down-the-middle Presbyterians. To be sure the first two of that trio were firmly against drink. They believed not so much in the grace of God, but in trying to behave better so that God had less to be angry about. They especially believed in making society a better place.

The Massey family were Methodists and they gave money to build the Universtiy of Toronto. They built Massey Hall for the purposes of choral singing and other musical entertainments. In Massey Hall no booze was allowed until just recently.

Even the famous 1953 "Greatest Jazz Concert Ever" with Charlie Parker, Dizzy Gillespie, Bud Powell, Charles Mingus and Max Roach was bone dry. Two years before his death and struggling with addiction problems, Parker had to get a drink across the street at the Silver Rail. This was the only time these five giants gave a concert together.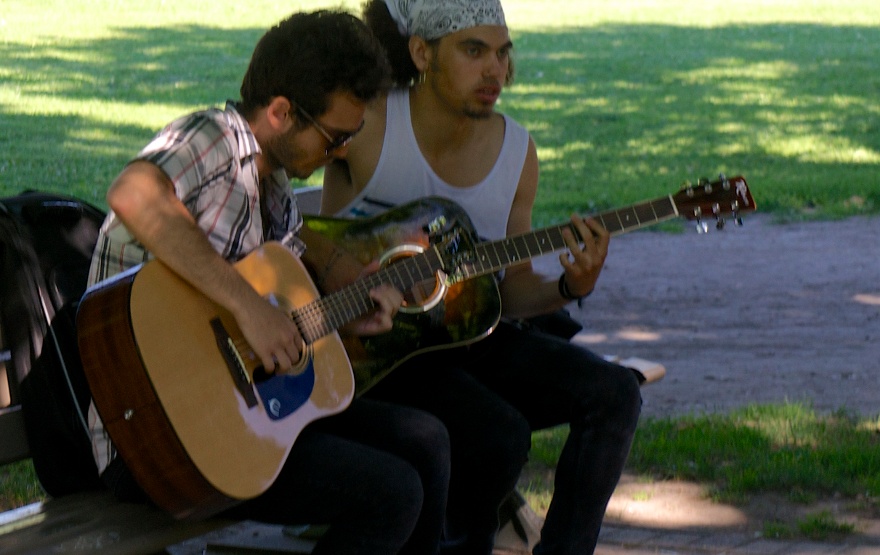 If Methodists are antithetical to jazz music, the Anglicans in Ontario are not off the hook when it comes to denying drink. John Howard, Toronto's first official architect and the benefactor of its largest public park, was also against booze just about anywhere. Born in Hertfordshire, England, he built some of 19th-century Toronto's most notable buildings. He was concerned about the state of jails and hospitals, especially the insane asylum. At a time when the mentally ill were simply chained in jail cells or if they were lucky enough to have been born to greater wealth, locked in attics, Howard designed the monumental Queen Street lunatic asylum. It was built to bring greater humanity to society's outcasts. Sitting so perfectly with its dome at the foot of Ossington, its demolition in the 1970s was nothing short of cultural insanity.

Howard, the Anglican also kept two wives, one with whom he had children and the childless Jemima with whom he lived and died in the rather large Regency cottage, Colborne Lodge, still standing in High Park. When he bequeathed the land that was to form the greatest part of its 400 or so acres he stipulated that there was to be no alcohol sold or consumed within its borders. Their remains lie beneath a huge pile of stones in the park, north-west of Colborne Lodge.

George Brown, one of Toronto's first mayors, a Father of Confederation and the leader of the Reform Party that later became the Liberal Party of Canada, was also a teetotaller and a Presbyterian. Brown was born in Scotland in 1818 and immigrated with his family to New York at the age of 20. He and his father were critical of the young republic and published a paper for ex-pat Britons in America. By 1843 that paper had moved to Toronto and eventually became The Globe, now the The Globe and Mail.

"Down Town George Brown" supported any number of good causes, although his love of humanity did have blind spots. He was an early supporter of the emancipation of slaves and a proponent of this country protecting fugitive slaves fleeing America. The Underground Railway that saw escaped slaves from the States protected in Canada, had him as a champion long before Abraham Lincoln proposed the abolition of slavery. Brown did, however, hate the Irish, who he saw as incorrigibly alcoholic. Despite his strong Calvinist convictions, he fought for separation of church and state in all cases but especially if that church was Catholic.

His opponent in the House of Commons in Ottawa was John A. MacDonald, another Presbyterian by birth who was also a heavy drinker. He famously said, "voters prefer John A. drunk to George Brown sober." He was right. George Brown was never elected Prime Minister.
 
Up until prohibition, Canadians drank more heavily than either Americans or the British.

Once when Sir John was debating George Brown on the campaign trail he was so hungover he vomited on stage. "Is this the man Canadians want leading the country? An alcoholic!" thundered Brown. Quickly regaining his composure MacDonald retorted, "It wasn't drink made me sick, it was listening to the leader of the opposition."

Many people blamed the prime minister's alcoholism on the misfortunes of his life. While just a child he saw his older brother killed. The two had been left in the charge of an innkeeper in Kingston Ontario, who flew into a rage when they tried running away. No doubt that was traumatic but the fact that a drunken innkeeper was chosen to watch them suggests his future may have already been sealed.

The simple fact is that, up until prohibition, Canadians drank more heavily than either Americans or the British. Morris Fish, Justice of the Supreme Court of Canada, in a 2011 article in McGill Law Journal writes,

Many families, children included, would begin the day with a stiff shot of whiskey… Following breakfast, men would drink throughout the day – even, and especially, while at work…Following a day at work, men would head to the taverns to drink and socialize.

When English philanthropist Sir James Silk Buckingham toured North America in the 1830s he reported that in one hour's carriage ride in Quebec City, he saw "more ... taverns and spirit shops with drunken in-mates than we had witnessed in all our three years journey through the United States." Of Toronto, Buckingham said: "Absolute drunkenness ... abounds to a greater extent in Toronto than in any town of the same size in America."  

Toronto's true pedigree is not the whitewash of the Temperance Movement. That was spearheaded by a segment of mostly British protestants obsessed with trying to please a very angry God. Even though the Christian Gospel is filled with references to drinking, they unilaterally decided that God did not like this. God wanted Christians to make things better and it was unlikely they could do that drunk.

Mysteriously, other Presbyterians took the Calvinist doctrine of Total Depravity to mean that nothing they could do would ever justify their salvation. They could only depend on God's Grace, not on their ability to not become alcoholics.
 
Around Trinity Bellwoods park, more than a moral issue, drinking has become an issue of class.

The passage of times does not give either Sir John or George Brown white or black hats. Both were responsible for helping lay the foundations for the strengths and weaknesses of 20th century Canada. In this century, the Temperance Movement, and Prohibition that it spawned, seem the product of tyrannical religion and the opposite of free choice.

Around Trinity Bellwoods park, more than a moral issue, drinking has become an issue of class. Those who can afford homes with gardens and cottages to drink in don't want poorer people without patios, yards or gardens, coming to the park beside their house with bottles to uncork. Who can blame them? Parks, however, belong to all of us and not to just the property owners around their perimeters.

Even those who see highly used city parks as parcels of nature to be kept as pure as possible must concede that they do not own a moral superiority, just a differing opinion of what should be allowed on commonly held land. The creek that flowed through the park in the 19th century was covered over long ago. Most trees in the park were planted and many are not native to either the region or the continent. All flora and fauna in the park are there either by design or permission, hardly anything you could consider 'natural'.

The current Mayor of Toronto, Rob Ford, has acquired a reputation not only for drinking too much but he's also been accused of smoking crack. Many, many people believe these accusations and still he continues to be mayor. Yet he is not on any crusade to permit more public drinking. He seems only to care about keeping property taxes low. The coolest thing about him is that he likes to hang out with young Somali Canadians who unfortunately often end up shot or charged with criminal activities once they've had their picture taken with him.

John A. MacDonald, the founder of the country and an alcoholic, proves that the image of the straight-laced, church-going, 19th century Canadian is inaccurate. That distorted image is more likely the product of a culture that puts up with heavy-handed policing, a hypocritical, hierarchical, Anglo ruling class and the residue of the temperance movement that became prohibition. Rob Ford represents all those things. He is given carte blanche while people who drink in the park are given police crackdowns. In there somewhere is perhaps the real picture of both the modern and historic Canadian – at least in Toronto, the country's largest and most complex city.

A professional gardener, Gene Threndyle has been planning, building and maintaining private and public gardens in Toronto for overr 2 decades.  He was a participant, consultant and in charge of maintaining the Artists' Gardens at Harbourfront from 1998-2008. Gene is also an artist and has exhibited work and been involved in the arts in Toronto for over 20 years. He has featured in solo or group shows in Larh, Germany in 1989, Talinn, Estonia in 1991, St. Petersburg, Russia in 1993, Memorial University, St. Johns in 1992, Santiago, Chile in 2002, Glendon College, York University in 2003, Wade Project, Trinity Bellwoods Park in 2004, and York Quay Gallery, Harbourfront in 2008.
http://genedigs.com
All images: © Gene Threndyle