Gazing in and out to Sea: 5 poems
Standfirst
Our question on Twitter* — "What are your favourite poems about the sea?" — whipped up a little storm of interest that left the following items in its wake.
Body

DRYLANDS      by Yahia Lababidi
Tell me, have you found a sea
deep enough to swim in
deep enough to drown in
waters to engage you
distract you, keep you
from crossing to the other shore?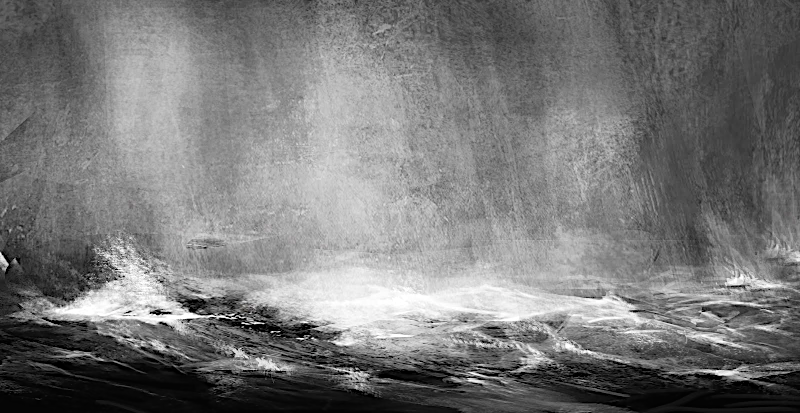 CHALK      by Matthew Clegg
i.
Chalk cliffs are wax-white and gull-white;
sluiced and soiled with thickening mudslides;
packed and shattering calcium strata;
micro-strata within macro-strata;
sunken alcoves and brittle balconies;
trauma-warped and trauma-fractured;
rich in crevices mortared and pasted;
chalk-bleached grasses stitching the crack-face.
Under the ramparts pebbles and obols,
treasure-troves spilling bi-valves and bird-skulls;
slick as sealskin when the sea licks them;
wash and backwash rolling and tonguing;
grinding and sucking them down to slivers;
breaking and spitting its broken teeth.
ii.
Remember how I brought you the chalkstone;
no smooth oval prize laid by the sea-goose;
no worry-ball cool in the palm and blue-tinted;
a mangled discus cavity-infested;
holed like a cheese or a salt-brittle pumice;
brown-stained a little and smelling of sea-rot;
cavitied cavities mazes in mazes;
where whiskery sea-lice furbish their hovels;
a heart-stone a brain-stone pitted with losses;
clogged with near indigestible flotsam;
iodine treated inside the chambers;
pick it up now and shake up its history;
its shanty of sand and broken shell-shards,
choking and rattling inside its lung.
iii.
Let me cast you as a tall thin chalk-stack;
white sea-cavalry charging your buttress;
gnawing and thinning the brittle foundation;
cut off but in sight from the crumbling mainland.
One of those ruins infested with gull-kind
making a bedlam of airspace above it
where angels and harpies jostle for place.
I'll cast myself as a marginal chalk-pool;
slippery weed-slime around my portal;
stones of these words gargling inside it;
each one rubbing the grain of the other.
A near empty socket a terrible bodhrăn;
stretched under churn of gravelly breakers;
still and mute when the swell falls back.
Beachy Head, East Sussex 1
FLOAT    by Lynne Rees
You come across them
sucking the wet sand
or tangled in weed,
laces and heels missing, yawning
gaps between uppers and soles
and you line them up — espadrille,
trainer, a child's red Wellington —
toes pointing out to sea, watch them rise
on the incoming tide, your fleet
of little boats setting out
on a big adventure, imagine
some of them finding it – their lost twin
nudging the crest of a wave, or washed up
in a place they never dreamt of.
Though most of them won't —
they'll sink, be tossed back to shore.
But what a sight, this flotilla
of leather, plastic and rope
dipping and rising
on the swell and roll. And why
don't you take off one of your own
and hurl it over the breaking waves?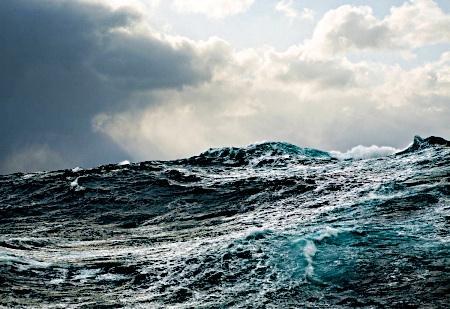 THE SEA     by R. S. Thomas
They wash their hands in it.
The salt turns to soap
In their hands. Wearing it
At their wrists, they make bracelets
Of it ; it runs in beads
On their jackets. A child's
Plaything ? It has hard whips
That it cracks, and knuckles
To pummel you. It scrubs
And scours ; it chews rocks
To sand ; its embraces
Leave you without breath. Mostly
It is stomach, where bones,
Wrecks, continents are digested.
Dead sea with ssalt deposits. 2
EVENT HORIZON     by Andrew Greig
And we ourselves
    freed slaves, bound gods
        unmade men, rulers of little craft
            servants of the horizon.
— that is to say, sailors —
happily or fearfully think of our lives
                 going forward and clockwise
when we are pulled sideways and widdershins
by forces so pervasive
we don't even see them.
Still bend we must
    over chart, compass, protractor
        and hazard our best guess.
Flick of sail, bird on the horizon.
Hold to that? No, adjust,
adjust.
First published in The Journal of Wild Culture, January 22, 2015.

YAHIA LABABIDI is an Egyptian-American poet and author of six books in several genres. His writing has been translated into several languages and he has been featured on NPR, Al Jazeera, The Guardian and has participated in international poetry festivals throughout the USA, Eastern Europe as well as the Middle East. His forthcoming book, Balancing Acts: Collected Poems (1993-2014) will be published by Press 53 Silver Concho Poetry Series.
MATTHEW CLEGG is a poet living in Mexborough, South Yorkshire. He currently teaches creative writing at Derby University, Sheffield University Institute of Lifelong Learning, and The Open College of Arts. His first full collection of poems was West North East (Longbarrow Press, 2013). A new collection, The Navigators, will be published in 2015 by Longbarrow Press.
LYNNE REES is a novelist, poet, editor and blogger, Lynne Rees was born and grew up in South Wales, UK. Her most recent books are Real Port Talbot (Seren 2013) and forgiving the rain (Snapshot Press 2012). A book for writers, compiled from the last four years of blog — the hungry writer — is forthcoming from Cultured Llama in Autumn 2015. 'Float' is from Learning How to Fall, Parthian Books, 2005.
R. S. THOMAS. Ronald Stuart Thomas (1913—2000), published as R. S. Thomas, was a Welsh poet and Anglican priest who was noted for his nationalism, spirituality and deep dislike of the anglicisation of Wales. Welsh academic M. Wynn Thomas said: "He was the Aleksandr Solzhenitsyn of Wales because he was such a troubler of the Welsh conscience." Thanks to Emyr Young for suggesting this poem.
ANDREW GREIG is a Scottish writer who grew up in Anstruther, Fife. He studied philosophy at the University of Edinburgh and is a former Glasgow University Writing Fellow and Scottish Arts Council Scottish/Canadian Exchange Fellow. He lives in Orkney and Edinburgh. Thanks to Kieron Bacon of Lines of Landscape for this suggestion, which is taken from Found at Sea, published by Polygon.
* Thanks to Amy Liptrot for asking the question on Twitter — "What are your favourite poems about the sea?" — that got the wave rolling. 
The next subject in our series on geo-poems: the desert. Please send them in to journal [AT] wildculture.com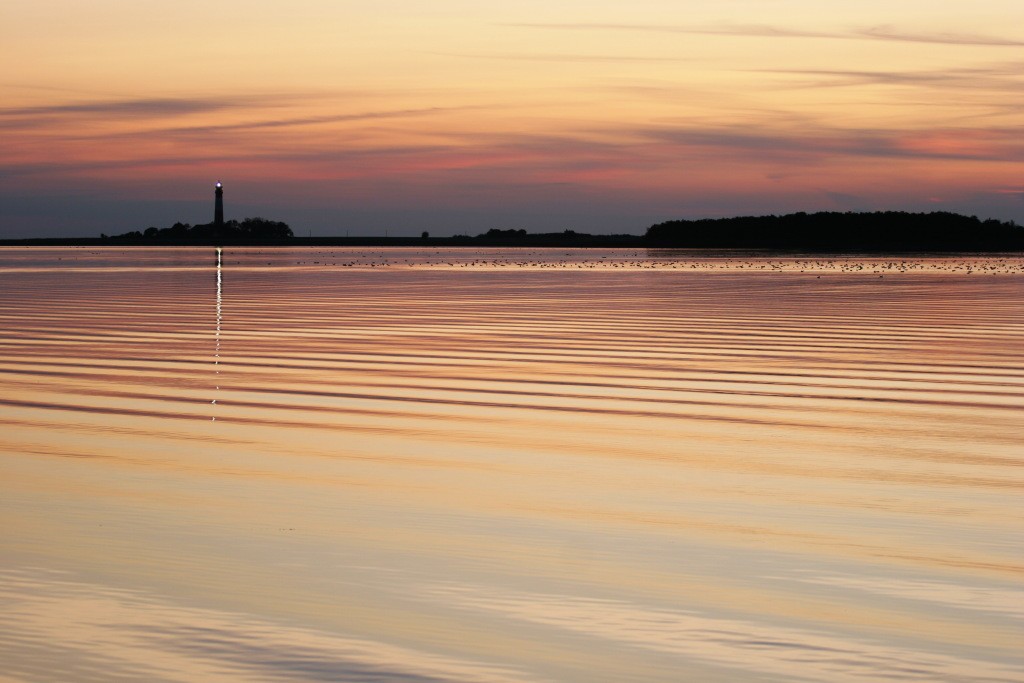 Quiet sea at dusk. 3
Comments
How nice to have a moment in the day when I stumble upon new poetry and new poets and feel lucky to have done so! Delightful. Thank you.
Add new comment