Hyper: An Electromagnetic Chapbook
Standfirst
"Technology is the real skin of our species," writes Terence McKenna. "We take in matter that has a low degree of organization; we put it through mental filters, and we extrude jewelry, gospels, space shuttles. This is what we do. We are like coral animals embedded in a technological reef of extruded psychic objects." • Stephanie Mills considers culture and technology critic Chellis Glendinning's little book on the reef we're caught on. Plus, some EMR tidbits.
Body

Penetration of radiation on brain of an adult, a 10 year old and a 5 year old.
MAPLE CITY, MICHIGAN — Naked masts, antennas, and faux palm tree cell phone towers bristle across the landscape. Total surveillance is fait accompli. Use of wireless devices has supplanted face to face street level dialogue, and time apart from electronic communications. Much of the content is trivial or worse. Do restaurant reservations, selfies, and cat videos really justify the health-threatening deluge of electromagnetic radiation lately unleashed, with next to no public debate, on the world?
No, declares Chellis Glendinning's polyphonic Hyper: An Electromagnetic Chapbook. This potent work comes, via the media of pamphlet and post, use-tested over centuries, across the miles from Sucre, Bolivia to riff, inform, alarm, and inspire resistance.
The severely afflicted also suffer social denial and skepticism about the somatic reality of the condition.              
In its varied and brilliant 52 pages Glendinning arrays poetry, argument, current history, indictment, psalm, and elegy to demolish this technology's justification.
The scientific evidence for the subtle and not so subtle health effects of the rapid and unprecedented exposure of humans and other living creatures to EMF radiation is inarguably mounting. While claims of its harms are downplayed in the US, with its formidable telecommunications lobbies, in Western Europe science is less censored and the precautionary principle sometimes prevails. The opposition to this onslaught is also mounting worldwide. In "A Growing Movement" Hyper offers a handy chronicle of scientists' warnings, governmental actions, and successful citizen interventions.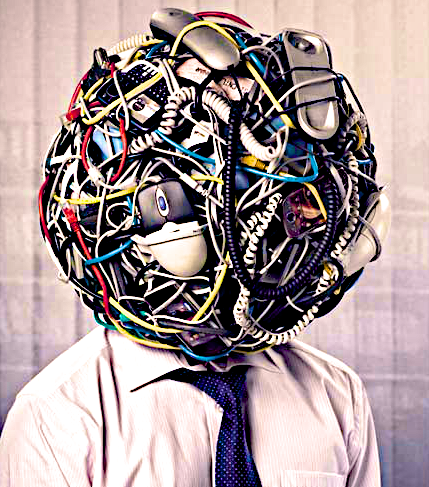 The author of seven books, including When Technology Wounds and Off the Map: An Expedition Deep into Empire and the Global Economy, and the catalytic 1990 "Notes toward a NeoLuddite Manifesto", Glendinning has eloquently, relentlessly, and artfully challenged the shibboleths of technological progress and globalization. She insists that we confront the real damage that these bright ideas do to all our relations.
Electro hypersensitivity is as miserable and constraining a condition as chemical sensitivity, severe allergies, or immunosuppression. One loses one's freedom to move about, or even exist, in a world pulsing with invisible threats. The severely afflicted suffer not only the bodily and cognitively disabling effects of the given environmental overload but also social denial and skepticism about the somatic reality of the condition.
In one of the book's prose pieces, Glendinning calls on her years as a psychotherapist specializing in post-traumatic stress to dissect the mechanisms of denial buttressing disbelief:
"Silence in the midst of the clamor of the threats to health posed by telecommunications technology: now it has a unique timbre.  Those of us who are conscious of the biological damage that electromagnetic radiation wields are anguished by its insistence.  This silence is akin to that which preceded Carson's efforts to alert the world to the debacle posed by uncontrolled use of pesticides.  It may contain the qualities of a child's trust.  Or a rock-hard stubbornness to remain numb."
If, as Kafka famously said, "A book must be the ax for the frozen sea within us," Chellis Glendinning's Hyper might be the rod to smite the rock and unleash the springs of resistance.


ELECTROMAGNETIC RADIATION (sometimes abbreviated EMR) is a ubiquitous phenomenon that takes the form of self-propagating waves in a vacuum or in matter. It consists of electric and magnetic field components which oscillate in phase perpendicular to each other and perpendicular to the direction of energy propagation. Electromagnetic radiation is classified into several types according to the frequency of its wave; these types include (in order of increasing frequency and decreasing wavelength): radio waves, microwaves, terahertz radiation, infrared radiation, visible light, ultraviolet radiation, X-rays and gamma rays. A small and somewhat variable window of frequencies is sensed by the eyes of various organisms; this is what we call the visible spectrum, or light. EM radiation carries energy and momentum that may be imparted to matter with which it interacts.
ACTIONS AGAINST ELECTROMAGNETIC EMISSIONS by Chellis Glendinning
June 2000. An international gathering of scientists proclaims that no low-end threshold for safe exposure exists for electromagnetic radiation.
July 2001. In Cyprus demonstrators stage a peaceful protest against Britain's planned military communications towers and demand the release of their prime minister who is in jail for doing civil disobedience atop a 160-foot mast. Police open fire, and a riot ensues.
February 2003. After witnessing the biggest-ever protest meeting of a village in northern New Mexico, the local school board cancels an already-signed contract to erect cell towers on its schools.
March 2003. The Catholic Church in Italy calls for cell phone antennas to be removed from bell towers, branding them dangerous to human health and spiritually "out of keeping."
November 2003. In England and Ireland outraged citizens bulldoze down cell towers — as many as four in England and four in Northern Ireland each week.
August 2004. The International Association of Firefighters calls for a moratorium on citing cell-phone antennas on fire stations.
February 2006. Citing health concerns, Lakehead University in Canada bans Wireless Fidelity (WiFi) from campus.
September 2006. The International Commission for Electromagnetic Safety releases the Benevento Resolution; signed by 31 scientists, it calls on governments to impose exposure limits.
May 2007. A BBC Panorama investigation finds that WiFi ports can emit three times the signal radiation of a cell tower.
June 2007. In Spain citizens hold International Day Against Electromagnetic Pollution to publicize the effects of exposure to high-voltage power lines, electric power substations, mobile telephony aerials, radio lines, and telecommunications systems like WiFi and Wireless Inoperability Microwave Access (WiMAX).
September 2007. Germany's Environmental Ministry issues an unprecedented national warning to citizens: avoid exposure to radiation emanating from WiFi and WiMAX ports in cafés, schools, public "hot spots, and private homes."
August 2007. The European Environmental Agency demands immediate action to reduce exposure to radiation from WiFi, WiMAX, mobile phones, and antennae.
October 2007. Masked protestors in a Druze village in Israel rip down a mobile phone mast. Police open fire on them.
December 2007. The International Commission for Electromagnetic Safety recognizes a growing incidence of electro-hypersensitivity and urges limits on further dissemination of wireless technologies. Its Venice Resolution is signed by scientists from Italy, Germany, Poland, Sweden, Turkey, Brazil, Austria, Australia, Russia, and the U.S.
December 2007. After only five months of the new WiFi system in Paris' libraries, the library union wins a moratorium on wireless ports due to the health effects already evident among clerks and workers.
January 2008. For fear of exposure to electromagnetic radiation, thousands of Chinese demonstrators take to the streets to protest the extension of a magnetic levitation train through Shanghai.
February 2008. Cell phone antennas in Tudela, Spain, are ordered removed when damage to citizens' health is revealed.
March 2008. After learning of health impacts, the Sebastopol City Council in California breaks an already-signed contract to install citywide WiFi.
April 2008. The National Library of France dismantles its entire WiFi system.
September 2008. The West Linn-Wilsonville School Board of Portland. Oregon,  unplugs already-operating cell towers and cancels all leases for WiMAX.
January 2009. The U.S. National Safety Council calls for a nationwide ban on cell-phone use while driving, citing a Harvard study that links usage to 636,000 crashes and 2600 yearly deaths.
February 2009. In France the Versailles Court of Appeals orders the dismantling of a relay antenna in Tassin la Demi-Lune, establishing legal recognition of health risks.
April 2009. The European Parliament proposes publicly displayed maps warning of EMF-exposure areas and distance requirements between antennas and schools.
April 2009. The U.K.'s Association of Teachers and Lecturers calls for suspension of WiFi in classrooms.
May 2009. Portland, Oregon, challenges the U.S. Telecommunications Act's refusal to consider health effects in the placement of wireless routers and base stations.
May-September 2009. The Los Angeles Unified School District, then the Los Angeles County Board of Supervisors, then Pima County in Arizona, Sebastopol, California, and Glendale, California, do the same.
December 2009. In a major setback to telecom companies, the government of the state of Rajasthan bans the installation of new mobile towers.
May 2011. The International Agency for Research on Cancer and World Health Organization classify radiofrequency electromagnetic fields as a Class 2B carcinogen.
November 2012. The high court of Rajasthan in India orders the removal of cell towers close to schools, hospitals, colleges, and playgrounds, claiming radiation is "hazardous to life."
May 2013. Ten California citizens file a lawsuit against Southern California Edison and the Itron Company, citing injury from installed Smart Meters, fraud and deceit, intentional infliction of emotional stress, and liability for a defective product.
July 2013. The Supreme Court of Israel orders the government to document the number of children currently suffering from electro-hypersensitivity.
The most populous city in India, Mumbai, prohibits/orders removed all towers near schools, colleges, orphanages, child rehabilitation centers, and old-age homes. It also prohibits installation of antennas on residential rooftops without consent by all residents immediately beneath, as well as 70% of inhabitants on lower floors. 3,200 illegal antennas are removed.
August 2013. Canada's largest teachers' union passes resolutions that cell phones be turned off to protect students' and teachers' health and Wi-Fi transmitters be labeled hazardous.
October 2013. An electro-sensitive scientist argues his case in New Mexico District Court, challenging the Telecommunications Act of 1996 that forbids local communities to enforce their own laws regarding hearings and permitting of intensification of emissions from existing towers.
Belgium bans store and internet sales of cell phones to children.
August 2014. The US Centers for Disease Control issues precautionary health warnings about cell phone radiation.
January 2015. The French government passes a law prohibiting wireless internet in places children under the age of three regularly use and requiring the disabling of wi-fi in schools when not in use for teaching.
May 2015. 190 scientists from 39 nations submit the International EMF Scientist Appeal to the United Nations, UN member states and the World Health Organization requesting that they adopt stronger exposure guidelines for electromagnetic fields and wireless technology, educate the public about health risks, and study the effects on wildlife.
September 2015. European, US, and Canadian scientists present the Brussels International Scientific Declaration to the World Health Organization, urging it to include electro-hypersensitivity in the International Classification of Diseases.
October 2015. Through visible and continual community opposition over a period of 2.5 years—with the help of a savvy lawyer, a convincing expert on bird migration, and an informed engineer--Eugene, Oregon causes AT&T to withdraw a proposed cell tower.
December 2015. A class-action suit is filed in the Supreme Court of British Columbia against B.C. Hydro and Power Authority on behalf of all B.C. citizens who have a Smart Meter installed on their homes against their will.
RELATED ARTICLES
'The Growing Movement Against Electromagnetic Contamination' >>
'See What Life Is Like In A Town With No Cell Phones (Think of it as life in the 1980s.)' 1 >> 2 >>
'The New Wave in Wireless Communication' >>

HYPER: AN ELECTROMAGNETIC CHAPBOOK. AGB Press, 2013.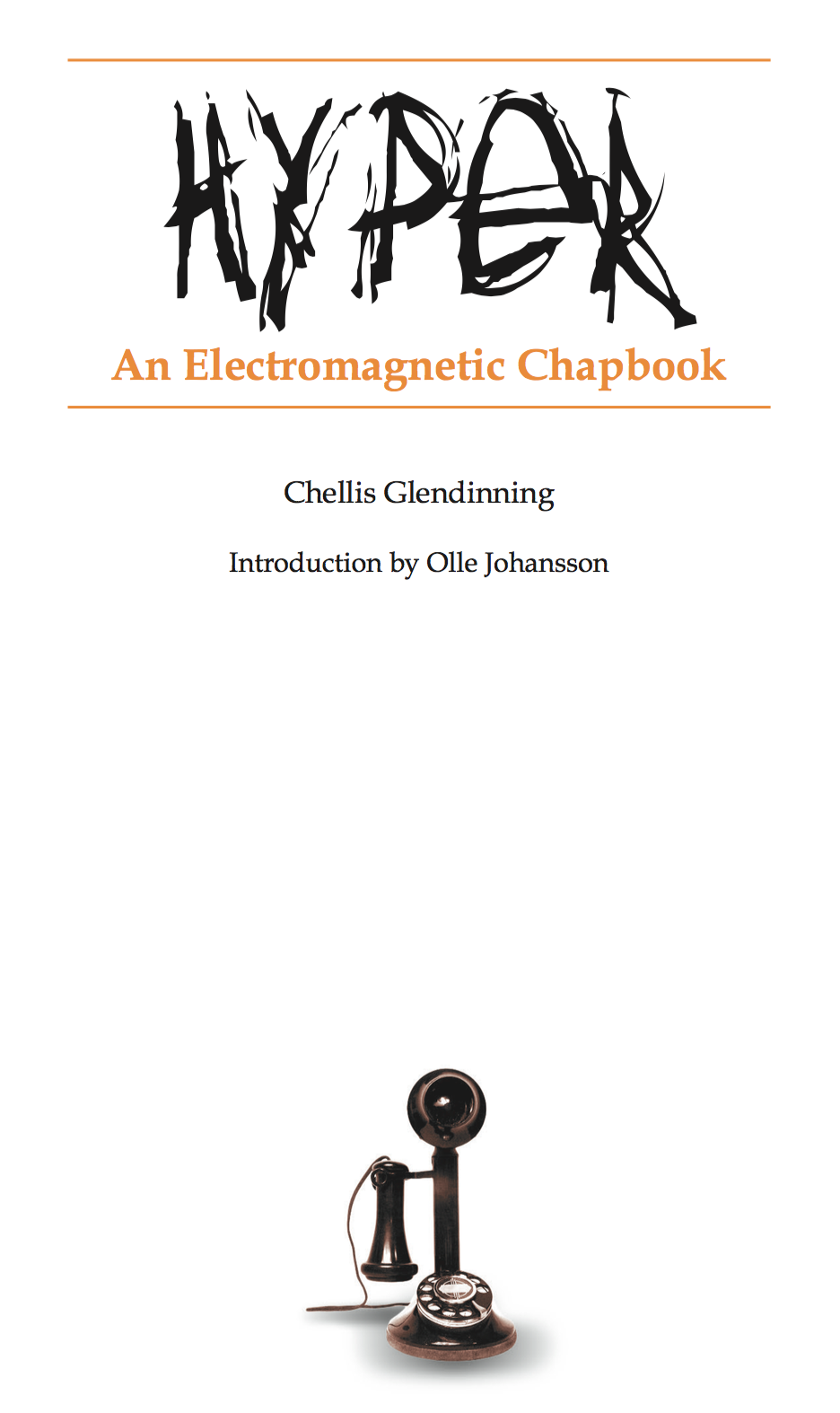 STEPHANIE MILLS is the author of On Gandhi's Path: Bob Swann's Work for Peace and Community Economics, Epicurean Simplicity, and editor of Turning Away from Technology. Stephanie's website is smillswriter.com.
CHELLIS GLENDINNING is a retired psychologist whose specialty was recovery from trauma and the author of seven books. These include My Name Is Chellis and I'm in Recovery from Western Civilization and Chiva: A Village Takes on the Global Heroin Trade, of which the latter won the (US) National Federation of Press Women book award for nonfiction. Her latest is the book-blog, luddite.com. Chellis' website is chellisglendinning.org.