Richard Sherman Is being himself
Standfirst
Getting into the mind of a big and brutal game.
Body

"I don't hate it enough not to love it."
So said a wag about professional football earlier in the 2013-2014 National Football League (NFL) season. The remark followed a barrage of stories about concussions and the news broke of murder charges against one time New England Patriots' tight end Aaron Hernandez. The statement well expresses the love/hate relationship the thinking NFL fan (such as this writer) has with the sport. It features many of the world's greatest athletes in a brilliantly marketed display of imponderable skill and sometimes frightening violence. On the field, and off, its young stars often behave as rich, absurdly privileged athletes who put their health at stake for their livelihood. It's not always pretty.
The incidence of concussions and the severity of other injuries underscores a fundamental truth about the NFL: if you play, you will get hurt. Those of us who watch the NFL regularly live with an uneasy contradiction. We enjoy a brutal game which can inflict permanent physical and mental damage on its participants.
He appeared almost deranged, extremely angry, arrogant, and, frankly, more than a little frightening . . .
The NFL is far and away America's most popular professional sport. Major League Baseball still lays claim to the moniker of being "America's pastime," but audiences for the NFL swamp that of both Major League Baseball (MLB) and the National Basketball Association (NBA). In the United States, the National Hockey League (NHL) and Major League Soccer (MLS) are sideshows in comparison.
As I essay on the eve of Super Bowl week, one name has cut through all the noise and chatter about the NFL — for football fan and non-football fan alike: Richard Sherman.
A week ago, Sherman made an extraordinarily athletic and exquisitely timed deflection to break up what would have been a last gasp, game-winning pass from the San Francisco 49er quarterback Colin Kaepernick to his receiver Michael Crabtree. Watching that play in slow motion is like watching the athlete as Nureyev, the great Russian ballet dancer. With the game on the line, Sherman elevated himself far off the ground while running at full speed and artfully raised one hand to deflect the ball away from Crabtree and into the hands of Sherman's teammate for a game winning interception. Sherman made a breathtakingly superb play, but the real drama was yet to come.
Sherman, to use the vernacular, proceeded to go off on prime time TV. First he made a choke sign with his hands around his neck while glowering at Kaepernick, the San Francisco star who had just been victimized — not by his own bad play but by a superior one from Sherman.
Sherman then visibly taunted a disconsolate Crabtree, slapping him on the bum and screaming into the ear hole of his helmet. In return, Sherman received a poke in the face-mask from Crabtree. Sherman was penalized for his taunt, but with 22 seconds remaining on the clock, all his Seattle Seahawks needed to do was run out the clock to victory and a berth in the Super Bowl.
Things took a bizarre turn when the game ended. FOX television had angled to interview Sherman live on the field before the players returned to their dressing rooms. The play-by-play announcers introduced broadcaster Erin Andrews, standing by in a mêlée of players, team officials and camera people with a dreadlocked, helmetless Sherman for his instant post-game comments. Instead of humbly thanking the lord and his teammates in the well rehearsed and terminally boring patter practised by many professional athletes, Sherman bellowed that he was the best defender in the NFL, that the 49ers were stupid to challenge him and that Crabtree was a chump who got what he deserved. A visibly shaken Ms. Andrews stepped back from Sherman and quickly gave the spotlight back to the lads upstairs. It was extraordinary unscripted television.
They manage to present an image of fine young men at odds with the realities of a brutal, extravagantly financed game . . .
For what it's worth, Sherman is African American; Andrews is Caucasian and considerably smaller. In their brief interview, Sherman appeared almost deranged, extremely angry, arrogant, and, frankly, more than a little frightening. His appearance immediately sparked a firestorm in the Twittersphere and about 72 hours of blanket coverage in sports and news coverage across the United States, Canada and beyond.
Hours later Sherman penned "For Those Who Think I'm A Thug or Worse…" an article for si.com, the hugely popular Sports Illustrated website.
Sherman has been an occasional si.com contributor throughout the season. A calm, reflective Sherman explained his actions as part of the heat of the game: "To those who would call me a thug or worse because I show passion on a football field—don't judge a person's character by what they do between the lines. Judge a man by what he does off the field, what he does for his community, what he does for his family." The next day, Sherman held court in a press conference. He was rational, articulate and basically non-contrite. In contrast to his outburst with the unfortunate Andrews, Sherman exhibited some warmth and considerable intelligence. In sum, this is one complex and often extremely media savvy dude. I suspect he will have the charm offensive in full gear on media day prior to the Super Bowl.
I say thanks to Richard Sherman. He gave us a pull-back-the-curtains-on-the-Wizard glimpse into the NFL. It's a tough game played by very tough men. However distasteful his triumphal, adrenaline stoked, macho outburst to Andrews was, it's refreshing that he did not merely fall on his sword afterward in a pathetic, well-rehearsed apology. Sherman said in effect, 'It's all part of the game, man – play on!' By accounts of those who work with him, including Peter King, Sherman's editor at si.com and a justifiably respected dean of football writers, Sherman actually is an exceptionally bright young man who happens to be a great football player.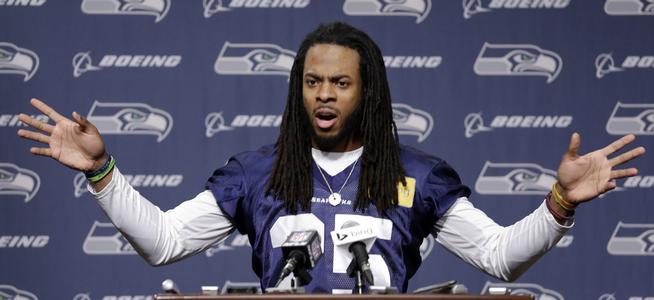 Richard Sherman, defensive end, at press conference.
Off the field, the management of NFL teams, the players themselves and the television networks generally manage to present an image of fine young men that is often at odds with the realities of a brutal, extravagantly financed game. Not all its athletes are stellar citizens. Imagine that. Whatever Sherman's crimes are, surely they pale in comparison to other events surrounding the NFL this season. The aforementioned Hernandez stands accused of murder. Days prior to the Seahawks' victory over the 49ers, former star defensive back and broadcaster Darren Sharper was arrested in Los Angeles on suspicion of rape. Reports state that New Orleans police are also investigating Sharper for sexual assault.
Oliver Stone's feature film Any Given Sunday and the series Friday Night Lights from producer/director Peter Berg both illuminate the realities of football as an essential aspect of deep America from dusty high school fields in Texas to the professional gridiron. In his recent outburst Richard Sherman gave us a strong dose of the raw reality behind the usual NFL marketing and spin.
~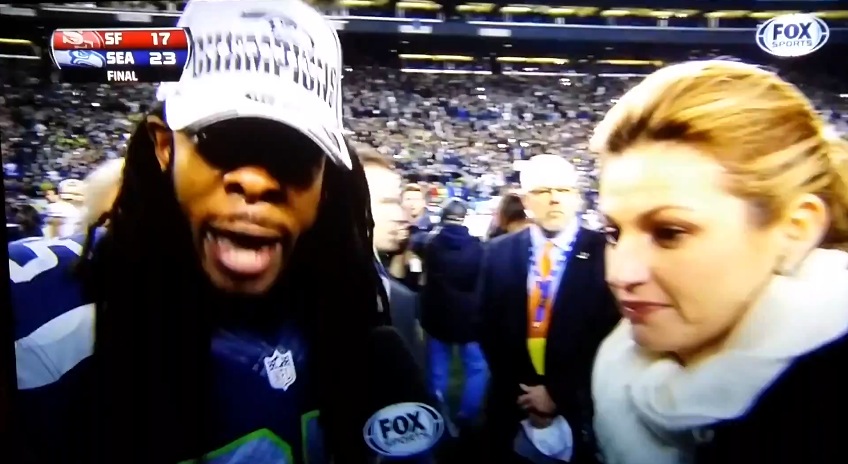 JAMES CULLINGHAM is a professor of journalism at Seneca College and a filmmaker with Tamarack Productions in Toronto. He also owns one share of the Green Bay Packers NFL team. He predicts that Richard Sherman's Seattle Seahawks will defeat the Denver Broncos in the Super Bowl.
Comments
As soon as I found this site I went on Reddit to share some of the love with them. Rattling informative! Keep on posting.
Add new comment