The Rise and Fall of Art (Uspon i pad umetnosti)
Standfirst
Does it always rain on the frustrated artist? In the Serbian capital Belgrade, we stumbled across perhaps the human race's first artist ever... and the very start of the eternal struggle between the artistic spirit and the practicalities of feeding the family. Herbert Wright followed up with Serbia's Aleksa Gajić, the creator of this character. We're very proud to present his film, plus a few examples of his other work.
Body

BELGRADE — Every October in the Serbian capital, Belgrade Design Week never fails to offer an amazing variety of creative talent. World-class architects, product designers, digital gurus and millennial artisans show off their work and ideas and network like there's no end of tomorrows. But this year, no-one was expecting a caveman from yesterday to demonstrate a new, sustainable form of paint — with the help of a baby with a bare bottom.
The surprise extended to the caveman's creator, Serbian comic strip artist and animator Aleksa Gajić. He had just finished charming the audience with an extraordinary but modestly-delivered presentation of cartoon work that literally goes multimedia, not just to film but to timeless objects from scrolls to stones. Then Belgrade Design Week's host Jovan Jelovac sprang on to the stage and told Aleksa he wasn't going anywhere — not until we had seen a short film of his. Aleksa sank into an armchair, resigned. Here it is, The Rise and Fall of Art.
All of us are forced to make compromises between wishes and obligations at some time. I guess the point is that it should be like that.     
THE JOURNAL OF WILD CULTURE CAUGHT UP WITH ALEKSA AFTER THE SCREENING . . .
JWC:  You are foremost a comic artist. What were your initial influences?
AG:  I had tons of artists that influenced my working path; I'll take something from anyone and mix it in my own style. Maybe that's the reason why I am doing so much different stuff in my career. 
JWC:  And what was your first published work?
AG:  It was an illustration for a Serbian magazine called Zabavnik, and after that, I made hundreds more. That was perfect, because I had freedom to use any technique and motive I wanted.
Aleksa's work in Zabavnik, a Serbian magazine.
JWC:  Can comics change the world?
AG:  I am sure comics already change this world. Earlier, when you asked some kid what will they wanted to be when he grew up, they would said pilot or magician, or something. Today, everyone wants to be Spider-man or Iron-man. Comics are everywhere around us, in the comic style of commercials, clothing . . . things influenced by popular comic culture.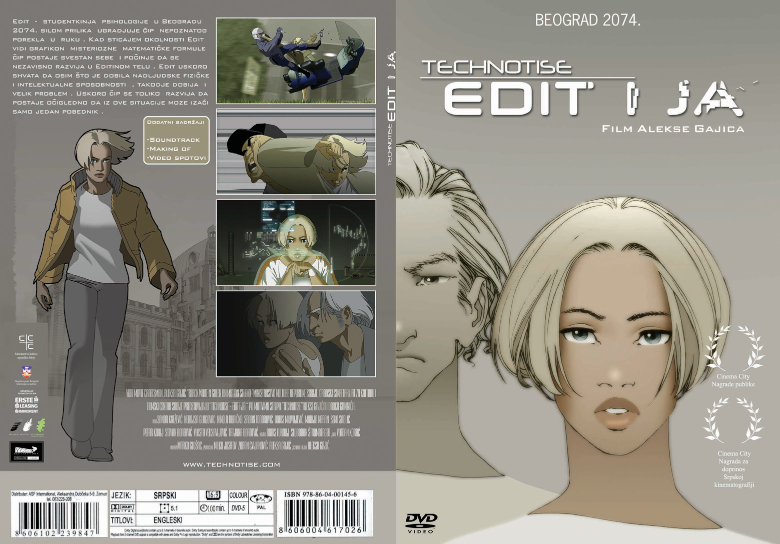 DVD case for Technotise: Edit & I.
JWC:  You've taken the comic format out of the linear strip format — onto circles and scrolls and woodwork. Your creations look like old objects but they carry contemporary content. For you, is it about the craftsmanship of making them, or provoking interest with the unexpected, or what?
AG:  Probably, because of both things. I made those artifacts because I really enjoy to make them. Nobody tells me what they should be, and I don't earn any money from them. I guess those are the reasons, that I consider it as an art. Maybe it's some kind of therapeutic thing — after long commissioned arrangements. Or, just a hobby. 
"These are wondrous comics," says Aleksa. "Comic objects made of all kind of materials."
JWC:  The film Rise and Fall of Art is a total contrast to your spectacular animated feature film Technotise: Edit & I (2009), set in Belgrade in 2074 — a dynamic urban epic with a strong manga flavour. Are they connected?
AG:  The only connection is that I made them . . . with lots of help of my colleagues from Studio 1234. Things somehow happen to me, and I react. For example, Rise and Fall of Art came to me after a few beers when my friend [Slavisa Savic] told me that man invented art, just so he could explain to his wife why he hadn't brought any meat back to the cave! That was very simple and funny to me, so I made a little homage to the Zagreb School of Animated Film [a prolific, prize-winning Croatian studio]. They use to make lots of funny shorts with a philosophic point when I was kid.
JWC:  Is The Rise and Fall of Art autobiographical — are you that man? Does it always rain on the frustrated artist?
AG:  Well, yes, that's me. But to be honest, everyone finds themselves in this little movie. All of us are forced to make compromises between wishes and obligations at some time. I guess the point is that it should be like that. So, yes, it rains on frustrated artists. But we all know that rain is good for nature.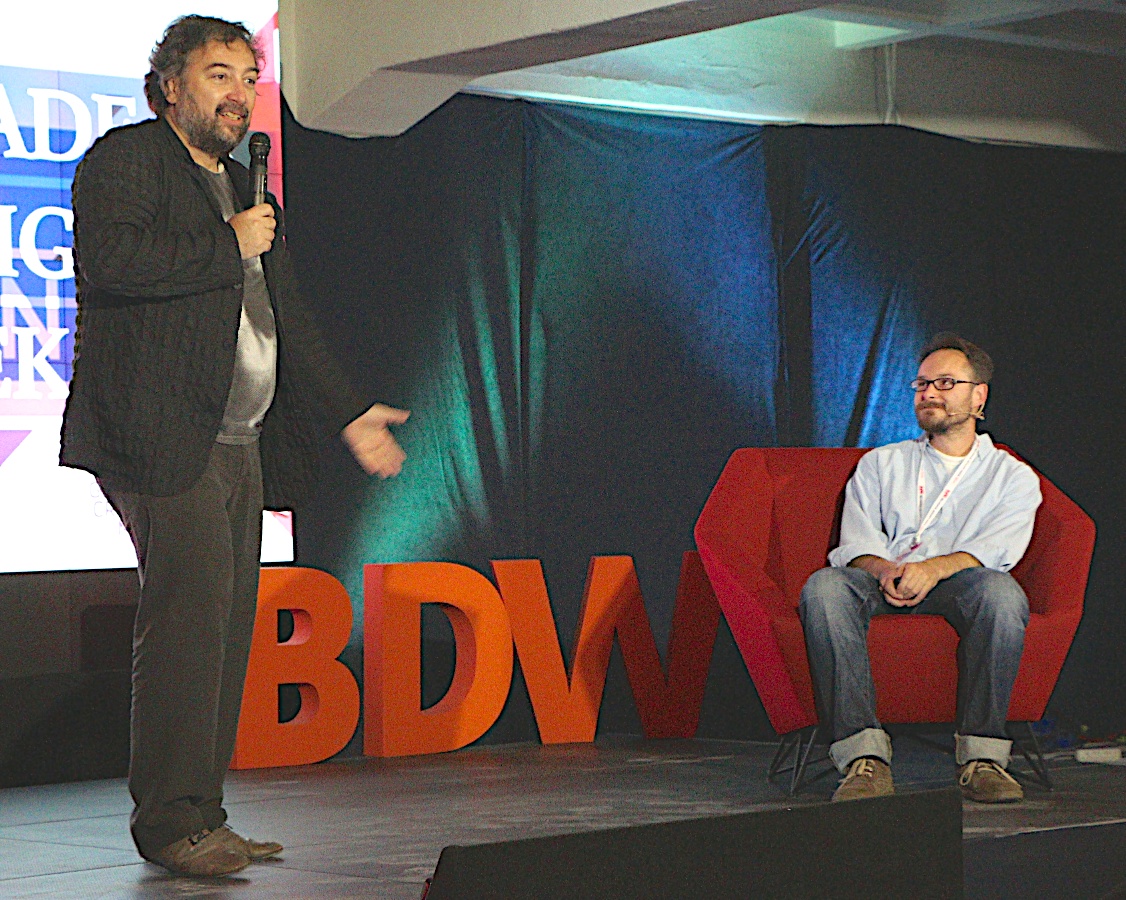 Belgrade Design Week host Jovan Jelovac tells Aleksa Gajić he "ain't going nowhere until we've all seen The Rise and Fall of Art."
This article was first published in The Journal of Wild Culture on October 21, 2014.

HERBERT WRIGHT is a London-based author and journalist specializing in architecture and art, and a contributing editor of The Journal of Wild Culture. He studied physics and astrophysics at the University of London. He is currently contributing editor of Blueprint magazine, columnist of the Royal Institute of British Architects Journal, and contributor to le Courier l'Architecte.