A Digital Artist's Invention Story
Standfirst
Beginning in 1968 and almost continuously since, Rick/Simon has been the graphics go-to man at the printshop/publishing innovation lab, Coach House Press — now a Canadian cultural landmark. Here he talks about how he got there and the evolution of his work-around method, not unlike panning for gold.
Body

Where did you grow up, and can you describe your relationship at that time to your physical environment?
RICK/SIMON: I grew up on Lake Erie where my grandparents had a beautiful double lot with a three-storey Victorian house and a formal garden in the back, behind hickory trees that were trimmed by the chauffeur. The roses were back there, and flanking the entrance to the rose garden were the beautiful Japanese maples. I now have one (not those specific ones) at the side of my house on Toronto Island, which is why I planted it. That garden was overlooked by a second-floor balcony/deck that I would go out with my grandmother and she would spread the Turkish carpet out there and we would go on magic carpet rides in the dappled sunlight of the hickory trees.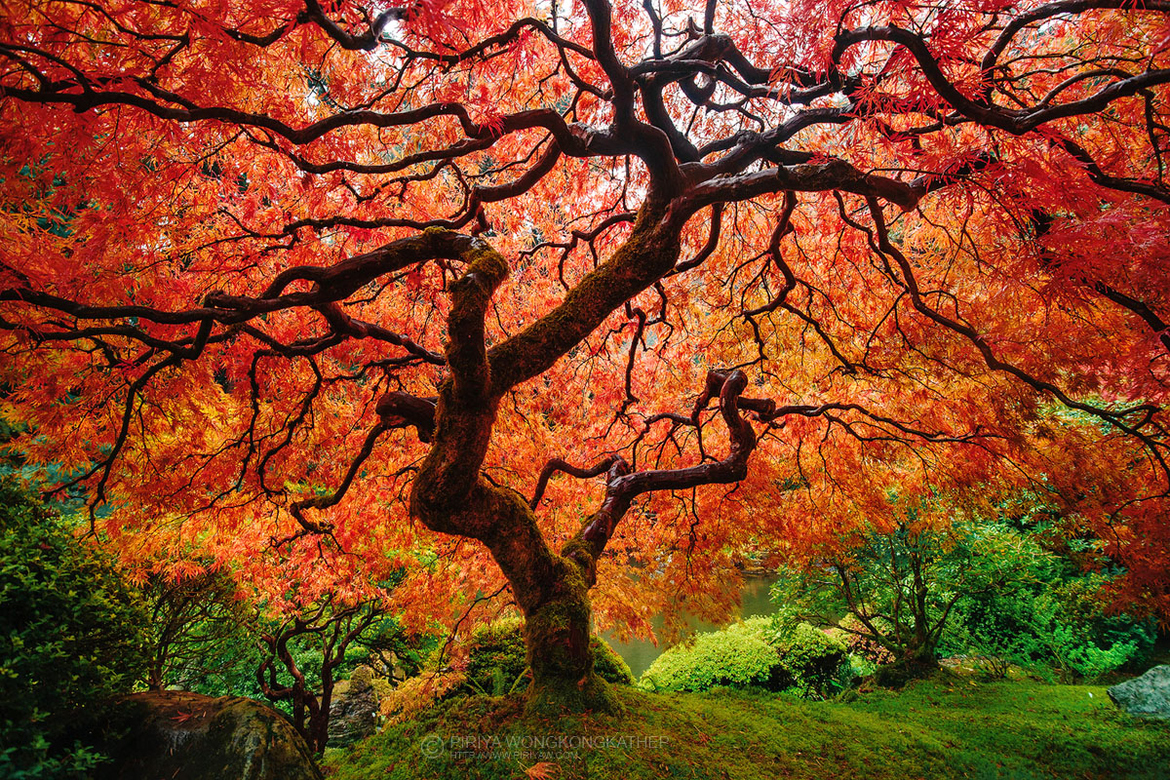 Japanese Maple, Acer palmatum. [o]
What were the circumstances of coming to Toronto and meeting the people at the Coach House Press?
In the US, I lived in a redneck world, which was not conducive to being different in any way.
In Toronto I just fell in with a whole different group of people where I didn't seem to stick out at all. When I worked in the bar I also made silk screen prints for a bus company, so when I came to Toronto and walked into Coach House Press and some people doing silk screening, I knew exactly what they were doing. When I took a little tour to see what else was going on, the person who was running the printing press, said, "Can you watch this for a few minutes?" And he went away and the press was running and I was figuring it out. It wasn't that much different than things I had done before, so because there was more work than what the person who was running the press could do, I started doing it. In a week I became the main operator of the AB Dick 360. Coach House Press was notorious for that. It was 1968, it was a crazy place where writers and graphic artists and printers were meeting and talking to each other, and collaborating on things, and it seemed to be just the right place for me. Other than a few years when I went away for another job, I've been working here ever since.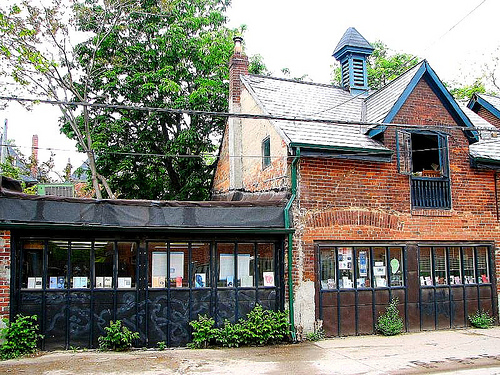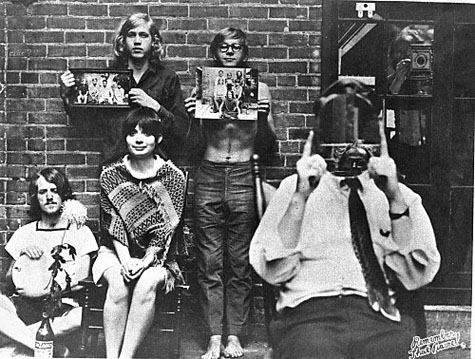 The Coach House Press building (above), and a detail from an early staff portrait. "Can you watch this for a few minutes?"
'Hot Latin dance.' Pre-scanner 3D object photo, 1978.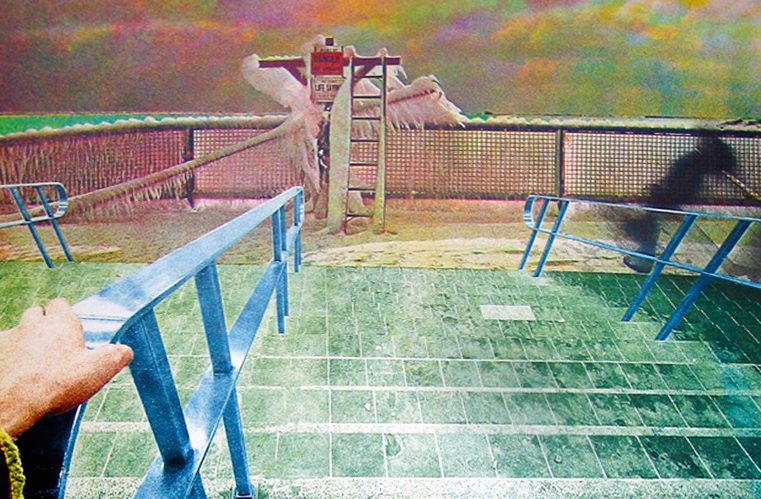 Photo collage for a poster promoting a subway car art exhibition, 1978.
Can you describe how your career developed as a graphics craftsman, artisan and artist?
It begins with making greeting cards for my grandmother who was traveling . . .
When I didn't know what the words were or who they were spelt I would cut them out and lay them down within the hand-written text, which is something I've done all my life. It's always been a process of invention — where I figure something out and then do it that way for years and then find out from graphic arts professionals that there was a name for that thing I was doing and everyone did it. Somebody thought of it long before I did, but for me it was more like an invention. . . That's why Coach House was a good place. There was a lot of inventing going on, and my inventing here was based on, uh, my laziness! So I would take steps out of the printing process that weren't really necessary because if there were less steps it would be easier to do, and if I'm the one to do it it would give me more time to do something else.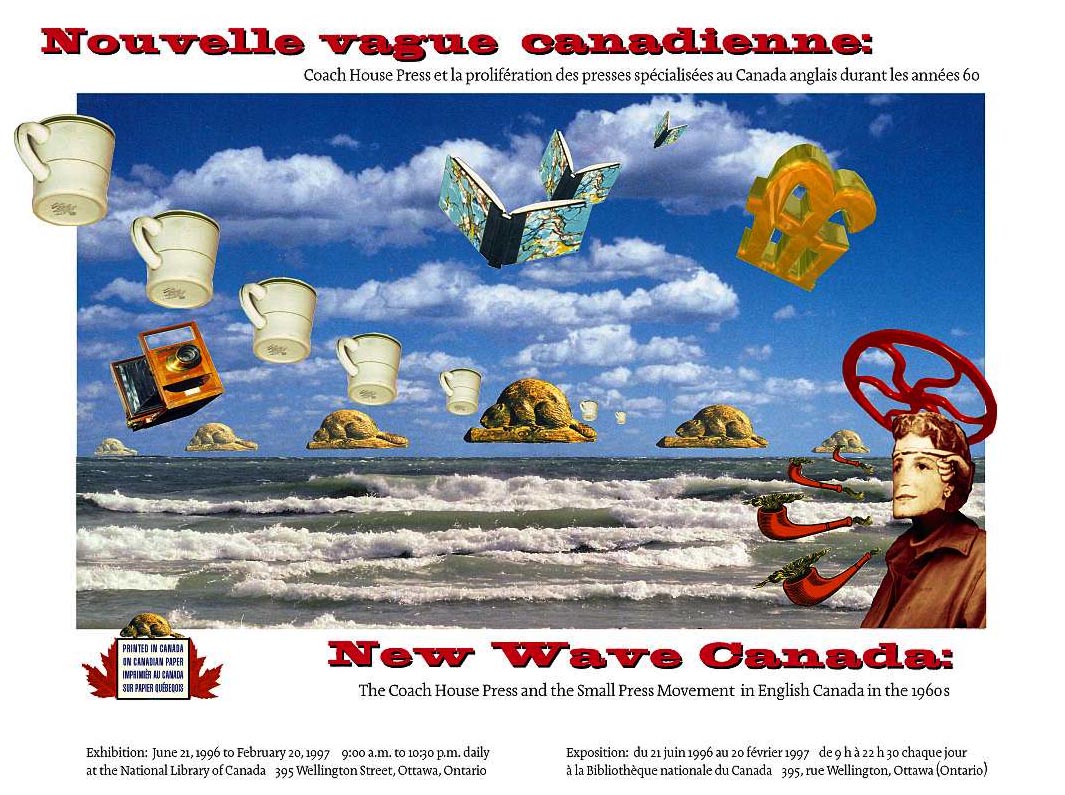 'New Wave Canada.' Poster, 1997.
'Early Kahoutek.'
This is an analog forerunner from the 1970's of Simon's later digital art works. "The predictions of the arrival of the Comet Kohoutek, which would take up a third of the sky," says Simon, "got me to make this fantasy collage that includes friends on chaise loungers watching the sunset on the Toronto island beach looking over to the city. I printed it with two 'split-fountain' runs and one black on the AB Dick 360."
DIGITAL ART WORKS
by RICK/SIMON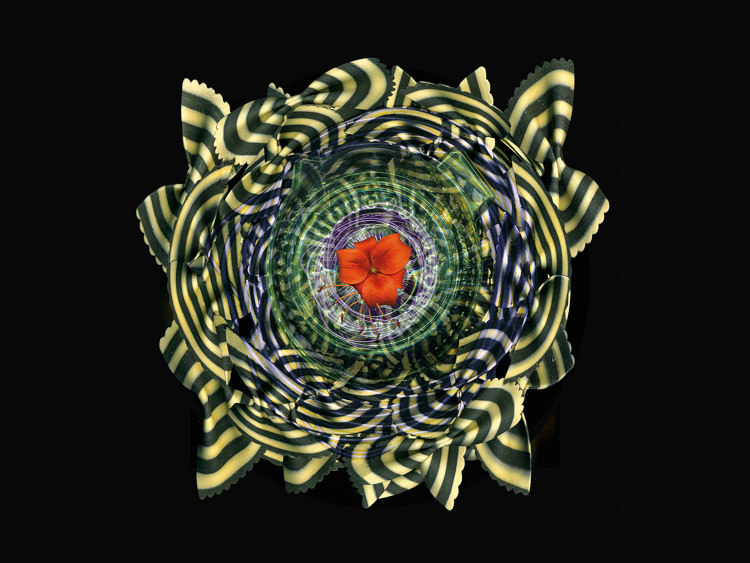 'Striped Pasta.'
Coach House Press was a uniquely creative, collaborative and productive environment. Can you talk about when you first came to it, and how it has evolved over the years?
The place was evolving when I walked in and it didn't really stop evolving ever since.               
Though right now it is not really in an evolutionary stage, when I walked in, everyone was inventing. Inventing themselves, inventing processes and crafts, inventing words and ways of speaking and communicating. One of the jobs I had was figuring out to take those ways of communicating and turn them into something that was on a piece of paper. I thought of myself not so much as a craftsman and more as a translator, partly because I had some facility with the tools that were here, and I would use whatever ingenuity I had to use those tools in a way that was appropriate to the message that was to be transmitted. So that went from mail art to computer graphics.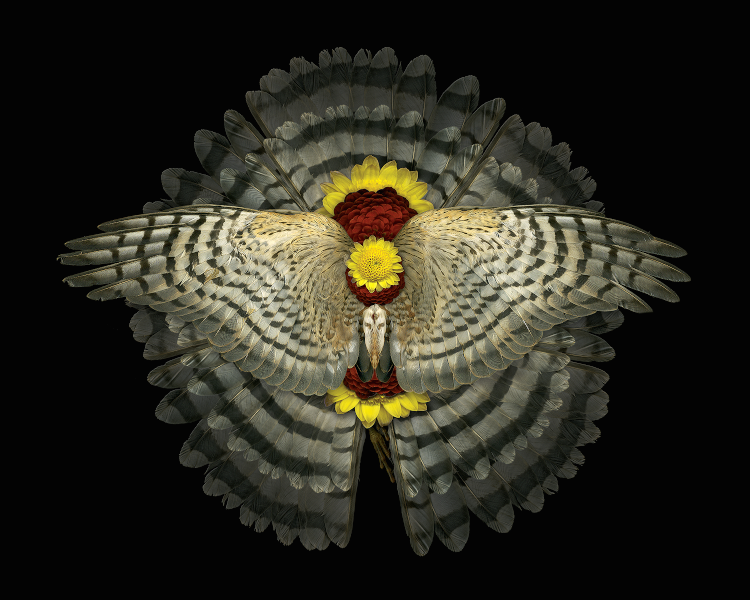 'Hawk Flower.'
'Leonardo Coin Jay.'
Can you talk about the relationship between the early mail art and digital graphics?
In the pre-Internet days we were writing to each other and sending postcards.
The early Coach House postcards had a little beaver coloured symbol on the back that read: "Made in Canada on Canadian paper," and then in very small type: "By mindless acid freaks." We were always making new ones of those that we would send to people. But there was a whole network of writers and artists who were communicating with other though the post — it wasn't that different from what people do these days with the Internet. It's amazing that all this computerization and digitization and all of the new tools are doing similar kinds of things, which is why we gravitate to these tools so easily: what they do isn't that different to what the other tools did. So the printing press and the website are really not that different from each other. They have different aspects and modes, but they're all pretty similar kinds of things.
People say, "What kind of camera do you use?" And I say, well, the tools I have are this eye and this brain, and whatever technology I use to spread out what I see through eyes and filter through a brain doesn't really matter that much. It's true of the digital world, too. Whether it's a super-computer or the laptop, or the tacky little pocket camera you stick in your pocket, they're all very similar devices that do similar things, so when you get familiar with those devices and you use your ingenuity or imagination you actually make the devices do more than they were designed to do. That's the kind of innovation that happened around here [at Coach House]. That kind of innovation and 'work-around' method — ways of thinking a little to the side, about how a tool might work differently to how it's supposed to — is what makes it fun.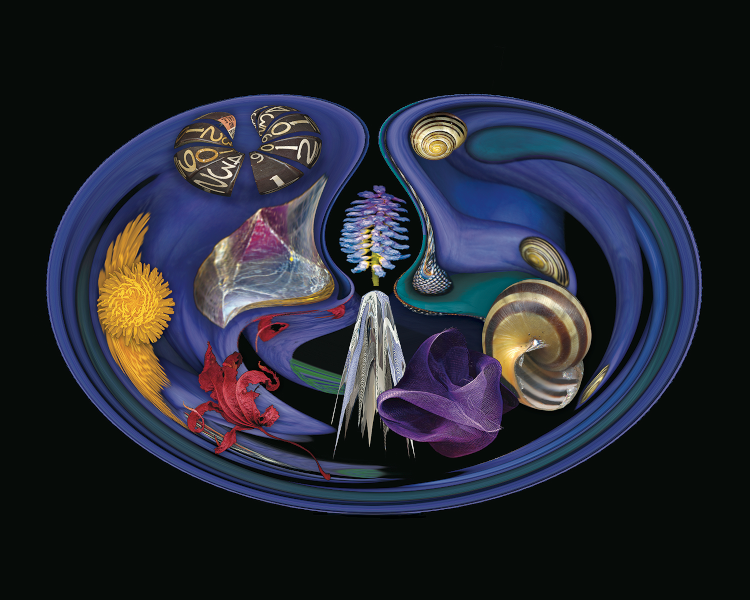 'Lend Hand Dali Delay.'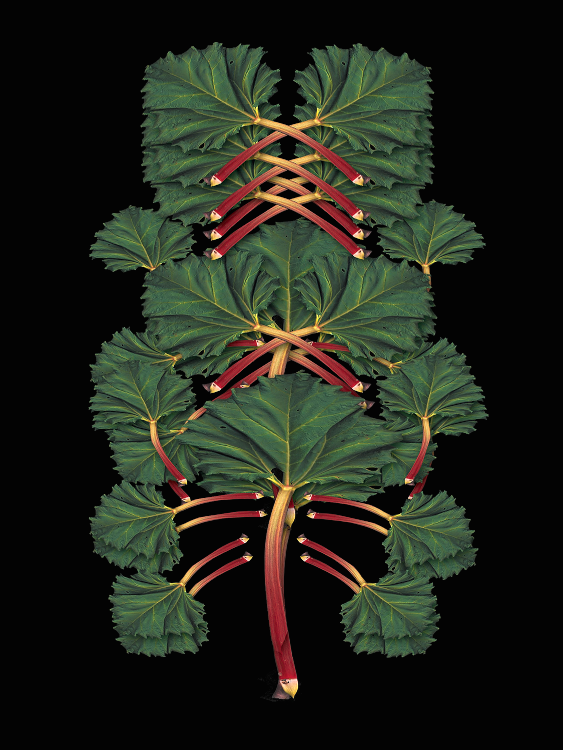 'Rhubarb Weave.'
What led you to create these layered photo images we're seeing displayed on this page?
The scanner is a tool that throws light . . .
. . . on what you put on the scanner glass, and that light bounces back and is recorded by the sensor, producing a digital photo image. My main discovery was that when I put solid objects on the scanner, as opposed to pieces of paper, and I left the scanner door open, which I had to do because I didn't want to crush the objects, I got this interesting effect. When the light from the scanner is hitting the object it's bouncing back, but the light that goes out through the glass, around the object, goes into the air and does not bounce back and does not get picked up by the scanner, which makes this beautiful blank black background. That makes a mask for the object so that the object can be collaged with other objects, in a program like Photoshop. You start with interesting objects, and you think, well, this interesting object would look good with this other interesting object, so some sort of sculptural thing starts happening and you start imagining possibilities — things that go together but may not even have similar scales.
An example of this can be seen in the picture, 'Brush With,' (below) which features a cement texturing brush, which is a little big bigger than my head, used by sidewalk cement laying workers to texture the wet cement so that you don't slip on the sidewalk. So I scanned that brush, and then I took a small quartz crystal and scanned it at a much higher resolution, so I can blow it up, so I can expand it while at the same time I'm shrinking the brush. The final touch is a couple of shells from Tobago that get collaged in.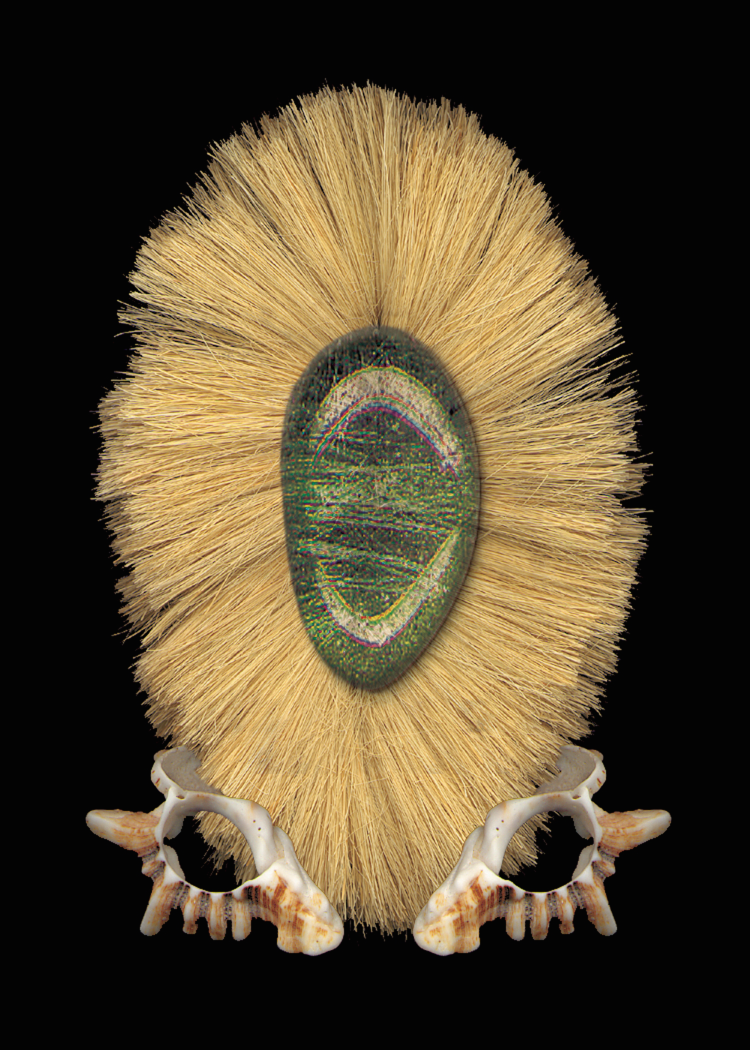 'Brush With.'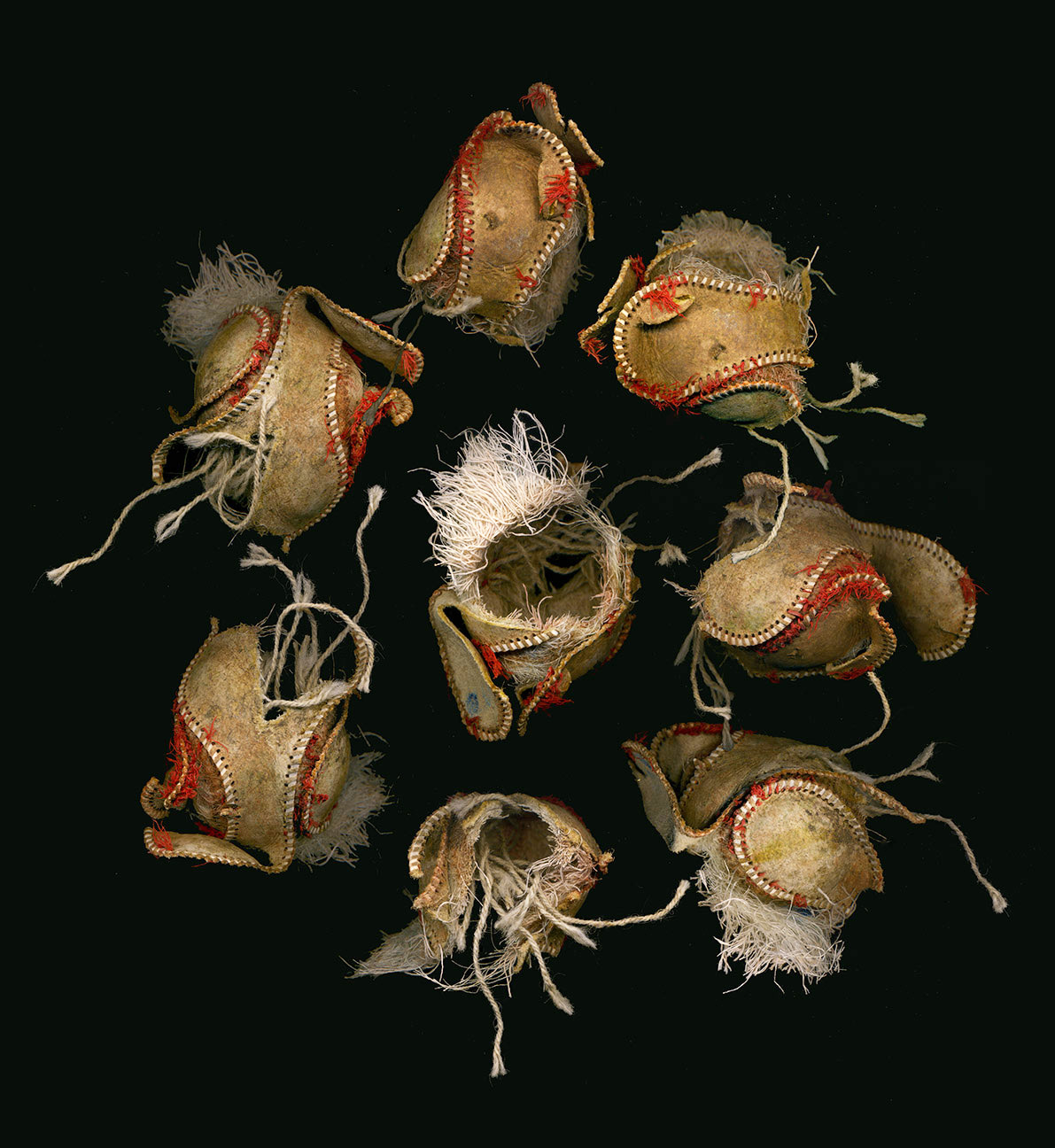 Baseball Flat.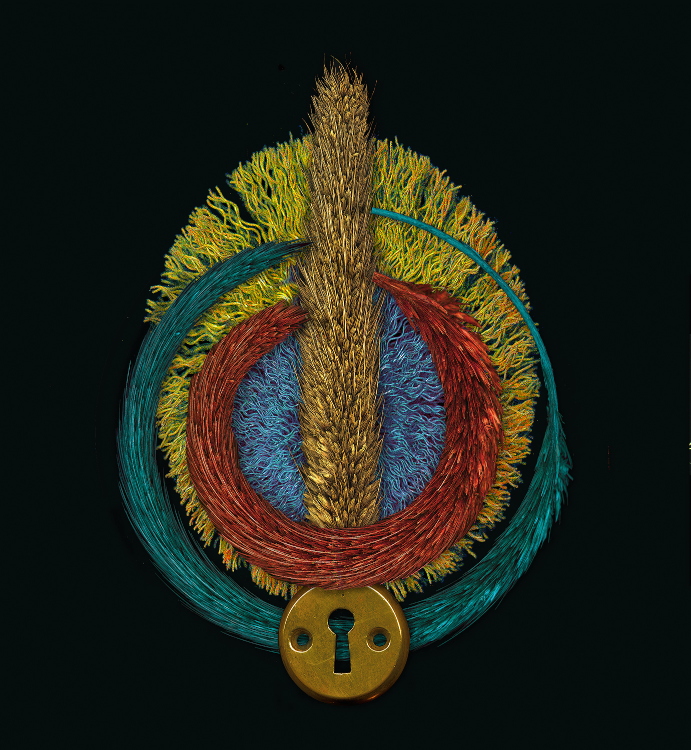 'Long Seed Brush.'
What pertains to 'wild culture' . . .       
. . . is that at certain times of the year I spend a lot of time scanning things from the natural world — buds, flowers, parts of trees, and so on — and because I use the scanner as a magnifying device, I like to take these objects from nature, too small to notice with the naked eye, and enlarge them and bring them to the foreground so the viewer can see the detail of things they might not have seen before.
.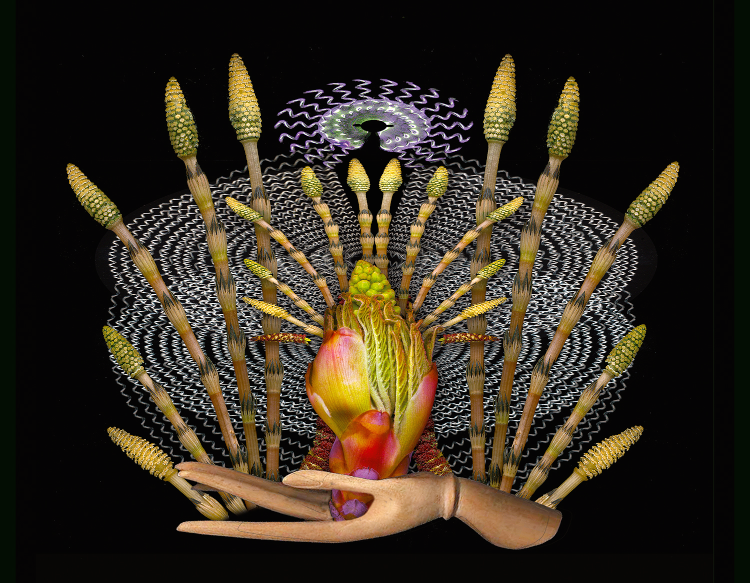 'Snare Hand.'
'Larch Flower.'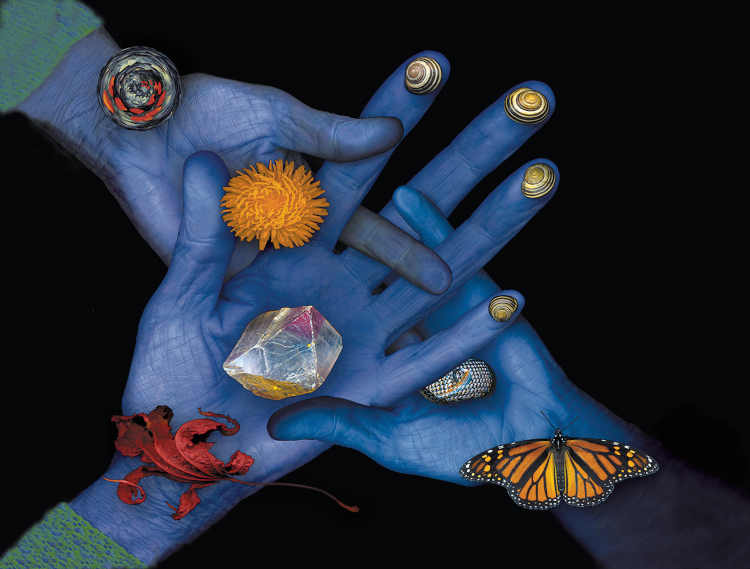 'Lend a Hand.'
~
What would you tell a young person who is interested in what you've said so far?      
Rick Simon's digital art works are available for purchase as prints on demand, and as woven 4' x 6' tapestries. For more information contact <rslashs AT bell.net>
RELATED LINKS
See another article on Rick Simon's work in these pages.
Coach House Press archives, Library and Archives of Canada.

WHITNEY SMITH is the Publisher/Editor of The Journal of Wild Culture and a retired fiddlehead executive. He has been a member of the Toronto arts scene since the early 1970s.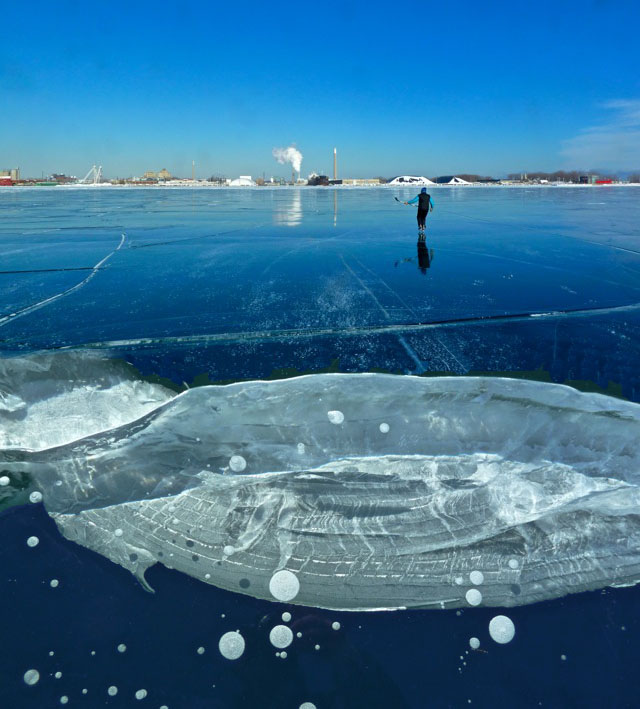 Toronto Bay, Winter 2015, by Rick/Simon.