September 27 Coalition Statement
Standfirst
Even if they're shooting for the moon, the writers of this statement have their sights set on targets for a stronger, safer, more responsible society. At its least it's a checklist from which individuals can choose an area to focus their personal efforts.
Body
Greta Thunberg, 16, joins hundreds of teenagers in climate protest in New York. [o]
A GLOBAL CLIMATE ACTON STATEMENT — TORONTO VERSION
Here in Toronto, on the traditional territory of many nations including the Mississaugas of the Credit, the Anishnabeg, the Chippewa, the Haudenosaunee, and the Wendat Peoples, we gather in a coalition for the September 27 Global Climate Strike. Toronto is covered by Treaty 13 signed with the Mississaugas of the Credit, and the Williams Treaties signed with multiple Mississaugas and Chippewa bands. We are grateful to be guests on this land, and commit to centring indigenous sovereignty and self-determination in our struggles for environmental and climate justice. 
We are a collective of young activists, artists, and students in Toronto organizing alongside our adult allies for climate justice. Coalition members come from groups including Fridays for Future, Climate Justice Toronto, ClimateFast, No One Is Illegal, Fight for $15 & Fairness, Migrant Rights Network, Toronto 350, Rising Tides Toronto, Indigenous Climate Action, Greenpeace Canada, and The Leap at the University of Toronto. Our demands reflect the rallying cries of the intersectional movements we belong to, and include: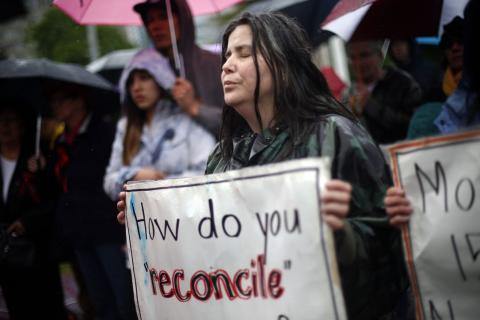 INDIGENOUS RIGHTS & SOVEREIGNTY 
Today's climate crisis is the result of centuries of extractive colonialism that have trampled the rights & sovereignty of indigenous people across Turtle Island. We demand the centring of Indigenous self-determination and the full implementation of the United Nations Declaration on the Rights of Indigenous Peoples, the 94 calls to action of the Truth & Reconciliation Commissions, and the calls for justice in the final report of the National Inquiry into Missing & Murdered Indigenous Women. 
DEFENDING LAND, WATER & LIFE
Indigenous people have cared for, defended, and protected the land and water--and the life they sustain--for thousands of years. We honour this ongoing stewardship and call for collective efforts to maintain and protect forests, restore cutblocks, reduce habitat deterioration, and strengthen the protection of at-risk species. We coexist with this land in relation to all forms of life. We acknowledge our interdependence with the ecosystems that sustain us, and call for a re-centring of food justice and respectful ways of relating to non-human beings.
The future is a public good, not a private luxury.
BOLD GHG REDUCTION AND SEPARATION OF OIL & STATE 
We call on all levels of government to reduce national greenhouse gas (GHG) emissions by 65%, by 2030, reaching net zero emissions by 2040. We reject all new and ongoing fossil fuel extraction/transportation projects, and demand the elimination of fossil fuel subsidies, coupled with a steep price on pollution. We call for a just transition to publicly-owned renewable energy and sustainable infrastructure — one that guarantees decent, low-carbon work for all workers, including those in the fossil fuel industry.
NO WORKER LEFT BEHIND
We have more than enough to lift everybody into decent work, rest, leisure, and safety. We call for an end to the hoarding of wealth by the same small percentage of Canadians who control the extractive industries that are causing ecological deterioration. Our demands for economic justice include a $15 minimum wage for all; the right to unionize; and higher taxation of the ultra-rich and the corporations they control, whose greed has caused the climate crisis. 
What road to change needs to be pursued?
UNIVERSAL PUBLIC SERVICES & INFRASTRUCTURE
We demand quality public services for all, including universal health and dental care, pharmacare, public education, free university/college, childcare, settlement services, legal aid, and pensions; housing as a human right, including high-density, retrofitted, green public housing, alongside rent control and less urban sprawl in the suburbs; free, electrified, fully accessible public transit; and local community ownership, such as neighbourhood transition councils.
JUSTICE FOR MIGRANTS & REFUGEES
Canada, its allies, and multinational corporations have been carrying out imperialist practices of displacement — including war, occupation, and resource extraction — for centuries. We call for asylum for those displaced, and, in the words of No One Is Illegal, affirm the freedom of everyone to move, to return, and to stay. Our demands for refugee & migrant justice include status for all; an end to deportations and detentions; decent, low-carbon work for migrants; and full access to the universal public services listed above.
FUTURES FOR ALL 
As we rally together around September 27th, we must ask ourselves: whose future are we fighting for? Disabled, BIPOC, working class people, and migrants have long been excluded from mainstream environmental movements and general notions of futurity. We call for a return to the leadership and wisdom of the most affected — and most historically disenfranchised — communities, without whom there is no justice, no future. 
Finally, the future is a public good, not a private luxury. From the land and water, to our housing and wages, we want a system of governance that invests in our communities — not corporations eager to put a price-tag on our lives. For those already trapped in cycles of poverty and state violence, a just transition was needed centuries ago. Now is our time.
Go here for more information on this initiative.