Spine by spine, the library of Stephanie Mills
Standfirst
READING A LIBRARY . . . Named by Utne Reader as one of the world's leading visionaries on ecology and social change, Stephanie Mills is a modern master of writing about the relationship between species and habitat. Her beautifully crafted prose combines a luminous intelligence with plain good sense; yet the force of her insights — many about the challenges we face now and in the future — comes not just from intuition but also a deep erudition. Indeed, Mills is a fierce reader. This record of her home library gives a sense of the scholarship that feeds her remarkable work.
Body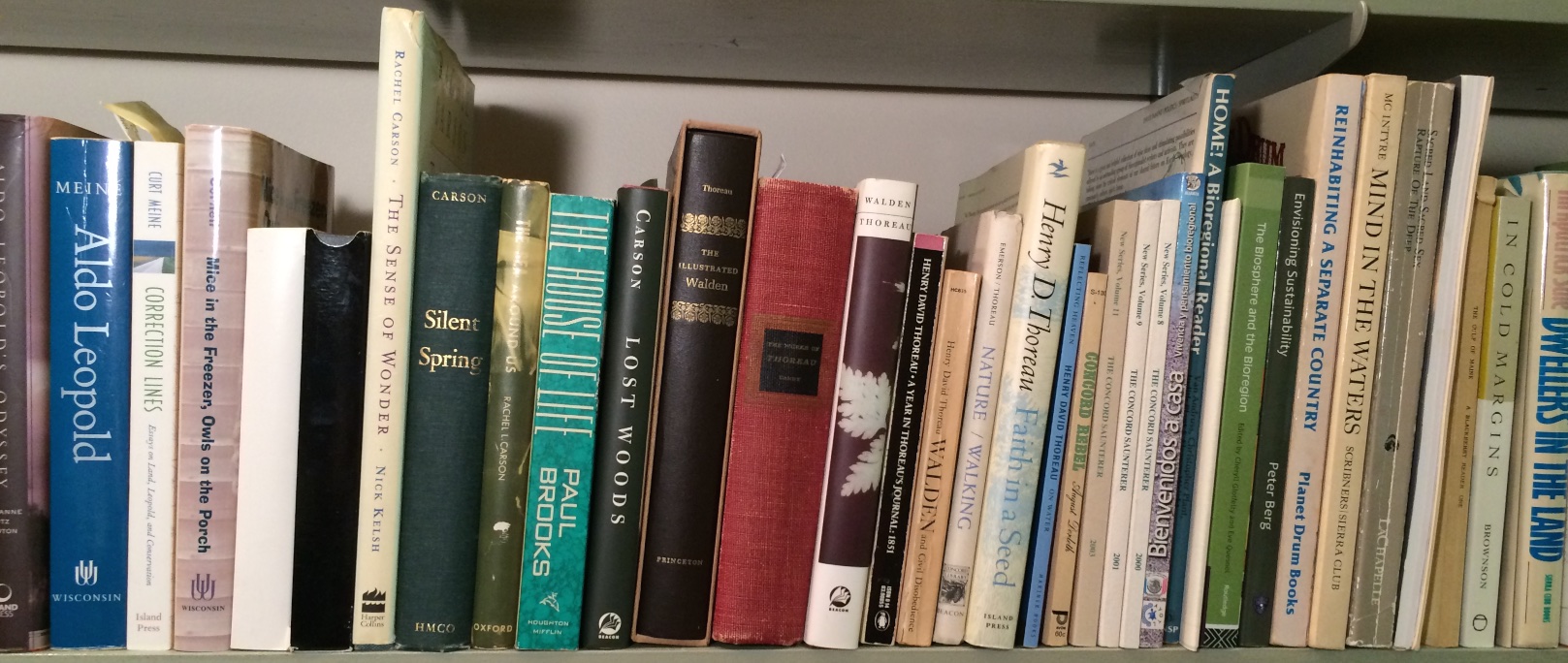 1) Seminal ecology.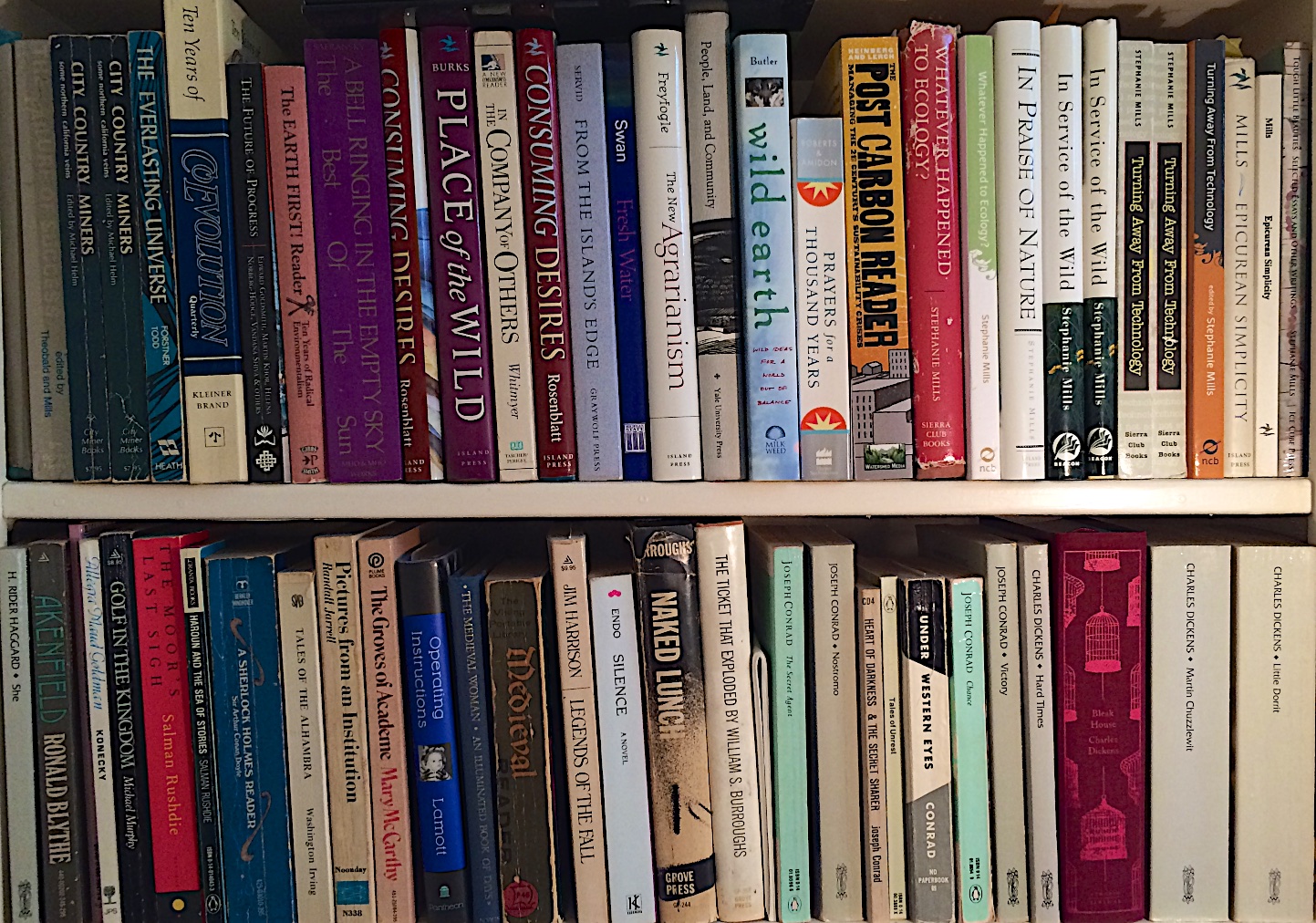 2) Ecology, activism. 3) Literary classics.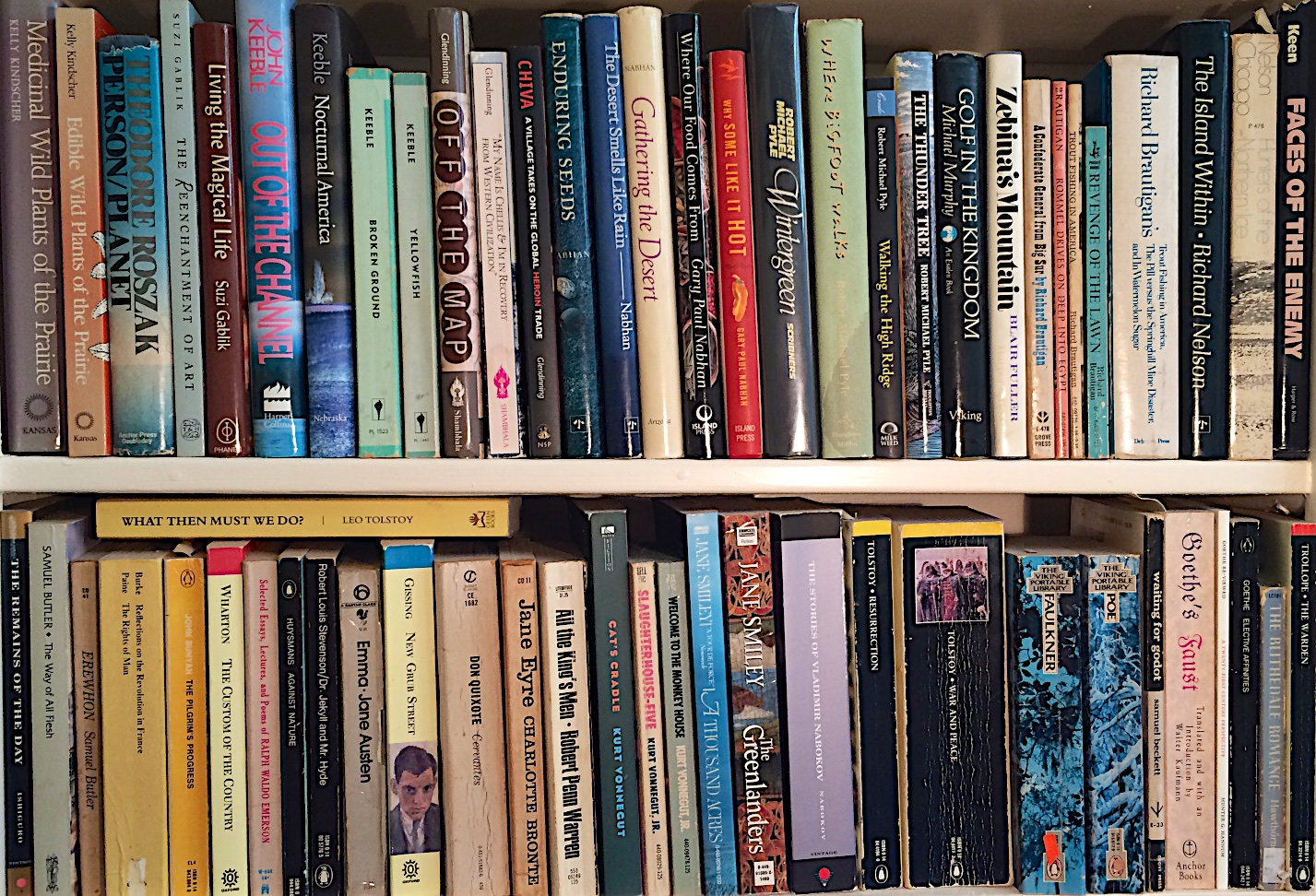 4) Ecology, works by Mills friends and colleagues.  5) Literary classics.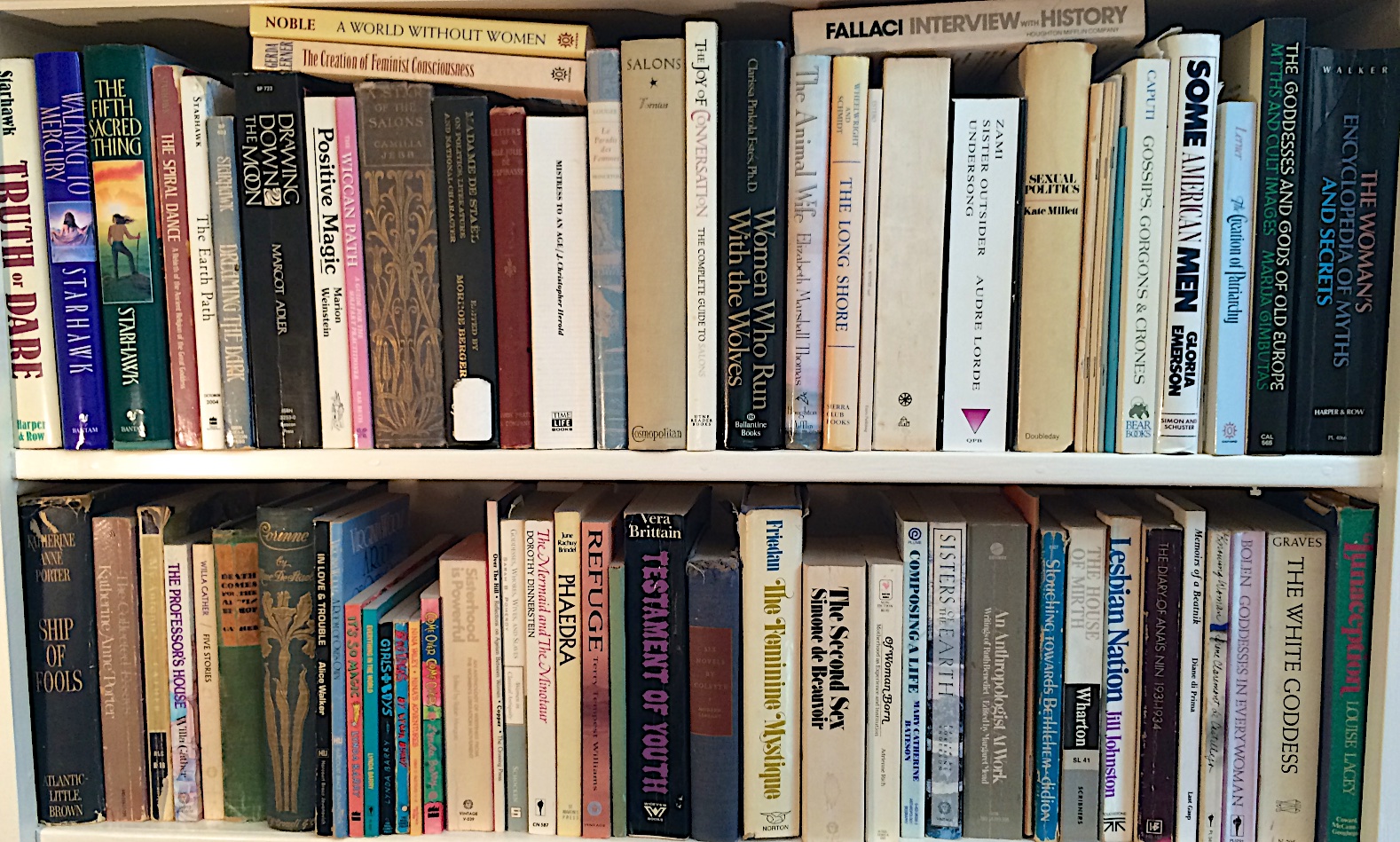 6) Writings by and about women and women's studies. 7) Same.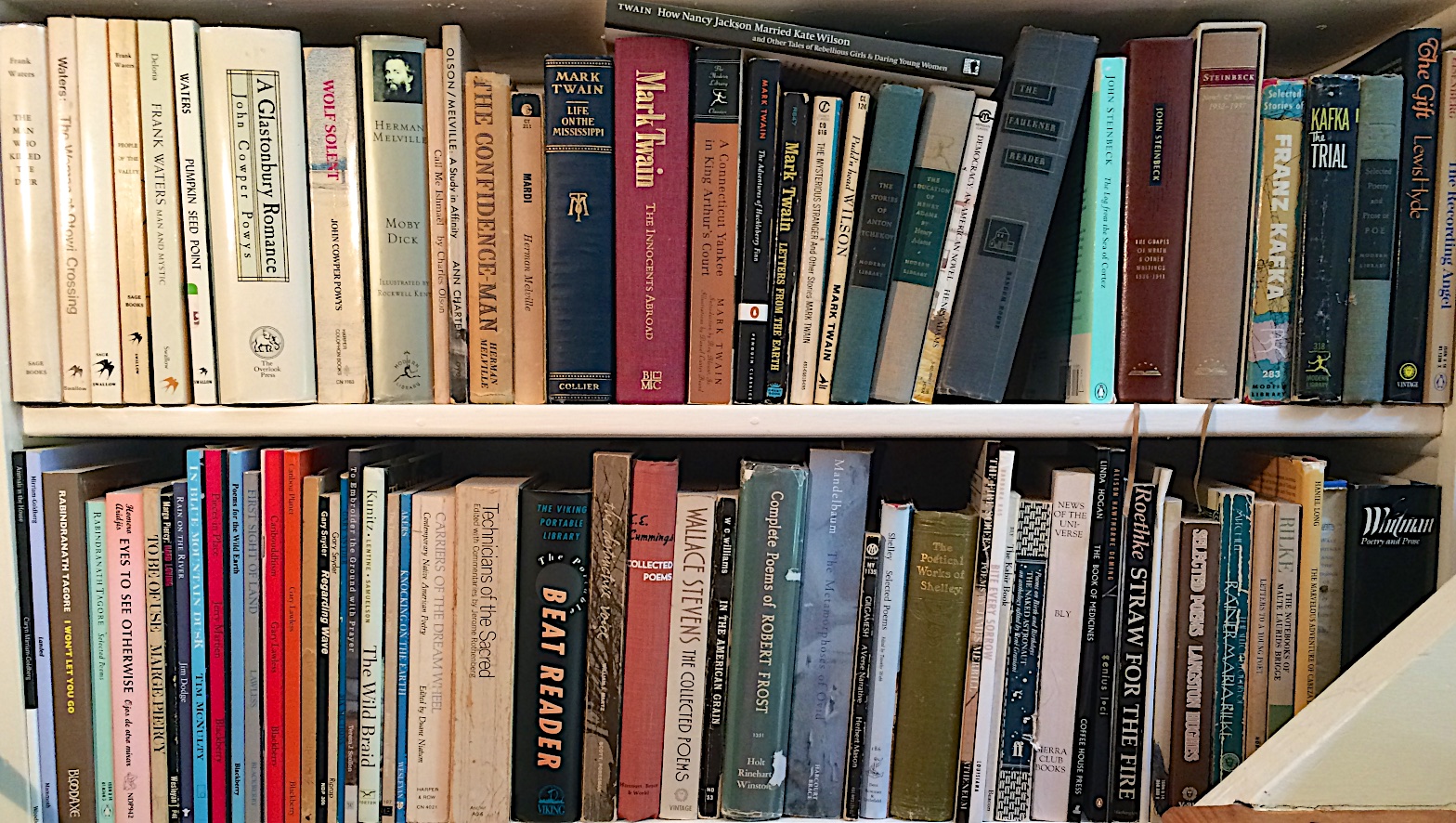 8) American authors, classics. 9) Poetry.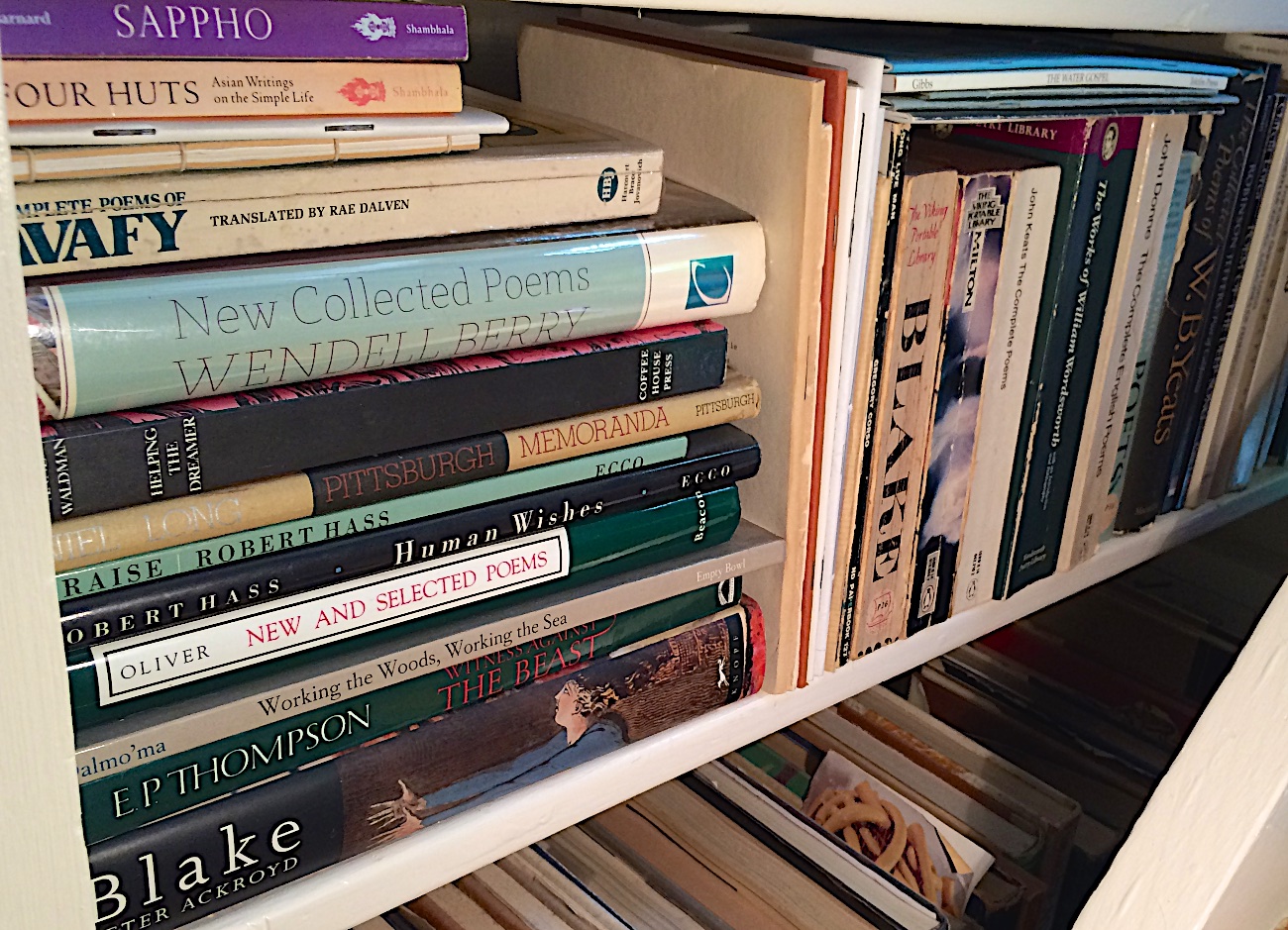 10) Poetry. 11) Poetry and miscellaneous oversize.
12) Mill's journals. 13) Literature and humor in a popular vein.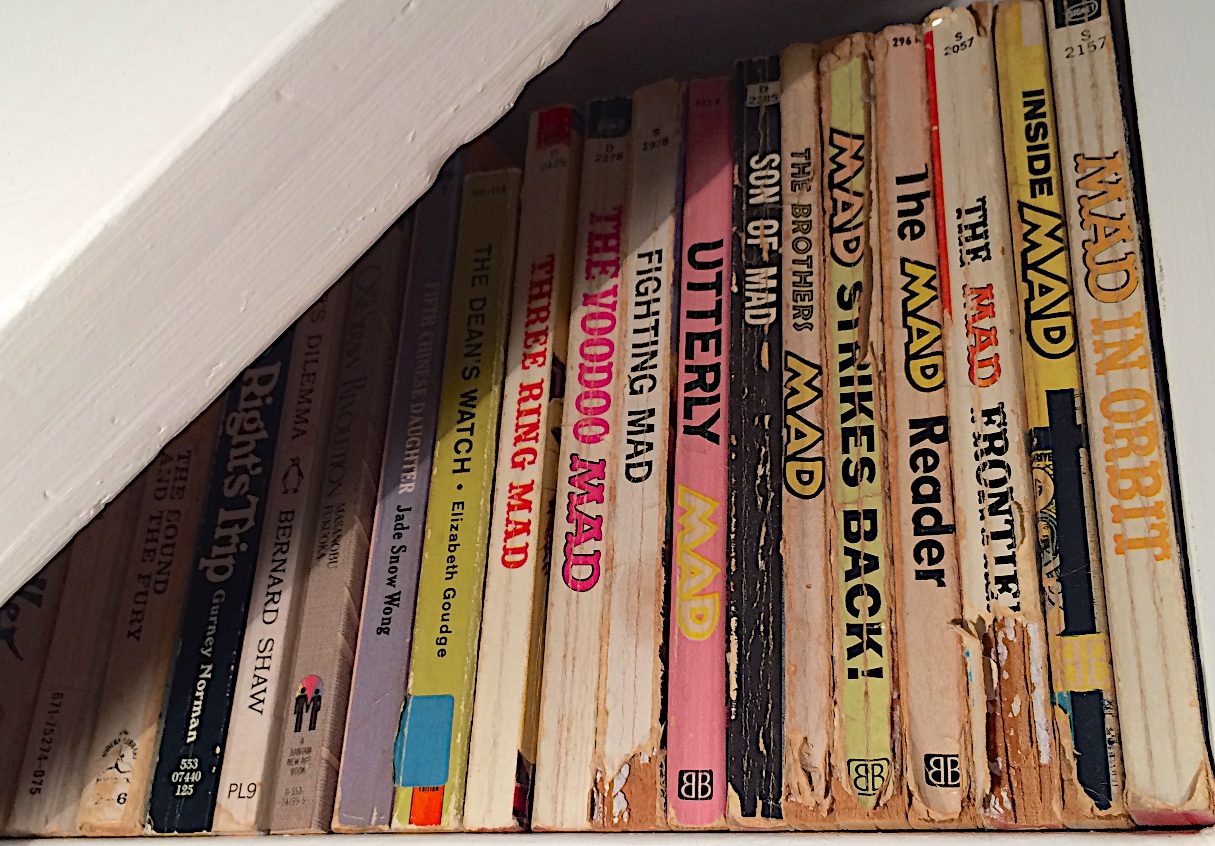 14) Literature; Humor in a  popular vein; MAD magazine paperbacks.
15) Miscellaneous novels.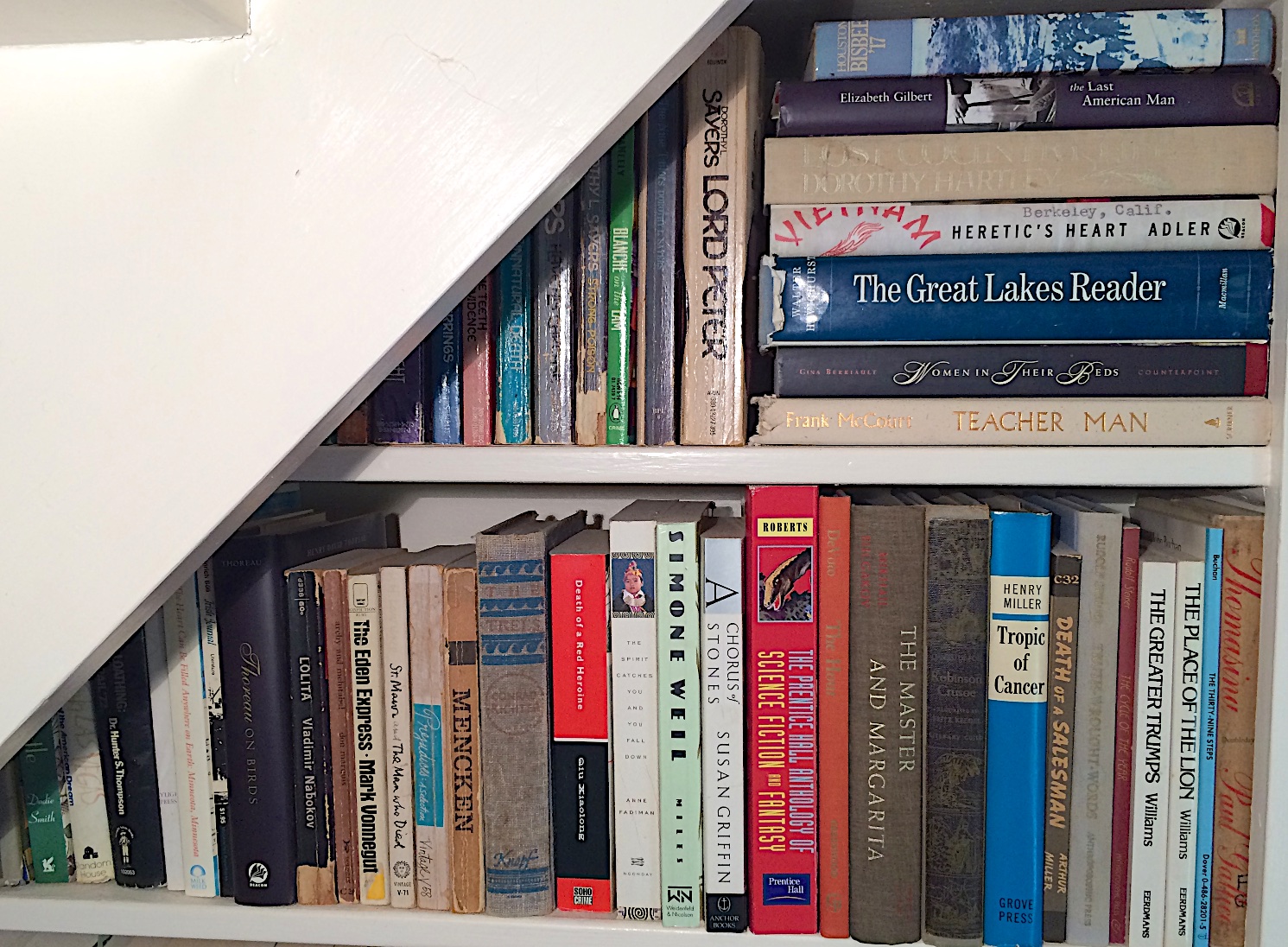 16) Novels & miscellaneous.

17) Orwell, Patrick O'Brian.
18) Miscellaneous oversize.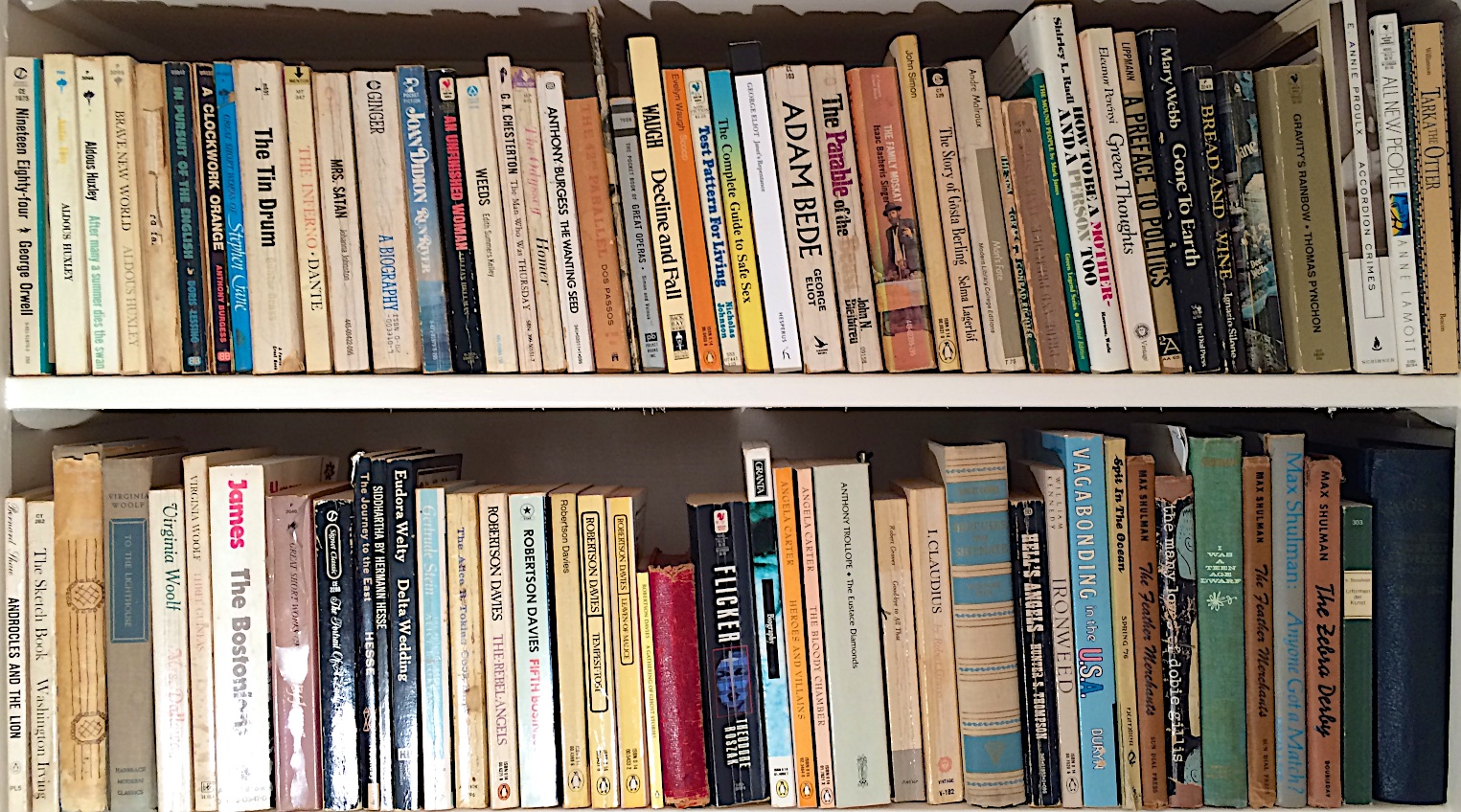 19) Miscellaneous novels. 20) Same.
21) Novels & humor. 22) Alternative medicine & oversize.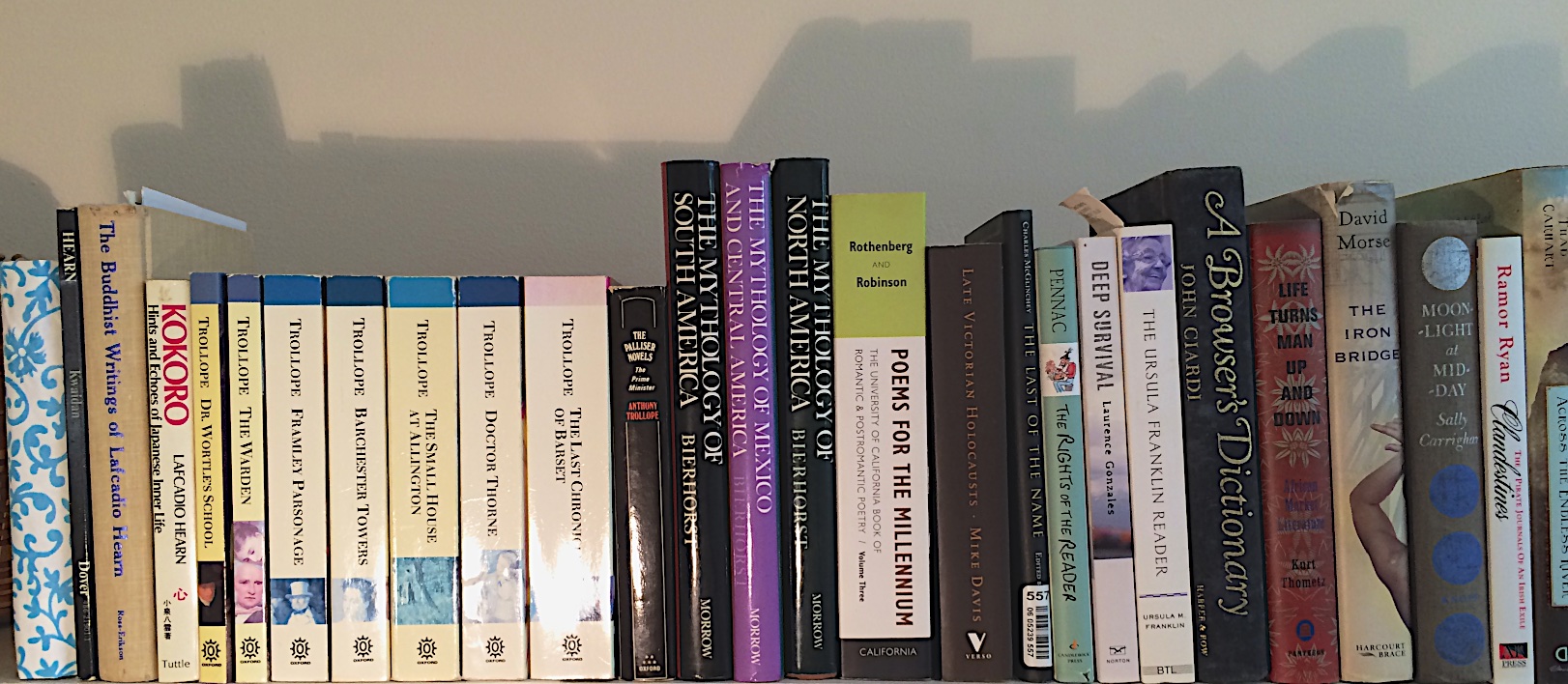 23) Miscellaneous, Trollope, and works by friends.
24) Books by friends, classics, India.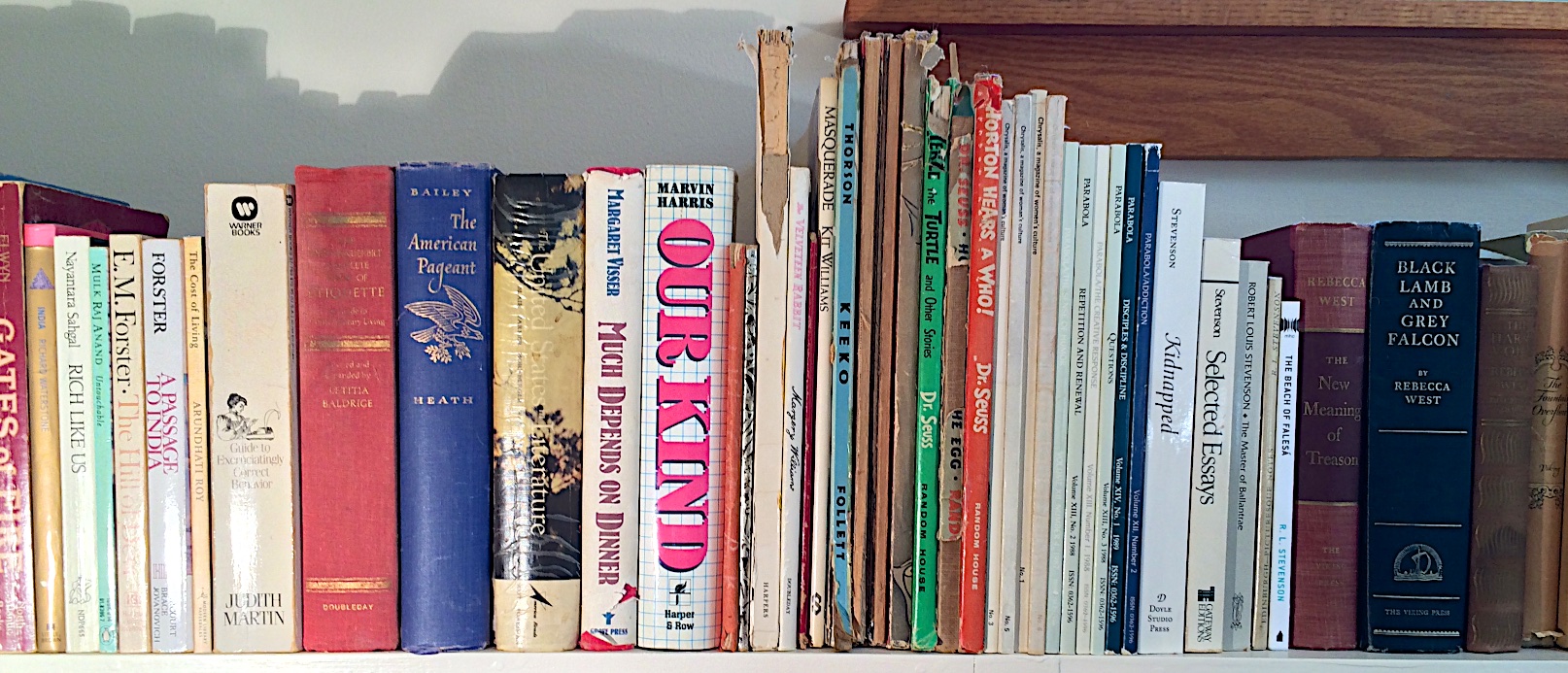 25) Miscellaneous, etiquette, books from childhood.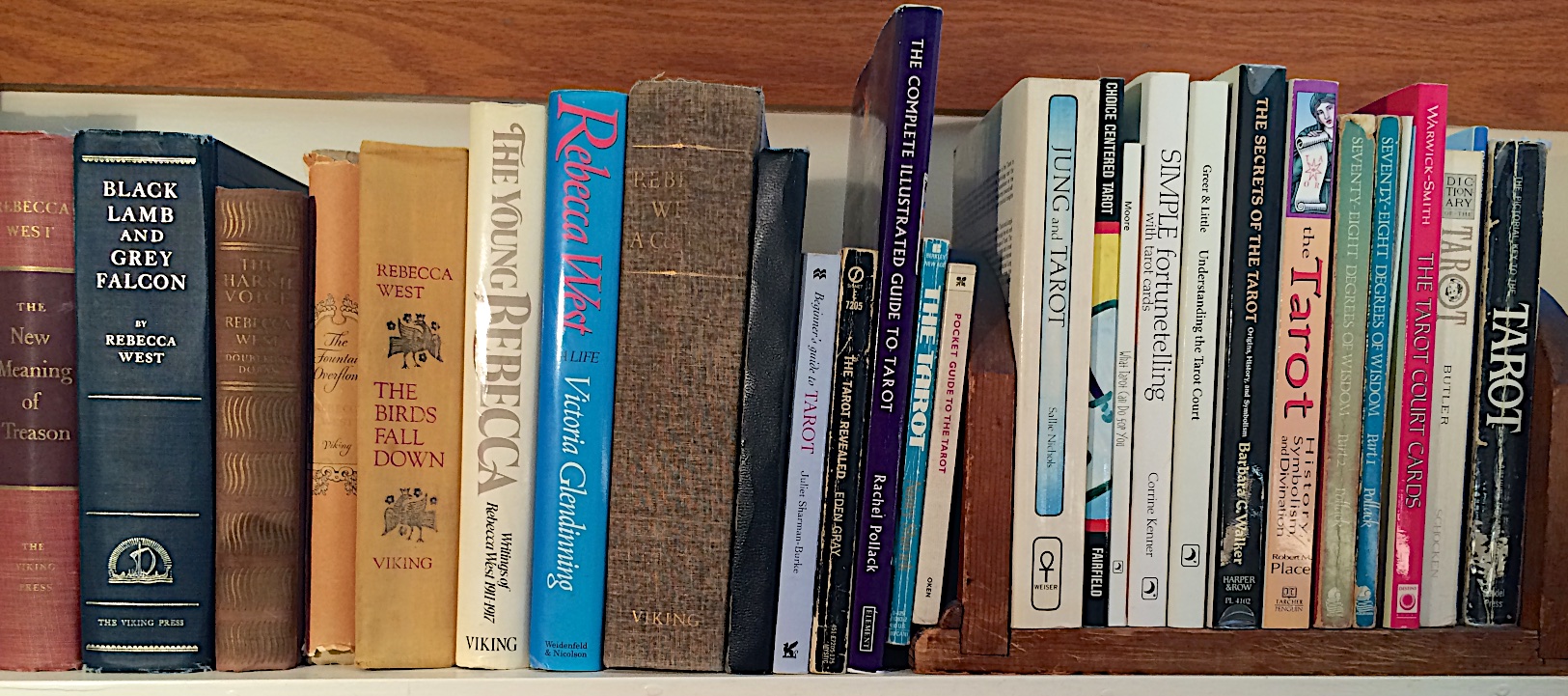 26) Rebecca West, Tarot.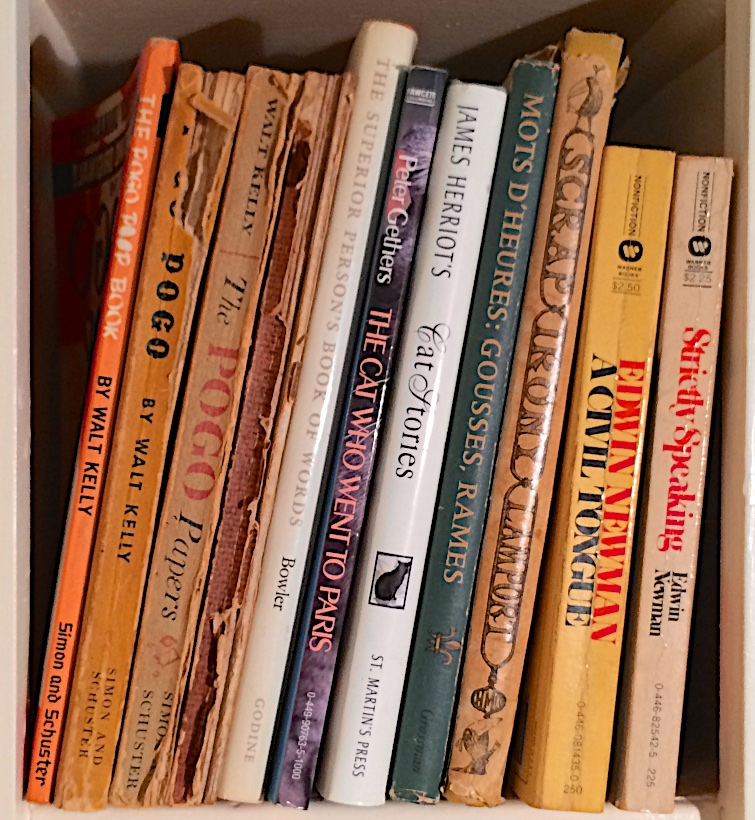 27) Pogo, books of my mother's.

28) Almost all by friends.
29) Gurdjieff, miscellaneous.

30) Essays and nature writing by friends.

31) Journals and miscellany.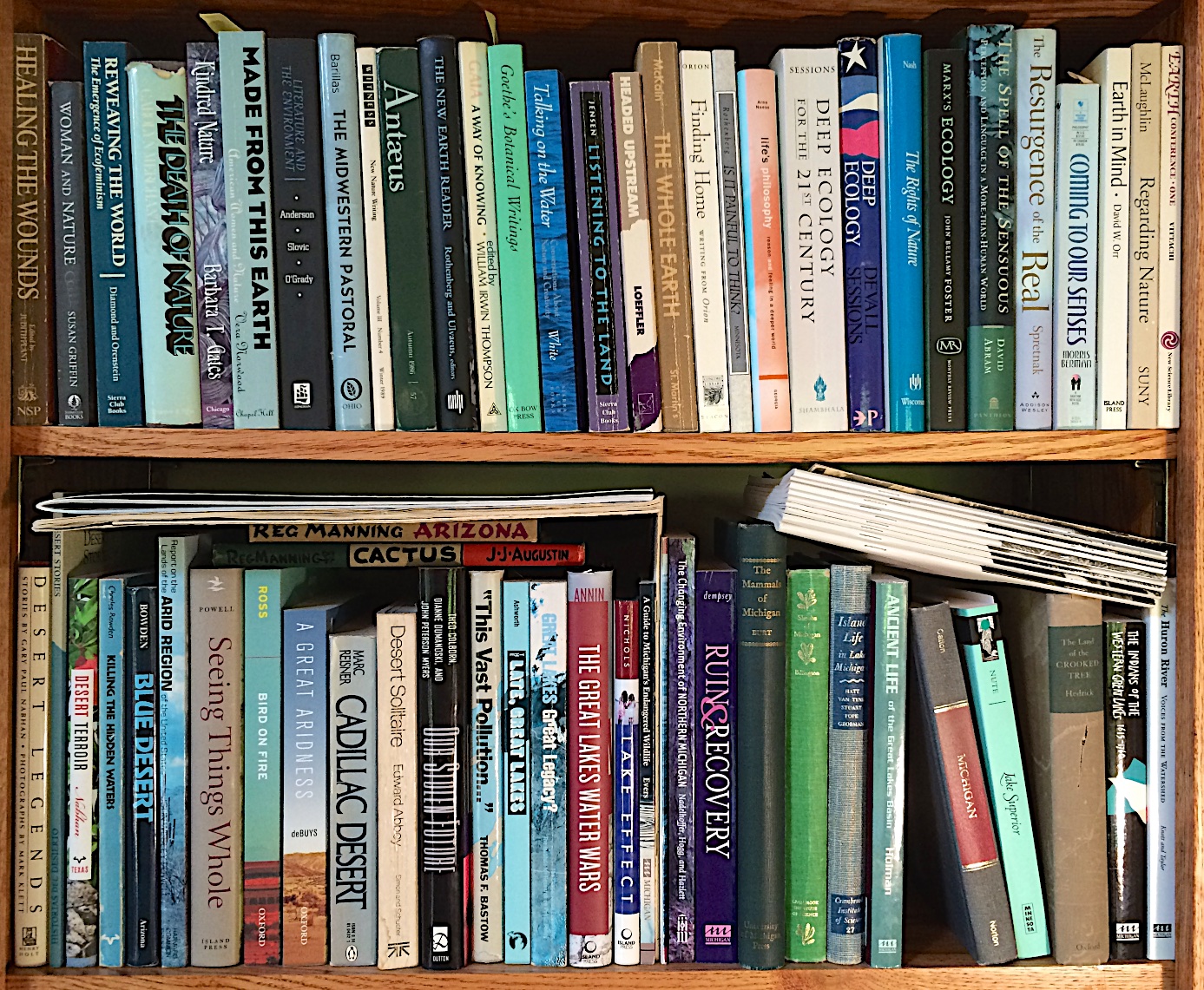 32) Women & ecology, ecophilosophy. 33) Bioregional.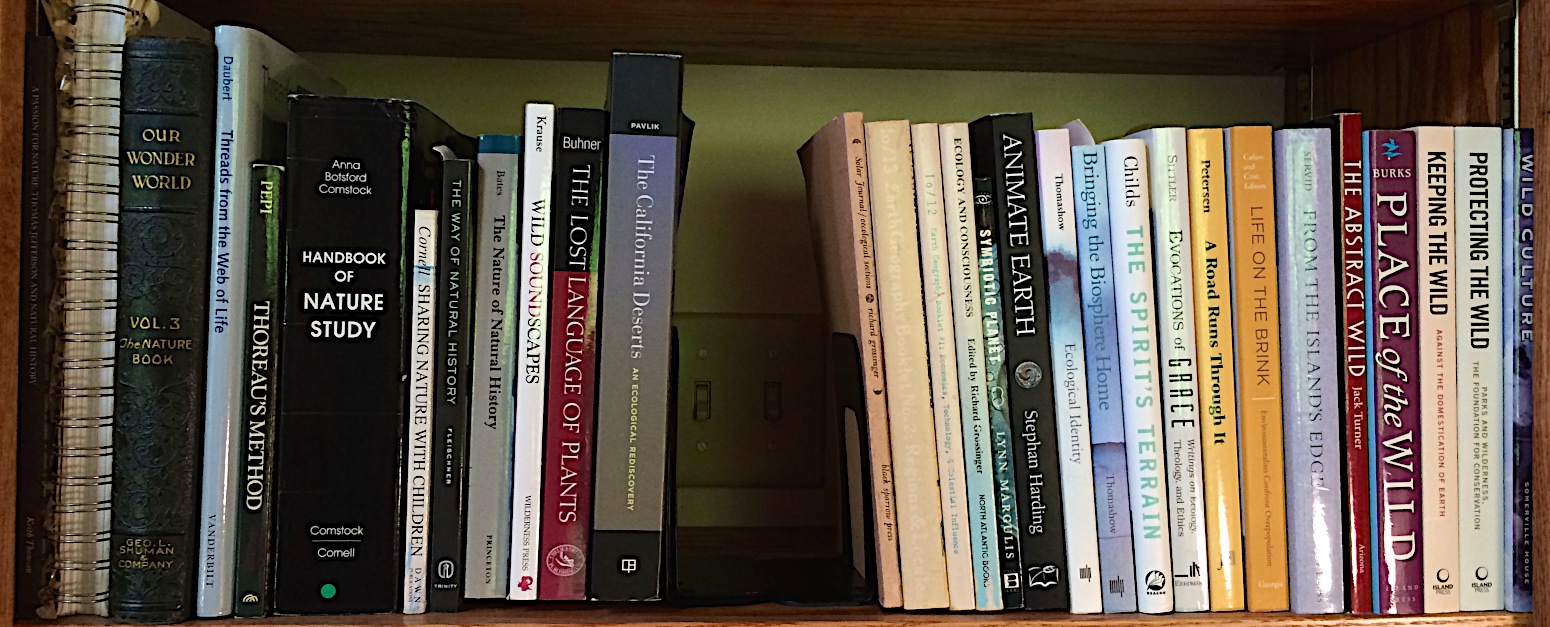 34) Nature study, ecophilosophy.
35) Reference and miscellany.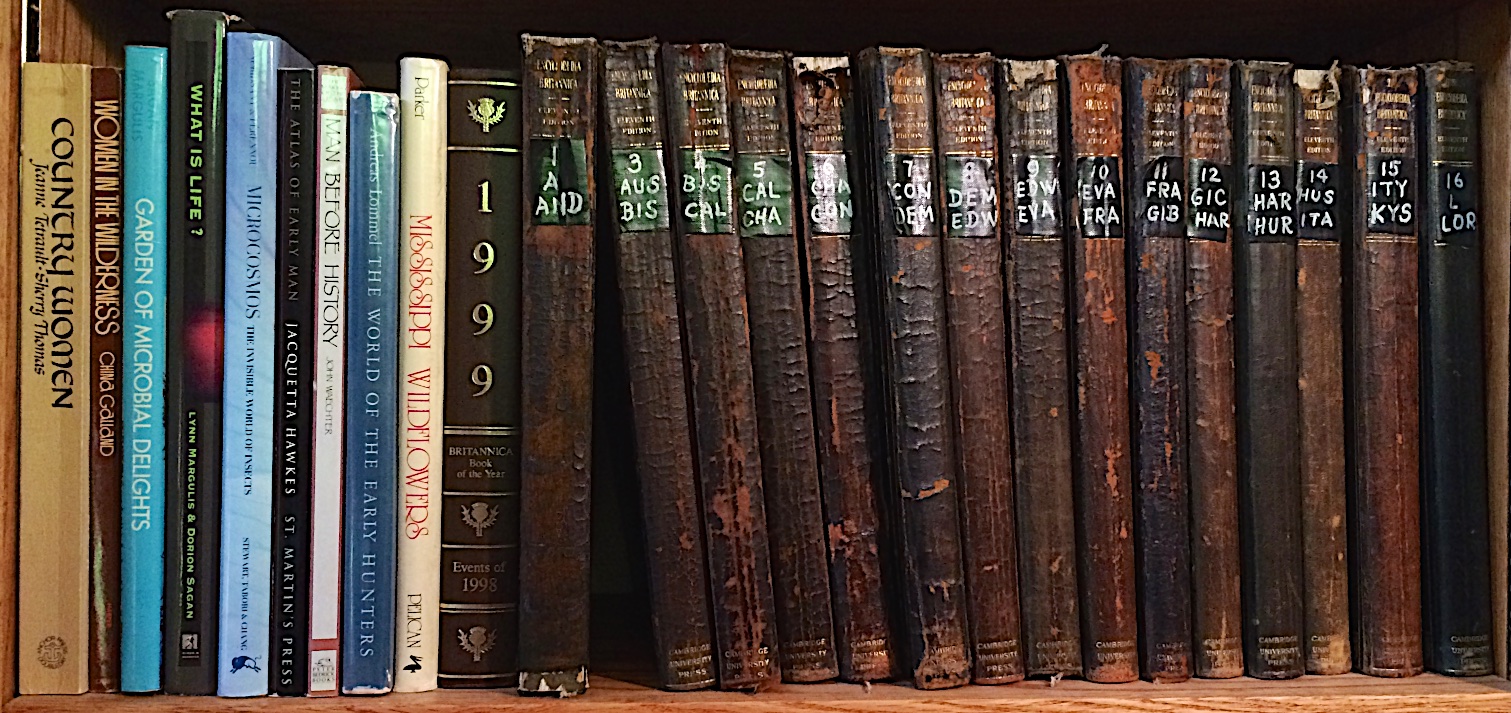 36) Outsize and Encyclopedia Britannica (1911 Edition).
37) Dad's yearbooks, Encyclopedia Britannica.
38) Sontag, Joyce, Mencken, Nabokov and others.

39) Joyce, Pound, Mann.

40) Religion and recovery.

41) Health, peace, civil rights, miscellany.
42) Public Health, EMR and miscellany.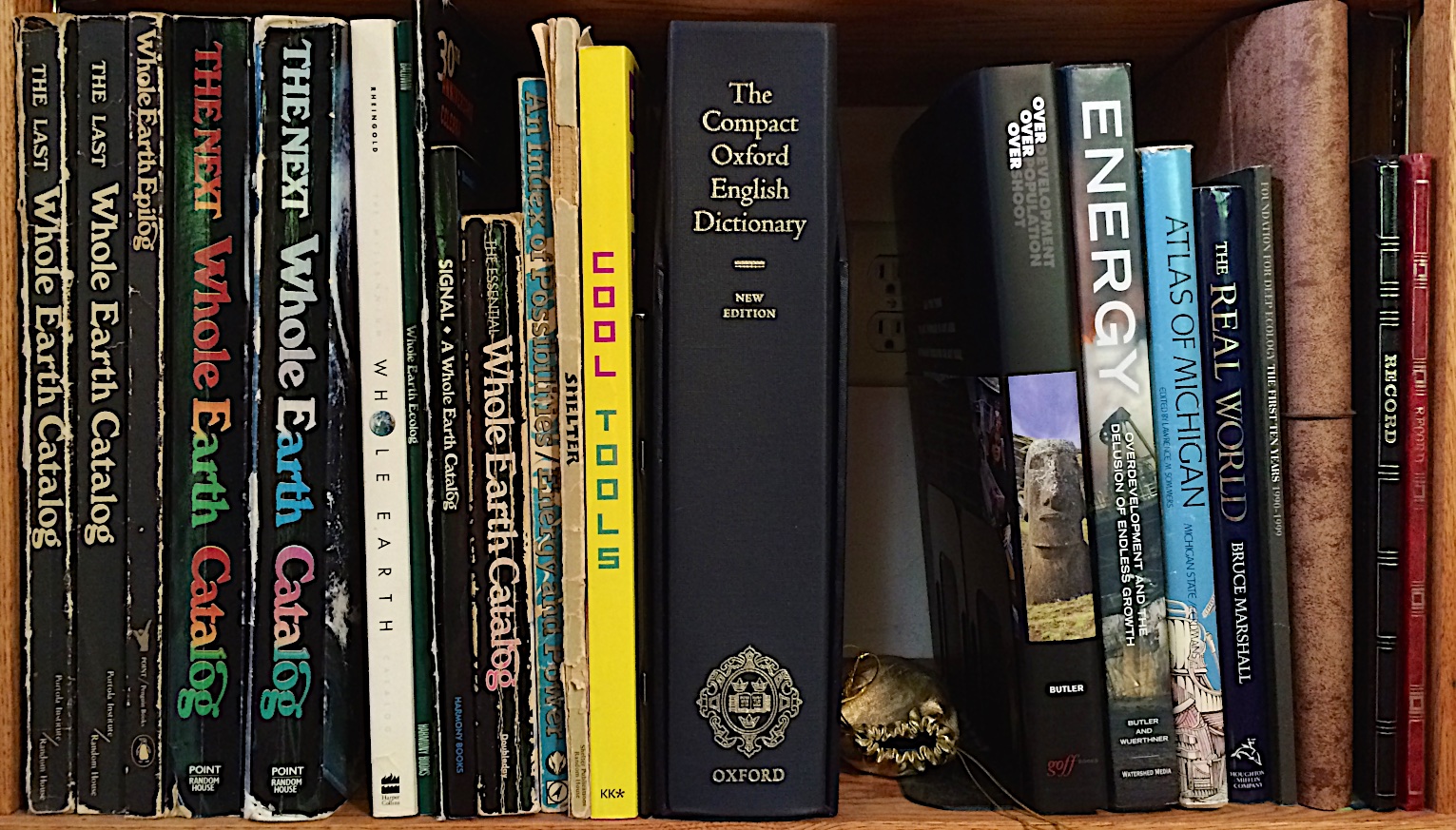 43) Whole Earth Catalogs and . . .

44) Psychology, Jungian psychology.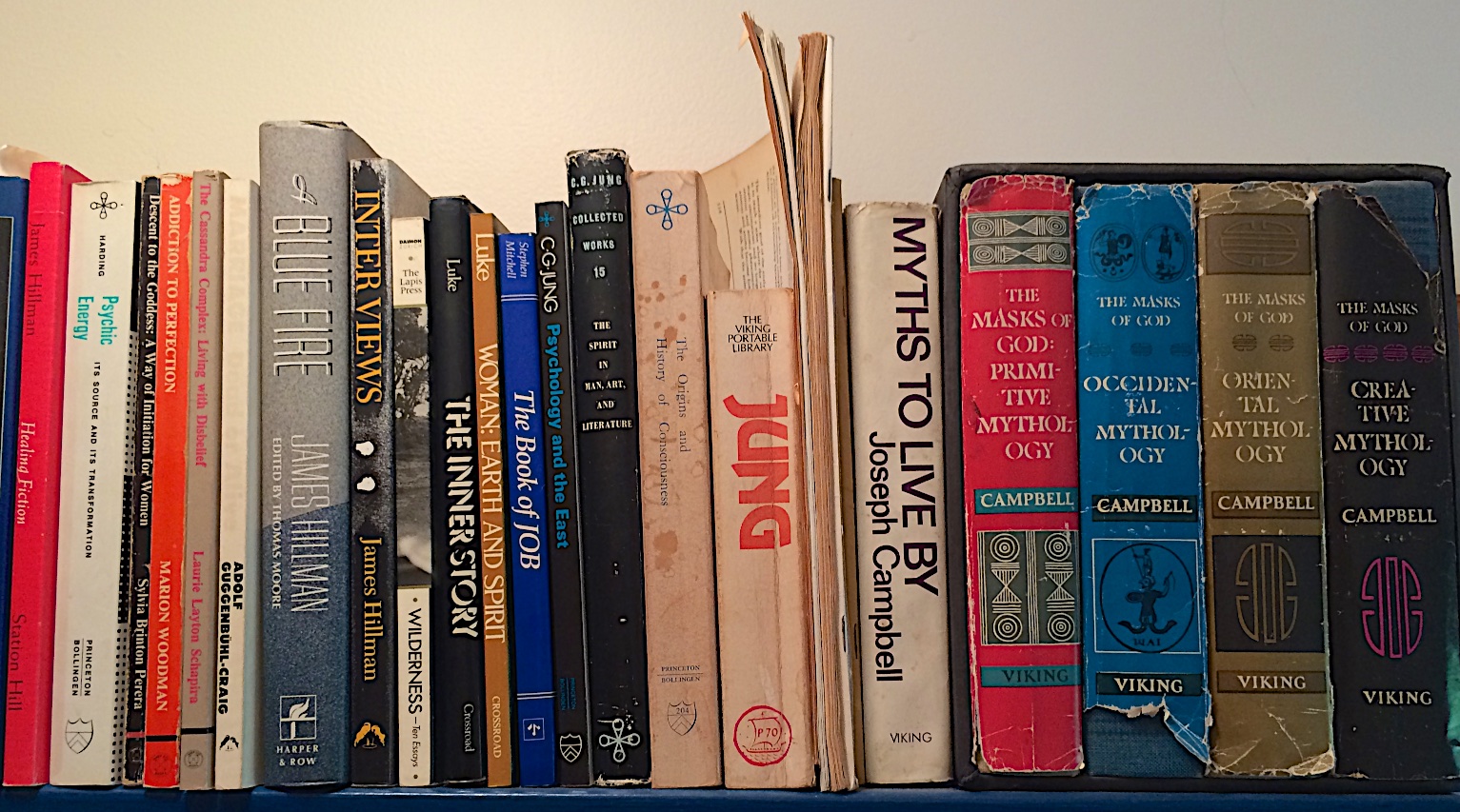 45) Jungian psychology, Joseph Campbell.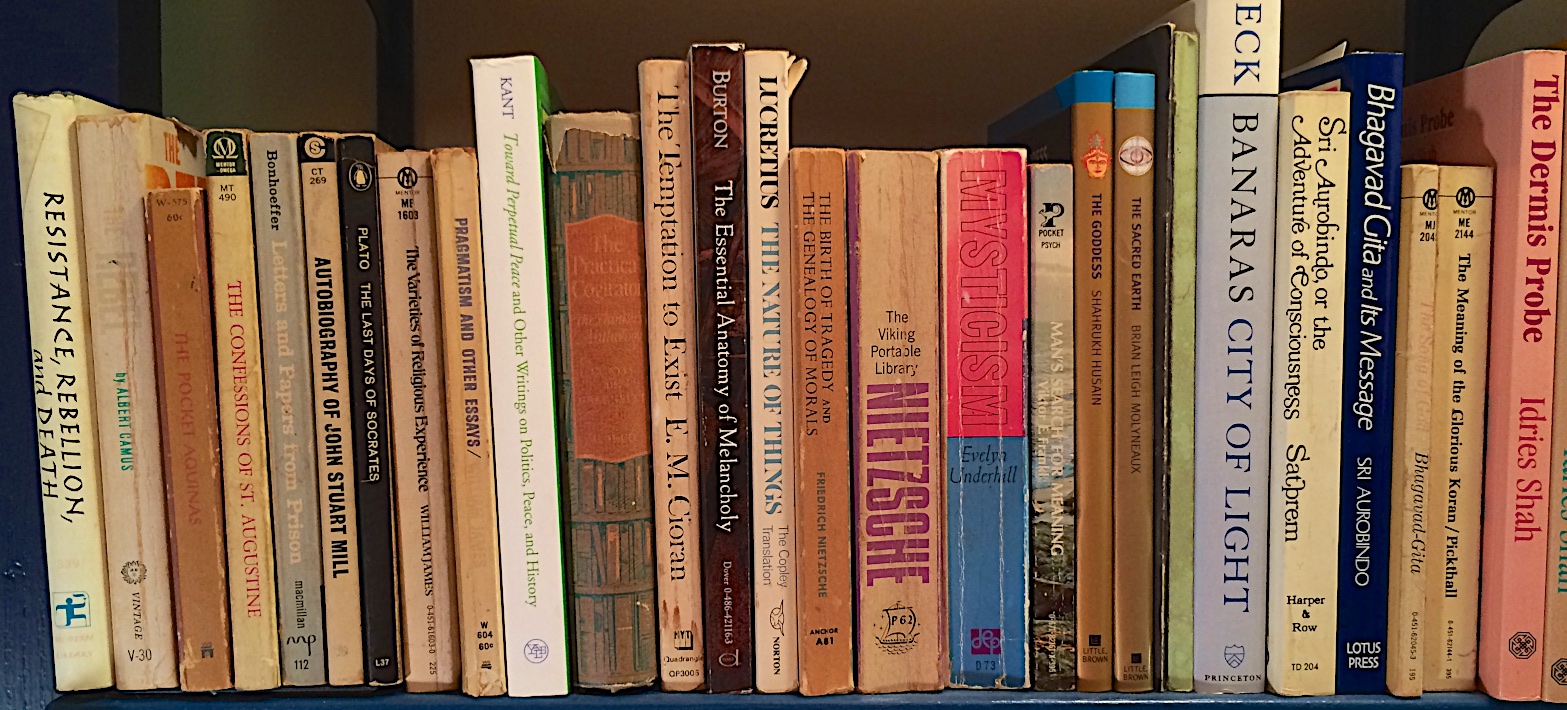 46) Psychology, philosophy, spirituality.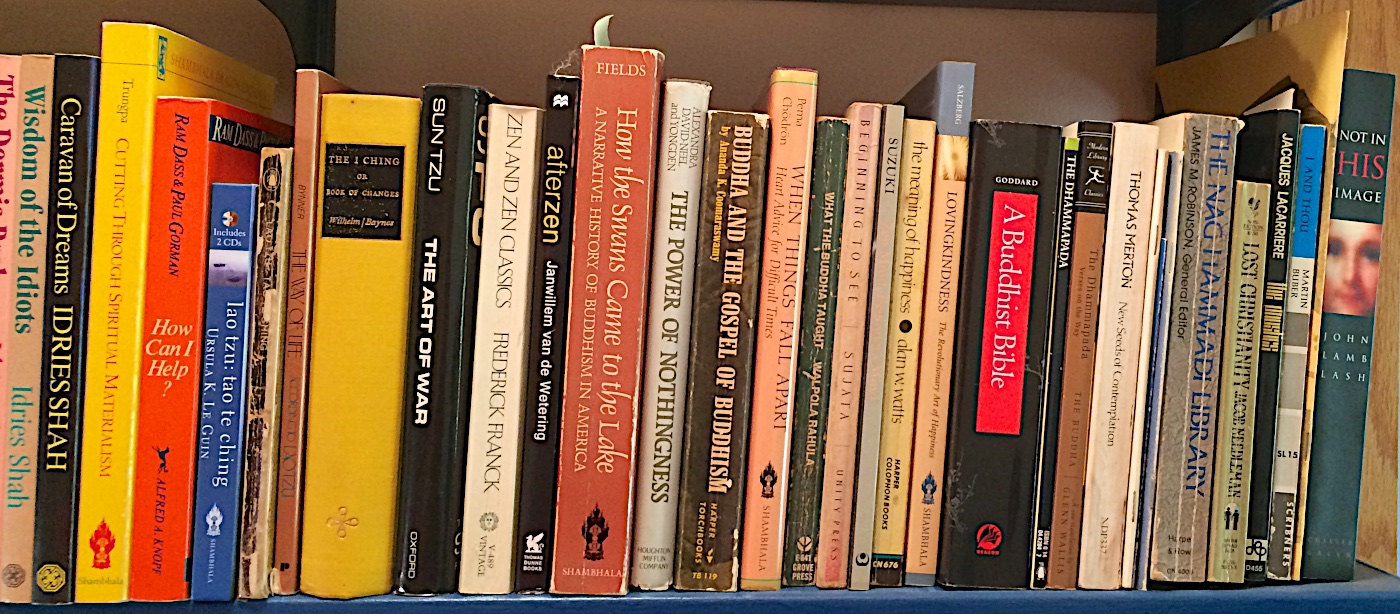 47) Hinduism, Taoism, I Ching, Buddhism, Ghosticism.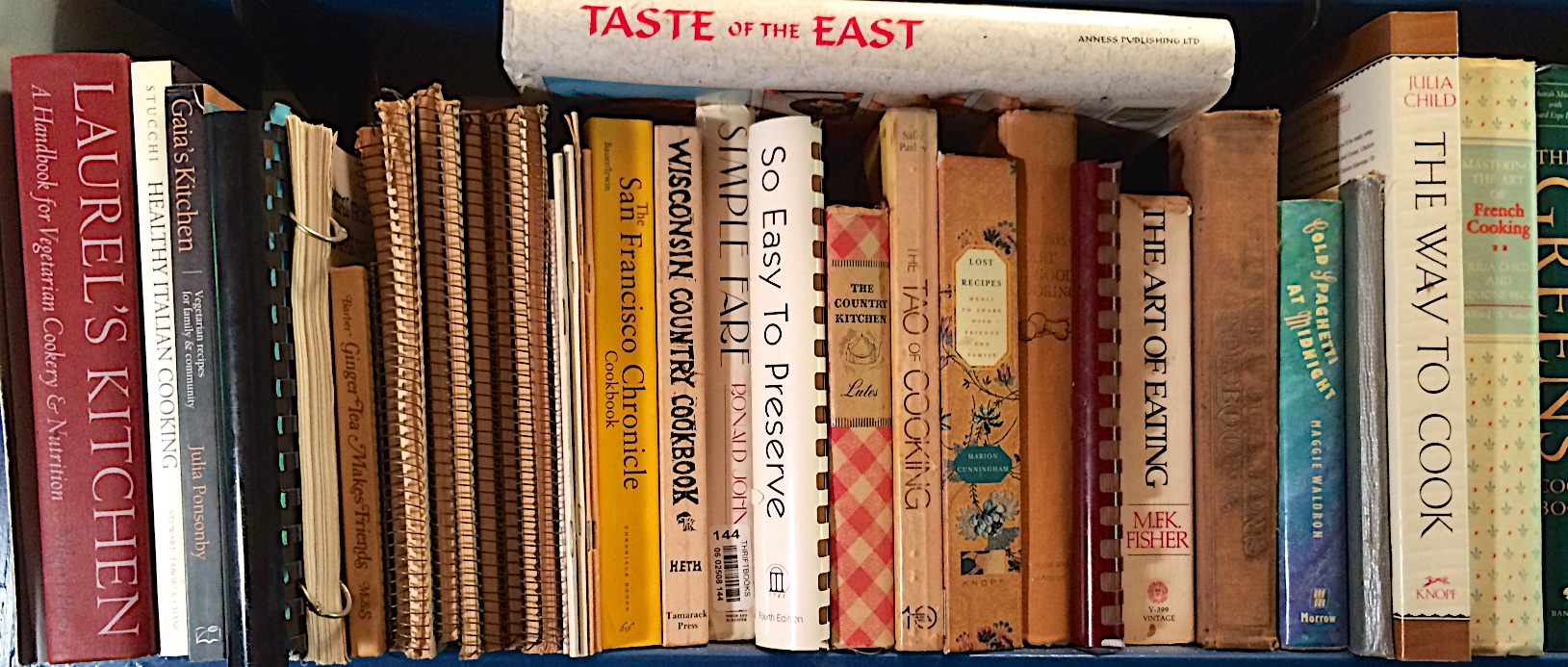 48) Cookbooks, gastronomy.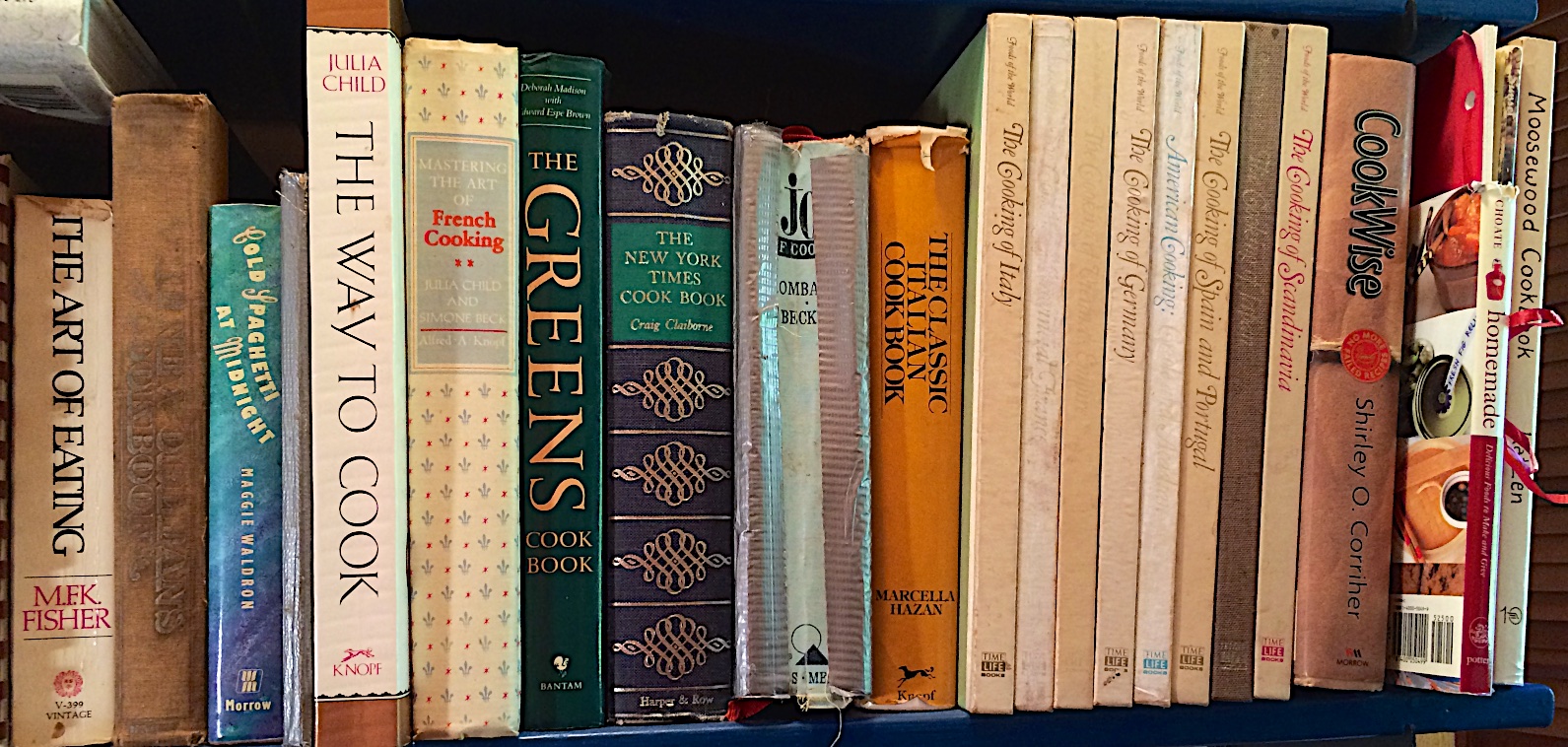 49) Cookbooks, gastronomy.
50) Biography.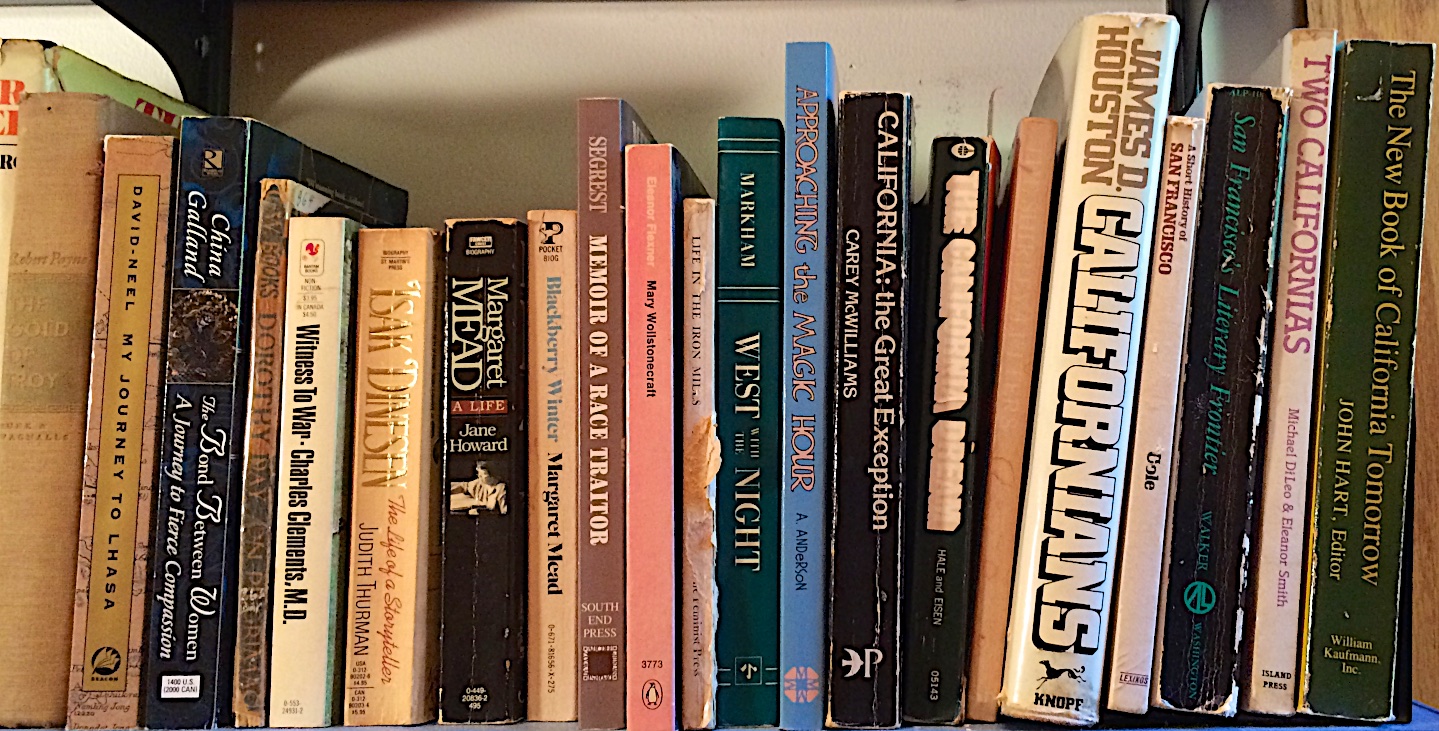 51) Biography and California.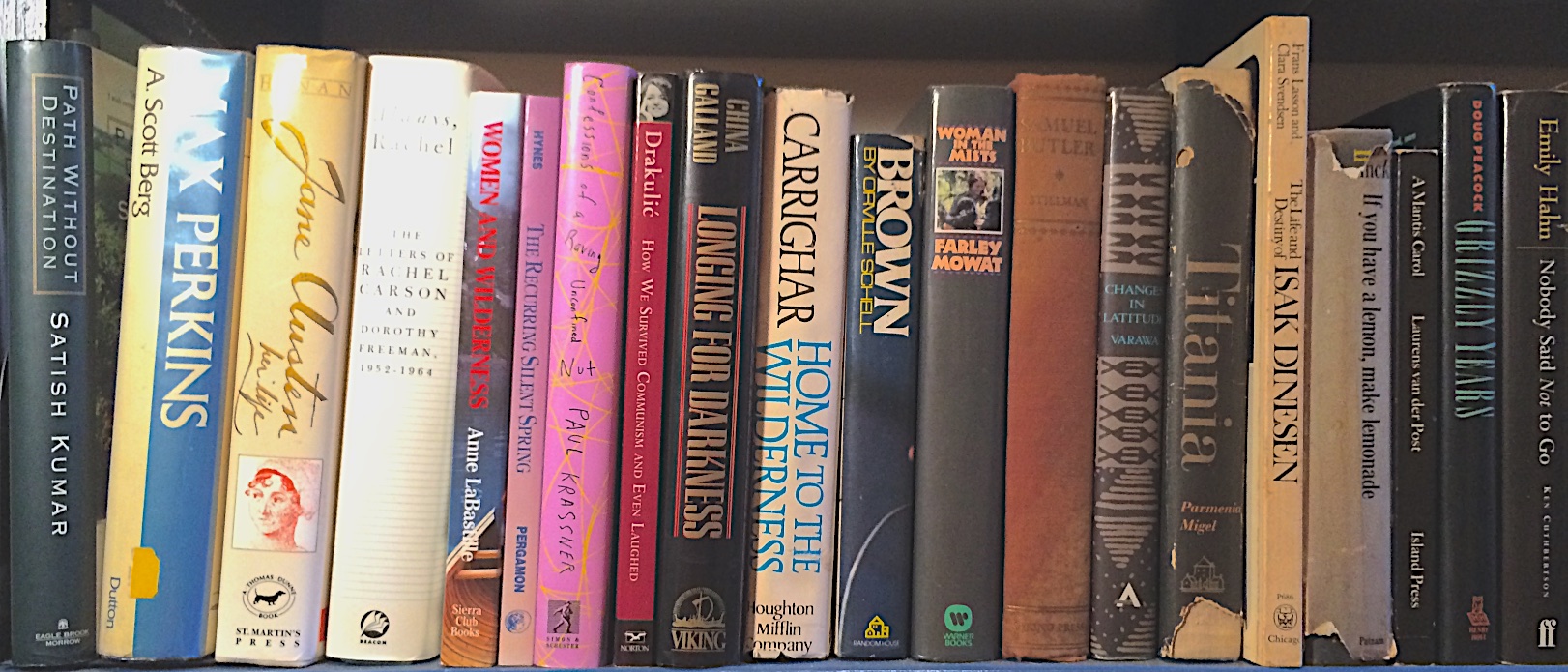 52) Biography.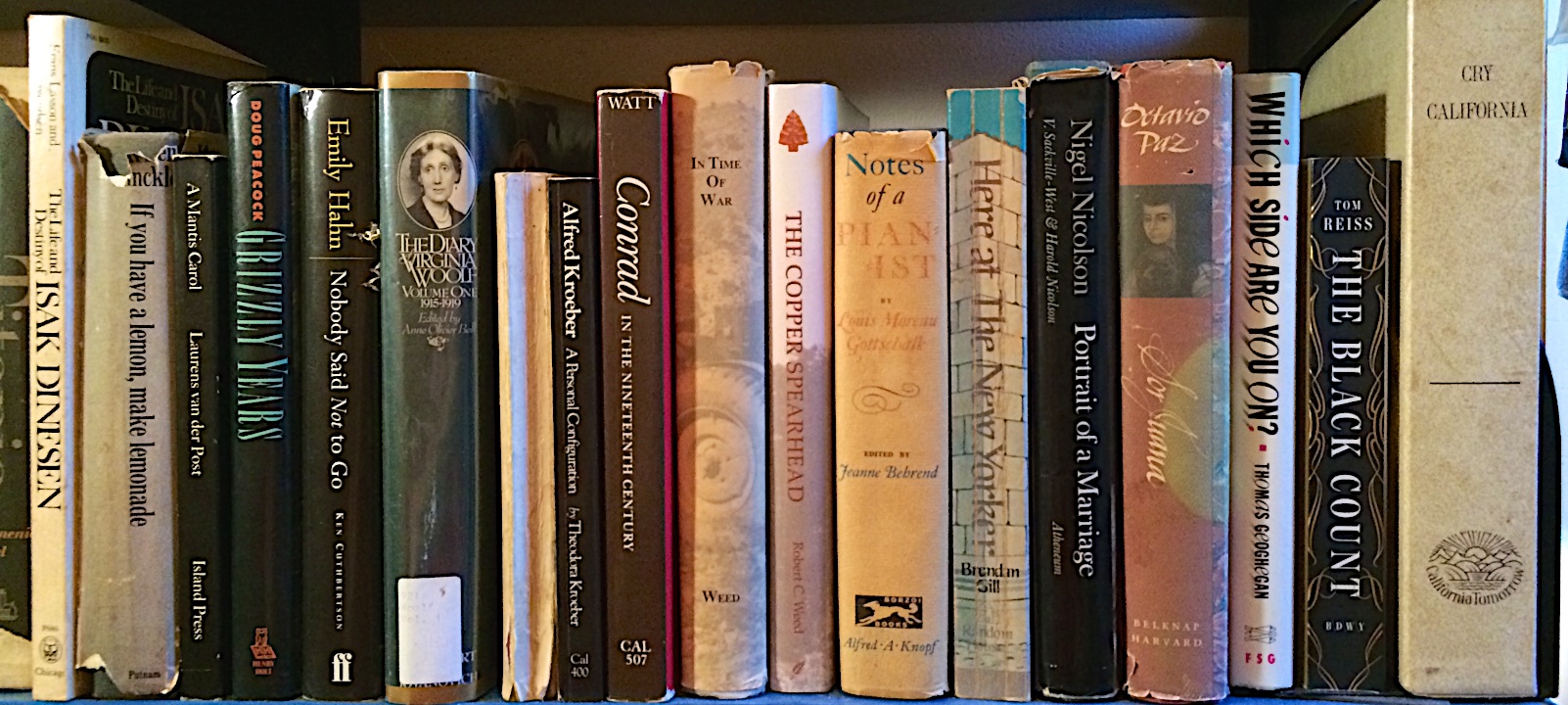 53) Biography, archives.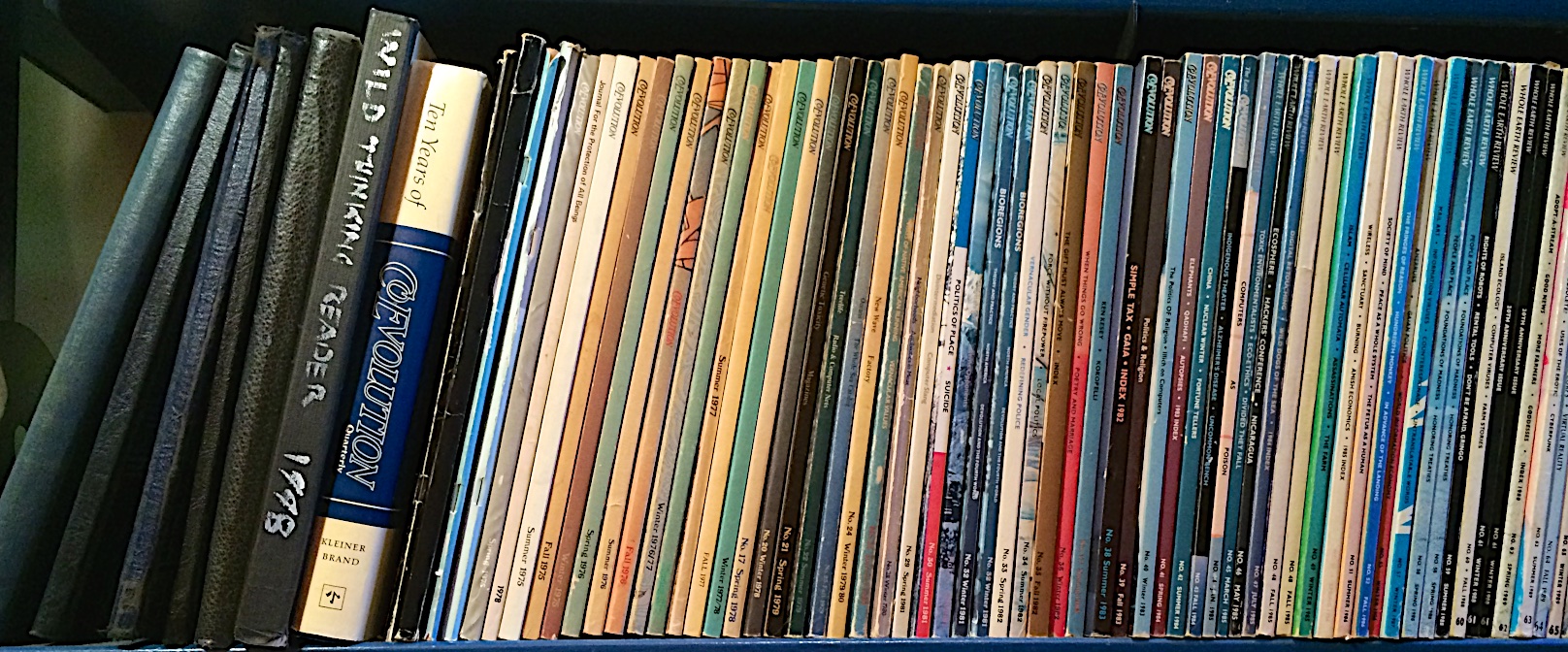 54) Yearbooks, Coevolution Quarterly back issues.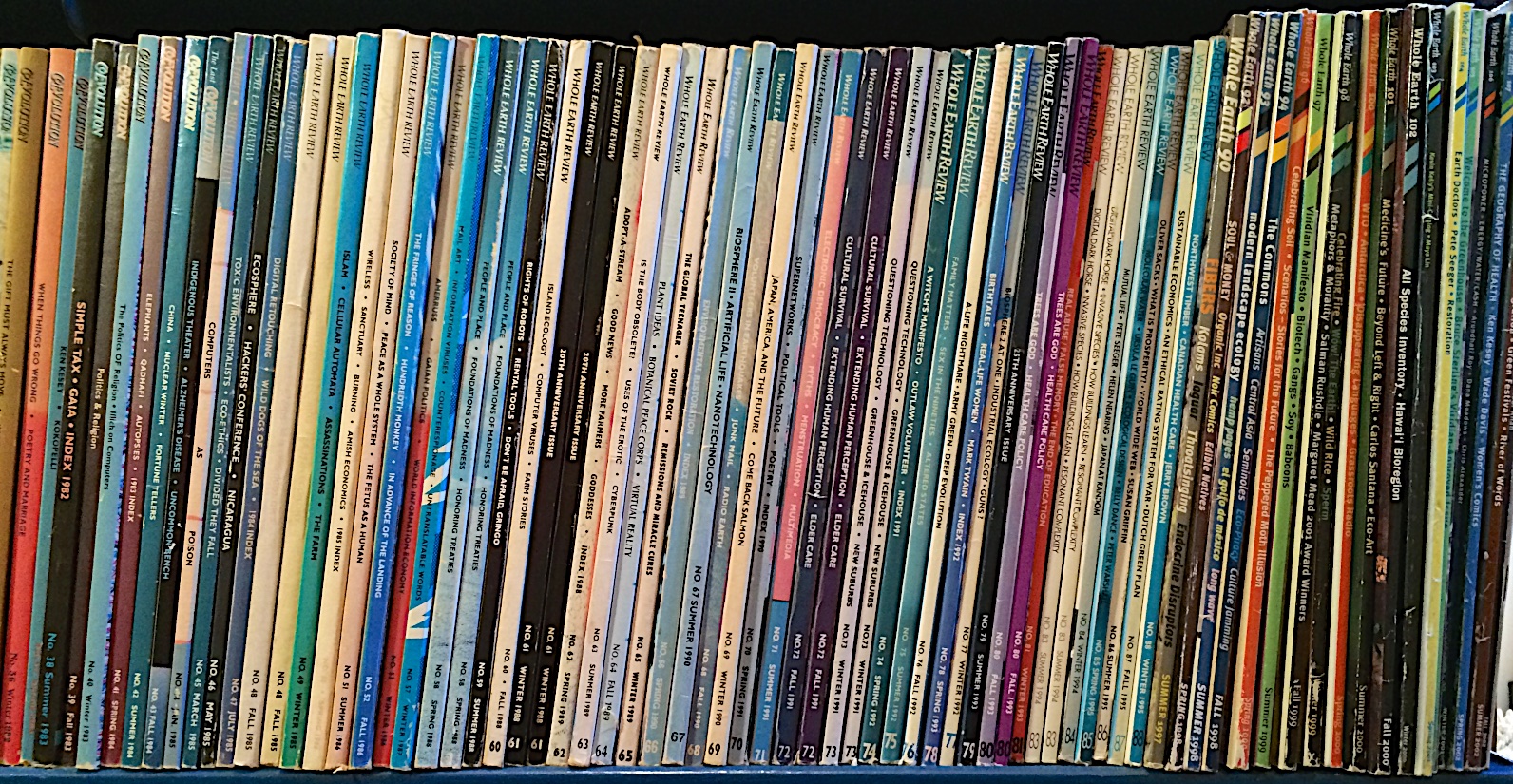 55) Coevolution Quarterly back issues.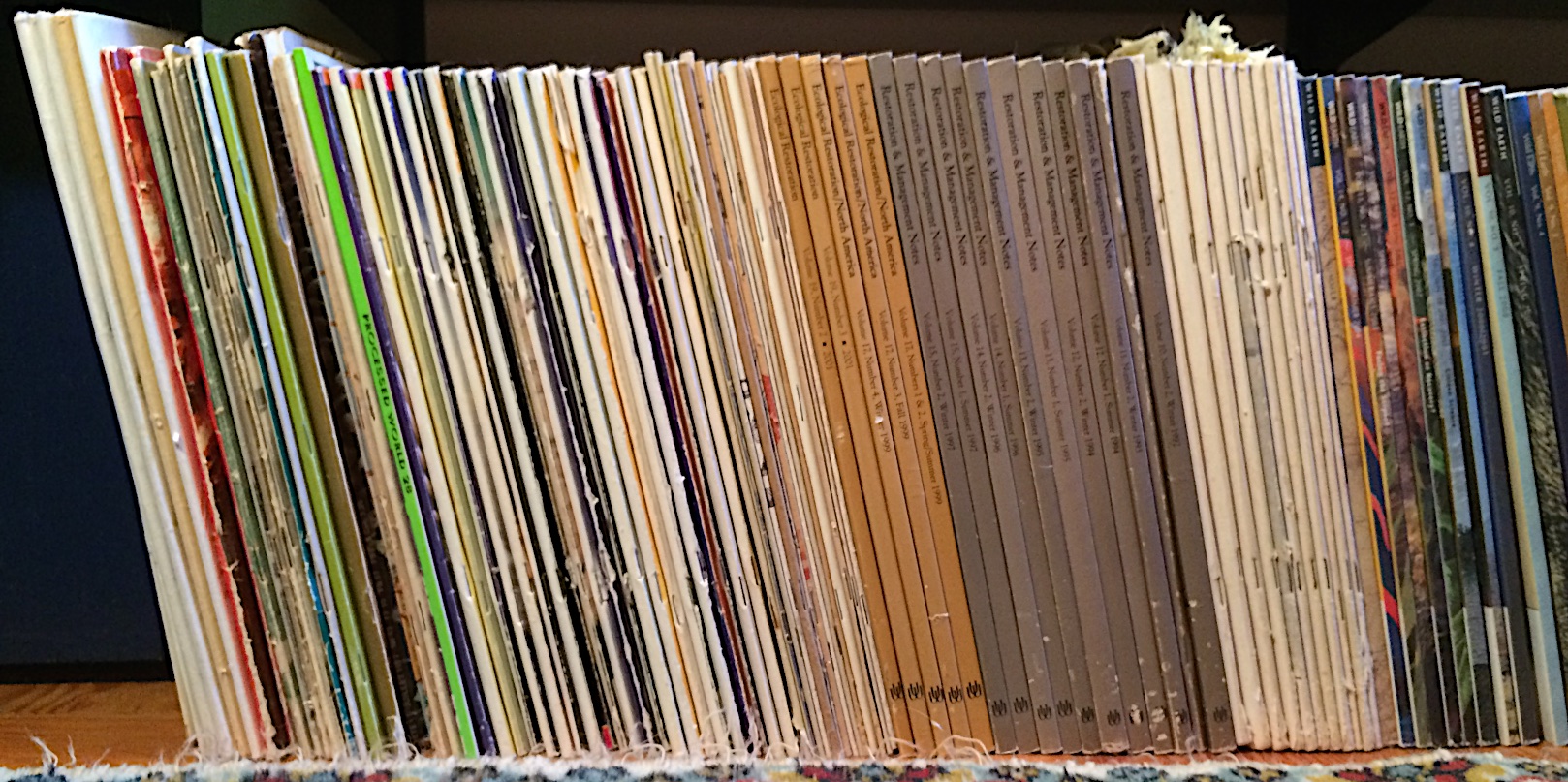 56) Periodicals: Wild Duck, Gnosis, Ecological Restoration.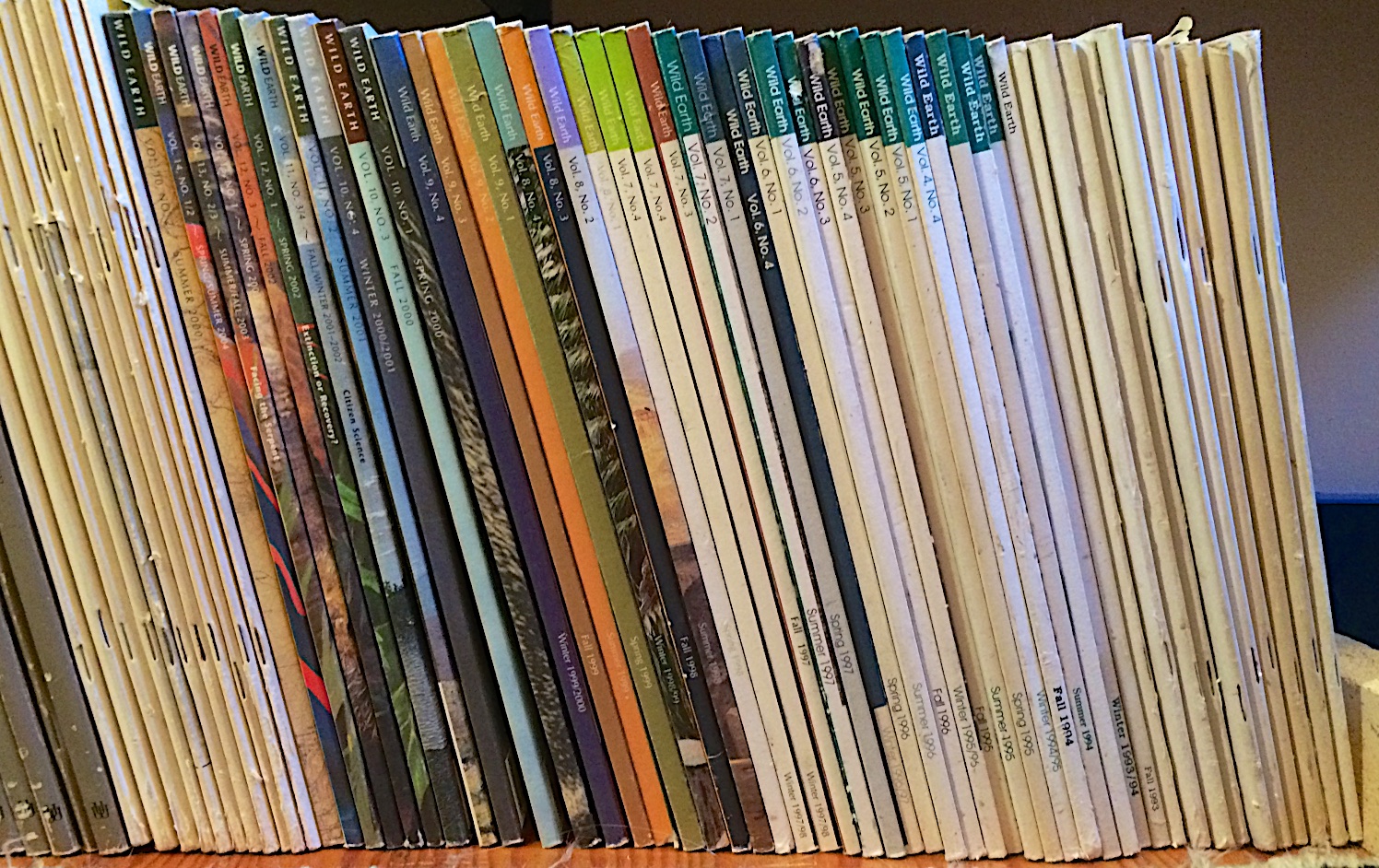 57) Wild Earth and miscellaneous ecology.

58) Miscellaneous ecology.

59) Ecology, letters.

60) Peace, politics.
61) Intentional communities, anarchism, simple living.

62) Criticism, consumerism.

63) Birds, animals, trees.

64) Plants, The English language.

65) Ecology.
66) Ecology.

67) Ecology.
68) Ecology.

69) Ecology.

70) Ecology.

71) Ecology.

72) Ecology.

73) Anthropology, ecology.

74) Ecology.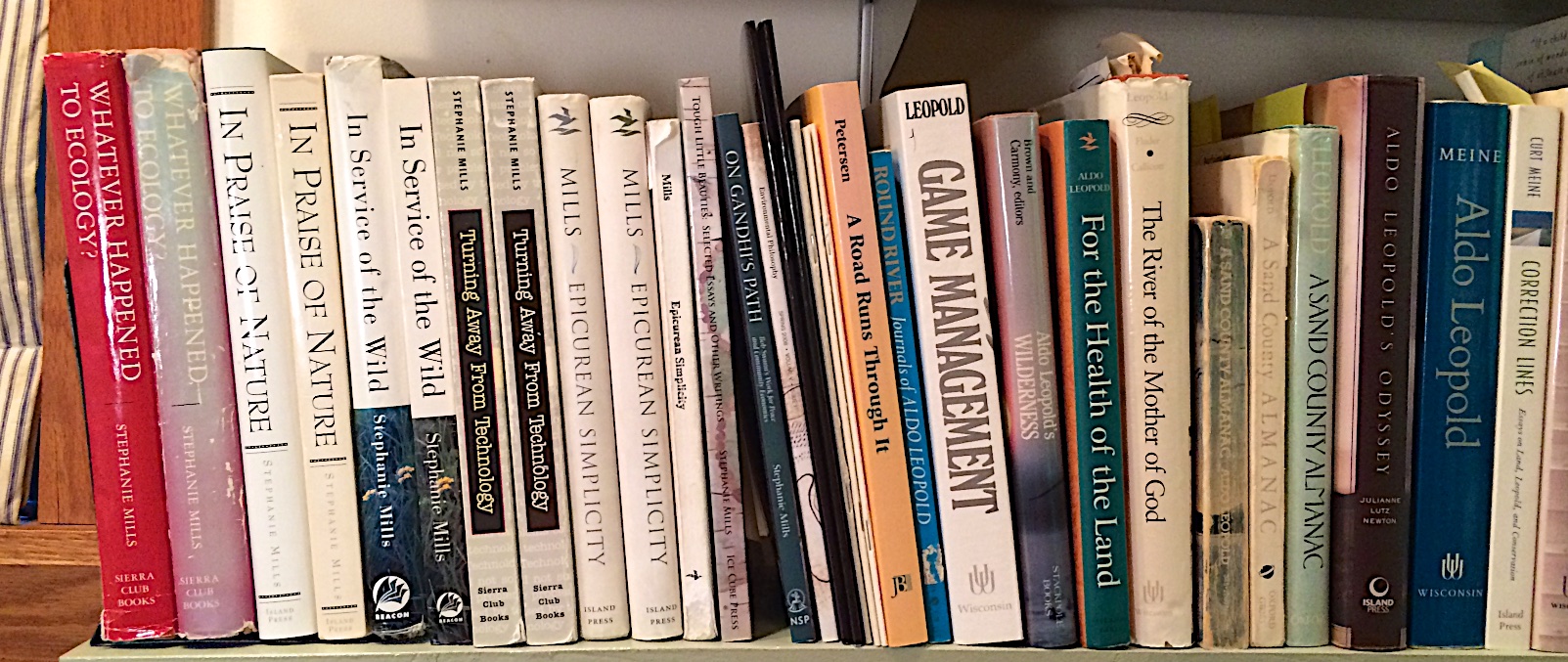 Stephanie Mills' books (and miscellaneous ecology), which are . . .
Whatever Happened to Ecology? (1989)
A memoir of the San Francisco's environmental activism in the 1970s and working with David Brower, Stewart Brand, Paul Ehrlich and Joan MacIntyre, among others. A personal account of Mills' own shift from environmentalism on an abstract and global scale to bioregionalism's practical and local scope.
In Praise of Nature (1990)
Essays by the author followed by reviews and excerpts of the ten most important pieces of related literature written by experts in the various fields: Peter Borrelli, David Brower, Ernest Callenbach, J. Baird Callicott, Lois Gibbs, and others. Also included is an annotated bibliography listing over 100 important environmental works.
In Service of the Wild: Restoring and Reinhabiting Damaged Land (1996)
"One of the penalties of an ecological education," wrote Aldo Leopold, "is that one lives alone in a world of wounds." Mills brings her trenchant and personable voice to an examination of the field of ecological restoration — the rapidly developing art and science of healing the wounds of the land.
Turning Away from Technology (1997)
A mosaic of ideas and tools for understanding the big technological picture in the context of the global economy. Fifty distinguished thinkers discuss the negative impacts of the technological revolution and present a healing vision for the 21st century.
Epicurean Simplicity (2003)
In this account of a simple life, the author reaches deep into classical sources of pleasure: good food, good health, good friends and particularly the endless delights of the natural world. Her musings ultimately led her to the third century Greek philosopher Epicurus, whose philosophy was premised on the trustworthiness of the senses. 
Tough Little Beauties: Selected Essays and Other Writings (2007)
Essays in Mills' characteristically lucid and thought-provoking style examine issues that remain timely: overpopulation, ecological degradation, sexual liberation, and the Peak Oil crisis as well as a lived spirituality. 
On Gandhi's Path: Bob Swann's Work for Peace and Community Economics (2010)
Robert Swann was a self-taught economist, a champion of decentralism, and the father of the relocalization movement. A conscientious war resistor imprisoned for his beliefs, he engaged in lifelong nonviolent direct action against war, racism, and economic inequity. He ultimately co-founded the Schumacher Society based on the philosophies of Small Is Beautiful author E. F. Schumacher.
View Stephanie Mills' website.
This article first appeared in The Journal of Wild Culture on August 31, 2016.

WHITNEY SMITH is the editor of The Journal of Wild Culture and a fan of libraries of all kinds and the people who keep them.