LimeWharf opens in East London
Standfirst
LONDON: As Vyner Street sees the opening of a brand new interdisciplinary creative space, we report on the balance between individual vision and public interaction.
Body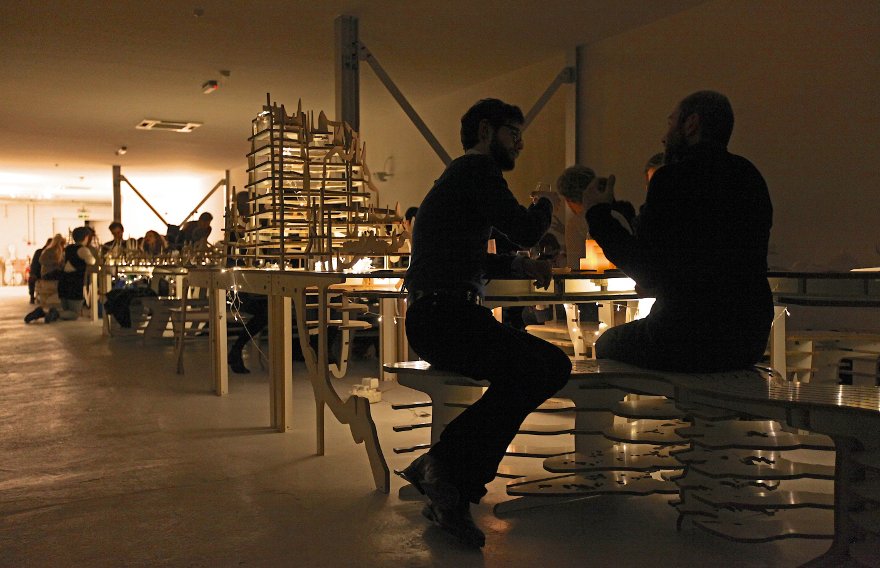 This week sees the launch of one of the most buzzword-heavy venues London has witnessed in some time, and also, potentially, one of the most interesting. Located on Vyner Street, down the alley between Matt Roberts Arts and The Victory, next to where Nettie Horn used to be, comes LimeWharf, "a Hackney-based futures gallery and artistic laboratory".
The brainchild of "creative radical" Thomas Ugo Ermacora, who describes himself as a "passionate dano-italian urbanist and geographer acting mostly as a creative social entrepreneur focused on sustainability", LimeWharf certainly comes with some lofty aims. Collaboration between artists and scientists, community outreach, public interaction, "process-led experiments" and "think tanks gatherings" are all being promised as means to explore, among other things, "DIY ethics", "sustainable practices", new technologies and "building a positive relationship to the future". It's ambitious stuff, and timely.
For the moment, this is being realised through three installations and a series of dinners, or "Kitchen Experiments". A couple of different formats are available depending on the day of the week, but we sampled the full sit-down experience, at the impressively massive, multi-stratified Worldscape table, designed by architect Alex Haw and originally used as part of the pre-Olympics Global Feast (which
we reviewed
at the time). Food comes courtesy of Anna Hansen and her team from Modern Pantry, and is, in places, breathtakingly brilliant. I've been asked not to disclose the menu as it has some surprise elements, so I'll simply say that fungi feature strongly; meat and fish, refreshingly, not at all. There's an expert balance of earthiness and delicacy right through from the canapés to the selection of small plates, and some dextrous combinations of ingredient and technique. Unfortunately, the smallness of these plates is problematic, and those forking out £55 for dinner will most likely leave hungry.
Such apparent parsimony provides an insight into the kinds of little niggles that LimeWharf will probably need to overcome if it's to be a success. Friday nights are currently standing only, and the pricing is truly weird, beginning with £15 for three canapés and a drink, and extending to nine canapés and a drink for £45 – a price, surely, that those who remember Vyner Street as a First Thursdays destination for free cans of lager will rightly baulk at. Sparkling wine from the increasingly celebrated Chapel Down shows good taste, but the idea that such stringently controlled pricing could constitute a "feast" is a little misleading.
There is something compelling about his earnestness – but some paying diners are less impressed.
Control is the issue throughout, as is often the case with any attempt to combine the vision of an influential individual with a strong element of public interaction. After perusing some artwork in an adjoining space (Radio Reconstructions – Daniel Jones and James Bulley's installation of reconfigured analogue radios ebbs and thrums with intelligence and presence), the evening kicks off in fine style, thanks to professional game-player and fool Loose Baker. She quickly cuts through our wintry London introversion by getting everyone to do silly things like making noises, attaching clothes pegs to one another, and encouraging us to draw pictures over Physical Pixels' interactive installation (kind of like a less colour-coordinated Julia Vogl). I draw a pig, and I'm rather proud of it. Baker, meanwhile, unleashes quite the most extraordinary cock-a-doodle-doo I've ever heard.

From this entertaining introductory silliness, the high spirits of the 50 or so diners in attendance are rather quelled by the serious figure of Ermacora himself. Pony-tailed and polo-necked, Ermacora is here to explain the concept behind LimeWharf, which he proceeds to do at some length. Now, this is all well and good for a press preview – and there is something compelling about his earnestness – but some paying diners are less impressed. There's also an amusing moment when we're all roundly admonished for not listening attentively enough to the admittedly quite exquisite London Contemporary Orchestra. There's a time and a place for "lively debate and conversation" and clearly the pesky public have gone and got it wrong.

A certain irony therefore runs through the whole evening – the irony that often occurs when a public encouraged to interact unfortunately do so in a manner that differs to that intended. Ermacora describes Physical Pixels' work as nothing less than "post-Constructivist", "Dada", "participatory" and "de-eliticised". In a sense he's right, but they're long words for my little piggy.

I don't want to come across as too cynical at this early stage because LimeWharf promises to explore some fascinating ideas in a way that I don't think any other permanent venue in London is really doing. Their 2013 programme divides across four strands – measuring happiness, heritage farming, human/machine interfaces, and canal regeneration (let's hope they're reading Narrowboat73) – all of which sound potentially brilliant. LimeWharf, we're wishing you all the best. Let's hope it's the start of something great.

www.limewharf.org

www.atmosstudio.com
www.themodernpantry.co.uk
www.jjbdjj.com
www.physicalpixels.com