Nailing A Very Naughty Boy
Standfirst
Christ! An infamous but adored English musician has been nailed to a cross — and, he's hanging there in a Church. What became of the sacred symbol of Christianity . . . and who is this Man Who Would Be Christ King?
Body

Hand on For Pete's Sake (photo: Sandy SY Lee).
LONDON — Pete Doherty, an irrepressible untamed spirit, artist, English minstrel, twice-star of legendary alternative bands The Libertines and Babyshambles, has been crucified in London.
No, it's not the work of jihadi loonies (Islamic State relishes crucifixion), but of another artist and musician, Nick Reynolds (of Alabama 3), collaborating with artist Schoony. Doherty still walks free, but his life-size form hangs in St Marylebone Church, not far from Baker Street. He agreed to be plastered to make the statue's cast (not the first time that Doherty has been 'plastered', so he's an old hand at it).
Complicit in his crucifixion is that bastion of vagueness and good intent, the Church of England. They host the work, called For Pete's Sake, and it is one of twenty in a show for Lent called Stations of the Cross — staged by the London based public art enterprise, Art Below. It supports a missing person charity, Missing Tom.
It may be blasphemy to some, but not, apparently, here.            
For Pete's Sake is suspended horizontally above the knave, with thick nailheads at stigmata positions holding Doherty up on a heavy, perfectly cut cross. It's the first thing you see coming through the door. Unlike the cross, Doherty's form is light, and it actually feels like he's swooping down on you. His figure is pure white, like someone without sin, reinforced by his blank but open eyes, as in so many classical statues. In the sculpture's angle and clarity, it compares with a Salvador Dali masterpiece, Christ of St John of the Cross (1951), now in Kelvingrove, Glasgow. But you don't see the Christ face in Dali's work, and you do with Doherty. His expression is not one of agony or prayer, but rather a slightly troubled and curious look, perhaps not quite understanding what's going on. Unlike the other works, the materiality and colours of For Pete's Sake are entirely compatible with the interior of the 1817 baroque church (designed by Thomas Hardwick). The overall effect is stunning, beautiful, and in Doherty's face, subtle and sad. There's one more crucial detail to come . . .
For Pete's Sake is suspended in an 1817 London church (photo: Sandy SY Lee).
For Pete's Sake may be blasphemy to some, but not, apparently, here. 'No-one's said anything' said St Marylebone's verger, when asked if any outrage had been expressed. 'Not like last year', he added. Last year's Stations of the Cross had a naked woman on a cross and Paul Fryer's black man in an electric chair.
Mainly, the UK has long been un-hung up about its Christian icons. When John Lennon sang 'the way things are going, they're gonna crucify me' in 1969, some US radio stations banned the song, but it raised hardly an eyebrow in the UK. It's strange how some Americans can be so touchy about religion, yet fervent about guns. Lennon was shot dead in Manhattan in 1980.
It raises the question, who is 'For Pete's Sake' all about — Jesus or Doherty?
The UK has other ways of crucifying people, particularly celebrities. The gutter press (tabloid newspapers produced by an opportunistic conspiracy of cads and flesh-mongers) are masters at it. They first pounced on Doherty for apparently chasing the dragon in 2005, and, out for blood, they probed and milked the bizarre twists in his drugs usage for years. His dalliance has involved spells of rehab and jail, but the sheer viciousness of the scrutiny and the headlines may well have been worse. Echoes of these are cut and plastered around Reynolds' cross itself — perhaps referencing Jamie Reid's seminal Sex Pistols artwork — but here there are just capitals in the same headline typeface, saying things like JUNKIE SCUM, WEED TO PENGUINS, ON "CRACK" or THE BALLAD OF MOSSY AND CRACKHEAD. That last one is a riff on the title of the afore-mentioned Lennon song, and refers to Kate Moss, the iconic superstar model who Doherty almost married.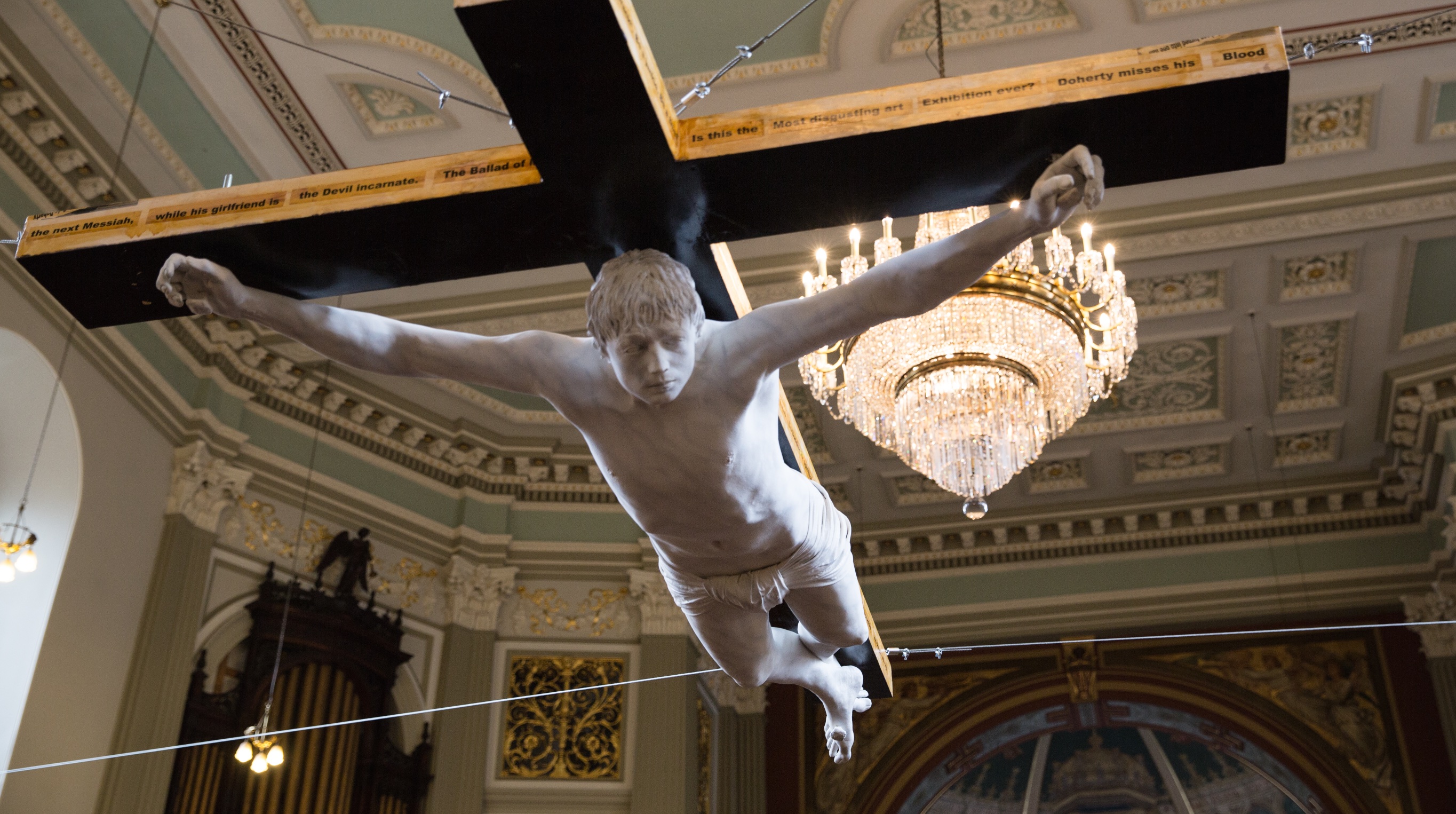 Doherty crucified (photo: Sandy SY Lee).
The British press love a build-'em-up-knock-'em-down strategy when they have someone in their sights, and when the subject seems to be in self-destruct mode, it's like the pizza delivery comes right to their grubby desks. For the British press, Doherty was a dream come true. But you might say Jesus also self-destructed — the confusingly varying Gospels report that he put up no self-defence at his trial. And that raises the question, who is For Pete's Sake all about — Jesus or Doherty?
The answer may seem pretty obvious. Most of the other works in the show depict or name Jesus, or that world-swerving day two millennia ago. For example, in Ben Moore's As it was in the beginning, riot police escort Jesus as he drags his cross, while Marguerite Horner's Crown of Thorns glimpses a thoughtful young man wearing one, all in exquisitely rendered understated monochrome. Another personal favourite is Descent with Gerbera by Chris Clack, which relocates the recovery of Jesus' body to the airless Moon, complete with an Apollo astronaut and a gerbera flower (cosmic, man).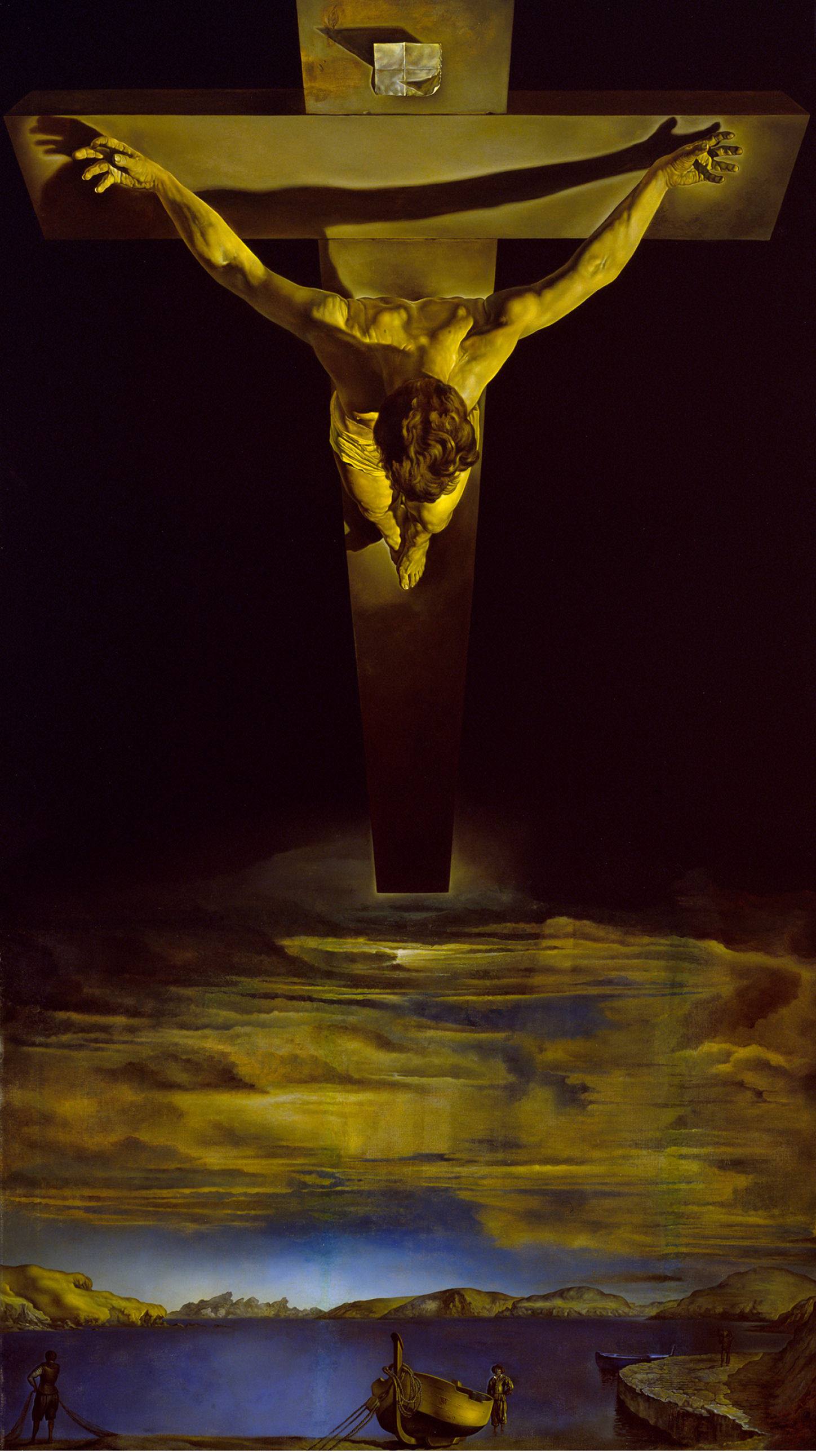 Christ of St John of the Cross, by Salvador Dali (1951) © CSG CIC Glasgow Museums Collection.
Clearly Doherty 'is not the Messiah', as Brian's mother says in Monty Python's film, The Life of Brian. But rather, 'he's a very naughty boy'. For Pete's Sake is about what we do with celebrity, and it is very much about the man himself. The words on his cross are that crucial and final detail that spells out the story.
I've never met Doherty, but I shared a stage with him once or twice (can't remember exactly, we were all 'out of it') when The Libertines staged pop-up gigs in London a decade ago. Their set would dissolve into a sort of endless jam, and the sweaty crowd, entranced and lost in the sheer thrill of it, would invade the stage with drunken abandon. We'd just be hanging around in a web of sound, in and around the band. I was one of them. We weren't just witnessing a special spirit, we were part of it. Maybe that's what the Holy Ghost is meant to be about.
Nowadays Doherty is still making great music. After all the years of abuse and struggle, that's a miracle in itself. And he's in good shape (no flab on that statue) and hasn't lost his looks. Reynolds has nailed his struggle, but shows us a man in his prime. Like Jesus, Doherty is resurrected. That's Good News.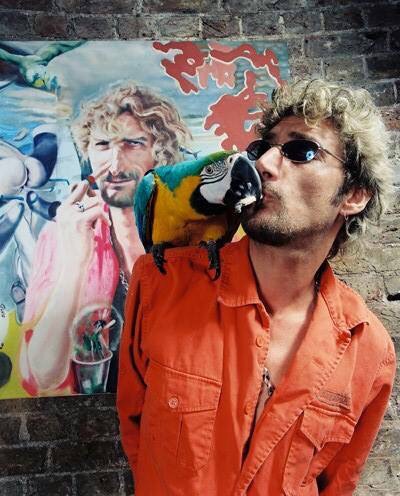 Artist and musician, Nick Reynolds, with friend.
STATIONS OF THE CROSS is at St Marylebone's, Marylebone Road, London NW1 5LT — until March 17 2015.

HERBERT WRIGHT is a London-based author and journalist specializing in architecture and art, and editor-at-large of The Journal of Wild Culture. He studied physics and astrophysics at the University of London. He is currently a contributing editor of Blueprint magazine, and contributor-at-large to Design Curial. www.herbertwright.co.uk
Descent with Gerbera by Chris Clack.