Pension Funds with a Moral Spine. If not now, when?
Standfirst
The single most powerful network in the global market economy is pension fund managers. Might they — or pensioners whose money they invest — see into the future?
Body

The planet's atmosphere is constantly being flooded with more greenhouse gases. The more that we unleash, the more we warm the planet. Put simply: now is the time to let our fossil fuel reserves rest in peace.
If we are to create a sustainable future, the International Energy Agency (IEA) says that at least two-thirds of the coal, oil and gas reserves that the market believes to be economically recoverable must remain in the ground. We must instead use our resources to invest in cleaner sources of energy.
But while we may feel somewhat removed from the direction of the energy markets, there are pension funds making decisions on our behalf using society's collective assets. How much CO2 is emitted by companies that Swedish citizens are inadvertent shareholders in by virtue of these investments? Pension funds are some of the biggest actors in the country's financial sector, so why aren't they supporting the development of clean energy — especially in areas where Sweden is a global leader — like bioenergy?
If you invest in fossil fuel corporations, you have a share in Typhoon Hayan.
Here's an idea of both the scale of the problem and potential of pension funds to change the market.
One, let us first assume that our planet's resource "budget", until 2050, is based on the agreed target of limiting the global temperature rise to 2 degrees.
Two, there are 200 companies listed on the global stock market that hold 745 gigatonnes of CO2 in fossil fuel reserves, which is 180 gigatonnes more than the world's remaining carbon budget combined (according to an analysis by the Carbon Tracker Initiative).
Three, of these companies, there are 133 that enjoy investment from Swedish pension funds (to the tune of 32 billion SEK), and, collectively they hold 643 gigatonnes of CO2*.
At the event, I interviewed the President of Carbon Tracker, Jeremy Legget, who warned that we risk a global fossil fuel bubble. "Companies and stock exchanges," says Legget, " are currently being allowed to account coal, oil and gas reserves as assets at zero risk of standing by climate policymaking. As a result, such is the enormity of carbon-fuel-based value on stock exchanges that the risk of systematic financial failure builds with every new reserve of fossil fuel discovered."
This bubble could be burst by pension funds. WWF argues that if all such funds were to withdraw their stakes in six coal companies — Secerstal, Anglo American, BHP Billiton, Peabody, Alliance, and Xstrata — the emissions savings would equate to two times those produced by all of Sweden.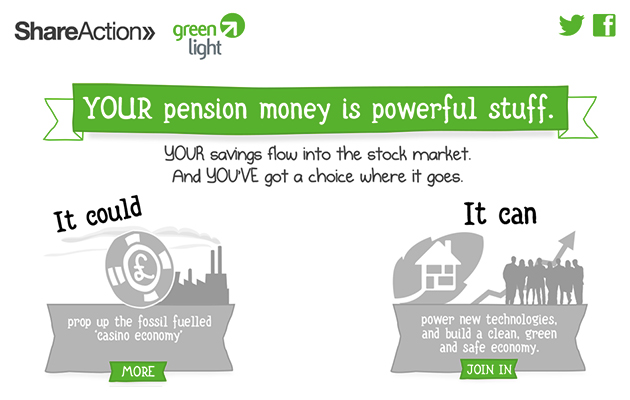 So, will pension funds in Sweden continue with an investment policy that fails to take into account the dependency on fossil fuels? Action from politicians in the pension system has the power to further strengthen the leading position that bioenergy and other non-fossil fuels currently have in Sweden.
That pension plan money finances climate change is a global theme. The US-based mass movement 350.org has made a call to "divest from fossil fuels" and provokes a badly needed discussion by tweets like this, read and spread by millions: "If you invest in fossil fuel corporations, you have a share in Typhoon Hayan: Count your profits in lives lost."
Politics is becoming increasingly aware of the role of large investors financing climate change; in response, the European Union's Climate-KIC recently promoted an initiative whereby five asset owners were selected to receive a climate impact assessment for free. Maximilian Horster of South Pole Carbon, the organization running the assessment, was overwhelmed: "The interest among asset owners was enormous. We received a large amount of applications from all over Europe and it was very tough to select just five of them."
Money managed for future retirees should be invested to preserve a world that is worth retiring into . . . 
Among the winners was also the Church of Sweden. It has divested from fossil fuels five years ago without giving up on generating financial returns: "We hope to get our case even stronger so that we can present it better to others in the investment industry," says Gunella Hahn. Ms Hahn runs the Responsible Investment unit and wants the Church to serve as a role model for other investors.
It is not surprising that organisations with strong ethical grounds such as churches and foundations are taking climate change and investments seriously. The pension plan of the Church of Finland has also screened its investments for climate impact in order to line up mission with investments: "This climate impact assessment of our investments will give us a new tool to continue our work," says Ira van der Pals, the Chief Investment Officer of the Church of Finland's pension fund.
While such a climate impact assessment might be an obvious task for a church, it should also be the duty of a pension plan: for any organization with a societal mandate it is logical that the investments should not contradict the mission. Money managed for future retirees should be invested in a way that preserves a world that is worth retiring into. Knowing about climate impact of investments is only the first step, and yet, very few large investors have taken that fact to heart. The second step is then about taking action, climate-optimizing investments and divesting.
Ahead of the Swedish election in 2014, voters should look carefully at how each party stands on these and other related social and ecological matters. A crucial question remains for Swedish voters and pension fund managers: Will they take heed of WWF's pleas to completely phase out pension funds' holdings in the production of oil, gas and coal?
* This figure itself is more than 14 percent higher than the world's remaining carbon budget, according to findings presented by environmental group WWF Sweden at a conference in November.

KAJ EMBREN has been involved for over 30 years in sustainable development issues, and he has participated in the International Co-operative Green Campaign at the Earth Summit in Rio de Janeiro 1992. With Karl-Henrik Robert and Per-Uno Alm he helped start the Swedish Foundation, The Natural Step. Kaj lives in Stockholm.