Cocktails on the Wild (Flavour) Side
Standfirst
On a recent visit to Montreal we met a bartender who seemed to be able to make any classic cocktail into something original and also extraordinarily delicious. Kelly Thomas is a clearly an artist — and, happily for us — determined to bring innovative garden and forest flavours into the drinks menu. Here she talks about cocktail craft in general, key dos and don'ts for the aspiring mixologist, and a cold handful of her stellar original recipes. Go forth and muddle!
Body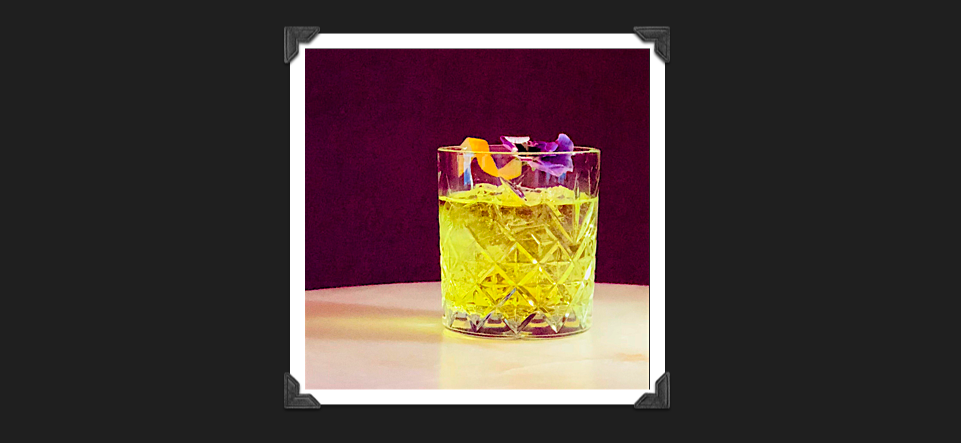 The White Negroni features Salers Gentiane, a classic French aperitif made with wild gentiane flowers.
THE FIRST COCKTAIL I made was a vodka orange with soda. Not knowing anything about making cocktail, I added the soda in the shaker and proceeded to shake it. The shaker exploded, hitting the ceiling and falling on my head, liquid and all. My first lesson in cocktails: do not put bubbly liquid in a shaker. I laugh about it now, but I sure didn't find it funny at the time!
The most important part in making cocktails is to have fun with them. My ideas don't always work out, but the process usually creates something even better than my original thought. One approach to basic cocktails is using citrus, sugar and alcohol, and from there experimenting with different measurements and flavours.
MAKING YOUR OWN SIMPLE SYRUPS. A good way to up your cocktail making is to create your own simple syrup, which can be infused with whatever flavours you like. It's a fun and easy way to personalize a homemade cocktail.
I like a lavender simple syrup, which adds floral notes to basic cocktails (the Kir Lavendre recipe below uses it). To make it you take 1 litre of water and 1/2 litre of standard granulated white sugar, and bring it to a boil. Once the sugar is dissolved, add the dried lavender and let it sit; use the same principle as you would for making tea. Once cooled, remove the lavender branches. Ready to serve You can use this technique to make any flavoured simple syrup.
Mauro Americano vermouth is probably my favourite sweet vermouth. Its base of white wine and complex blend of spices and herbs makes it smooth but also very aromatic.
THE HOME BAR. One thing that I strongly recommend is buying locally made liquor. In the US, UK, Canada and Australia — and I'm sure in other countries — many regions have up and coming distilleries. Having gin and vodka on hand is a must; aside from being versatile, many classics can be made with them. They can also be dressed up into more intricate cocktails. Bourbon or Rye are fun to have to make manhattans and old fashioneds. At home I always have a bottle of Campari on hand, just because I love a negroni and the more bitter drinks.
Bitters are an important part of many cocktails. Angostura bitters is very common, and easy to find in most grocery stores, but in the last few years hundreds of artisanally made bitters have come on the market, and available in bar and cocktail specialty stores or online like this one.
VERMOUTH. Dry and sweet vermouth may sound very old school, but there are many new vermouths out there that mix in a cocktail, or can be enjoyed on the rocks with an orange twist. I personally love sweet vermouth, mostly on it's own — but also for negronis and manhattans. Mauro Americano vermouth is probably my favourite sweet vermouth. Its base of white wine and complex blend of spices and herbs makes it smooth but also very aromatic.. Other vermouths I like are Vermell vintage and Lustau Vermut.
SCOTCH. A bottle of scotch is good to have as a digestif. I'd recommend one that isn't too peaty or smoky, which will fit the pallet of newcomers to the world of scotch. My favourites of this type are Dalmore 15, Dalwhinnie 15, and Hibiki 12, a Japanese whisky.
GLASSWARE & MEASURING VESSELS. Martini and old fashioned glasses are essential a part of any home bar. That said, I don't believe cocktails need to be in specific glasses, unlike wine. Whatever glass appeals to the eye will suit the cocktail you're making. I believe bartending should be fun, relaxed, open-minded and open to innovation.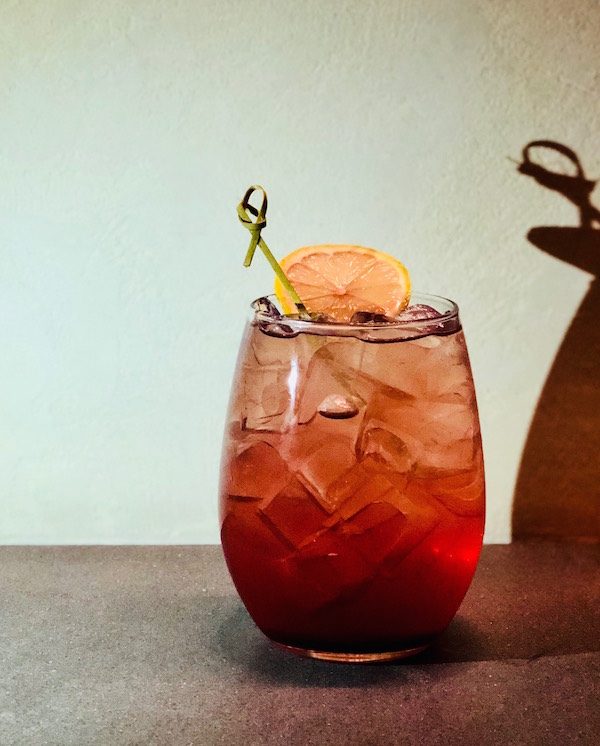 Kir lavendre — with lavender simple syrup.
Basic Techniques
The first rule I learned when starting out is that when it comes to martinis, there are 2 rules:
With vodka or gin and dry vermouth, you stir in the shaker.
If juice is used — like cranberry for a cosmopolitan — you shake. Yet, that might not be the preference of my client. James Bond likes his martini shaken, even though it's pure alcohol. So, whatever your taste, feel free to break the rule!
Muddling came into play with mojitos and caipirinhas, to blend the lime and extract as much flavour as possible.
The old fashioned is made directly in the glass. Most complex drinks need to be shaken so that the ingredients blend and harmonize.
TOO SWEET! TOO DRY! When clients come to the bar and are having a hard time choosing a cocktail, I ask them what alcohol they prefer to start. Then I ask, "Do you like stronger cocktails, sweeter or more acidic? While I guide them to a drink that fits what they like, I also try to recommend drinks that may be a little out of their comfort zone, to try something new. It's fun to see people enjoy a cocktail they've never had before, and that also expands their knowledge of the craft.
COCKTAILS & TEMPERATURE. The trick to a good and cold martini is to store the glass in the fridge or freezer, and to add ice and water to the glass during the prep. This will ensure a really cold glass. The alcohol will be cooled when being stirred in the shaker.
ORDERING YOUR COCKTAIL. Some cues on how to order so you get what you actually want. First, with a martini, specify the type of alcohol: gin or vodka.
Dry — a little vermouth
Extra dry — almost no vermouth
Wet — more than usual vermouth
Dirty — with olive juice
Garnish — olives, lemon twist, onion
Your bartender will appreciate it — and maybe think you're a pro!
THE GOOD & BAD. I'm fortunate to work that I work at a bar where I have the freedom to try out unconventional ideas, even if they don't always work out. I like having fun and talking to new people, and explaining cocktails to people who have questions. I really enjoy going to cocktail competitions and seeing my fellow bartenders show off their talent and passion for the art. I'm not fond of bartenders who are pretentious and overly technical. Yes, precision is important, but it is also important for the client to have a good time and to feel like the bartender is approachable.
WHAT'S YOUR FAVOURITE COCKTAIL? is a question I get asked a lot and have a hard time answering. My favourite drink is probably wine, but when I drink cocktails I love a good negroni. Otherwise, I lean towards any gin-based cocktail. Recently, I have fallen back into love with the paperplane, a classic that is great for the fall.
(Kelly would like to thank Chef Aniss Meski — for being so patient with her ideas and helping her to bring them into reality. I would also like to thank the whole team at Hambar.)
Recipes
WHITE NEGRONI (photo above)
This is my take on the classic cocktail. I love it mostly in the summer, but it can be enjoyed all year around.
1 oz gin. For this cocktail I like Romeo's Gin. It has hints of lavender but is basically a dry gin that evolved in the Montreal art community.
1 oz white vermouth. My favourite is the white vermouth from Chinati Vergano.
1 oz Salers Gentiane, a classic French aperitif made with wild gentiane flowers. This will bring the bitter flavour to the cocktail.
Mix all three ingredients into a shaker, stir then pour in an old fashioned glass, on the rocks. Garnish with a twist of lemon.
WHISKY SQUASH
This new cocktail I'm adding to the menu for the fall is probably my favourite cocktail ever — partly because I'm obsessed with butternut squash. And it fits the cold weather perfectly. The prep time for this cocktail is longer than the others, but worth it.
Roast a butternut squash at 450F/232C for 20-30 minutes, depending on the size of the squash. Remove the flesh and put it in the blender.
Add 3 oz of a simple syrup blend until the you get a smooth texture.
Put 4 oz of the butternut purée into the shaker
2 oz of a good rye whisky. If you can get it, Crown Royal Northern Harvest Rye is an excellent choice of this cocktail.
½ oz of maple syrup
½ oz of lime juice
Shake ingredients
Rim an old fashioned glass with cinnamon and brown sugar and pour.
Et voila — you have the perfect autumn cocktail!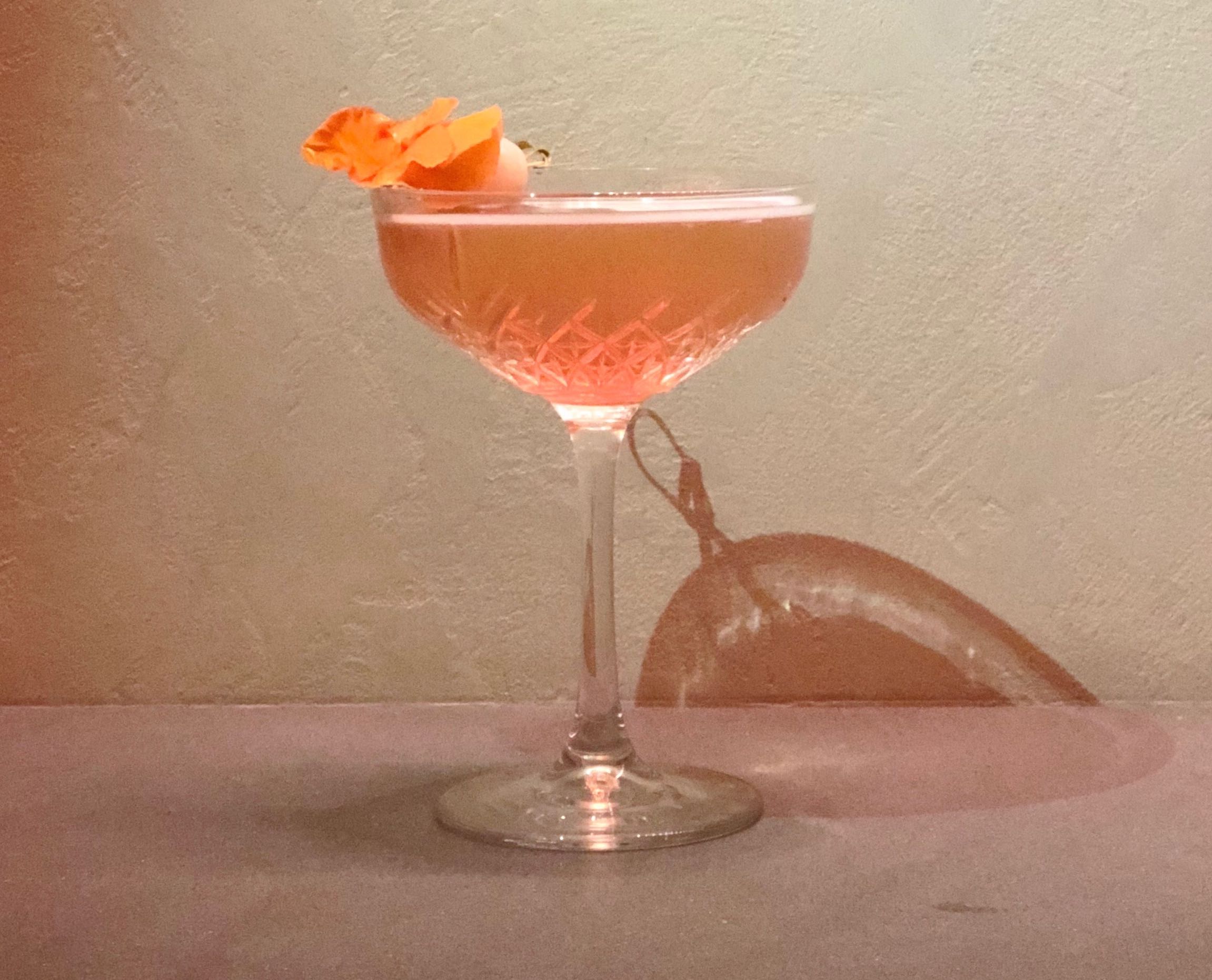 ROSE MARTINI
Fruity and weirdly tasting like iced tea.
1 oz of Dillons Rose Gin (made in Ontario)
2 oz of lychee juice (you can buy canned lychees)
2 oz of white cranberry juice
Shake and pour into martini or Marie-Antoinette glass
Add ½ oz of red cranberry juice
Garnish with lychees
LE FÔRESTIER
This cocktail is very simple because the particular gin used is so excellent, and speaks for itself.
1 oz of Radoune, a wild mushroom gin from Gaspesie
½ to 1 oz of Fir simple syrup
2 oz of soda water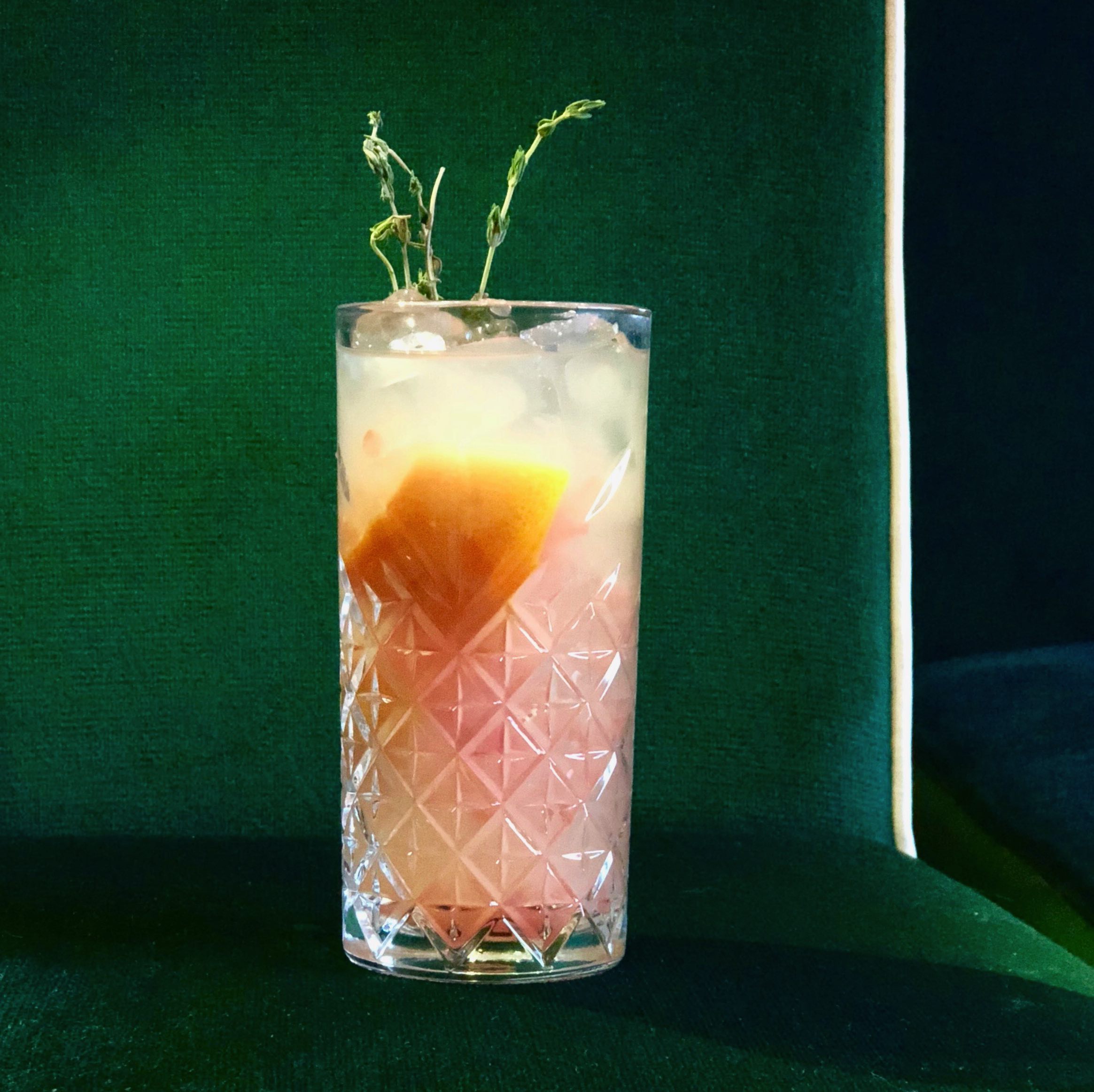 PARIS
Probably the most popular cocktail at our bar, sweet and fresh all at once.
In the shaker put 3 to 4 slices of pink grapefruit
Add 1 oz of gin, 1 oz of Lillet, 1 oz Saint-Germain, ½ of lemon juice
Muddle ingredients together
Add ice and shake
Pour ingredients into an old fashioned glass
Garnish with thyme
KIR LAVENDRE (photo above)
The very classic French cocktail with a modern twist.
3 oz of a dry white wine (preferable Bourgogne aligoté)
1 oz, or a little less, of crème de Cassis
½ oz of lemon juice
1 ½ oz of lavender simple syrup
Top with soda or tonic water
Garnish with lemon twist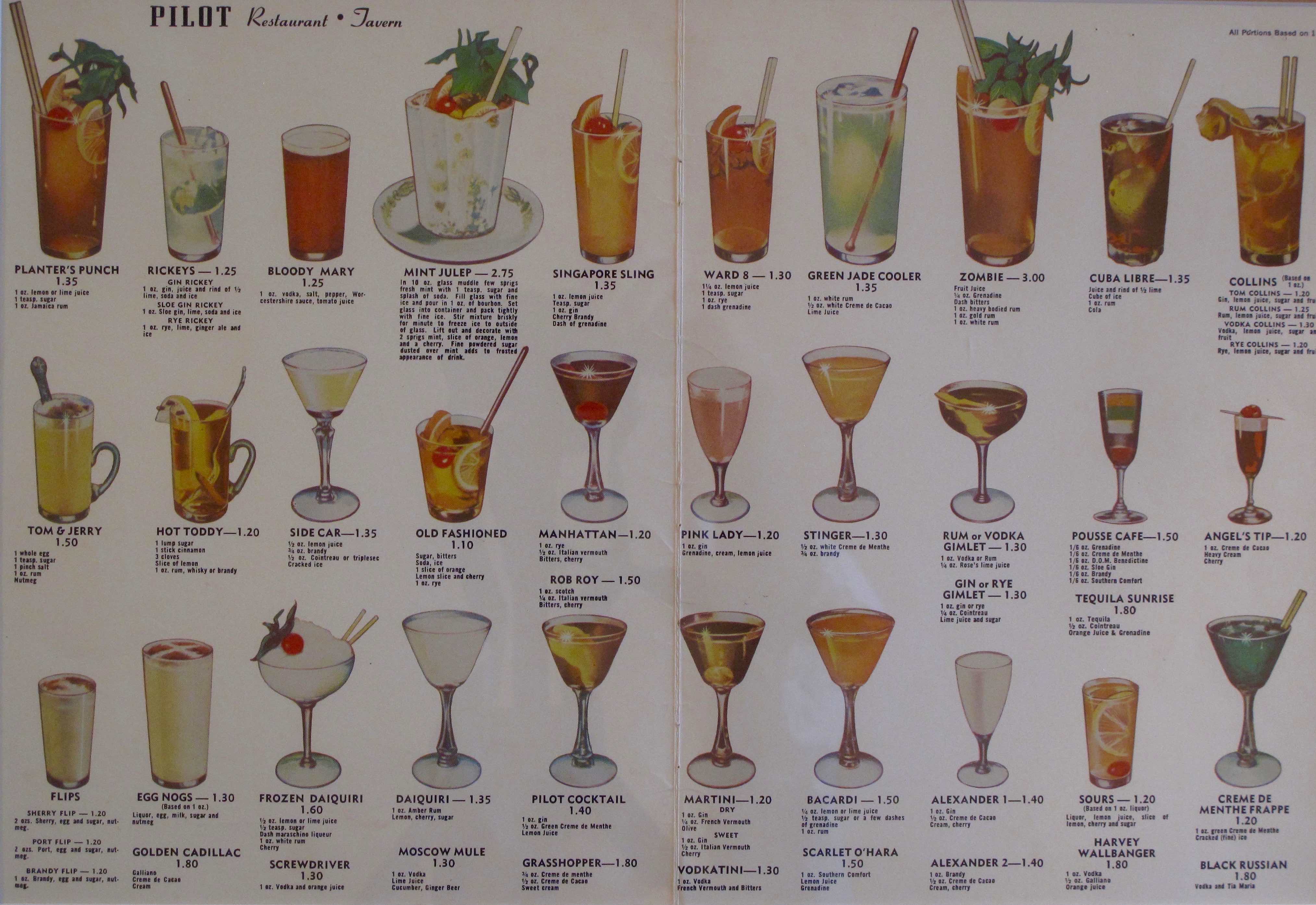 Drinks menu from the Pilot Tavern, Toronto, 1960s.


KELLY THOMAS is the head bartender at Hambar, a restaurant in the old port of Montreal. For the last ten years she has worked as a busgirl, runner, hostess and waiter, and has a WSET 3 certificate in wine. Her love of working at the bar is fuelled by making cocktails and meeting new people. She lives in the city of Montreal.
Photographs by Aniss Meski (Intsagram: @aniss_meski_) and Kelly Thomas. They were taken in the lobby of the Hotel Saint-Paul, which is attached to the restaurant, Hambar.