The quick-quick-slow food movement
Standfirst
Making the most of a new kitchen appliance, our resident chef 'blitzes' up a Slow Food inspired winter feast. Starters and mains: butternut squash soup with chilli and coconut, black kale and chickpea soup, coconut chicken curry, beer-braised Mexican pulled pork — finishing off with raw honey halva and banana-berry ice cream. Not nutritious enough? Add one green smoothie. [For recipe reading ease, see icon above to print.]
Body

LONDON — After a fun-filled, non-stop Christmas and New Year celebrating with various family members, it feels good to be home again, sleeping in my own bed, keeping my own simple routines, cooking in my own kitchen.
The mince pies, Christmas cake, endless boxes of chocolates, glasses of wine and flutes of Champagne have given way to green juices and smoothies, vegetable soups, winter salads and herbal tea. Rather than feeling bereft, I'm actually relieved! It feels good to be kind to my body after testing its limits for the past few weeks.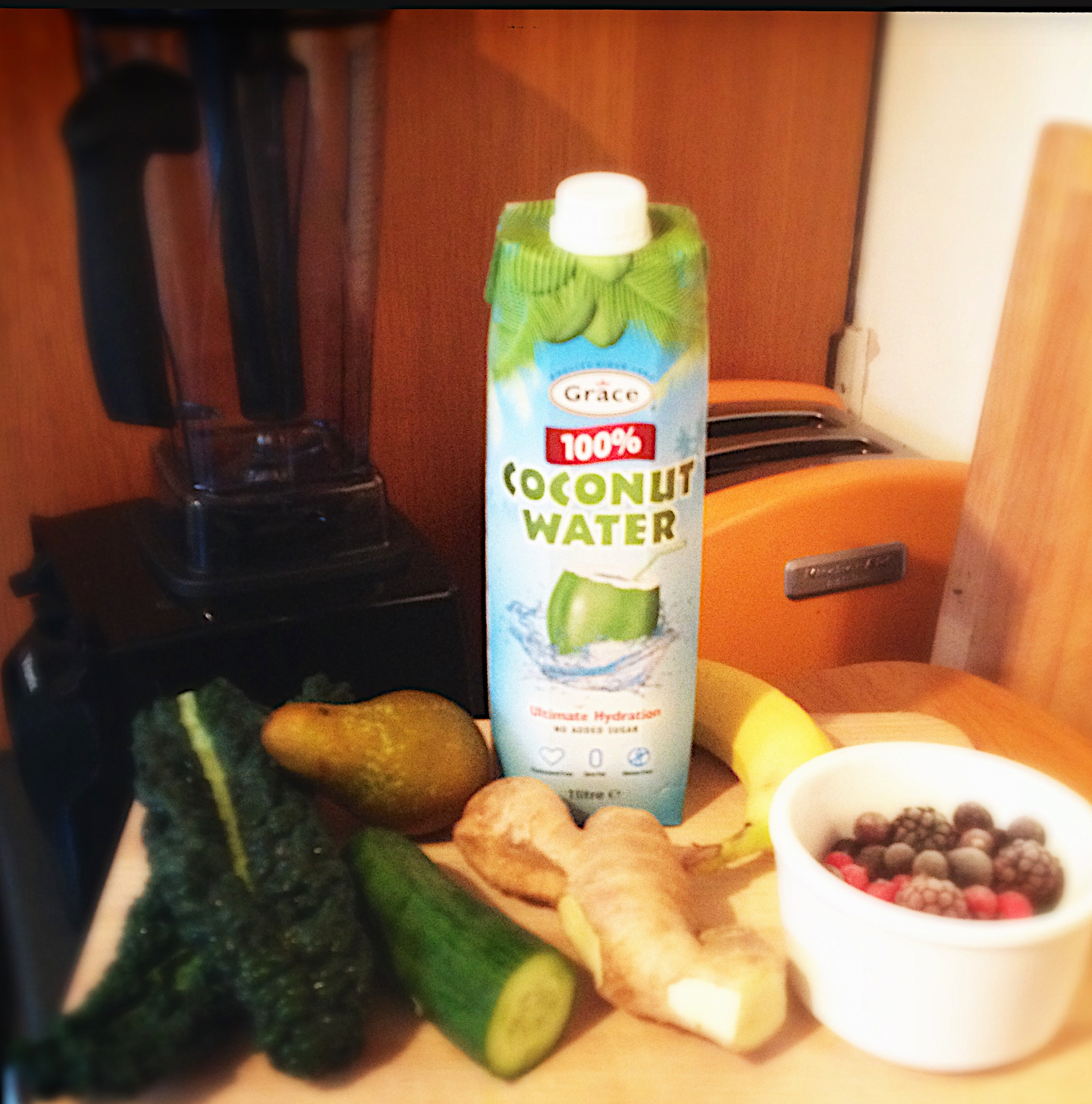 VITAMIX & CROCK-POT — LOVE THOSE APPLIANCES! 
My super-healthy culinary experimentation was greatly helped this month by two rather fantastic Christmas presents: a Vitamix (for the uninitiated, a very powerful blender) and a crock-pot cooker, or slow cooker. The Vitamix can blitz pretty much any food into a smooth purée or liquid. If you add frozen fruits and blitz them quickly, you have instant sorbet (add cream or yoghurt if you want ice cream). If you add in raw veggies with some liquid, then blitz for a few minutes, the friction from the motor heats everything, making a hot soup in 5 minutes. Magic! I've also whizzed up various veggies with a little bit of fruit and coconut water to make a healthy morning smoothie, though I'll admit — in a bid to create something wonderfully virtuous the other morning — I did end up with something far more nutritious than delicious. Note to self: go easy on the kale and celery in the next one . . .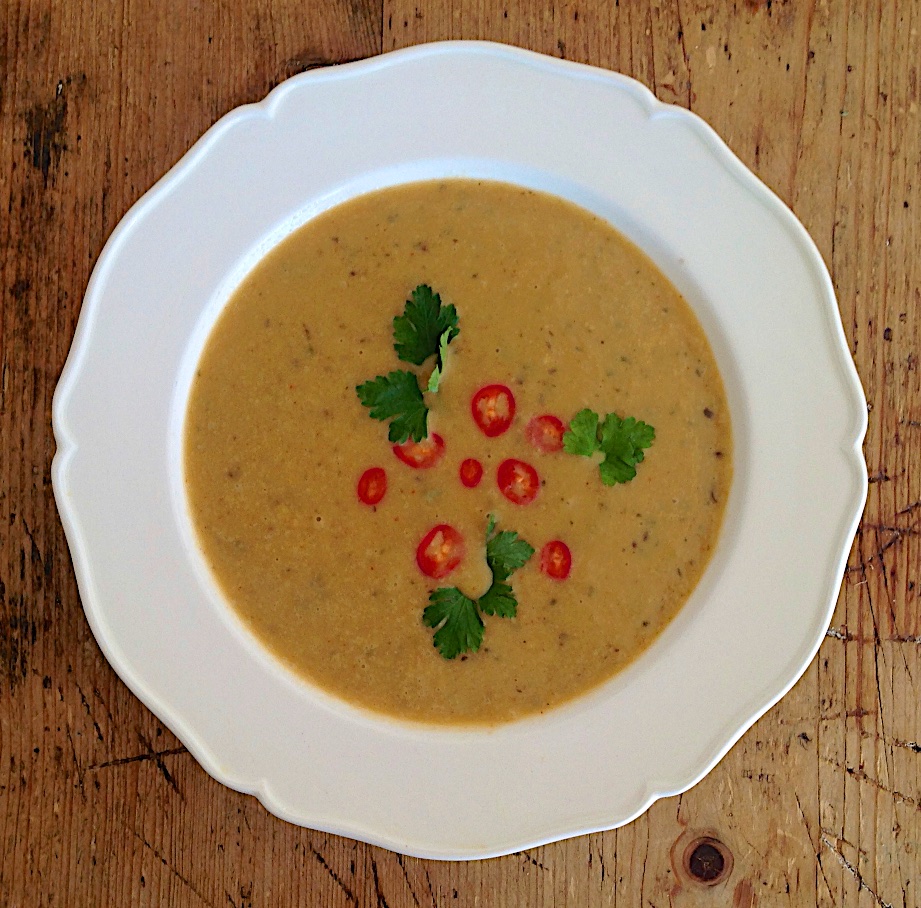 BUTTERNUT SQUASH WITH CHILLI & COCONUT
The chilli and ginger in this soup should be subtle, but you'll feel their warmth spread throughout your body — perfect on these chilly winter days. I love roasted butternut squash, and the addition of coconut milk gives this soup a deliciously creamy texture.
Serves 6
• 1 butternut squash, about 1kg / 2.2 lbs peeled, deseeded and cut into large cubes, about 5cm / 2"
• 2 tablespoons olive oil
• Salt and pepper
• 2 onions, peeled and cut into large chunks (same size as butternut squash)
• 5 garlic clove, left whole in their skins
• 1 cm / ½" slice of fresh ginger
• 1 mild red chilli, deseeded, or a pinch of chilli powder plus 1 chilli to serve, deseeded and sliced
• 500ml / 1 pint vegetable stock or chicken stock
• 200ml / 7 fl oz coconut milk
• Green herbs, e.g., a few chives or leaves of parsley / coriander
METHOD
1  Heat oven to 200℃ / 390℉ normal oven (180℃ / 355℉ fan). Toss the cubes of squash in a large roasting tin with the olive oil and salt and pepper. Roast for 20 minutes, then add in the onion and garlic. Continue to roast for 15 to 20 minutes, until golden and soft.
2  Add the stock to the Vitamix or blender (all ingredients can be cold if using a Vitamix, but need to be hot if using a normal blender) and tip in the squash, onion, garlic (squeeze the softened flesh out of the skins and discard the skins), ginger and chilli. Add the coconut milk, then whizz until smooth. If putting cold ingredients in a Vitamix, run the motor on high for about 4 to 5 minutes until the soup is hot.
3  Season to taste and serve the soup in bowls with a few chopped herbs and chillies scattered on top.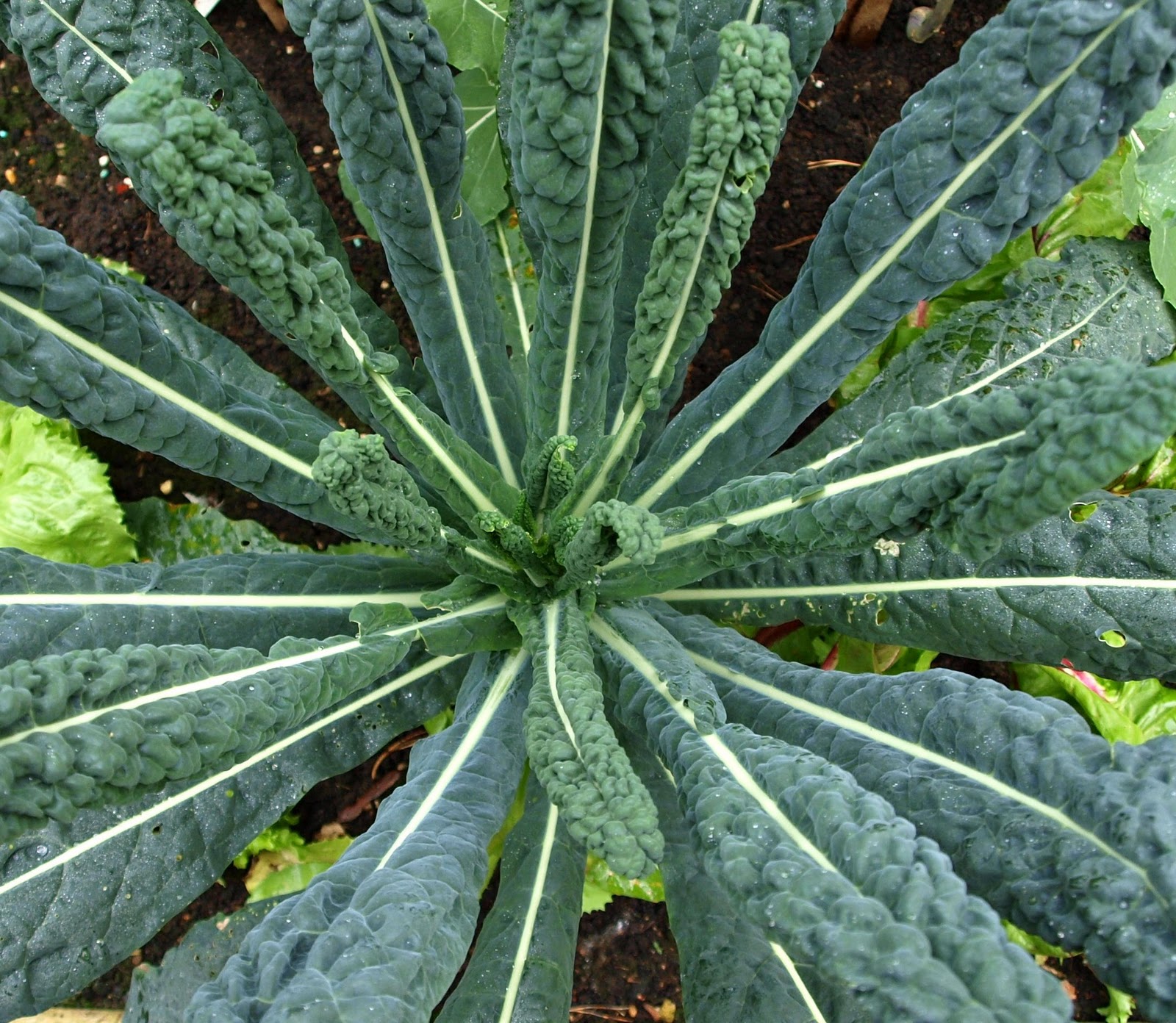 Cavolo nero, or black kale.
CAVOLO NERO & CHICKPEA SOUP
This is half-way between a soup and a stew. I took the original idea from a recipe for the Italian soup ribollita, but my version uses chickpeas instead of cannellini or zolfini beans, and I don't use bread, which makes it a much lighter dish whilst still keeping the essence of the original. I love making this all winter, as long as cavolo nero (black kale) is in season. As with all the slow cooker recipes here, this freezes well if you happen to make too much.
Serves 4
• 1 tablespoon olive oil
• 2 small red onions, peeled
• 2 carrots, peeled
• 3 sticks celery, trimmed
• 3 cloves garlic, peeled
• 1 pinch ground fennel seeds
• 1 pinch dried red chilli
• 1 bay leaf
• 400g / 14oz good-quality tinned plum tomatoes
• 1 x 400g / 14oz tin chickpeas, drained and rinsed
• 200g / 7oz cavolo nero, leaves and stalks finely sliced
• Sea salt
• Freshly ground black pepper
• 2 tablespoons extra virgin olive oil
METHOD
1  Finely chop your onions, carrots, celery and garlic. Add the olive oil and the vegetables to the pan with the ground fennel seeds, chilli and bay leaf. Sweat very slowly on high with the lid on for around 60 minutes until soft, but not brown.
2  Add the tomatoes and the cooked and drained beans, plus a little water. Stir in the sliced cavolo nero. The soup should be thick but not dry, so add a little more water if you need to loosen it. Continue cooking on high for about 2 hours – you want to achieve a silky, thick soup.
3  Season with salt and pepper and stir in the extra virgin olive oil before serving to give it a glossy, velvety texture.
COCONUT CHICKEN CURRY
The spices in this curry give it a wonderful warmth that is essential during the colder months. Turmeric also has great anti-inflammatory and healing properties — perfect for chasing away winter germs. I like cooking with chicken thighs, especially when slow cooking, as they don't dry out as chicken breasts do, and have far more flavour.
For the spice blend
• ½ teaspoon ground black pepper
• ½ to 1 teaspoon chilli powder (depending how hot you like it)
• 1 teaspoon ground cumin
• 1 teaspoon ground coriander
• 1½ teaspoons ground turmeric
• 1 teaspoon salt
For the curry
• 4 cloves garlic, peeled
• 2" cube of ginger, peeled and roughly chopped
• 1 small onion, peeled and quartered
• 1 tablespoon coconut oil (or vegetable oil)
• 6 boneless, skinless chicken thighs, cut into four
• 2 x 400ml / 14 fl oz cans coconut milk
• 1 corn on the cob
• 2 peppers, deseeded and sliced
• Large handful of frozen peas or broad beans
• Small bunch of coriander
• 1 lime
METHOD
1  Combine the ingredients from the spice blend together and set aside.
2  In the small bowl of a food processor, combine garlic, ginger and onion and pulse until it forms a paste.
3  Heat up the oil in a frying pan, add puréed garlic, ginger and onion and stir well. Cook for a few minutes, then add the spice blend. Cook for 2 to 3 minutes, stirring constantly.
4  Add the chicken pieces to the pot. Cook chicken on all sides to brown lightly and coat thoroughly with the spice mixture.
5  Transfer the contents of the frying pan into the slow cooker and pour the coconut milk over; it should just barely cover the chicken.
6  Cut the corn off the cob and add it to the chicken with the peppers.
7  Cook on low for 4 hours.
8  Add the frozen peas or broad beans. Cook for another 30 minutes until the chicken is cooked and the vegetables hot.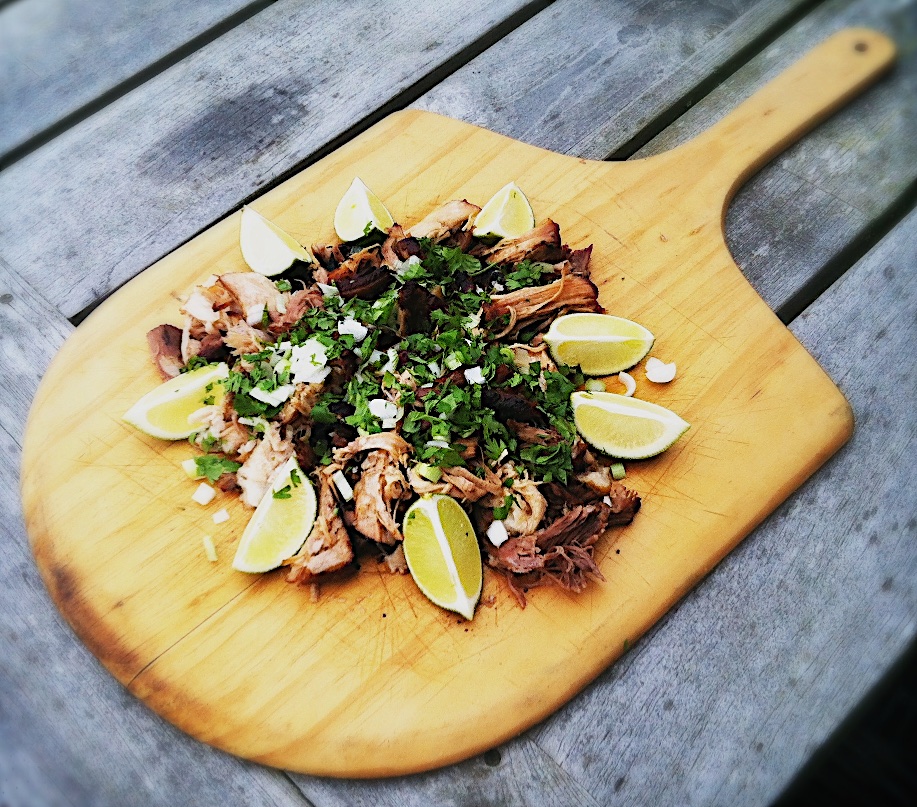 BEER-BRAISED MEXICAN PULLED PORK
As one of my favourite Mexican dishes, this version is also pretty healthy — bearing in mind that my previous go-to recipe involved cooking the pork in a braising liquid that included cola and lard, amongst other things! Tasted fantastic, but probably not so good for the insides. After 8 hours in my slow cooker, the results were so good that we were rendered speechless for a good few minutes. Seriously, if a slow cooker could only make this and nothing else, owning it would still be worth it.
Serves 4
• 1 kg / 2.2 lb. lean boneless pork (I used a leg joint), excess fat trimmed, cut into 7cm / 3" chunks
• 330ml / 10 fl oz beer
• 1 large white onion, diced
• 4 cloves garlic, minced
• 1 tablespoon chipotle powder (or chipotle in adobo sauce)
• 2 teaspoons cumin powder
• 1 teaspoon chilli powder
• 1½ teaspoons salt
• 1 teaspoon ground black pepper
METHOD
1  Heat a large frying pan over high heat. Add the pork and sear on each side until browned (about 2 minutes per side). Transfer pork to the slow cooker.
2  Add remaining ingredients and give the mixture a careful stir to combine. Cook on low for 6 to 8 hours until the pork is completely tender and shreds easily with a fork.
3  Once the pork is cooked, preheat your grill to high heat. Use a fork to shred the meat into bite-sized pieces and then transfer it to a large roasting tin, spreading it out evenly in a single layer. Reserve the remaining brothfrom the slow cooker.
4  Place pork under the grill for about 5 minutes, or until the edges of the pork begin crisping up. Remove the tin, and use a spatula or tongs to carefully toss the pork. Then pour over a ladleful of the remaining slow cooker broth over the pork. Grill for an additional 5 minutes to get the meat more crispy. Then pour an additional ladleful of broth over the crispy pork.
5  Serve immediately with tortillas or tacos, guacamole, salsa, salad, soured cream, grated cheese, jalapeño peppers, etc. — or cover and refrigerate or freeze.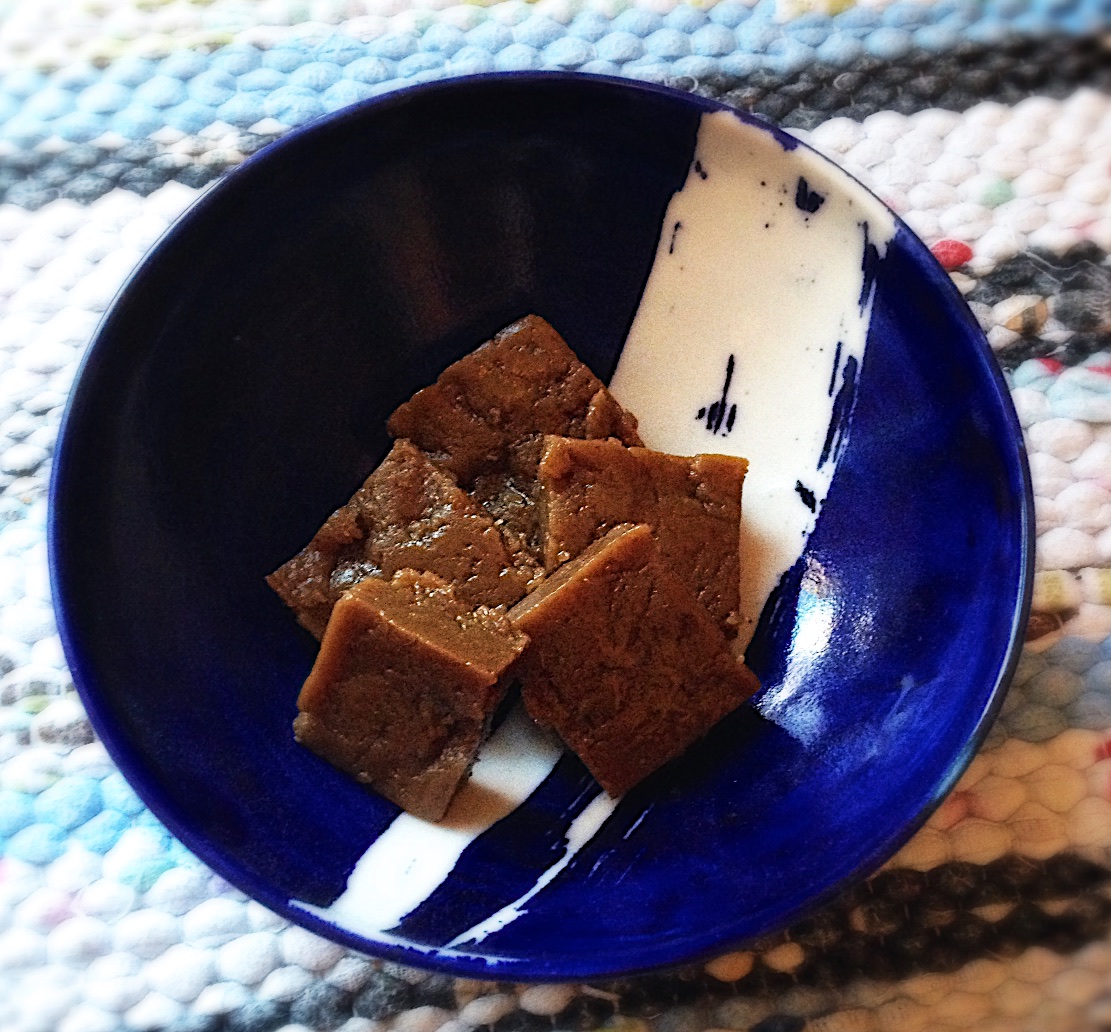 RAW HONEY HALVA
This is not the crumbly-textured halva I had tried before, which is often made with hot sugar syrup and egg white. This version is chewy, like soft toffee, yet delicious and good for you: no refined sugar and no heat to kill off the nutrients.
Makes 4 to 6 portions
• 150g / 5¼oz almonds
• 225g / 8oz tahini
• 125g / 4½oz pitted dried dates
• 3 tablespoons honey
METHOD
1  Line a small baking tin with clingfilm.
2  Put the almonds in the Vitamix or blender and secure the lid. Select variable speed 1, turn on the machine and slowly increase the speed to 6. Run for 6-7 seconds until the almonds are finely ground. Add the tahini, dates and honey. Secure the lid.
3  Select variable speed 1, turn on the machine and slowly increase the speed to 10, then to High. Run for 10 to 20 seconds until the mixture forms a soft paste, using a tamper to press the mixture into the blades, stopping occasionally to scrape the mixture from the sides of the container.
4  Spread the mixture into the baking tin, cover the top with the cling film and chill for at least 1 hour before cutting into squares: until firm. Keeps in the fridge for up to 1 week.
BANANA-BERRY ICE CREAM
The sweet, creamy texture that you get from blitzing frozen bananas has to be tasted to be believed! A Vitamix or similarly powerful blender is ideal for this as you really need a good motor to handle the frozen fruit. It's important to add the yoghurt in first so that the blades can rotate and do their job; if not, they get stuck on the harder bananas and berries. The dates aren't essential, but they do add a little extra sweetness. The ice cream will be very soft in texture and definitely should be eaten immediately; the lack of sugar does mean than it will get rock-hard if you leave it in the freezer.
Serves 2
• 120g / 4 oz coconut yoghurt (or normal dairy yoghurt, if you prefer)
• 2 frozen bananas
• A handful of frozen berries
• 3 pitted Medjool dates
METHOD
1  Add the ingredients in the order specified, and secure the lid. Select variable speed 1, turn on the machine and slowly increase the speed to 10, then to High. Run for about 10 seconds until the mixture is smooth, using the tamper to press the mixture into the blades.
2  Stop to scrape the mixture from the sides of the container and blitz again, as before. Don't run the motor for too long — otherwise the ice cream will start to heat up and melt.
3  Eat immediately.

GREEN SMOOTHIE
What you put in your morning smoothie is really up to you and can depend on what nutrients you're looking for, how you want it to taste, what's in season and where you are in the world. (Me, I like to vary things so I don't get bored!) Fruit is full of vitamins but also full of sugar, so try to balance things out with veggies to keep the smoothie from being too calorie-packed and acidic.
Serves 2
• 4 leaves cavolo nero (black kale)
• 200ml / 7fl oz (approximately) unsweetened coconut water (or filtered water, if you prefer)
• 1 banana
• 5cm / 2" piece of cucumber
• Small piece (the size of the tip of your thumb) of fresh ginger
• Large handful of fresh or frozen berries
METHOD
1  Tear your cavolo nero into pieces and add to the Vitamix/blender with the coconut water. Blitz for a few seconds, then add the banana, cucumber, ginger and berries and blitz until smooth.
2  Pour into glasses and drink immediately.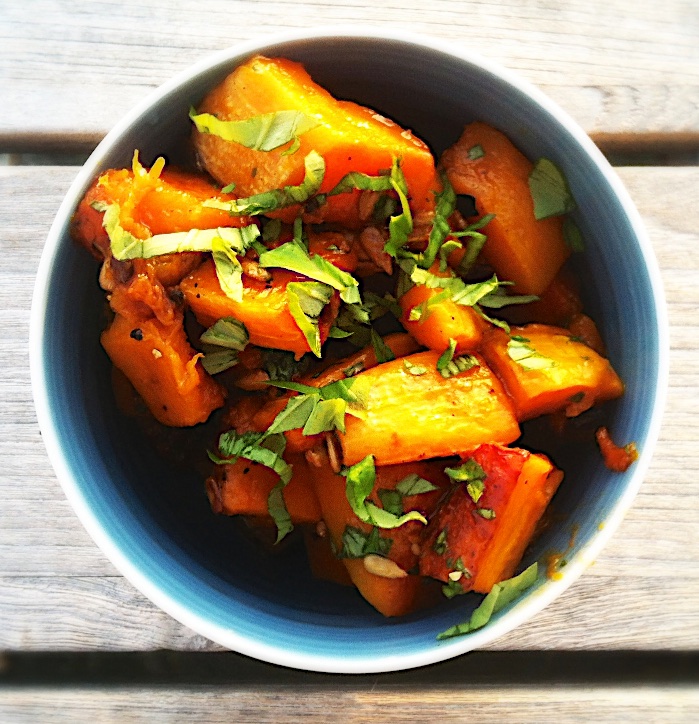 Roasted butternut squash.
First published in JWC January 20, 2015.

LAURA POPE
works as a private chef to clients in the UK and abroad. She has also cooked in various establishments worldwide — from a boutique hotel in the southwest of France to the restaurants Chez Panisse in California and Ottolenghi in London. Laura teaches cooking, blogs and has created gluten-free recipe apps for the iPad.
Photography by the author, except for photo of cavolo negro (see
credit
).
Comments
Very rapidly this web site will be famous amid all blogging and site-building visitors, due to it's good content
Add new comment