A Holly day Feast: Gravlax & Cacik, Fattoush, Moutabal & Turkey à la Mom
Standfirst
Make the most of the ol' standbys, sure, but you could also surprise the family and friends with these scrumptious non-trad sides. [For ease of reading whilst cooking, we suggest printing the article: click on the print icon to the right. Oil & garlic & honey in the laptop keyboard? Not so good.]
Body

Tis the season to be jolly. No, really, it is . . .
The holiday season has a terrifying knack of putting the fear of God into many folk all over the Western World, sending the usually sane members of society into a tail-spin, creating consumerist mayhem in high streets, shopping malls and online, while also stretching people's patience (and credit cards) to the limits. And that's not taking into account family dynamics. . .
My family does tick plenty of the boxes that comfortably sit at the so-called 'dysfunctional' end of the spectrum. But, as my sister so perfectly put it, "we actually function incredibly well". Christmas is a great example of this: rather than trying to round up each and every sheep in our extended flock, we're just happy to spend Christmas with whoever is there.
Scandinavian and Middle Eastern . . . not your typical bed-fellows, but it was the communal dill that inspired this marriage and it works wonderfully.      
This has meant that some years we've had 16 family members spanning three generations around the table — and another year, there were just three of us. Due to a propensity for second (and even third) marriages, resulting in half- and step-siblings, not to mention in-laws, mine has never been a nuclear family, so there are always various parents, siblings and in-laws to be considered.
This will mean blending different traditions, customs and cultures, quirks and routines, to hopefully to create something new and rather lovely. My mum - also known as "Mother Chef" due to her role as teacher, mentor and endless source of culinary inspiration - is hosting this year and will be working her usual magic in the kitchen. I'm not sure exactly what she'll let me actually get stuck into on the day, but for now I've settled on making a gravlax in advance that we can graze on over the Christmas period, so at least I know I'll be contributing something!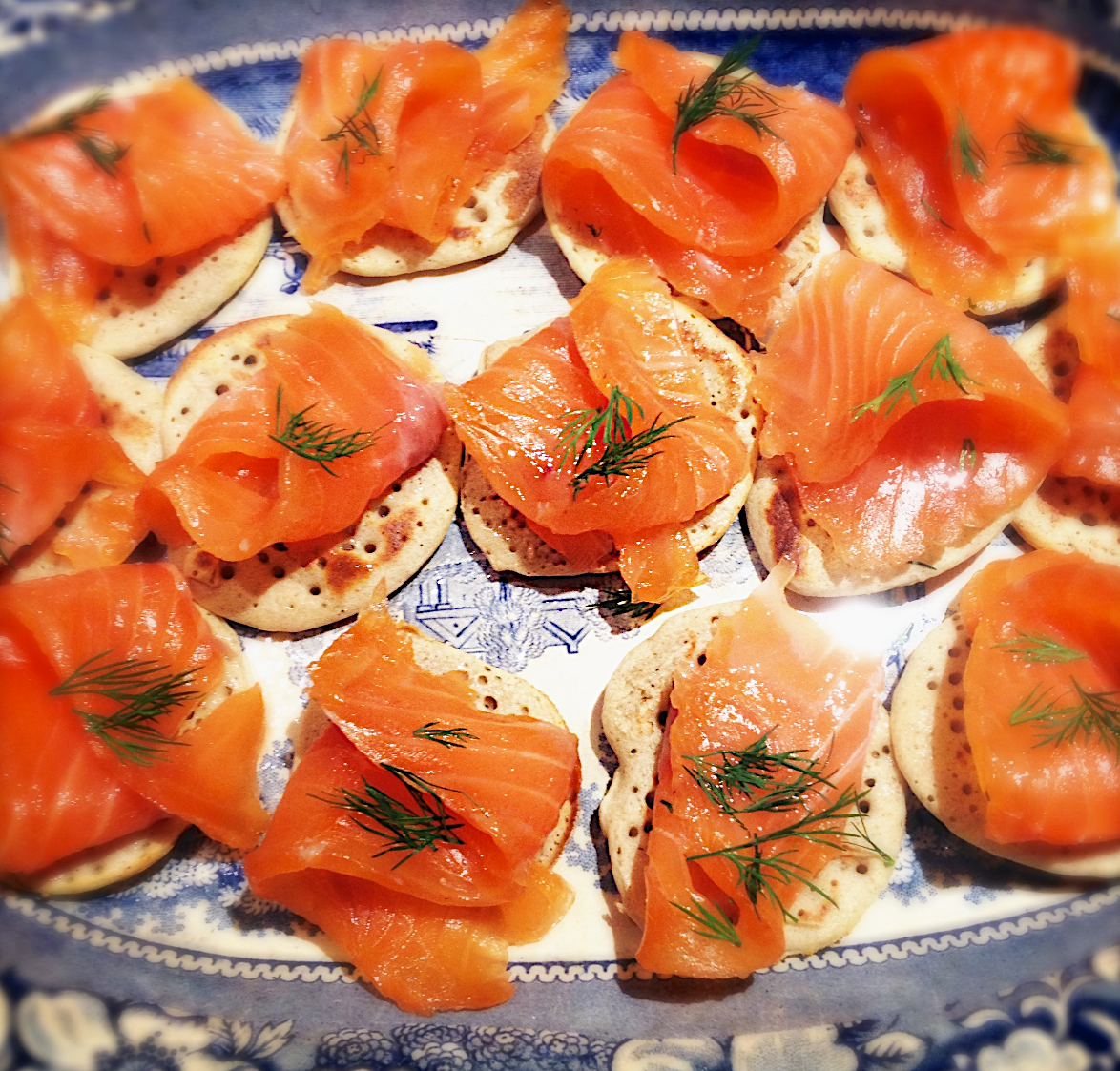 Gravlax on buckwheat blini over a little dollop of cacik.
CITRUS-CURED GRAVLAX WITH CACIK
I make no claims of authenticity here, since I've taken a very Scandinavian fish dish and paired it with a dip straight out of the heart of the Middle East. Not, I'll admit, your typical bed-fellows, but it was the communal dill that inspired this marriage, and it works wonderfully. If you wish, you can serve the salmon and cacik on serving platters or individual plates, or you can make little bite-sized buckwheat blini that, topped with a little dollop of cacik and a sliver of gravlax, make the most wonderful canapés.
For the gravlax
• 1 filleted side of very fresh salmon (900g / 2lb)
• Very large bunch dill (80g / 3oz)
For the salt mix
• 250g (9oz) Maldon sea salt (beloved by many chefs), or other quality salt
• 375g (13oz) demerara sugar
• 4 star anise
• 1 teaspoon coriander seeds
• Zest of 2 limes
• Zest 3 lemons
For the cacik
• 1 large cucumber, coarsely grated or finely diced
• 500ml / 1 pint Greek yoghurt
• 1 fat garlic clove, crushed
• 20g / ¾ oz dill, stalks and leaves finely chopped
• Sea salt and freshly ground black pepper
• Extra virgin olive oil, to drizzle
Cacik.
For the blini (makes about 20 small blini)
• 1 egg
• 100g / 3½ oz buckwheat flour
• 1 teaspoon baking powder
• 150ml / 5 fl oz milk
• 2 tablespoons sunflower oil
> Method
1   Tip all ingredients for the salt mix into a food processor and whizz until everything is combined and the spices are completely ground.
2   Stroke your hand along the salmon fillet to check for any stray bones. If you find any, pull them out with a pair of tweezers or small pliers. Trim away the thinner part of the fillet — plus any fat around the edges — so that the fillet has an even shape.
3   Scatter about a third of the salt mix onto a large tray in a line about the size of the salmon fillet. Lay the salmon, skin-side down, over the salt and pack the rest of the salt mix on top. Cover with cling film (plastic wrap), put another tray on top and weigh it down with a few cans or an empty casserole dish. Leave in the fridge for 3 days.
4   TO MAKE THE CACIK: carefully squeeze out and discard the excess water from the cucumber (by hand, or in a sieve).
5   Under cold running water, wash the salt mix off the salmon fillet, then dry with kitchen paper. Finely chop the dill. Lay the salmon on a board and cover the flesh with the dill, pressing it down to pack it onto the salmon. You can now wrap up the salmon in cling film and keep in the fridge for up to one week.
6   To finish the cacik, place the cucumber in a mixing bowl and mix in the yoghurt. Add the garlic and dill, mix well and season to taste with salt and pepper. Serve with a drizzle of extra virgin olive oil.
7   Use a sharp carving knife to cut the salmon into fine slices against the skin.
8   FOR THE BLINI: using an electric beater, whisk the eggs until frothy and then mix in the flour, baking powder and milk. Beat well to make a smooth batter (don't do this too far in advance: the baking powder will start working as soon as it's mixed with liquid).
9   Heat a little oil in a heavy frying pan and put tablespoons of the batter into the hot pan to make little pancakes (you will probably have to do a few batches). Cook until small bubbles appear and the underside of the blini are golden, then turn them over and cook the other side. Cover the blini with film or foil until required.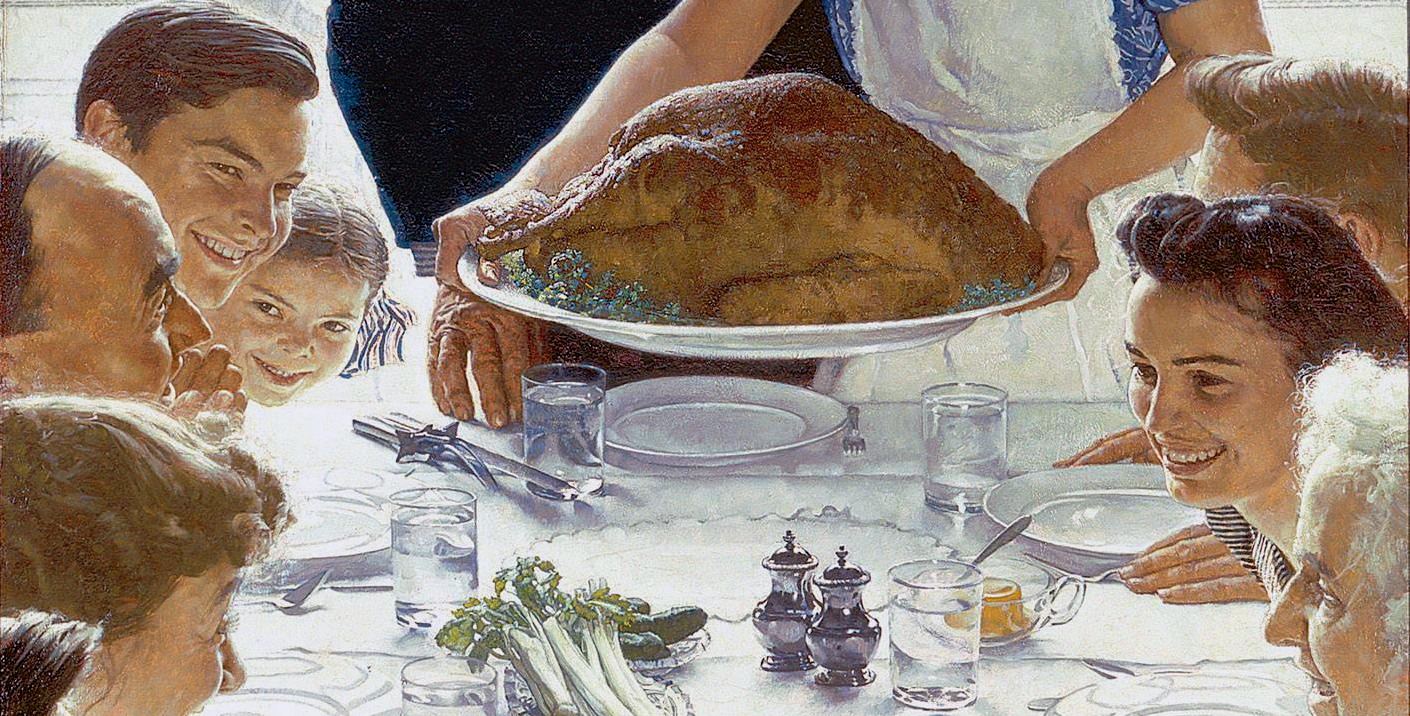 Norman Rockwell's version of familial rapport at the holiday feast table. "If you cannot get rid of the family skeleton, you may as well make it dance." — George Bernard Shaw.
 CHRISTMAS TURKEY & STUFFING
My mother's turkey defies the usual "dry, boring, bland" fears that plague so many holiday feasts, so I thought I'd share her recipe with you. The original recipe came from Gordon Ramsay; however, my mother being a rebellious mother, it will have therefore been altered a few times.
For the herb butter
• 250g / 9 oz packed unsalted butter, softened
• 3 to 4 sprigs fresh thyme, leaves only
• A sprig of fresh rosemary, chopped leaves only
• 2 tablespoons fresh parsley leaves, chopped
• Sea salt and freshly ground black pepper
For the meat
• 5 to 6kg / 11 to 13lb medium-sized turkey
• 3 or 4 good quality, thick sausages, skins removed
For the stuffing
• 125g / 4½ oz butter
• 1 onion, finely chopped
• A large sprig of thyme and rosemary, chopped leaves only
• 200g / 7 oz white breadcrumbs
• 6 fresh sage leaves
• 1 lemon, zest only
• 50g / 2 oz pine nuts
• 1 teaspoon sea salt
• Freshly ground black pepper
• 3 tablespoons fresh parsley, chopped
For the gravy
• 1 onion or large shallot, chopped
• 2 tablespoons olive oil
• 125ml / 4fl oz dry white wine
• 1 sprig of fresh thyme
• 1 bay leaf
• 500ml / 17fl oz chicken stock
• 200ml / 7fl oz double cream
• Pan juices from roasting
• Sea salt and freshly ground black pepper
> METHOD
1    Pre-heat the oven to 180℃ / 350℉ normal oven (160℃ / 320℉ fan oven).
2    Make the herb butter: mix herbs and butter together to form a paste, season well and chill.
3    Prepare the turkey legs: to remove legs, cut through the skin and pull joint firmly away from body then cut through ball and socket joints.
4    Cut away the 'oyster' on the back of the turkey so the leg and thigh come away cleanly.
5    With a thin sharp knife, bone both legs and stuff with sausage meat.
6    Wrap tightly in tin foil and chill to set the shape.
7    PREPARE THE TURKEY CROWN: cut off wing tips and, for easier carving, take out the wishbone and cut away back bone with poultry shears.
8    Lift up the breast skin with your fingers and separate it from the flesh.
9    Divide the herb butter between the two breast flaps and pull the skin back over.
10  Season well, place in a roasting tin and cover loosely with butter paper or foil.
11  COOK THE TURKEY: put the foil-wrapped legs in a roasting pan and cook at 180℃ / 350℉ normal oven (160℃ / 320℉ fan oven) for 45 minutes.
12  Reduce temperature to 160℃ / 320℉ normal oven (140℃ / 285℉ fan oven) and cook for a further 15 minutes, then remove foil and cook for a further 30 minutes, straining off any juices for the gravy.
13  Cook the crown for 1-1½ hours at 180℃ / 350℉ normal oven (160℃ / 320℉ fan oven) until juices run clear and let the bird rest for 30 minutes before carving.
14  MAKE THE STUFFING: melt butter in a large frying pan and gently sauté onion for five minutes until soft.
15  Stir in the herbs for one minute then add breadcrumbs to absorb the butter.
16  Mix in zest, pine nuts and seasoning and cook over medium heat for about seven minutes until crumbs start to brown and crisp.
17  Take off the heat, mix in the parsley and serve warm.
18  MAKE THE GRAVY: sauté the onion in the olive oil for about five minutes.
19  Pour in the wine, add thyme and bay leaf and boil until reduced right down.
20  Add stock and boil until reduced by half, then add cream and boil for a further five minutes.
21  Season with freshly ground black pepper.
22  Remove from heat, cool for ten minutes and strain.
23  Add turkey pan juices, boil for two minutes, season with salt and strain.
24  The gravy can be made in advance and frozen before the juices are added. When thawed, simply heat until boiling, add the juices, boil for two minutes, season with salt and strain.
I appreciate this recipe above isn't exactly going to give Jamie Oliver's "15-Minute Meals" a run for its money (now there's a man who knows how to do Christmas). But it only happens once a year and, when you see my mum calmly doing her thing in the kitchen, making it all look so easy, you almost forget why some poor souls make such a fuss.
I have a fairly good idea of what Holi or Diwali must be like chez Gupta: wonderful and terrifying, all at the same time.           
What, I wonder, goes on in other homes that can turn Christmas into such a torturous experience? And is it just Christmas, or do you see Hindu parents running around the local market in a frenzied state in preparation for Diwali? Does Eid strike panic into the hearts of Muslim mummies as they contemplate the family descending for the endless feasting? Is Hanukkah actually the most terrifying time of year for many Jewish families? And — most important of all — what do they all eat on happy days and holidays?
My friend Amit is an English-born Indian who has an impeccable food pedigree — thanks to growing up in his parents' vegetarian restaurant, which inspired him to make the fabulous film Jadoo, a feature-length love letter to Indian cuisine. When I asked him what they eat during the holidays, he replied "it tends to just be loads of everything, then of course the Indian sweets…" Having eaten at his family restaurant in Leicester — with endless rounds of gorgeous, flavour-packed, colourful dishes, so delicious that I longed for an extra stomach so I wouldn't have to stop eating such exquisite food! — I have a fairly good idea of what Holi or Diwali must be like chez Gupta: wonderful and terrifying, all at the same time.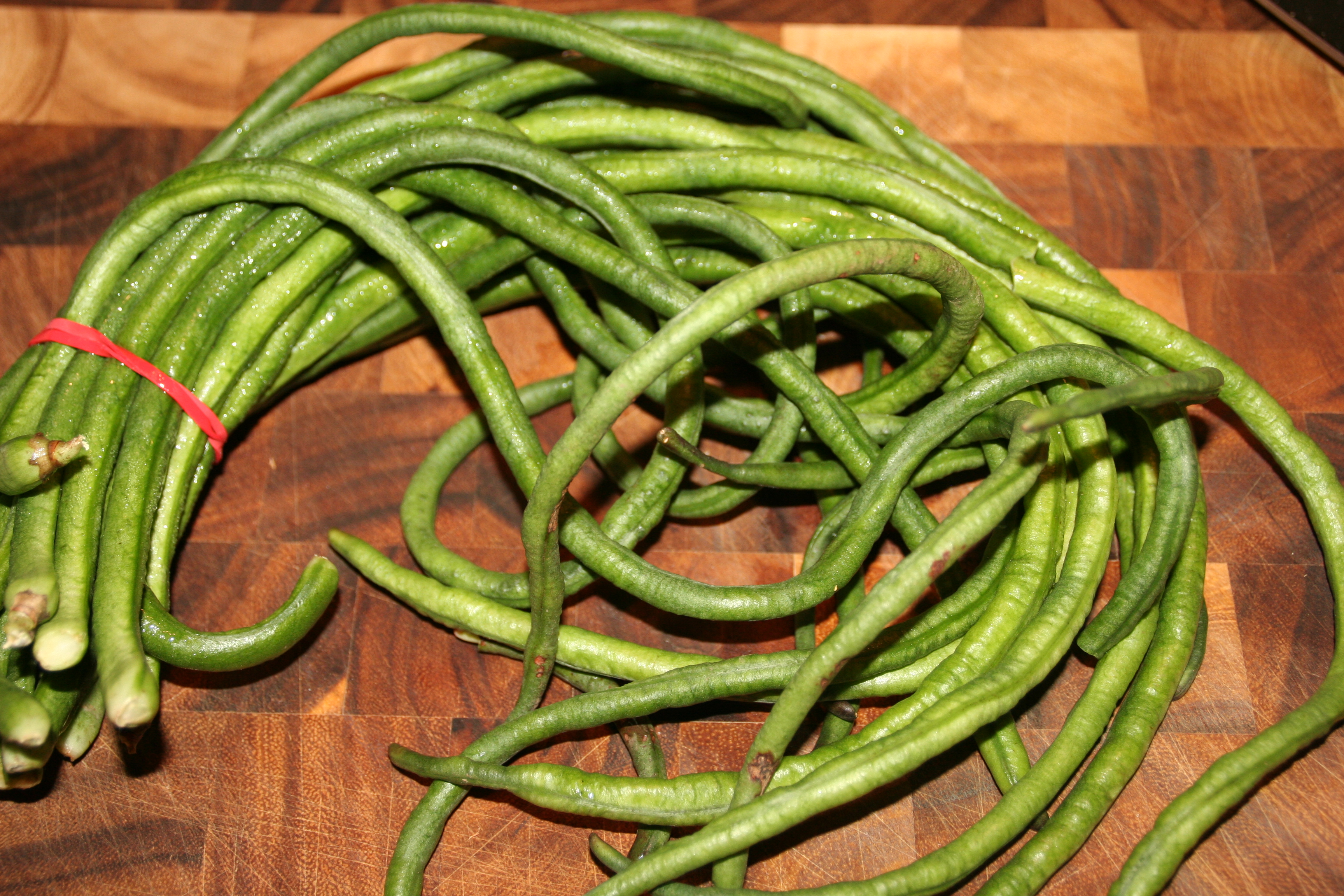 Long beans (Vigna unguiculata sesquipedalis).
POTATO & LONG BEAN CURRY
Amit's mum, Mrs Gupta, has been cooking this dish for family, friends and guests for many years, but significantly, it has a rather eminent fan: Madhur Jaffrey — who liked it so much that she featured it in her book "Curry Nation". Whilst filming with Amit in Leicester, she ate this dish regularly with chapatis, yoghurt raita and black dal. "It made me feel that I was in my own home," she said. "Nothing could have been nicer."
Serves 4
• 5 tablespoons olive or sunflower oil
• ¾ teaspoon cumin seeds
• 1 large onion, finely chopped
• 1 teaspoon turmeric
• 500g / 1lb 2oz potatoes, cut into 2.5cm / 1 inch pieces
• 250g / 9oz long beans, or green beans, cut into 2.5cm / 1 inch lengths. (Long beans, or yard long beans, are about one foot in length and are commonly found in Asian markets. If you can't get them, use ordinary green beans instead).
• Salt, to taste
• ¾ teaspoon of garam masala
> Method
1  Pour the oil into a medium-sized pan, about 20cm / 8 inches diameter, and set it over a medium heat. When it's hot, add the cumin seeds and cook for 15 seconds. Quickly add the onion. Stir and fry for about five minutes, or until the onion is lightly browned.
2  Add the turmeric, stir once and add the potatoes, beans and salt. Mix well, cover, reduce the heat to low and cook for 15 minutes, or until the potatoes are almost done. Stir a few times during this period.
3  Mix in the garam masala, replace the lid and continue cooking until the potatoes are soft, about five minutes more, then serve.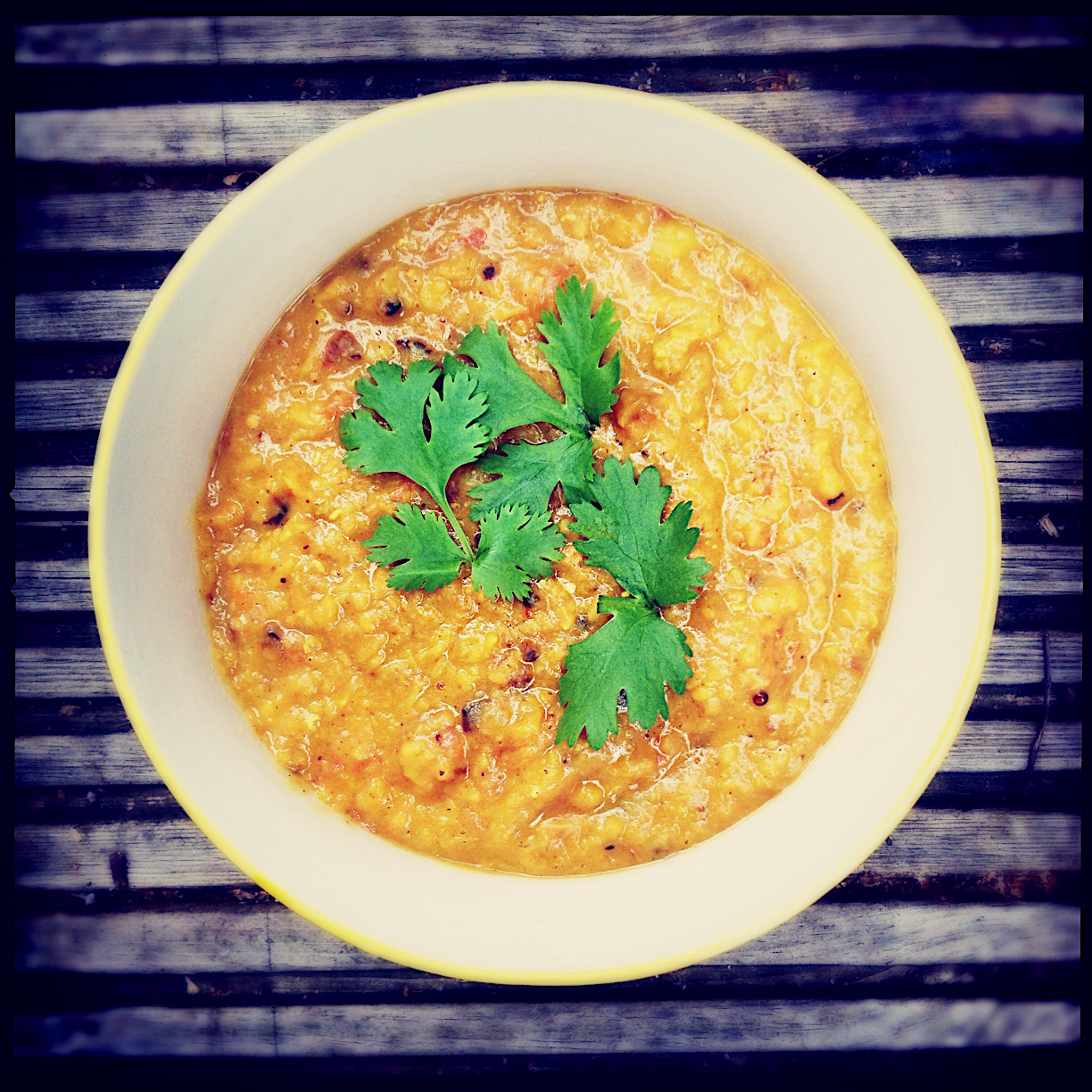 DAL WITH COCONUT & TOMATO
This is my own go-to recipe, which I make on fairly large scale and then freeze in batches so it's ready for when I need something wholesome, delicious, lightly spiced and comforting.
Serves 4
•  250g / 9 oz toor dal (or red lentils)
•  1 cinnamon stick
•  1 level teaspoon turmeric
•  165ml / 5½ fl oz can of coconut milk
•  3 tablespoons of vegetable oil
•  1 large white onion, peeled and finely diced
•  3 cloves of garlic, peeled and finely sliced
•  2 thumb-sized pieces of ginger, grated (leave the skin on)
•  1 level teaspoon garam masala
•  1 teaspoon cumin seeds, toasted and ground
•  1 teaspoon coriander seeds, toasted and ground
•  2 teaspoon mustard seeds
•  25 (or so) curry leaves (you can buy these fresh in bulk and freeze them)
•  2 whole peeled plum tomatoes (tinned is fine)
> Method
1  Give the lentils a good rinse in plenty of cold water to distribute any of the starchy dust that will make the dal gluey.
2  Put the lentils in a large saucepan with 1.2 litres / 2½ pints of cold water, the cinnamon stick and the turmeric — bring to a boil. Skim off any froth that surfaces and simmer for one hour, or until the lentils are cooked (you many need to top up with a little extra boiling water towards the end).
3  Add the coconut milk and a little salt. Do not let this mixture boil – the coconut will curdle if this happens. Continue to cook for a further 15 minutes until it has thickened but remains soupy.
4  Take the pan off the heat.
5  In a frying pan over a moderate heat, add the oil. Then fry the onion until it's soft and beginning to turn golden brown – about 10 minutes. Add the garlic and grated ginger and continue to fry for a further three minutes.
6  Add the spices, mustard seeds and curry leaves – put a lid on the pan – and gently fry until the mustard seeds have stopped jumping about and crackling. Add the two tomatoes and cook for about 5 minutes until broken down and mixed well with the spices.
7  Add the spiced onion tomato mix back into the dal, stir well and check the seasoning.
Whereas the Midlands and East London are two of the best places to go for amazing Asian food in the UK, right here on my doorstep in North West London I have a wonderful array of Middle Eastern restaurants to choose from. Much as I love cooking up a storm at home, I can't resist the call of my local Lebanese restaurant, The Cedar. I especially love their dips, flatbreads and salads — the perfect food to share as a vegetarian feast, or a lovely accompaniment to their kebabs and grilled meats. I wish I could get my hands on their recipe for moutabal (a smokey aubergine dip), to no avail, so I've tried to replicate it as best I can here.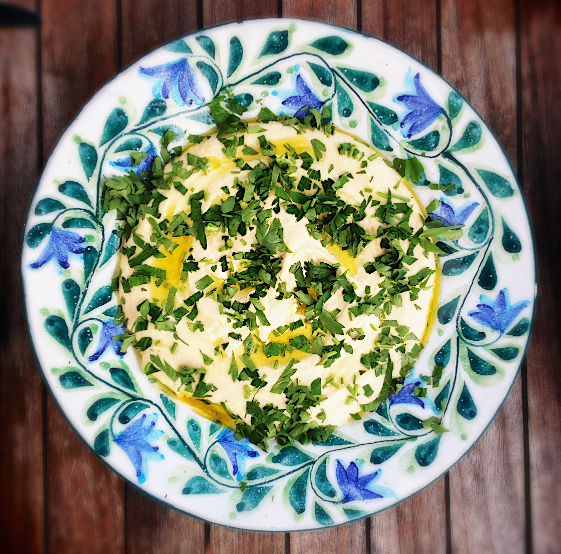 MOUTABAL
The idea is to get a deep smokey flavour into the flesh of the aubergine (egg plant) — some recipes tell you to scorch the skin over an open flame but that's not possible without a gas hob; and, even if you do have one, it really can make a mess. So, a barbecue is a great option when the weather is good. But, if not, you can char the skins in a griddle pan then finish them off in the oven.
Serves 6 as part of a selection of mezze.
• 2 large aubergines (about 250g / 9oz each), slashed lengthways 4 times
• 2 fat garlic cloves, chopped and mashed to a purée with 1 teaspoon of sea salt flakes
• 2 tablespoons tahini paste
• Juice of half a lemon (or more to taste)
• 1 tablespoon extra virgin olive oil
• Sea salt
To serve
• Extra virgin olive oil
• 1 teaspoon smoked paprika
• 2 tablespoons pine nuts, toasted
• 1½ tablespoons finely chopped fresh parsley
• Flatbreads
> Method
1  Light the barbecue. When the flames have died back and the charcoal is grey but with an orange glow (after about 20 to 30 minutes), put the aubergines on the grill and cook for 20 to 30 minutes, turning often, until well charred and completely soft. Or, if you're cooking inside rather than outside on the barbecue, char the skins in a hot griddle pan over a medium heat, then transfer to an oven preheated to 180°C / 355℉ normal oven (160°C / 320℉ fan oven), then cook, covered with foil, for 20 minutes until softened through.
2  Let the cooked aubergines cool, then split them open lengthways and scrape the flesh into a bowl, cutting as close to the skin as possible — taking care not to pick up any charred skin.
3  Mash the aubergine flesh with a fork or whizz in a food processor with the garlic, tahini, lemon juice and 1 tablespoon of olive oil. The tahini taste should be subtle (remember, you can add more, but you can't take it out) and the lemon juice shouldn't make it overly tart. Season with sea salt to taste.
4  Put the moutabal in a shallow bowl and make indents in the top. Pour over the olive oil, sprinkle over the pine nuts and parsley, dust with smoked paprika and serve with flatbreads.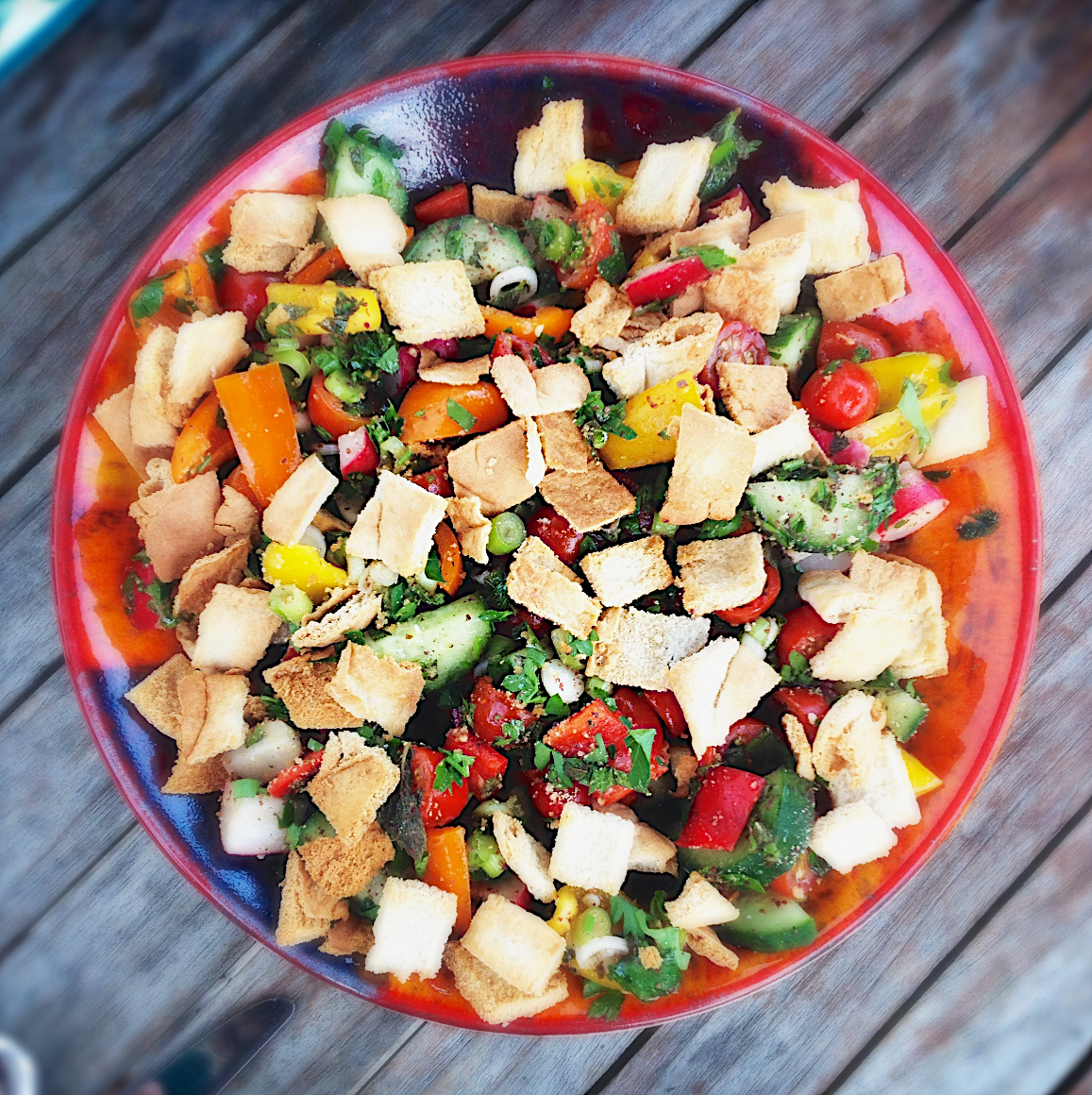 FATTOUSH
I love this salad by Sabrina Ghayour — the cucumber and peppers: crunchy and refreshing; the tomatoes: ripe and full of flavour; the lemon and herbs: a zesty tang. You can easily leave out the toasted flatbreads; there's usually quite enough bread in a Middle Eastern meal and it's nice to have a lighter dish to offset the rest.
Serves 10
•  2 (preferably stale) large pittas or flatbreads (optional)
•  400g / 14 oz cherry or baby plum tomatoes, roughly chopped
•  4 heads baby gem or romaine lettuce, halved lengthways and roughly chopped
•  1 large cucumber, halved lengthways and cuts into 1cm / ½ inch thick half-moons
•  1 red pepper, cored, deseeded and cut into 2.5cm / 1 inch dice
•  1 green pepper, cored, deseeded and cut into 2.5cm / 1 inch dice
•  200g / 7 oz radishes, trimmed and cut into quarters
•  1 bunch of spring onions, thinly sliced
•  20g / ¾ oz flat-leaf parsley, leaves picked and finely chopped
•  20g / ¾ oz mint, leaves picked and finely chopped
•  1 heaped tablespoon sumac, plus extra to garnish
•  5 tablespoons olive oil
•  Juice of 1½ lemons
•  Sea salt and freshly ground black pepper
> Method
1   Preheat oven to 200℃ / 390℉ normal oven (180℃ / 355℉ fan oven). Line a baking sheet with nonstick baking paper.
2   Cut the pittas or flatbread roughly into 4cm / 1½ squares and lay them on the baking sheet. Toast them in the oven for 15 minutes, or until they are dry and completely crunchy.
3   Put all the salad ingredients into a large salad or mixing bowl and sprinkle over the sumac, olive oil, lemon juice and sea salt and black pepper to taste. Toss the salad well, ensuring everything gets a good coating of dressing. Serve it piled high, topped with the toasted croutons and an extra sprinkling of sumac.
As I bounce around from one world cuisine to another, there is one more celebratory recipe I'd like to share with you. I've appropriated these cookies into my own repertoire, not out of any personal claims of authenticity, but simply because I adore them. These are traditional at Mexican weddings, but they make lovely gifts and I'd happily serve them anytime, anywhere.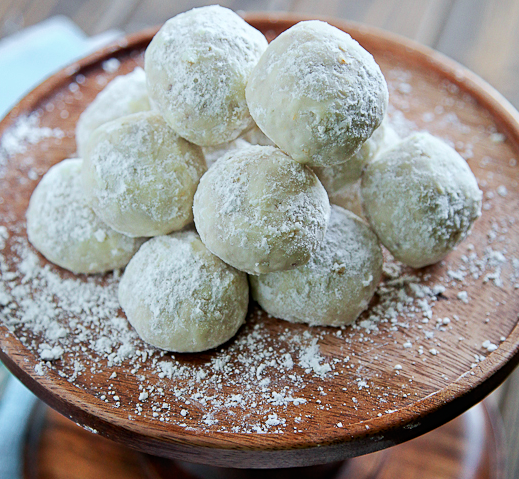 WALNUT WEDDING COOKIES
In these dense, crumbly biscuits, the tannins of the walnuts are perfectly complimented by the creaminess of the butter and the sweet dusting of icing sugar. The recipe comes from a fabulous trio of cookie recipes by one of my favourite bakers: Claire Ptak, formerly of Chez Panisse restaurant in Berkeley, California.

Makes about 35 cookies
•  175g / 6 oz unsalted butter, softened
•  75g / 2½ oz caster sugar
•  100g light muscovado sugar
•  1 egg
•  ½ teaspoon salt
•  100g / 3½ oz buttermilk
•  1 tablespoon runny honey
•  ½ tablespoon vanilla extract
•  375g / 13 oz plain flour
•  225g / 8 oz walnuts, finely ground
•  Icing sugar, for dusting
> Method
1  Preheat oven to 150℃ / 300℉ normal oven (130℃ / 265℉ fan oven).
2  Use an electric mixer to beat the butter and sugars until pale and fluffy.
3  Add the egg and continue to mix until it is incorporated.
4  Add the salt, buttermilk, honey and vanilla, and beat well.
5  Stir the flour and walnuts into the butter mixture and mix well.
6  Use a teaspoon to scoop small balls of dough. Roll into balls and bake for 20 minutes.
7  Remove from the oven and allow to cool slightly. Toss in icing sugar and allow to cool completely. Toss again in icing sugar.
First published in JWC December 13, 2015.

LAURA POPE works as a private chef to clients in the UK and abroad. She has also cooked in some very wonderful establishments worldwide — from a boutique hotel in southwest France to the restaurants Chez Panisse in California and Ottolenghi in London. She teaches cooking, develops recipes, blogs and has created gluten-free recipe apps for the iPad.
See Laura's website and Facebook page.
Photos by the author.