Lowry and the Painting of Modern Life
Standfirst
LONDON: Tate Britain finally agrees to exhibit its collection of Lowrys, in a major new exhibition charting the artist's entire life and career.
Body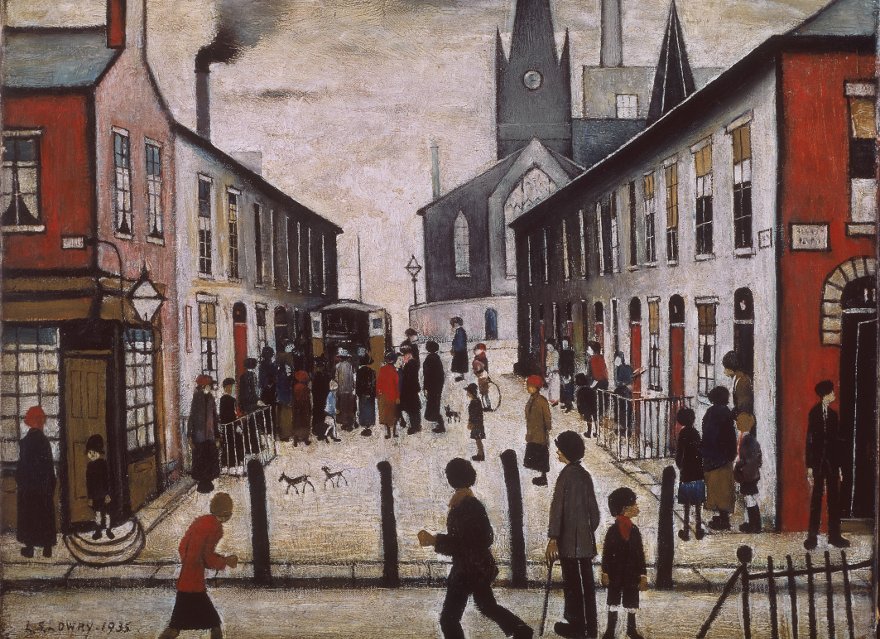 Despite prolonged and public criticism from the likes of Sir Ian McKellan, Tate has been keeping its collection of 23 paintings by LS Lowry in storage for the best part of half a century. Whilst for some years, this has been seen as an example of a stubbornly elitist agenda (that forsook the popular paintings of Lowry in favour of the complexities of conceptualism), now that Tate Britain has finally opened a major exhibition dedicated to his work, it might begin to look rather different. Since free entry to major museums and galleries was made a prerequisite of public funding under New Labour back in 1997, pressure has gradually mounted on such institutions to find revenue from other means – hence expanding gift shops, restaurants, cafés, and the exponential rise of the blockbuster exhibition. With Lowry one of the most instantly recognisable and universally popular artists in the country, perhaps Tate was simply keeping its powder dry to guarantee some good returns at the turnstile.

Then again, perhaps they were only doing the old boy a favour. Because, whilst Lowry and the Painting of Modern Life does much to underline the artist's great strengths, it also spotlights in unyielding fashion his unavoidable limitations. Like John Martin before him, who Tate Britain exhibited to such great effect back in 2011, Lowry is  painter cursed by contemporaneous popularity and subsequent critical disdain. Like Martin, he is also a painter of scenes – figures, dwarfed by their setting and, viewed from a certain closeness, tending towards the childish. And like Martin, his style and subject matter is extremely distinctive – something that both suggests a certain coherence of output and risks a perennial plunge into parody.  

This probably isn't helped by Tate's decision in room 2, after room 1's greatest hits approach, to attempt to place Lowry within the tradition of French impressionism and post-impressionism. The effect unfortunately is to demonstrate that, whilst Britain may have led the world in terms of industrial innovation, when it came to formal artistic experimentation, it was a good half century behind what could be termed 'modern'. Lowry is rooted in his time via various archival materials (a recording of George Formby, the books of Richard Hoggart) and quotations from George Orwell and, later, John Berger. But he may have been better served through comparison with British painters of a similarly singular vision – such as Stanley Spencer or William Blake or George Shaw. As it is, it's an unfortunate conclusion that Van Gogh's Outskirts of Paris (1886) is the best thing in the entire exhibition by some distance.

Because, in comparison to Pisarro et al, Lowry can come across as almost painfully samey. Few individual works stand out in the memory, and one is left more with an overall impression of an oeuvre – an impression that is probably already familiar to anyone even vaguely interested in art without them actually having to go and see the exhibition. Long blocks of rust-brown terraces; black-billowing chimneys reaching up into heavy ashen skies; row upon row of hunched over Lancastrians gauntly shambling their way to work and home again. "Limited and repetitive," admits the wall text wryly, "in this true of life".
 
Cemeteries are cities where no one comes home from the mill.

Oddly, this is just one example of some surprisingly sprightly interpretation material, whose tone is playful, bordering on the subversive, and surprisingly ambivalent towards the work on show. There's a stern warning, for example, to those wishing to ape Lowry's approach to graveyards: "bemused sympathy could easily tip over into facetiousness". Quite right. Then, later, there's a jolly description of "the obstreperous vitality of the working classes" and another lovely line about cemeteries as "cities where no one comes home from the mill".

Such rare lightness of touch helps to bring out what variety there is in Lowry's work – the carefully framed, proudly public domesticity of Flowers in a Window (1956) for example, or the dynamism of Excavating Manchester (1932) where high contrast reds, whites and blacks and the geometry of construction are reminiscent, interestingly, of Russian Constructivism. Meanwhile, there's something enigmatic in a primitive sense about Cumberland Landscape, the best of a room of dismal landscape efforts that depict the impact of industrial processes upon nature in a style like that of a sloshily inferior Paul Nash. More successful attempts at charting the ecological impact of industrialism come in the final room, and two brutal paintings of the Welsh landscape: Ebbw Vale and Bargoed, Wales

Lowry is good, too, at churches – in particular the oil on panel of St Augustine's Church (1924), a colossal hulk of imposing darkness and Gothic verticality. To either side, delicate graves and moments of shared personal grief. Similar in terms of composition is The Park (1924) a rigidly arranged piece of public space, featuring a football, a dog, and a pair of symmetrically arranged benches. Such rigidity, notes the wall text, quoting Jessica Stephens, is "what happens when industrialism, in a spasm of conscience, has a shot at gaiety and elegance". This is Lowry's strength.

What he excels at above all else are the rhythms and flow of crowd behaviour – the public mass of humanity, its sudden clustering together, its slow drifting apart, like ants or atoms. Going to the Match (1953), An Accident (1927), The Park (1946), The Fever Van (1935), even the hilariously futile  A Protest March (1959): in each one, the unspoken social threads between people – a father and a son, two children staring over a fence – are adroitly captured through a single brushmark depicting, say, the merest nod of a head. That is why the unavoidable irony of Lowry's work is so crushing. It is that the figures in works such as Britain at Play (1943) look just as downtrodden as those in, say, Going to Work (1959) or Coming Home from the Mill (1928). This is not carelessness, or naivety of technique; it is the relentless juggernaut of 'progress' in a post-industrial society. Lowry skewers it repeatedly, with sadness and with glee.



LS Lowry and the Painting of Modern Life is at Tate Britain until 20th October 2013.
www.tate.org.uk

Image credit: L.S. Lowry The Fever Van 1935, Walker Art Gallery (Liverpool, UK)