Riots and Reparation: an interview with Rosalind Davis
Standfirst
Tom Jeffreys talks to contemporary artist Rosalind Davis about social housing, the 2011 riots and painting London's architecture.
Body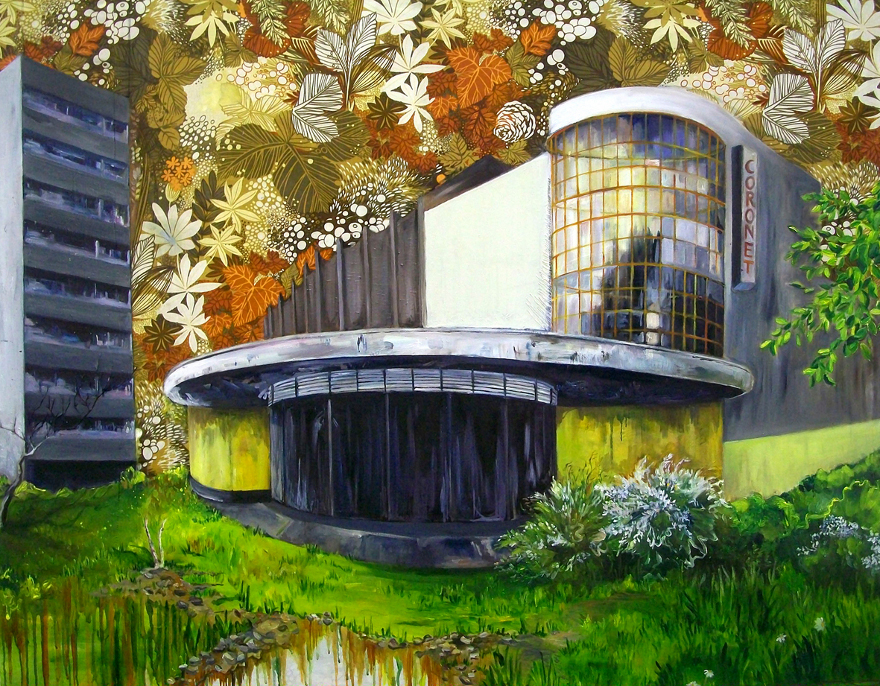 As London's Modernist blocks of bare, utopian concrete gradually crumble into council-sanctioned disrepair, perhaps now is time to take stock. Vast estates – great, grey relics of a long-abandoned ideological project – are forcibly emptied of their occupants; to be flattened and replaced with the glass and steel of the public-private mixed-use 'creative' 'development' 'hub' – bastard hybrids born of money, both too little and too much. As residents are artfully brushed aside, it is artists who take their places, at least temporarily; lingering in the ruins, listening out for ghosts.
There's plenty of them – artists that is, but ghosts too. Marcus Coates wandering the deserted walkways of the Heygate with a horse on his head; Wieland Payer planting old Modernist ruins amid exotic far-off jungles; Gordon Cheung conjuring the melodrama of a corporate apocalypse. Meanwhile Tom Ormond figures a literalised disintegration; Andrew Hollis a hollowed-out heart. George Shaw is consigned to Coventry.
Within these attempts at addressing the collapse of the urban grand narrative comes, in the best of them at least, a sensitive attunement to the personal. This is certainly the case in the works of South London-based artist Rosalind Davis, who incorporates painting, embroidery and mixed media fragments into a sustained attempt to navigate the relationship between the individual and the systemic/architectural.
"A lot of my work is about individual fragility, expressed through architecture," Davis tells me over several cups of tea at her studio in New Cross. "It's about how people's existence is broken down and repaired." This process of breaking down and repairing is at the heart of Davis' work – not just in terms of subject matter but material form as well. Davis combines paint with vintage floral fabrics and painstaking embroidery – increasingly over the years left loose-ended in a kind of literal unravelling.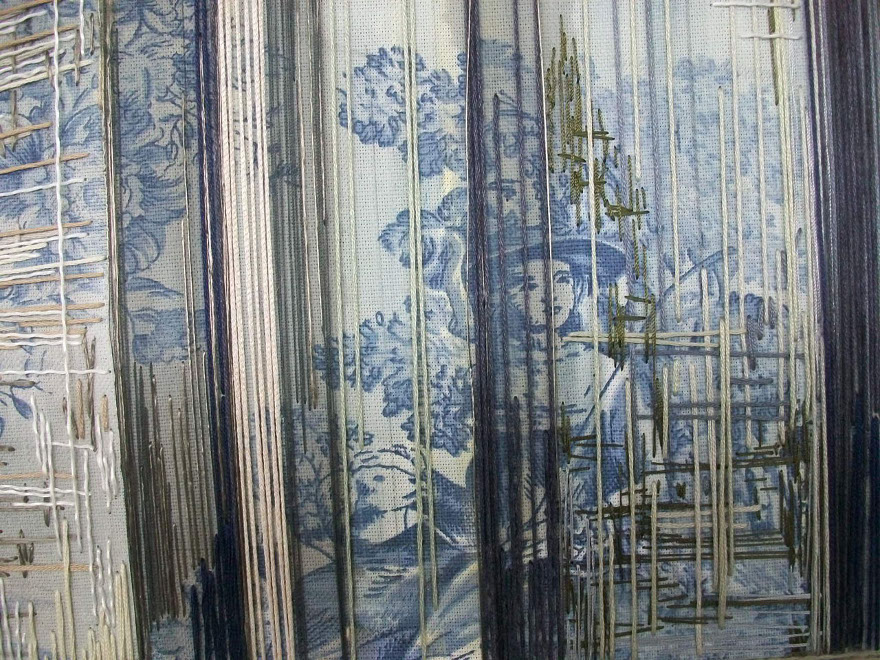 Generally, buildings – The Bede Estate, Lewisham Centre or Ardwick in Manchester – are depicted in paint, whilst the subtle patterns of interior domesticity retain a kind of spectral presence. These fabrics – sourced form local markets or donated by friends – come with their own laden histories. Davis talks of how the floral fabrics – so redolent of the 1950s – have a kind of historical connection with the buildings themselves. But there's something different at work too: an idea of domesticity, of femininity, that undercuts or softens or goes beyond the hard, straight lines of these (male-designed) estates.
If textiles are here associated with the private and the feminine, then paint is, like architecture, the realm of the public and the masculine. Davis describes paint, intriguingly, as a "really intimidating medium. It's so loaded, with so much history and there's so much to it – it can crowd you almost in its possibilities – but at the same time, there are so many brilliant ways of using it." This relationship between the agency of the individual (artist, architect, policy-maker, resident) and the systemic (historical, ideological, socio-political) seems, to me at least, to lie at the absolute heart of Davis' work – both aesthetically and conceptually.
After graduating from Chelsea in 2003, Davis completed an MA at the RCA and has since exhibited across London and the UK, and currently has work in East Wing' Biennial X at the Courtauld Institute until July 2013. Davis is also a curator and co-runs with Annabel Tilley an organisation called Zeitgeist Art Projects, which organises a host of artist practice events, talks, discussions, tutorials and exhibitions.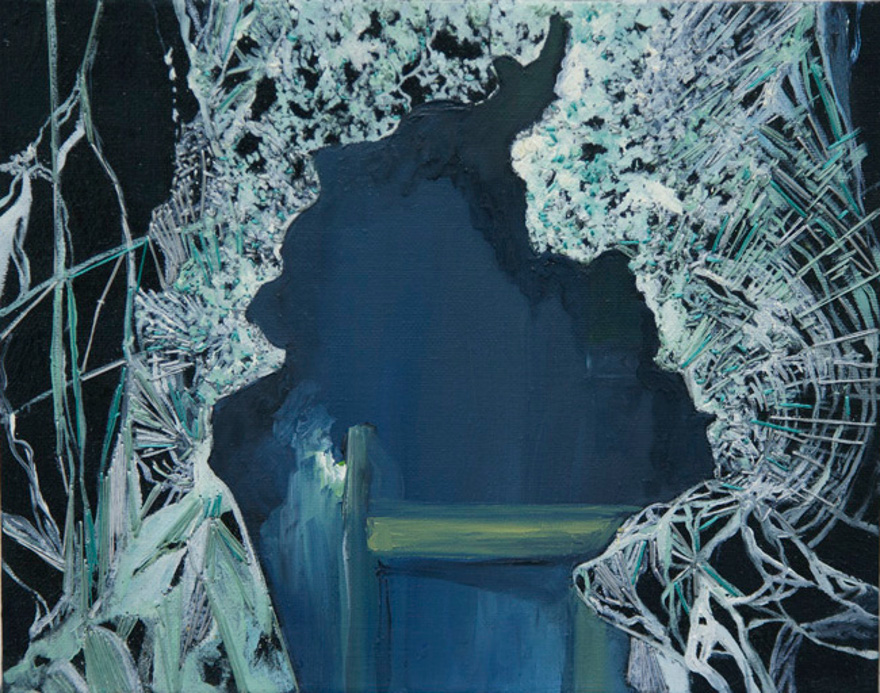 At the time of writing, Davis is working towards a solo show in early 2013 – taking place not in a shiny white contemporary art gallery but at Bruce Castle in North London. The building is a Grade I listed property owned by the local council – a 16th century manor house originally, but remodelled in the 17th, 18th and 19th centuries and now a museum of local archives. It's a "mish-mash of architectural styles", Davis tells me – a kind of collage that echoes her own working practices, perhaps.
But there's another more obvious reason why Davis has chosen to exhibit here. Bruce Castle stands on Lordship Lane in Tottenham, the epicentre of the rioting that spread across London and the UK in August 2011. The works that Davis is showing there are a direct response to the events of those few days. It was a time of personal upheaval that coincided with Davis being evicted from her previous studio – making clear, as Davis puts it, "the relationship between identity and buildings, losing your home, losing your space".
But of course it was also a universally troubling moment, and – perhaps in response –Davis has, for the first time, utilised the imagery of the mass media (as opposed to her own photographs) – broken shop-fronts, smashed-in windows and other familiar scenes. And yet the finished works – which are on show in her studio when I visit – have a kind of intimacy which is at once alluring and unsettling. Davis talks of the desire to explore "sensations of vulnerability and insecurity" in works that are at once calm, violent, and, she notes, "quite lovely, which is unexpected".
These quiet, blue works form a series of personal relics – "a kind of commemoration (the stitch being about reparation)". There's a note of the elegiac here – a contemplative sadness for a past and absent moment of violence – but also hope, beauty and a sensitivity to the individual (story/event/rioter/shop-owner). For, arguably, it is a lack of sensitivity to the disruptive impulses of subjectivity that created the first stress fractures in the top-down imposition of state utopias. And it is the same mistake being made today in the market-driven developer free-for-all. Davis' brushstrokes foreground this collapse, and her stitches figure the slow, painstaking possibility of a return of hope.
Rosalind Davis - To The Light is at Bruce Castle Museum, London from 14th August to 15th November 2013.
Image credits (top to bottom): Well Hall Road; Ardwich, Manchester (detail); Halfway Through the Dark Pt VII 
www.rosalinddavis.co.uk