Peel & Dice a Mango in 20 seconds, You Can Do It!
Standfirst
Many say they can do this, and they can. But no one, at least no one we've found, knows how to do it in 20 seconds. Well, on our travels in one of the many countries in the world where mangoes are grown to be consumed with love and ardor, Mexico, we found a master. Below we show you two videos. The first is by a cool and charming, food savvy New Yorker, Stephen Cusato, on his Youtube channel, Not Another Cooking Show. The second is a Mexican we stumbled upon in Coyoacán, in Mexico City, whose name is Arturo. (We asked him for his last name, I mean, we didn't want to broadcast his talent without giving him full credit, but he deferred.) So, we're calling him Arturo of Coyoacán. You can find him at the corner of Francisco Ortega and Felipe Carrillo Puerto, where he is every day. While Stephen does an excellent job of explaining five ways of cutting a mango for simple and fancy culinary applications, Arturo has him on speed. Give it a try. When you master Arturo's technique, or can do it in twice his time, send us a video and we'll put it here beside Arturo's. ¶ Plus, buying a mango salad in Venice, California, plus three mango recipes for your personal pleasure!
Body
Stephen's 5 ways
Courtesy of Not Just Another Cooking Show >
Arturo's 1
Courtesy of Arturo of Coyoacán. Office hours: daytime.
Mango Stand in L.A.
At the corner of Lincoln and Venice Boulevards in Venice, California, we were introduced to a friend's favorite fruit vendor who makes a tasty mango salad with chili. You can order it very spicy, but we had it mild, with a few sprinkles of chili powder.
3 MANGO RECIPES — MUY DELICIOSO!
SALMON CEICHE WITH AVOCADO AND MANGO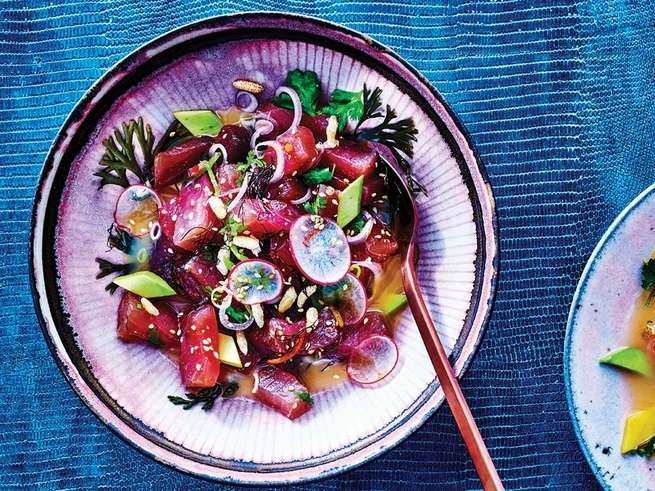 Serves 4, takes 2 hours.
Ingredients
14 oz. skinless, boneless salmon, or pink or orange trout fillet
1 small firm-ripe avocado
1 small firm-ripe mango
Kosher salt and white pepper
1 tbsp. cilantro leaves, finely chopped
1/4 cup thinly sliced shallot
1 tbsp. minced ají limo or habanero
Crispy Quinoa, optional
1⁄2 cup Leche de Tigre
Instructions
At least 2 hours and up to 1 day before serving, rinse the fish. Pat dry. Cut into ½-inch cubes. Spread out in a single layer on a baking sheet. Chill, uncovered, for 2 hours or up to 1 day. (If longer than 2 hours, top with parchment paper.)
Up to 1 hour before serving, peel the avocado and mango and slice as thinly as possible. Cut into bite-size pieces and layer between 2 sheets of plastic wrap to prevent browning; refrigerate.
In a chilled bowl, add the fish and a pinch each of salt and white pepper. Let stand for 30 seconds, then add the cilantro, shallot, and ají limo or habernero, and stir for 10 seconds. Garnish with avocado and mango pieces to taste, and sprinkle with crispy quinoa, if using. Serve immediately, pouring the liquid over the fish at the table.
Recipe courtesy of Saveur >
AVOCADO, TOMATO & MANGO SALSA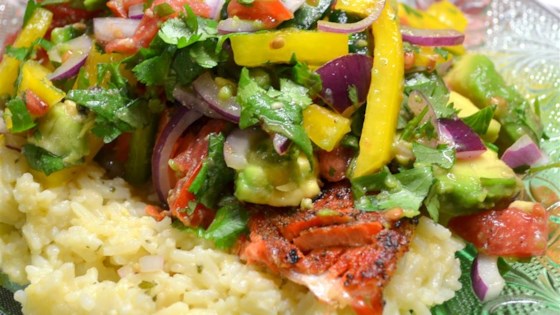 Serves 6. Prep time 15 minutes; ready in 45 minutes.
Ingredients
1 mango — peeled, seeded and diced
1 avocado — peeled, pitted, and diced
4 medium tomatoes, diced
1 jalapeno pepper, seeded and minced
1/2 cup chopped fresh cilantro3 cloves garlic, minced
1 teaspoon salt
2 tablespoons fresh lime juice
1/4 cup chopped red onion
3 tablespoons olive oil
Instructions
In a medium bowl, combine the mango, avocado, tomatoes, jalapeno, cilantro, and garlic. Stir in the salt, lime juice, red onion, and olive oil. To blend the flavors, refrigerate for about 30 minutes before serving.
Recipe courtesy of Allrecipes >
AVOCADO TOAST WITH MANGO, CHILI POWDER, AND MINT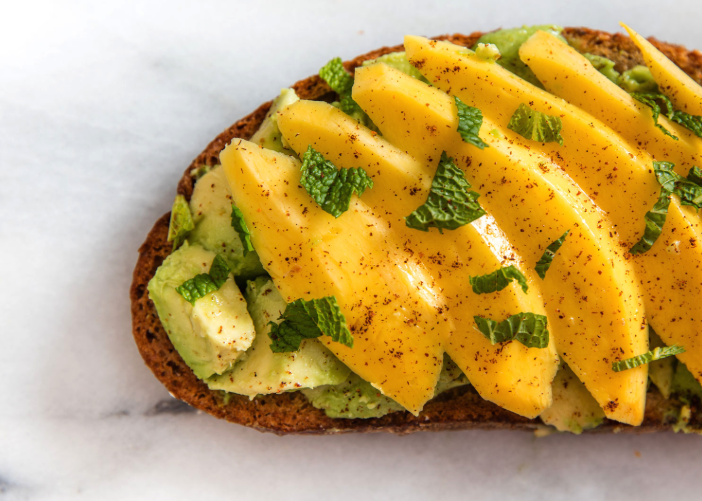 Serves 1, takes 5 minutes.
Ingredients
NOTE: The volume of each ingredient will depend on the size of your bread and personal preference. Apply to taste.
1 slice country or sandwich bread, approximately 1/2 inch thick
Extra-virgin olive oil
1/2 medium pitted and peeled Hass avocado
6 (1/4-inch thick) slices mango from 1 small peeled and pitted mango, or enough to cover surface of bread
Freshly squeezed lemon juice to taste, from 1/2 lemon
Ancho chili powder
Freshly chopped mint leaves, for garnish
Flaky sea salt
Directions
Lightly brush bread with olive oil and toast to desired level of doneness. Top with avocado and mash with a fork to cover entire surface. Add single layer of mango, sprinkle with a squeeze of lemon juice, and dust with a dash of chili powder. Garnish with mint and salt. Serve.
Recipe courtesy of Serious Eats >

O. FERN has served as the mascot of the Society for the Preservation of Wild Culture since its inception, and before, in preliminal space, when its destiny was unfurled out of the damp grunge of an Ontario floodplain in May.