Standfirst
LONDON: The problems behind Genesis, Sebastião Salgado's current exhibition of photography at the Natural History Museum.
Body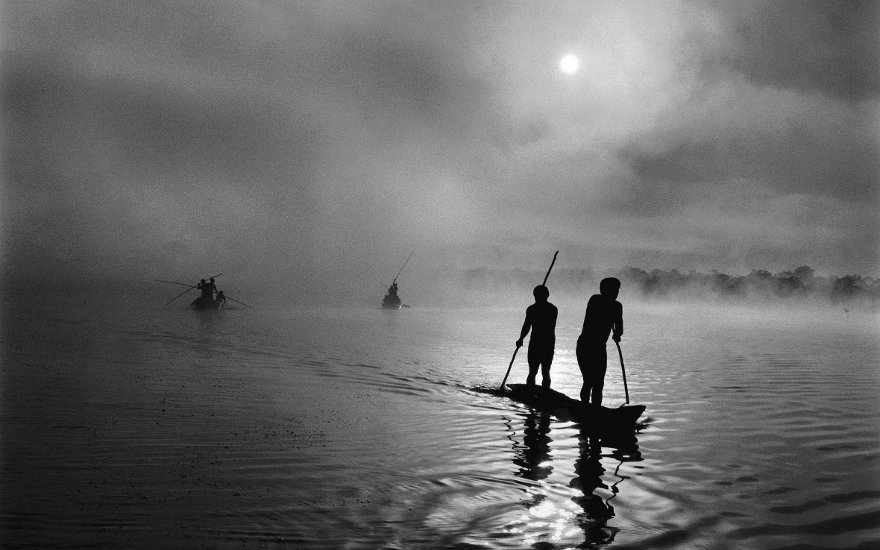 Until the autumn, London's Natural History Museum is showing the world première of "Genesis", the latest major project by the Brazilian photojournalist, Sebastião Salgado. By showcasing the last "pristine" corners of the earth, Salgado invites us to imagine our planet in a former state of grace. Presented in the form of over two hundred black and white images, Genesis takes you on an epic journey around our "fragile planet", from the stillness of the poles, to the chaos of the tropical rain forest. These environments, as well as the indigenous peoples, animals and plants that depend on them, are presented as part of a world that's been largely left behind. He aims to capture the few places that have remained unspoiled by human beings, or scenarios in which indigenous people live in harmony with their environment. Genesis was conceived as a "call to arms" for conservation and sustainability, and a way of advocating humanity's rediscovery of itself as part of nature.

When it comes to Salgado's technical skills, or his ability to produce dramatic and captivating images, one cannot doubt his talent. There are however, many aspects of Genesis that I find quite problematic. Firstly, I can't help but think the underlying messages are buried a little too deep. Salgado's slick, monochrome style certainly mesmerises, but it does so in the wrong way. It's rather difficult to re-imagine humanity as part of nature, if the nature with which we are presented somehow doesn't look real. Some of the other aspects – hardly touched upon in the initial wave of critical reviews – are much more serious...

Although Salgado shows a romantic admiration for the"ancient tribes" he photographed, the exhibition flirts with concepts of human evolution that have long been condemned by anthropologists. The captions don't exactly help. One of them, describing the Korowai people of Papua New Guinea, mentions how they continue to use stone tools to this day, and how they have "become known as the Stone (Age) Korowai". Genesis essentially attempts to show examples of indigenous people whose culture and way of life has remained least effected by globalisation. What it fails to stress is that even the most 'traditional' and remote communities are, like the rest of us, still living in the present. They are not throwbacks to the past, but simply one aspect of what it means to be human in the twenty first century.
 
Vale's business relies upon the exploitation, rather than the preservation of the environment.

But there's another, more fundamental problem, at the heart of Salgado's Genesis: the exhibition's main sponsor is a Brazilian mining company called Vale. One of the largest producers of raw materials on the planet, they were identified in 2012 as the company with the "most contempt for the environment and human rights in the world". The honour (currently held by Shell) was given out at the annual Public Eye Awards ceremony, organised by Greenpeace and the Berne Declaration, a non-profit organisation from Switzerland. A group called The International Articulation of those Affected by Vale provide an almost endless list of the suffering caused by the company in South America and beyond. Last year they published the Vale 2012 Unsustainability Report, in which allegations are made of forced displacement and refusal to pay re-settlement costs, cruelty in the mines, and severe damage being inflicted upon local ecosystems. A similar case-study released by Friends of the Earth International reveals Vale's lobbying activities, exerting pressure on politicians in order to influence and undermine climate change policies (their own carbon emissions went up by a third between 2008 and 2010).

One of the larger mining projects that Vale are involved with domestically is located in Rio de Janeiro. Since opening, the steel complex of Companhia Siderúrgica do Atlântico has increased the city's carbon dioxide emissions by around 75% (as estimated by the Rio de Janeiro State Environmental Secretariat). Rather than bearing any responsibility, Vale take advantage of various 'false solutions', including carbon offsetting, in order to continue their operations. According to Friends of the Earth, the project has also adversely affected the livelihoods of thousands of fishing workers. Local people are clearly not being taken properly into account. Meanwhile, in Mozambique, Vale's Moatize coal project has forced over a thousand families to relocate against their will. The people were divided between two groups; 'rural' and 'semi-urban'. Those who were considered 'rural' were relocated far from their original homes. According to Human Rights Watch, the people affected face "serious disruption in their access to food, water and work". Tired of being persecuted, members of the local community took to the streets in protest. Similar demonstrations against Vale have been held in various locations throughout the world, including by the indigenous Kanak people in Canada, where poor working conditions in the mines led to lengthy strikes.

Ironically, given these controversies, Vale still claim to be "committed to sustainable development by respecting the environment and the people" wherever they operate. This, of course, is precisely the message they're looking to get across by helping to fund projects like Genesis. On a large notice, positioned at the exit to the exhibition, Salgado and his wife thank the company for their continued support. When the pair began Instituto Terra (their own reforestation project in the River Doce Valley, Brazil), Vale, they say, kindly provided them with seedlings. In light of their other activities, one cannot help but view this gesture with a healthy dose of scepticism.

Whether or not Vale are guilty of every crime levelled against them, their business clearly relies upon the exploitation, rather than the preservation of the environment. For a project that's supposed to be a call to arms against the destruction of our planet, they are, it must be said, hardly an ideal source of funding.


Sebastião Salgado - Genesis is at the Natural History Museum, London until 8th September 2013.
http://www.nhm.ac.uk/
www.vale.com
 
Image information: Brazil, 2005. In the Upper Xingu region of Brazil's Mato Grosso state, a group of Waura fish in the Puilanga Lake near their village. The Upper Xingu Basin is home to an ethnically-diverse population. Image: © Sebastião Salgado/Amazonas Images/nbpictures