Standfirst
The author, part of the art duo Henry/Bragg, unearths some truths about trash and nature.
Body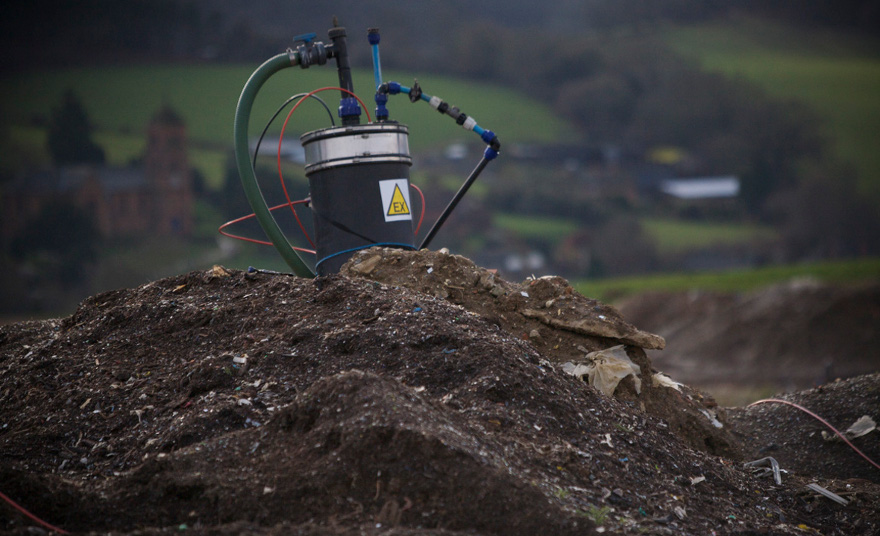 "Human society sustains itself by turning nature into garbage." Mason Cooley
It had started suspiciously when the little old lady's wheelie bin went missing. In an effort to cope with the situation I suggested sharing ours, but who would know that one elder citizen could produce so much rubbish. One small woman consuming so much in a week that every time I made the malodorous trip downstairs to rid myself of my own crap, I found myself pounding down the already compacted, old lady trash.
The situation was workable until the day I returned home to find the ultra-compressed receptacle un-emptied, with its fetid mouth gaping open on bin day. Why? Why would someone leave the bin in this state, knowing it meant a week of leftover food scraps, and the European Union teabag mountain in my kitchen? Because the lid wasn't down. That was why: the lid wasn't down. Collectors, it seemed, didn't like the collective.
"I'm very sorry, but we've been supplying you with a service you shouldn't have had in the first place," was the council response.
And then, a few days later, the bin disappeared completely. This, clearly, was theft, and had to be reported as such. I was informed by a pre-programmed person on a switchboard that I would need a crime number in order to get it replaced. He then passed me on to another pre-programmed person on a different switchboard, this time that of the police. Could I describe the bin? Certainly: green, with wheels and a hinged lid. What size was the bin? Bin-sized. When did I last see the bin (alive)? It wasn't something I saw, so much as something that was there – more noticeable by its absence than its presence.

A new bin was duly delivered, but it wasn't emptied again on two occasions. It turns out that in doing a good deed I had been breaching bin etiquette by not placing my bin out on the pavement. Apparently I had been benefiting from a council arrangement to collect the bins of elderly residents who couldn't manage to get to the gate. "I'm very sorry, but we've been supplying you with a service you shouldn't have had in the first place," was the council response. This only served to heighten my obsession and feeling of victimisation. In what was fast becoming a war of attrition, I began to place my bin on the footpath in a selection of creative ways that would make it increasingly more difficult to collect. Insurrection was my chosen weapon in order to fox my enemy.

In retaliation my bin became ever more evasive and I would regularly come home on a Tuesday evening to find it some distance from the front gate. As the next Tuesday came around I found myself on the look out – standing at the front window and staring down the entire road visible from my bay window. Just then, the wagon rounded the corner at the far end.

Oooeee oooeee oooh. Wah wah wah.

Ennio Morricone's theme music from The Good, The Bad and The Ugly moodily inserted itself into my head. I stared down the good half mile to the end of the road, narrowing my eyes and flexing my fingers around my hip. I imagined the driver doing the same, and waited for him to get close enough to draw. He stopped. He stepped down from the wagon, and took in the view. Slowly, he went over to the nearest wheelie bin, picked it up, and attached it to the rear of the vehicle, from where the contents of the bin were duly tipped inside. Then, the man pushed the bin away in a cursory fashion towards somewhere not even remotely close to where it had come from. And then he got back in.

Revelation came quickly and hard. Perhaps my partner was right: I was not Clint Eastwood, I was being a "bit of a twat", and the bin-men simply "didn't give a shit about their job" because nobody cared about them.
This largely unseen world and the hidden care, consideration and skill involved in essentially turning garbage back into nature.
Perhaps a more stealthy approach might yield better results, the kind I could serve to them cold, in a dish. I rang the council and pretended to be an artist (as opposed to a spiteful subscriber), wove them a tale about the bad hand I felt their workers were dealt, and offered to document their work for posterity, or at least until it needed throwing away.

The next week I found myself in the office of a very cheerful and friendly refuse manager who didn't resemble Blofeld, or even own a white cat. The department offered me a free reign and for the next six months I worked alongside the men – because they were all men – of the refuse collection service. I learned the system hierarchy; with the litter pickers at the bottom of the pile and the bin-men who worked on collections at the top. It turned out that far from being petty and vindictive, like me, most bin-men were simply a bit sloppy from time to time, and not remotely the black-hatted villains I had set myself against. My determination to bring them down from the inside was tempered, then neutered, by the time spent with them. I realised that I'd spent my time trying to majorly inconvenience a non-existent pantomime villain of my own invention.

These people warmly gave me an insight into their working lives – an insight which paved the way for me to get permission to document a working landfill site in the nearby area. Debbie Bragg and I (working in partnership as Henry/Bragg) were then able to spend eighteen months working at the site. Landfills have historically received bad press, and have innate hazards attached to them, but having got to know the staff at the site, we wanted to show this largely unseen world and the hidden care, consideration and skill involved in essentially turning garbage back into nature, or at the very least an illusion of it.

Today, the site is almost full, and we've been documenting the process as it slowly transforms back to its former natural glory. It's located in the middle of the Surrey Hills, which is one of the UK's 46 areas of outstanding beauty. In the parts of the site that have already been restored, the only tell-tale signs of its previous life are the odd gas pipes sticking out of the ground, capturing the last remains of methane.

The job of restoring these undulating hills belongs to a site operative. An unassuming man, and although not formally trained, he is someone who has a great feel for landscaping and composition. It is his vision that will determine the new Surrey Hills. Armed with topological maps and a natural instinct, he is reshaping the land with his bulldozer.

The politics and environmental implications don't impinge on his approach, his "it's just a job" refrain belying the significance of icing this ravaged landscape.

The illusion of nature, replacing nature, with the nature we turned in to garbage.

www.henrybragg.com