The Antarctic Book of Cooking and Cleaning
Standfirst
The first in a three-part series on a project that asks the questions: What is Antarctica to us, and what we can be to it? A new book about the project weaves historic and contemporary photographs, recipes and daily reports in a polar journal style. At the heart of it is the story of the food.
Body
Photo by Carol Devine.
The Antarctic Book of Cooking and Cleaning | by Wendy Trusler & Carol Devine | Vauve Press | 2013
INTRODUCTION by Carol Devine
I always wanted to go to Antarctica without knowing why.
I grew up in the subarctic and often went to school with icicles in my hair. I used to press one hand on the top of the globe and with the other spin it so quickly that the water and continents blurred together. What was that odd-shaped white continent down there on the bottom? Ptolemy mapped Antarctica in antiquity before anyone even knew it existed. There was only intuition that a continent must exist at the bottom of the world counterbalancing the land masses at the top. Humans have inhabited Antarctica only in the last 100 years.
Antarctica occupies a tenth of the earth's surface. Scientists tell us that the icy continent most resembles the moon of Jupiter: Europa—also thought to hold a liquid ocean beneath its ice. None of us are going to Europa, and only a tiny sliver of the human population will ever be lucky enough to visit Antarctica. I was one of the fortunate few. My first moments on the continent felt as if I had reached both the moon and a kind of paradise amidst those baby blue icebergs.
One condition was that we had to bring our own cook.        
Antarctica is critically important to the planet and is a mirror reflecting what we humans mean for the Earth. Nature's laboratory in the south reveals things like a record of the Earth's climate held in its 420,000-year-old ice core. The Antarctic Peninsula and the surrounding oceans have warmed faster than anywhere else in the Southern Hemisphere. It is evident, in the first moments one spends here, that the continent bears devastating marks of human activity.
As a nascent humanitarian, I wanted to do something previously untried — to set up a project that would give Antarctic visitors an opportunity to help conserve the environment in that wild, remote place. I approached Sam Blyth, who ran a company that took adventurers to the Antarctic, and we created the VIEW Foundation — Volunteer International Environmental Work — but we needed a partner. I wrote letters to authorities in the U.K., Russia, Poland and Australia asking if they would be interested in having international volunteers assist with conservation efforts at their Antarctic stations. The Russian Antarctic Expedition (RAE) offered to host VIEW volunteers, and they agreed to the cleanup at Bellingshausen.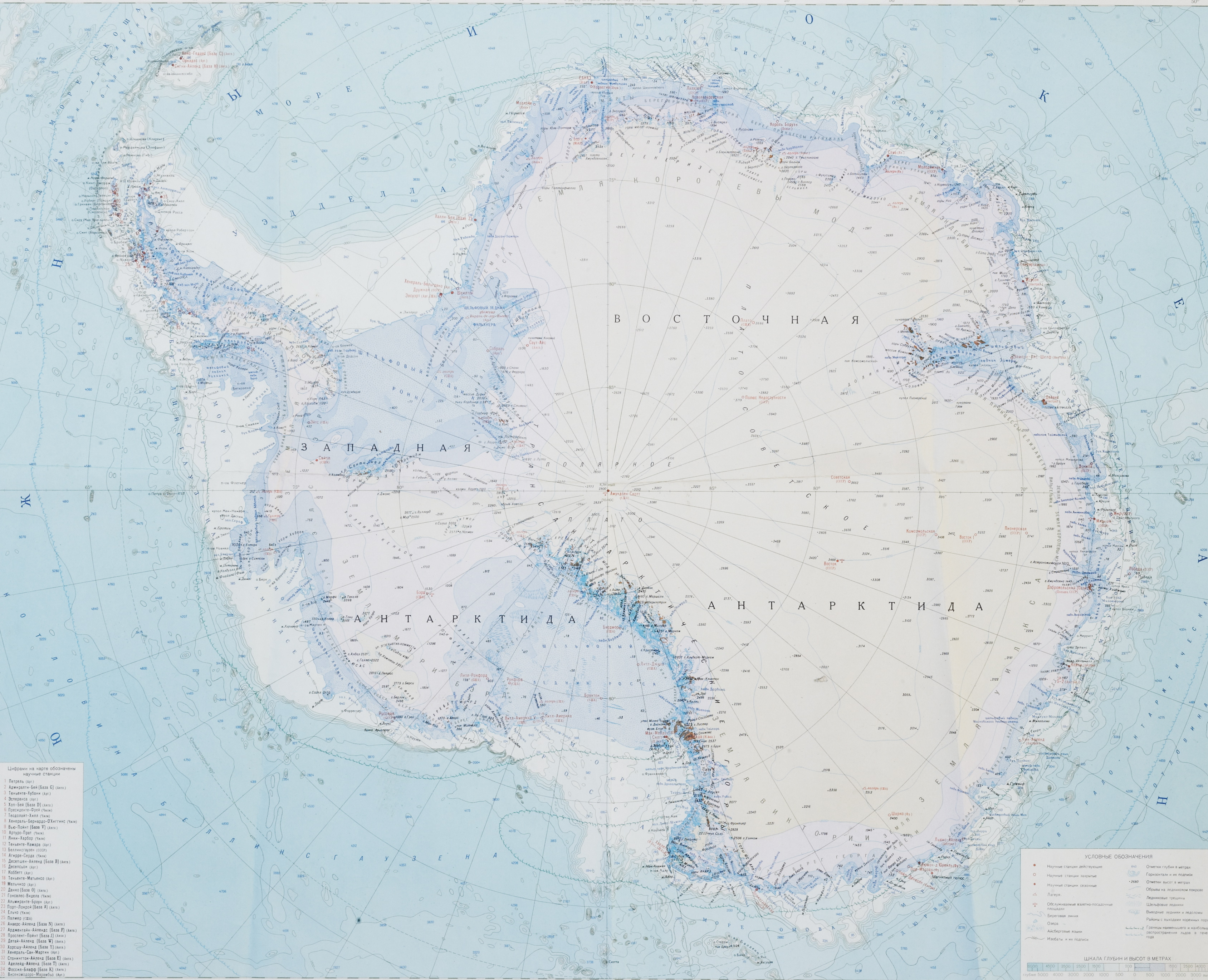 The Russian map of Antarctica. Photo by Sandy Nicholson.
One condition was that we had to bring our own cook. I was daunted. I had no idea where I was going to find someone to spend three months hustling meals at a dilapidated Russian base in the Antarctic. A friend recommended Wendy Trusler, renowned for her cooking at tree-planting camps across the Canadian north. I called Wendy immediately and asked if she wanted to interview for the job. She said yes and I soon met her: there she was looking (very unconsciously) like Amelia Earhart. A few days later I savoured her honey oatmeal bread and held the beautiful hand-carved wood burls she showed at her solo art exhibition. I offered Wendy the job, scoring not only a cook but also a respected visual artist.
The Antarctic Book of Cooking and Cleaning is a journey through one austral summer at a Russian scientific station on a small island off the Antarctic coast. The book is also a look at the challenges of cooking in a makeshift kitchen at the bottom of the world.
Bellingshausen Station in on King Geroge Island (in red).
Casting Off — Ushuaia, Argentina
Journal entries by Carol Devine (CD) and Wendy Trusler (WT)
DECEMBER 8, 1995
WT: Flowers and bushes in bloom. One minute we are in sweaters and jackets, the next T-shirts. Food arrives to ship three pages short of my original dry goods order. Thank goodness Kevin, the chef on the Petrov, is willing to help out. Arrange to meet with our supplier Gualdasi tomorrow before we set sail to see if he can send the missing items with our perishables on the Multanovskiy.
Head to a supermarket to confirm translations and then a late dinner with Dave and his new girlfriend. Black sea bass en papillote, an Argentinean white and good company. We catch up on tree-planting gossip and struggle through the purchase order. What a relief they both speak Spanish. Return to ship. Sleep.
DECEMBER 9
WT: Provisioning fiasco continues. Kevin, Lena and I meet with Gualdasi in his family home. Serves coffee, freshly squeezed OJ, and we sample a succession of products paraded through. Ordering is a language lesson and diplomatic challenge. What is dulce de leche?
How do you serve it? Sure, I'll try it. Leave feeling confident my food order will be filled somehow, someway, but aware I'm going to be faced with some creative challenges over the next few months. Back to ship. Launch after phone call to Mom and Dad.
CD: We set sail at approximately 5:30 p.m. The weather is wet and a bit chilly. It is a slightly sad yet romantic moment when the pilot comes aboard the ship to take us through the Beagle Channel. Soon we'll be on our own in the Drake Passage.
We see Ushuaia fading in the background. The most southerly town in the world is out of sight. I have a lingering feeling of fear mixed with anticipation we are travelling to a remote place via the roughest ocean in the world and will be left on the other side.
For lack of energy to explain the concept of the Russian-Canadian environmental expedition to the Russian crew, Lena now describes Wendy and me as scientists.
I am mellowing out. Because of a schedule change I have no control over, we have four extra unexpected days until Lena, Wendy and I are dropped at Bellingshausen. We get to see more Antarctica with the tour group.
Antarctica goes on impossibly like the forever horizon.
DECEMBER 11
WT: The ship is a big cradle rocking us to sleep. Some passengers appear only for meals and then pad back to their cabins to nap. Outside it's just water, sky and seabirds—we're all waiting for the first iceberg sighting.
Enter calmer waters today at Deception Island, old whaling station. Desolate, beautiful and historic. I wonder about what we will find at Bellingshausen and its relative historic importance; what we have the right to remove and what should remain. To bed thinking of a million things, waking regularly, wondering what the continent will be like tomorrow—my birthday. First exam dream.
DECEMBER 12
CD: Felt blast of Antarctic air when I went on the ship deck at 6:30 a.m. Only two of us were out there. On the Petrov they put the coffee on early. I couldn't sleep. Antarctica! Silent and serene.
An oblong block of the whitest ice floated not far away. I thought it might be thousands of years old and maybe I'm the only person ever who saw it in that form. I studied the other bergs and when I looked again at the ice cream berg it was aquamarine, reflecting sky, sea and the sun rays. I couldn't stop smiling. That iceberg was secretive; perhaps I could only see a tenth of it. Antarctica goes on impossibly like the forever horizon.
This ship is our miniscule spaceship in the massive ocean, our trip through the Drake Passage to the Southern Ocean like entering the moon's orbit, only horizontally.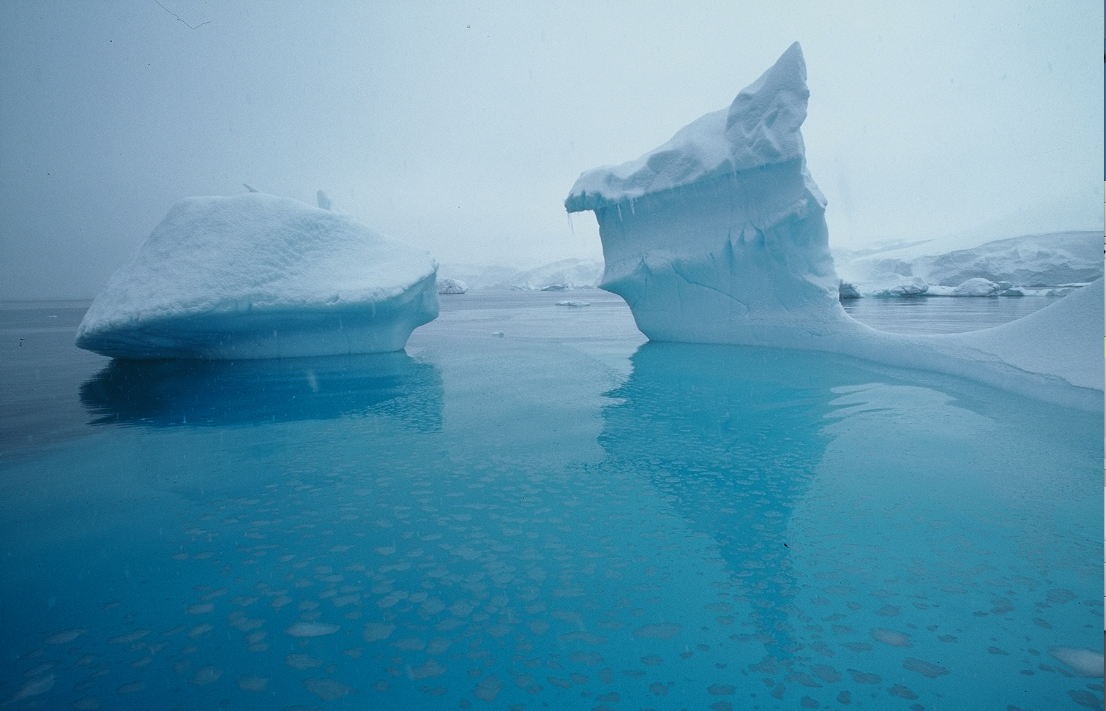 Sandy berg. Photo by Sandy Nicholson.
DECEMBER 15 — Bellingshausen Station, King George Island
WT: Finally we are at Bellingshausen. Cookies and care packages from the ship's kitchen.
Excited at the sight of snow and the promise that I'll be able to use my skis. Our own iceberg in the bay and penguins too. Mosses, lichens and rocks. The sun shining, beautiful, but through the mist it is moon-like and ominous.
Greeted at the beach by a military tractor to carry our provisions to a barrack-like building. Aren't actually allowed to help—just like on the ship. Taken to our temporary bedroom in the hospital, obviously the nicest room available.
Walking a quarter of a mile to get eggs in the morning is not going to fly. Language doesn't even frighten me much anymore.
Buildings are well-constructed and warm. Main building with mess, kitchen, and a variety of other rooms and diversions: a film room with an expansive collection, library and games room with a ping-pong table and dented pool table. Décor is sixties, but seems like a lot of money put into it initially. Transportation — all military. Concerned when we first tour the complex—wondering where people will sleep and how we'll function sharing a kitchen and dining room.
Fears abated later when Sergey gave us the building up the hill for our headquarters, and my sleeping quarters too. He was sweet to name it Canada House. It's charmingly rustic and steeped in Soviet history. The room best suited for the kitchen is windowless, with no hot water, zero counter space and dusty-rose walls, of all colours, but it beats cooking in the tent Carol scored from the Canadian government. A secret room hidden behind the sliding shelf in my kitchen will make a great pantry once I clear out the old radio wires. Everything is coming together; now I can put my mind to enjoying this place and our project. I just have to sort out where to store food so that it's closer at hand. Walking a quarter of a mile to get eggs in the morning is not going to fly. Language doesn't even frighten me much anymore.
French and Latin 101 are going to be my saving grace.
Looked through the Russian cook's kitchen after lunch.
CD: I am living on land. Major culture shock yesterday, transported not only to Russia in a matter of seconds when the Zodiac dropped us off, but to what felt like Soviet Russia.
It seems as if news of the valley was there are women at Bellingshausen. Reportedly there had been no women living here for 26 years.
Read PART TWO & PART THREE of this series.
First published in JWC August 14, 2015.

CAROL DEVINE is a modern explorer, writer and humanitarian, Carol created the first civilian clean-up project to the Antarctic with The Russian Antarctic Expedition. Carol is Program Manager for The Museum of AIDS in Africa and writes about global and circumpolar health, climate and culture. She worked for Médecins San Frontières in Rwanda, Southern Sudan and East Timor and has led workshops on the AIDS response in South Africa, Malawi and Uganda.
WENDY TRUSLER is an interdisciplinary artist, designer, writer and food stylist Wendy was the expedition cook in Antarctica. Balancing a life of food and art for over twenty years Trusler has cooked and catered across Canada and internationally, food styled for film and television and developed an art practice driven by ideas around ecology, continuity and regeneration. Trusler's design practice traces a similar orbit to her artistic impulses as she explores the potential inherent within found materials and reclaimed objects.
First published in The Journal of Wild Culture on July 7, 2014.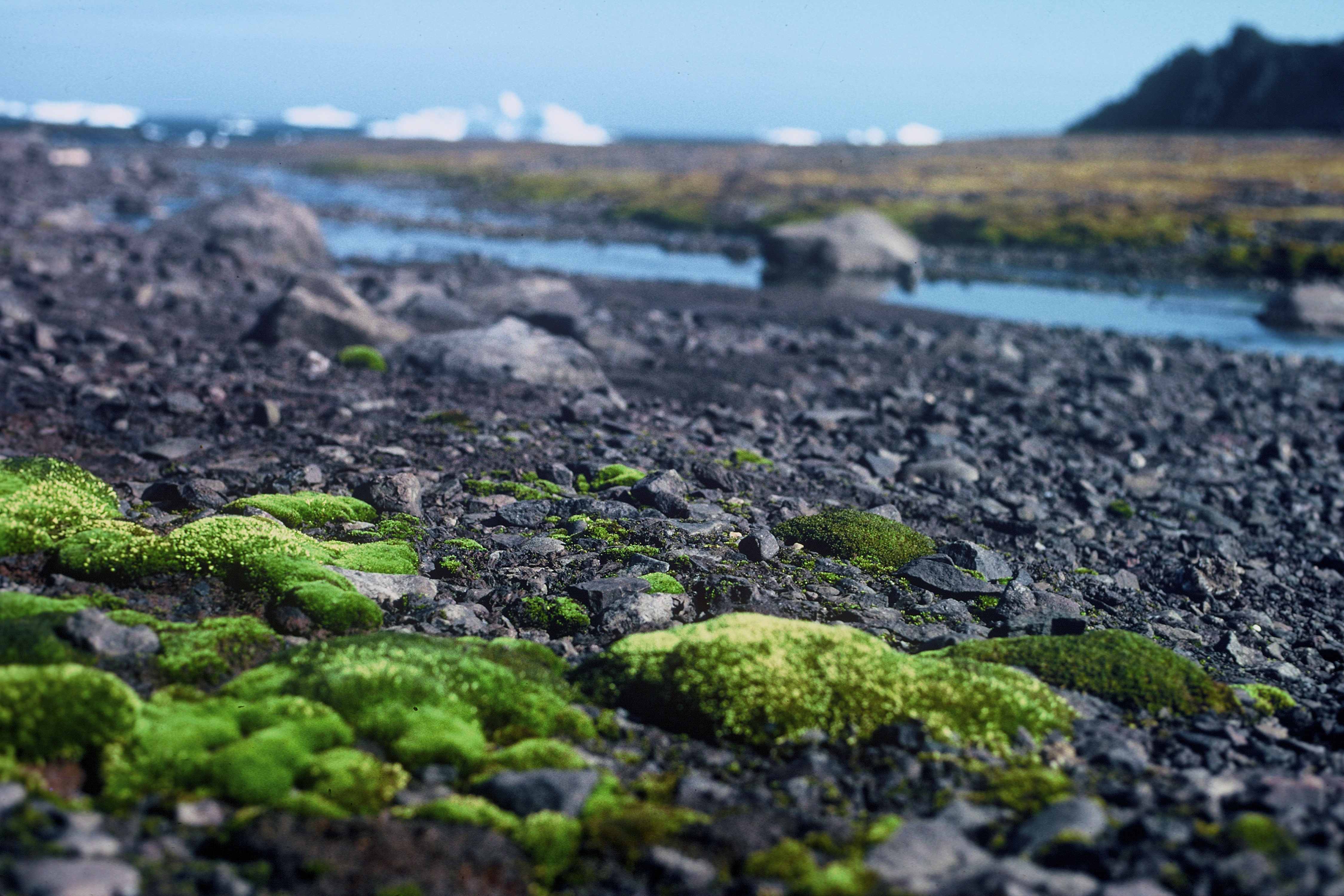 Green moss. Photo by Wendy Trusler.