Standfirst
Part 2 in our 3-part series on traveling to a faraway continent where the simplest acts — social and environmental — get edgy fast.
Body

View of Maxwell Bay from Canada House on Russian research station, Bellingshausen, South Shetland Islands, Antarctic Peninsula (full photo at bottom of page). Photo by Wendy Trusler.
The Antarctic Book of Cooking and Cleaning is a journey through one austral summer—the story of a volunteer environmental cleanup project by Carol Devine and Wendy Trusler at a Russian scientific station on a small island off the Antarctic coast. The book is also a look at the challenges of cooking in a makeshift kitchen at the bottom of the world.
In a polar journal style, woven throughout are historic and contemporary images, food stories, recipes, journal excerpts and vignettes from Antarctica's short history and this joint Russian-Canadian cleanup project. It features 42 recipes by visual artist and cook Wendy Trusler while feeding volunteers on a remote continent uniquely devoted to peace, international cooperation and science.
Whenever adventure beckons, an open mind and a full stomach are necessities.
We are an odd group: seven who've paid a considerable amount of money to spend Christmas in Antarctica taking out somebody else's trash.  
Journal Excerpts, Part 2: 'Trespassing'
by Wendy Trusler & Carol Devine
Carol: I was negotiating where we would dispose of garbage collected at Bellingshausen. Some to Argentina? Some to Russia? Maybe there is no morally superior place for garbage.
I was delighted to hear from happily returned Project Antarctica II volunteers. I also had to respond to the few who gave Wendy and team trouble. Some feedback was reasonable: they didn't get what they expected; they wanted to spend more time with the Russian biologists; cleanup equipment was lacking; they needed more rakes, gloves etc. However, the majority of volunteers self-selected well and knew what they were getting into which was that they didn't know what that was. To be honest I had no idea exactly what we would be doing either but only that we were part of some kind of greater movement. All people who came on our project were willing to work but a few still thought nature was there for them. I had a volunteer from New York in the pilot cleanup at the Polish station the year before who wrote on her feedback form, "Not enough penguins."
Wendy and I loved reading volunteer Bob Payne's Condé Nast Traveler article "Trespassing on Eternity," published in 1996.
"It was Christmas Day in Antarctica, and I am passing out gifts I made from items I found during walks amid a landscape that has been described as the earth's last pristine wilderness. For Wendy, our cook, I have created a mobile consisting of a padlock, a bent fork, a tin can lid, the base of a lightbulb, half a hacksaw blade and the head of a small ax. There are other gifts too: a penguin made of corroded welding rod, necklaces strung with an assortment of rusted nuts and washers. Odd gifts, perhaps.
But we are an odd group: seven people who've paid a considerable amount of money to spend Christmas in Antarctica taking out somebody else's trash. It's not a bad investment, really. It allows us, for five days, to become one of the very few tourists who have ever lived ashore in Antarctica, as opposed to day-tripping from tour ships. More importantly, it allows us to convince ourselves that we have an answer to the question visitors to Antarctica find themselves asking: "Do we really belong here?"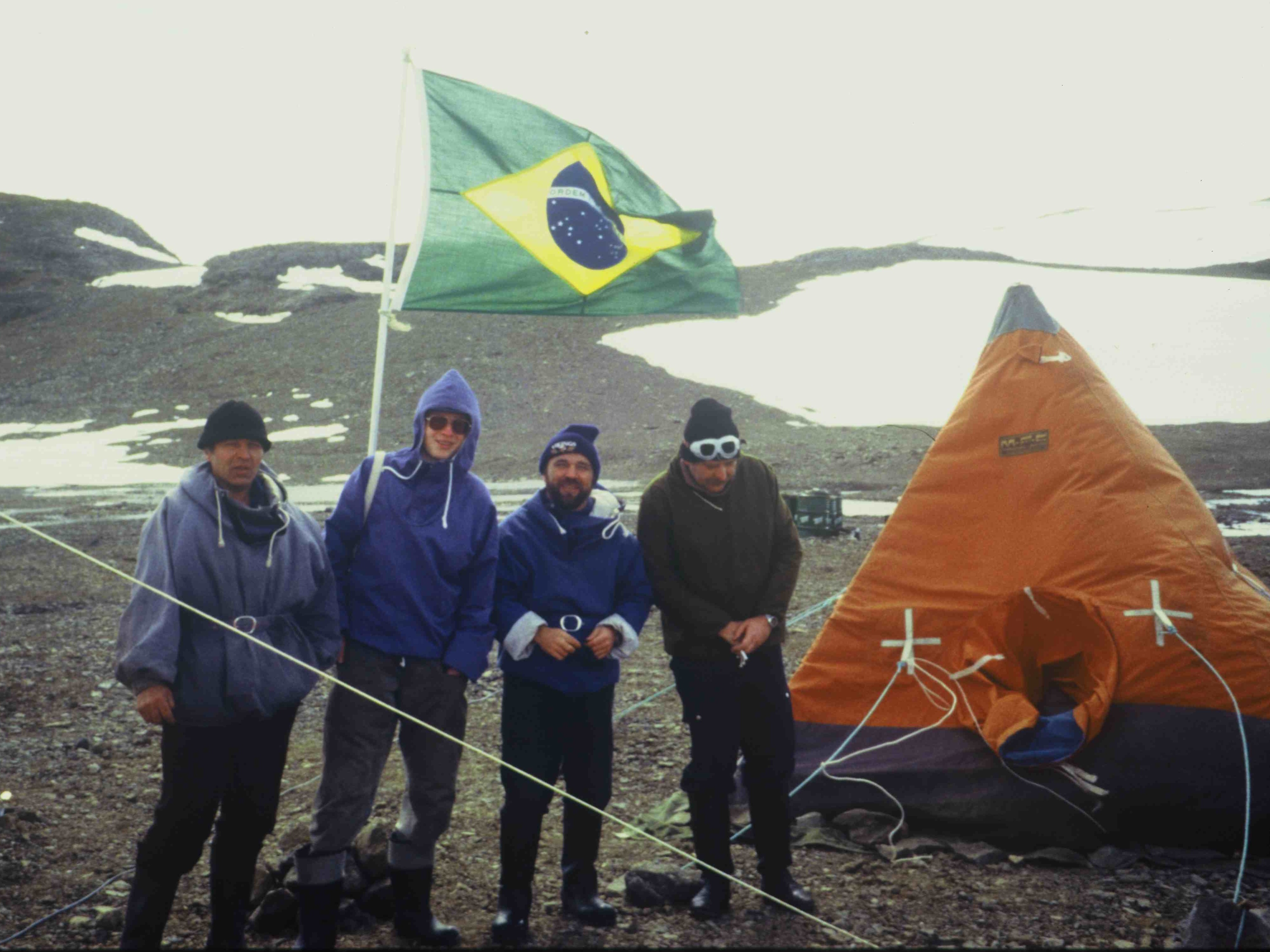 Russian team visiting international glacier study camp. Photo by Carol Devine.
FEBRUARY 14, 1996 (Wendy)
Grey. Light snow. Flurries. No wind. Smell wafting in from the Drake heavy over camp, like some ecological disaster, but it's only the elephant seal wallows. Busy changeover day. Clean up Canada House and ourselves. This Valentine's Day received gifts from the volunteers, now no fear of running out of shampoo and conditioner or hand cream—a veritable spa. Two lovely retired teachers from Toronto; they aren't very nimble so the work is pretty hard for them, but they are troupers. It helps that Sean tailors the tasks to each group and Lena is attentive, making sure everyone is warm, dry and taking regular breaks. Am tired tonight, but happy that my postcards are on their way home. Lack of communication was getting me down. Invitation aboard Livonia to give a talk about the project lines up nicely with the two month anniversary of our arrival. Ship seems civilized. Sean spoke well and I was treated to a tour of the kitchen. The crew said they would all love to be doing what we are doing.
Back at camp new group seems good: seven this time; young and environmentally aware with energy to match. Warned by the crew about Arnold the Wanderer and how he disappeared on an excursion and they looked for him for over an hour. The last thing we need is someone deciding to play with an elephant seal bull or head off to the glacier. We'll sic Sergey on him if we need to. Dinner yummy: Uruguayan Pollo Relleno and Chilean Cazuela, Barley Bread, Chocolate Fondue. Heard that my bread has created a buzz on the ships. Nice to know you don't have to plant trees all day to like my cooking.
Camp 13 Debris Collection (Feb. 10–14)
Stoney Bay Area 12: 1/2 barrel mixed
Bellingshausen Area 8a: 2 barrels mixed
 I wonder if the lesson Antarctica teaches best is not how to be alone, but how to be alone and together?           
MARCH 5, 1996 (Wendy)
Heavy heart. As we were finishing breakfast Radio and Hilltop Sashas, Dima, and Ilya told me how mariners believe if you whistle it will bring "nepogoda" (bad weather). I took it as a cue to push away from the table and head to the back stoop. They followed; we looked at each other and started whistling together. Sergey and Vadim joined in as they passed by— not that it worked. Calm water. Vavilov arrived early and departure went without a hitch, even with the dragging out of packing and goodbyes.
Dima, Sad Vlad and Hilltop Sasha to Canada House to help clean and pack. I don't think I thanked them—must do that as soon as I can by fax or telex. Gave my skis to Sad Vlad and treats to the others: rug, apron, magazines, vodka and candles. Knife to Volodya Cook and he gave me a chef's tunic, apron and hat. Found time to sneak away and go for a walk far up the beach to give my rocks and penguin parts back to Antarctica. If anyone saw me, I hope they understand.
Photographed the guys loading the PTS [amphibious tank transport vehicle] and watched it pull away from beach and fade into the mist. Lena saying, "It's so great; it's a great moment," as only she can. Later she told me one of the guys' reactions, "Who could believe that those twenty barrels are filled with little scraps of garbage—metal and glass and rusty bits, and that a person picked them up bit by bit?" If only all the volunteers could have seen this.
Wendy, 2013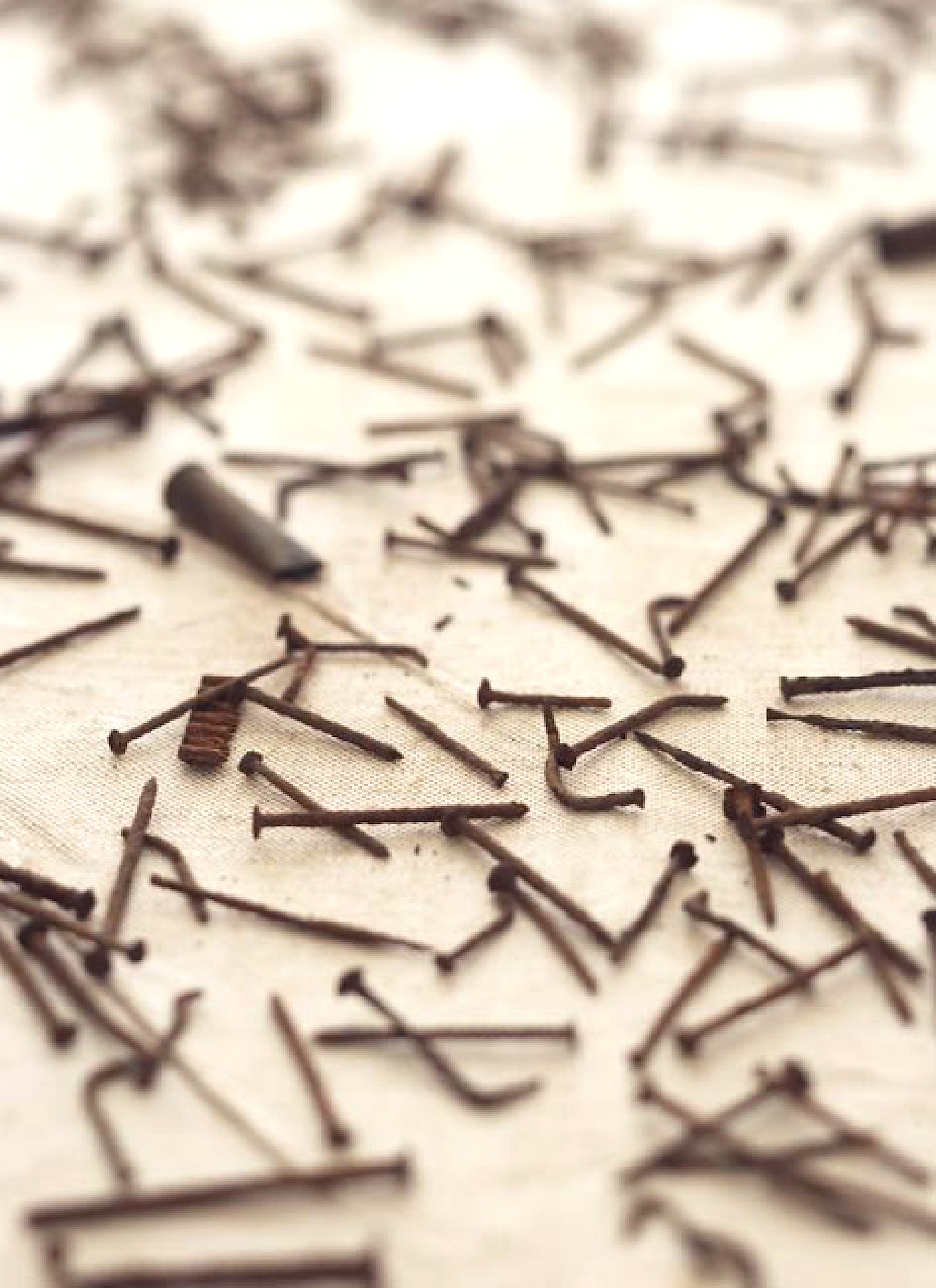 Nails that hold the unutterable force of earlier expeditions. Photo by Sandy Nicholson.
Solitude is an odd thing to search for in one of the most remote places on earth. And I laugh when I think how we hoped volunteers wouldn't miss what was around them while searching for something else. My life keeps reminding me we teach best what we most need to learn… Years later, I realize Antarctica worked its way in and carved out a space in my heart as perfect as any refuge. Huddling close together down there, I wonder if the lesson Antarctica teaches best is not how to be alone, but how to be alone and together?
Our opportunities to see humanity at its best were many—from the bottom, looking up.
Carol, 2013
In Antarctica, everything is stripped down. You have what you have and even less than that materially. It is only who you are and what you do that counts. Wendy jokes that her recipes constitute the 1,000 mile diet, but in fact her cooking at Bellingshausen reflected doing the best with what you have. Our expedition's hardships on King George Island were few but our opportunities to see humanity at its best were many—from the bottom, looking up.
"Yet as those noble peaks faded away in the mist, I could scarce express feelings of sadness to leave the land that has rained on us its bounty and been our salvation." — Frank Hurley, 1885–1962. Hurley was stuck with 28 men in Antarctica on Ernest Shackleton's 1914 Imperial Trans-Antarctic expedition. The Endurance got stuck in the pack ice. Theirs is a remarkable survival story.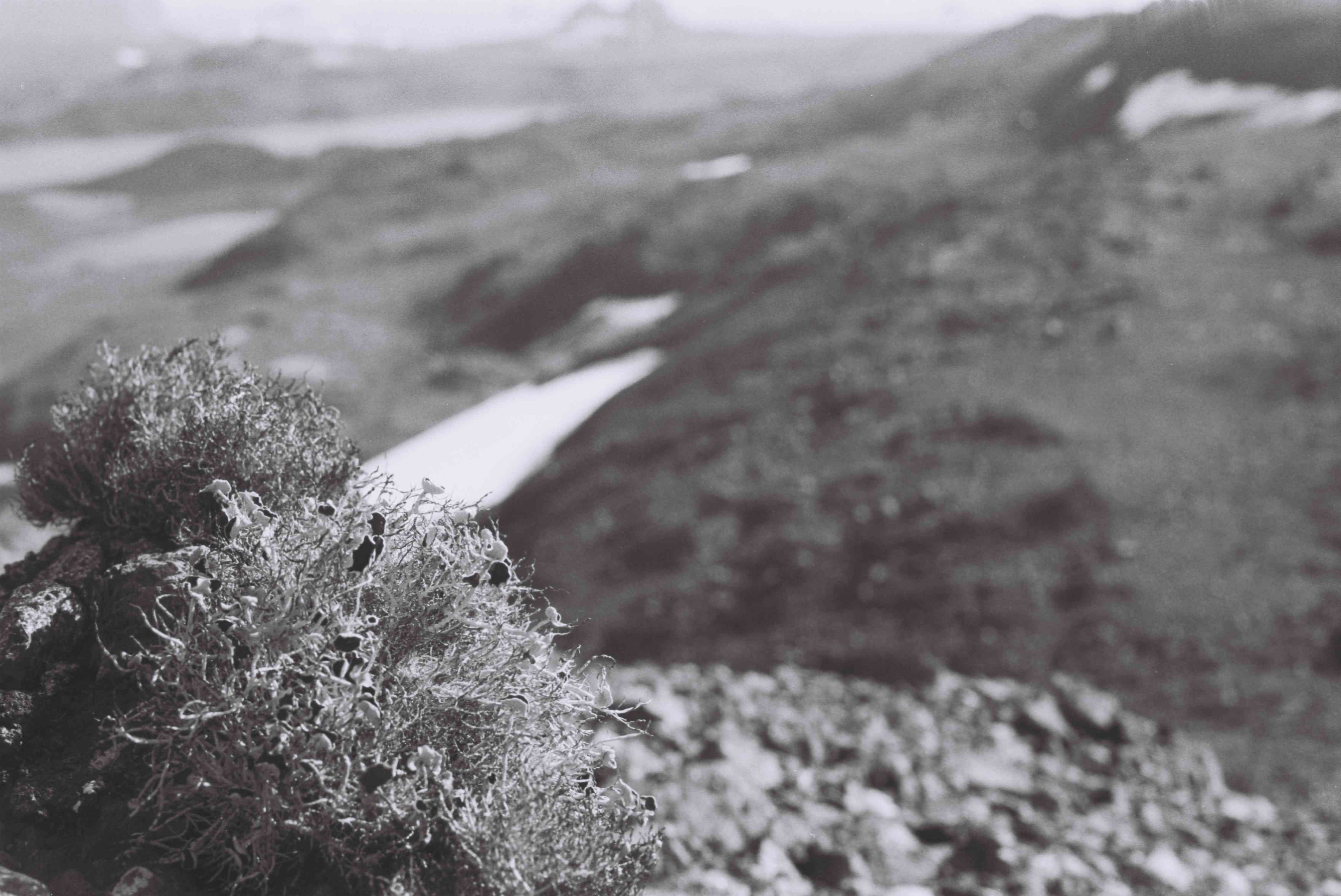 Antarctic moss, Wild Culture, King George Island. Photo by Wendy Trusler.
GET INVOLVED in Antarctic and global wilderness environment polar ocean and cultural protection outreach and education:
• Antarctic and Southern Ocean Coalition
• 2041 — "Informing, engaging and inspiring the next generation of leaders to take responsibility, be sustainable, and know that now is the time for action in policy development, sustainable business generation and future technologies. In the year 2041 the Protocol on Environmental Protection to the Antarctic Treaty <http://www.antarctica.ac.uk/about_antarctica/geopolitical/treaty/update…;  could potentially be modified or amended. Our aim is to work towards the continuing protection of the Antarctic Treaty so that the last great wilderness on earth is never exploited."
• Cape Farewell — The Cultural response to Climate Change
• WWF Antarctic teachers resources
• International Polar Foundation
• EducaPoles — The educational website of the International Polar Foundation
• Greenpeace Protecting Antarctica — The heart of the ocean
• Directory of Environmental Organizations, jobs, volunteer work, government and non-government in Canada 
• Cultural Survival partnering with Indigenous peoples to defend their lands, languages and cultures
• SCAR — The Scientific Committee on Antarctic Research, is a committee of ICSU, the International Council for Science, <http://www.icsu.org&gt;  and it is charged with the initiation, promotion and co-ordination of scientific research in Antarctica. SCAR also provides international, independent scientific advice to the Antarctic Treaty <http://www.scar.org/treaty/&gt;  system and other bodies
• Marine Conservation Organizations
PART III of this series will appear on Monday June 16: What to Cook on a Work Holiday in Antarctica. Part I can be viewed here.
Read PART ONE & PART THREE of this series.

CAROL DEVINE is a modern explorer, writer and humanitarian, Carol created the first civilian clean-up project to the Antarctic with The Russian Antarctic Expedition. Carol is Program Manager for The Museum of AIDS in Africa and writes about global and circumpolar health, climate and culture. She worked for Médecins San Frontières in Rwanda, Southern Sudan and East Timor and has led workshops on the AIDS response in South Africa, Malawi and Uganda.
WENDY TRUSLER is an interdisciplinary artist, designer, writer and food stylist Wendy was the expedition cook in Antarctica. Balancing a life of food and art for over twenty years Trusler has cooked and catered across Canada and internationally, food styled for film and television and developed an art practice driven by ideas around ecology, continuity and regeneration. Trusler's design practice traces a similar orbit to her artistic impulses as she explores the potential inherent within found materials and reclaimed objects.
First published in The Journal of Wild Culture, July 4, 2014.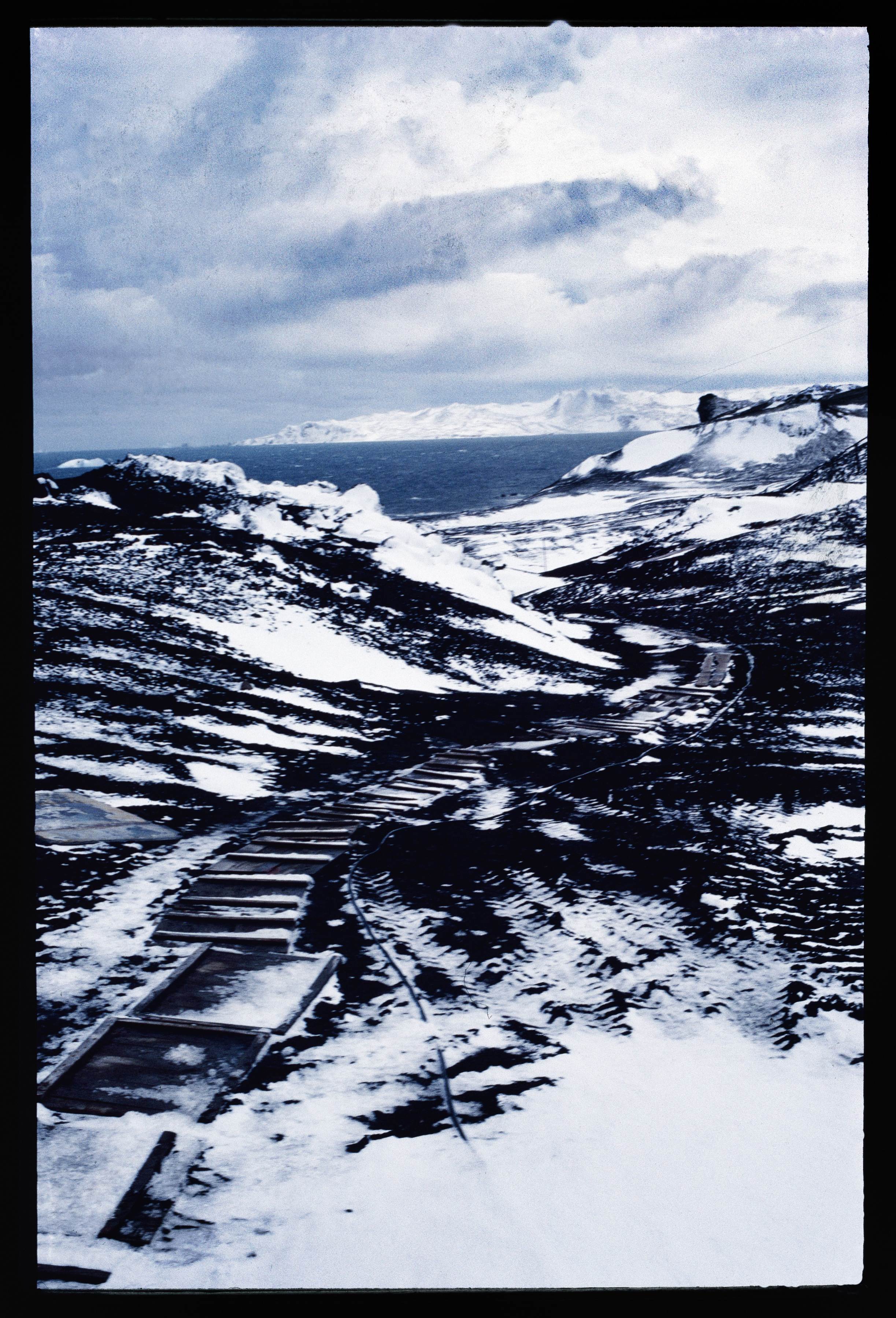 Comments
Kudos to all for doing this work and writing and photographing so eloquently. If we don't all care about cleaning up our planet, then who will? As I walk the Oregon beach where I live, the amount of trash is staggering. In your article the horror of seeing bent nails made me stop in my tracks.
Add new comment