Burmese Kitchen: Golden Egg Curry
Standfirst
In the Wild Culture (Burmese) Kitchen, Naomi Duguid, on a quest for taste, travelled to Myanmar and cooked up "Burma: Rivers of Flavor".
Body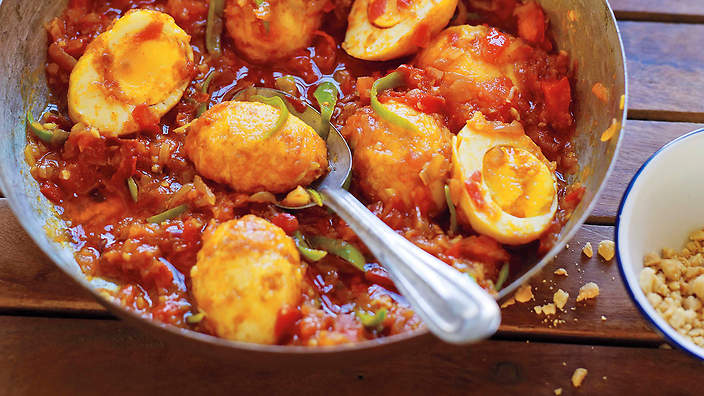 Burmese egg curry is a beautiful way of presenting eggs. They're first boiled, then peeled and fried in medium-hot oil. The smooth whites blister and firm up into an attractive golden crust. Only then are the eggs cut in half and added to a sauce — here, a light tomato-based sauce that's mildly chile hot.
Serve with rice or bread, a crisp salad, and a condiment like Crispy Shallot and Dried Shrimp Relish or Tart-Sweet Chile-Garlic Sauce.

    •    4 large or extra-large eggs, preferably free-range
    •    ⅓ cup peanut oil or unroasted sesame oil
    •    ⅛ teaspoon turmeric
    •    2 small shallots, minced
    •    2 teaspoons minced garlic
    •    ¼ teaspoon Red Chile Powder or to taste
    •    2 medium tomatoes (about ½ pound) finely chopped
    •    2 teaspoons fish sauce
    •    ½ teaspoon of salt, or to taste
    •    2 or 3 green cayenne chiles, seeded, and sliced lengthwise into 3 or 4 trips each

Place the eggs in a saucepan, add cold water to cover, bring to a boil, and cook at a medium boil for 8 minutes. Drain the eggs and cool in cold water. When the eggs are cool enough to handle, peel them.

Heat the oil in a wide skillet over a medium-high heat. Add the turmeric and stir to dissolve it. When the oil is hot enough to sizzle when a drop of water is dropped into it, add the peeled eggs and fry until golden and a little blistered all over: cook on each side in turn, then try to balance the eggs on their ends to cook the tips. Frying the eggs is a fun little task, quickly done, and it makes them very attractive. With a slotted spoon, lift the eggs out of the hot oil and onto a plate. Cut them lengthwise in half and set aside.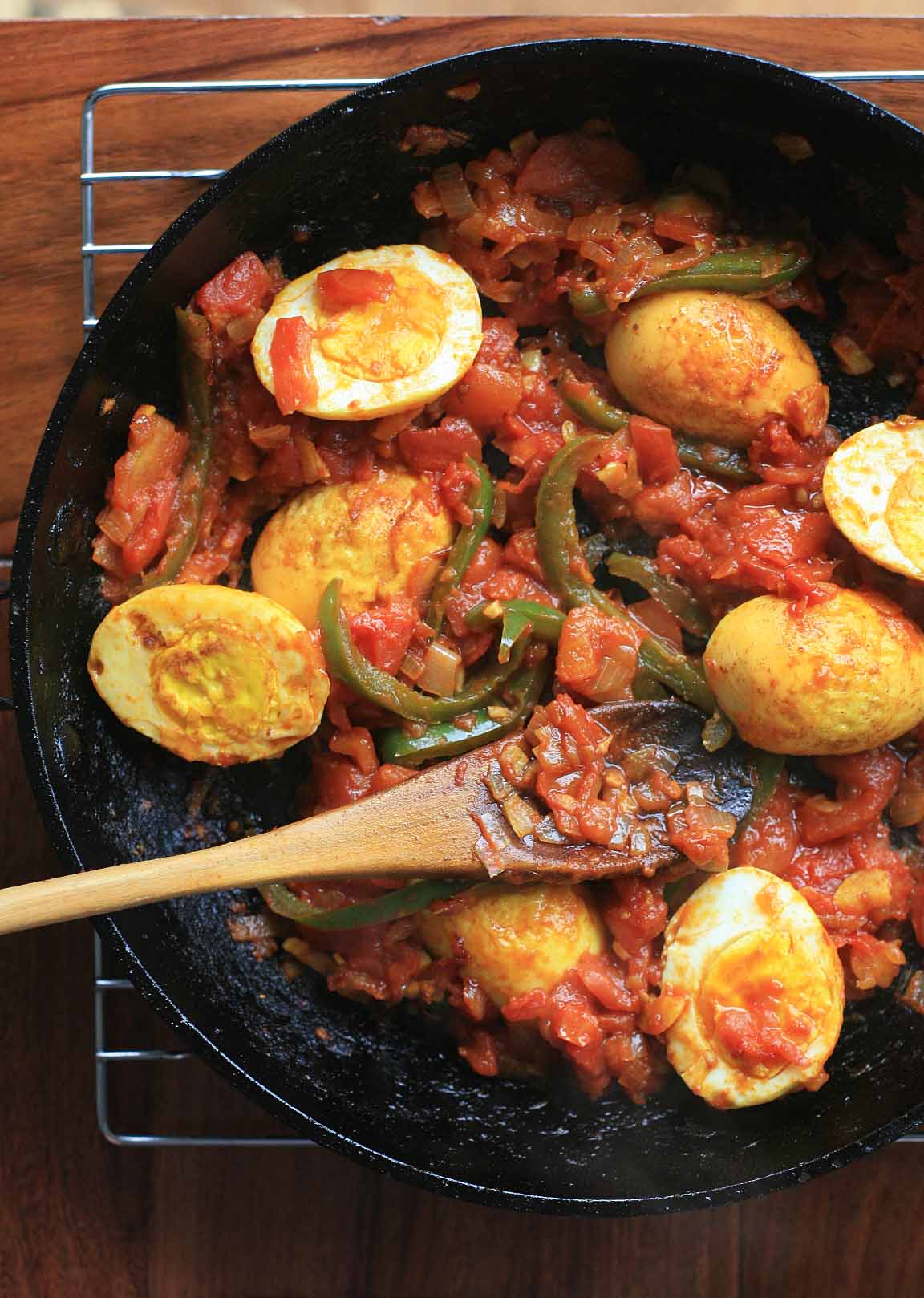 Pour off all but 2 to 3 tablespoons of the oil (the oil can be used again for stir-frying). Heat the oil remaining in the pan over medium heat, add the shallots and garlic, and fry briefly, until translucent. Add the chile powder and tomatoes and, stirring frequently to prevent sticking, cook at a strong simmer until the tomatoes have broken down into a softened mass, about 10 minutes.
Stir in the fish sauce and salt, then taste and adjust the seasoning if you wish. Raise the heat to medium-high, add the chile strips, and stir. Place the eggs cut side down in the sauce and cook until the oil sizzles, about 3 minutes. Serve hot or at room temperature.
Taken from Burma: Rivers of Flavor, by Naomi Duguid, published by Artisan.
NAOMI DUGUID is a food writer and photographer and the co-author of six cookbooks. Her books have gone on to be major successes and have won Cookbook of the Year from the James Beard Foundation in 1996 and 2001, as well as Cuisine Canada Cookbook Award in 1999 and 2004.
Comments
Interesting new post. Even better than your previous ones IMHO
Add new comment