Burmese Kitchen:Chickpea soup with lemongrass and ginger
Standfirst
Enticed by its diverse and distinctive culinary culture, Naomi Duguid travelled to Myanmar to seek out some of its finest recipes.
Body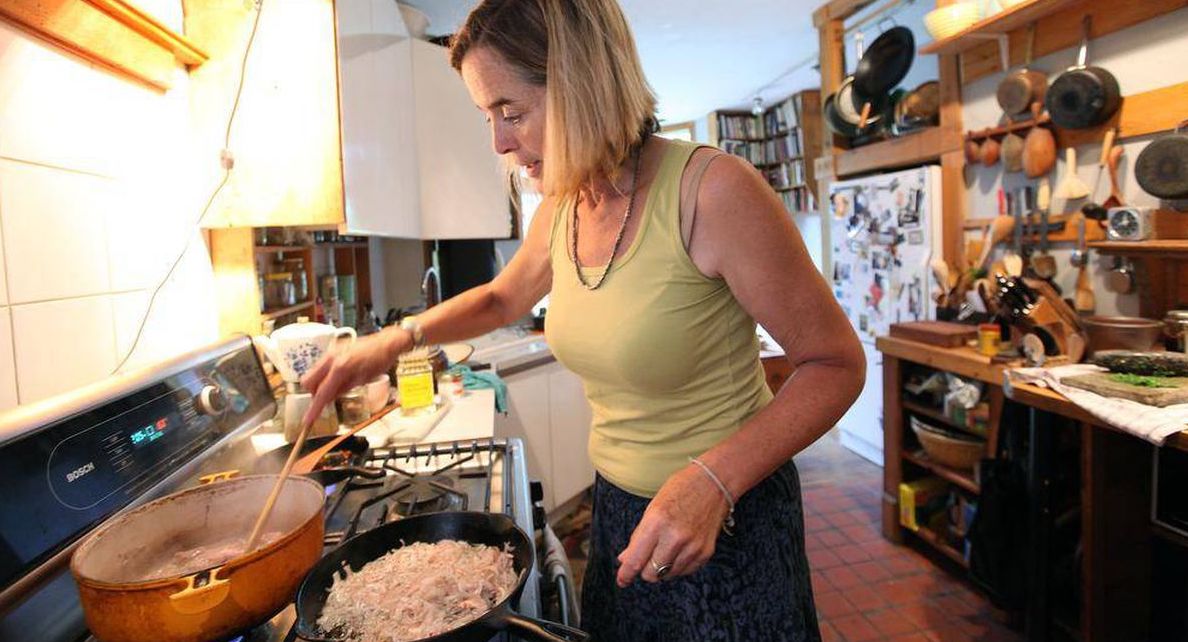 Sharing borders with China, India and Thailand, Burma has been a cultural crossroads for centuries. Photographer, writer and cook Naomi Duguid travelled to the nation now known as Myanmar, enticed by its distinctive and creative food traditions; she recorded her findings, recipes, stories and photographs in Burma: Rivers of Flavor. As a taster of the rich culinary culture she found, here's a sample recipe to whet your appetite:

Chickpea soup with lemongrass and ginger

Chickpeas area often eaten for breakfast in Burma. They're also used to make soothing soups like this one: cooked until tender, then flavoured with a little hot oil and aromatics. Serve as a hearty winter soup with rice or bread and a vegetable side.

Serves 4

    •    1 cup small brown or large white dried chickpeas, soaked for 8 hours in water to  cover and drained   
          or
          2 cups canned chickpeas, drained and rinsed
          or
          2½ cups cooked chickpeas
    •    2½ to 5 cups of water, or as needed
    •    1 stalk of lemongrass, trimmed and smashed
    •    2 slices of ginger
    •    2 tablespoons peanut oil or shallot oil
    •    ⅛ teaspoon turmeric
    •    ¼ cup minced shallots
    •    1 teaspoon salt, or to taste
    •    2 to 3 teaspoons mined coriander
    •    1 lime, cut into wedges

If using dried chickpeas: Put the chickpeas in a pot with 5 cups water, cover, and bring to to a vigorous boil. Lower the heat slightly, maintaining a strong boil, and cook, partly covered, until the chickpeas are softened, 1 to 1½ hours, adding extra water if necessary to prevent them from sticking.
If using canned or cooked chickpeas: Place the chickpeas in a pot with 3 cups of water if canned, or 2½ cups, if home-cooked. Bring to a gentle boil and cook for 5 to 10 minutes, until soft.
Mash the chickpeas, mashing some completely and leaving others just a little broken, or pulse several times in a food processor. Add the lemongrass and ginger slices to the chickpeas, along with more water if necessary to give a soupy texture (you should have about 5 cups if soup). Bring to a boil, then reduce the heat and simmer for 20 minutes.
Meanwhile, heat the oil in a small skillet, Add the turmeric and shallots and sauté until the shallots are softened and translucent. Add the shallots to the soup, with the salt, and cook for another 5 minutes. Taste and adjust the seasoning if necessary, Serve hot or at room temperature, topped by the minced coriander, and put out the lime wedges so guests can squeeze on lime juice if they wish.   
This article was first in The Journal of Wild Culture, December 12, 2012.

NAOMI DUGUID is a food writer and photographer and the co-author of six cookbooks, including the recent Taste of Persia, reviewed in these pages. Her books have gone on to be major successes and have won Cookbook of the Year from the James Beard Foundation in 1996 and 2001, as well as Cuisine Canada Cookbook Award in 1999 and 2004.
Cover Image credit: Naomi Duguid
Taken from Burma: Rivers of Flavor Naomi Duguid, published by Artisan.