'Taste of Persia' Reviewed + A Feast in 4 Recipes
Standfirst
Naomi Duguid's Taste of Persia: A Cook's Travels Through Armenia, Azerbaijan, Georgia, Iran and Kurdistan is a book that succeeds, says reviewer Chris Lowry, both as a fresh look at neglected places and as an intriguing food book.
Body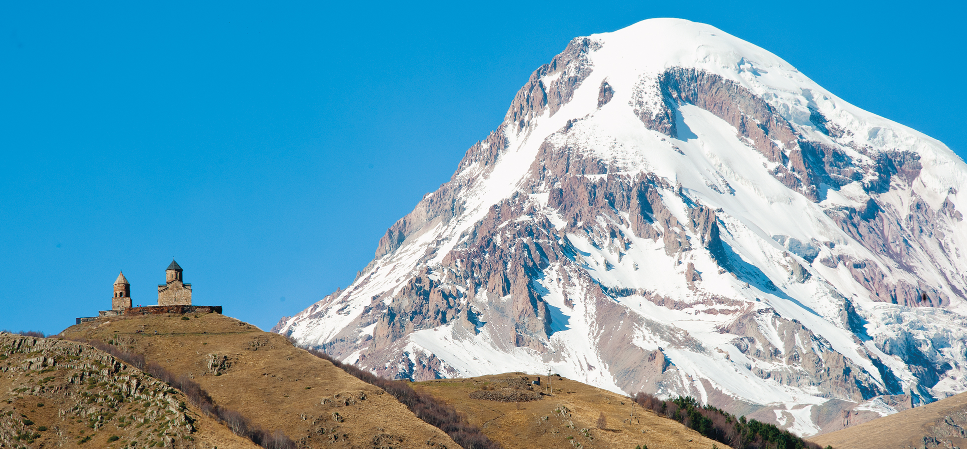 Taste of Persia: A Cook's Travels Through Armenia, Azerbaijan, Georgia, Iran and Kurdistan
by Naomi Duguid
Artisan (2106)
Hardcover, 400 pages
Despite the fears of everyone she knew, inveterate culinary heritage chaser Naomi Duguid was determined to travel alone through Iran and its neighboring countries that fall within the regional influence of the ancient Persian empire. Her observations from her travels there in 2013-14 are extremely vivid, and she writes with a voice that evokes the exquisite sense of mutual kindness that so strikes the Western traveller in these lands where, above all, courtesy is a central cultural value and hospitality, not only obligatory, serves as an outward manifestation of one's inner aspiration to grace.
Key in learning Persian cuisine is that the neophyte be apprised of the most common ingredients — prepared in many different ways. The main elements of these rich culinary traditions include walnuts, pomegranates and other tart fruits, grain in various forms, richly flavoured bean dishes, generous amounts of fresh herbs, yoghurt in soups and drinks, fresh cheeses, flatbreads, and grilled meat on skewers. Often grilling eggplants or meats on stovetops or wood fires, Persian cooks pay great attention to variety of colour, flavour and texture.
The line between soups and stews is hard to draw in the Persian culinary world . . .
Duguid succeeds in arousing our curiosity to taste—and perhaps to bravely make from scratch—local variations of similar recipes. For instance, with lamb stew, one recipe uses dried limes and lemon juice; another recipe asks for tamarind, coriander and other aromatic ingredients, of which there are dozens. This is a cuisine in which spicing options are vast.
Her condiment recipes, gathered from artists and mothers of friends, are exciting because they are little known mysteries to be explored: from the red and green ajika of Georgia—chile sauce with fresh hot peppers, herbs, leeks, and aromatics like clove and bluefenugreek, to a fascinating pomegranate and coriander sauce. (The latter I definitely plan to make for our next barbeque.)
The sections on breads and desserts made me want to taste it all, although I'm not the baker in my house and I will leave the cheese breads, pastries and baklava for others to make for me.
The chapters of the book focus on types of food — salads and vegetables, breads, grilled meats, and so on — and between each is interspersed a short travel story. For example, in the chapter on beans and bean dishes, Duguid writes about her visit to a Yazidi village in Kurdistan and the kind, long-suffering people she met. In another vignette she illuminates the resilience of the Assyrian people who live all over northwestern Iran, and who have their own ancient written and spoken Aramaic language, despite having lost their country and kingdom 2,600 years ago. Describing a matriarch in western Georgia she is at her best: "Elena's grandmother Dodo is a slender woman in her nineties, stylish, intelligent, and entertaining… She inhabits the present as well as multiple layers of the past, and wanders through the layers, alighting now here, now there."
There have been moments in my kitchen when I was experimenting with soup bones and stewing beef and I wondered if the stew I was making was really a soup, or vice versa. The author adds to the confusion: "The line between soups and stews is hard to draw in the Persian culinary world, where soups are often served as a main course, accompanied by cheese, bread, and generous plates of fresh herbs." All clear now? If not, does it matter? As long as it pleases our guests!
Her friends there told her they aspired to live their lives fully and freely . . .
In any case, Duguid offers recipes that speak to me seductively. Dried Apricot Soup with Wheat Berries is a tart-sweet country potato and onion soup that lets the apricots and cooked wheat "dance together." Her exotic Rose Hip Soup starts with the "tart bright-tasting liquid" from steeped rose hips, and with the addition of emmer wheat berries and fresh mint becomes "hauntingly delicious".
This book offers an empire's worth of intriguing information. For instance, a reader interested in the world's old religions will be fascinated by what she writes about Zoroastrianism. Nietzsche's great work Thus Spoke Zarathustra riffs off Zoroaster's teachings about the dynamic between Good and Evil. Zoroastrianism became the religion of king Darius I, whose magnificent palace and tomb I visited in 1977 at Persepolis (Duguid got there 36 years later). It was the dominant faith of a vast region of Persian lands for 1,000 years, until the Arab conquest in the 7th century. Although scriptures were burned and priests were executed, regional conversion to Islam faced resistance for centuries and did not dominate Persia until the late Middle Ages.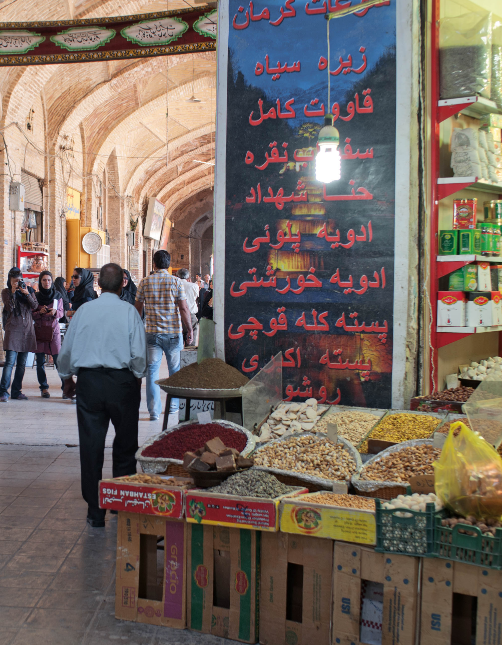 Duguid explains more pleasant ways that Zoroaster is still alive and well. ". . . because the symbol of Ahura Mazda, the force of Good, is the sun, the spring equinox, which marks the return of the sun, is the most important festival for Zoroastrians. That celebration is called Nou-Roz (New Day). The spring equinox still marks the new year in Iran, and Nou-Roz is celebrated in many parts of the Persian-influenced world, whether Muslim, Christian or Zoroastrian."
When Duguid was there in the fall of 2013, Obama was engaged in discussions with the new Iranian president Rouhani, and, there was hope for détente. Taste of Persia succeeds not only as a fresh look at neglected places and as an intriguing food book, but also as a welcome antidote to the relentless demonization of Iran in our mainstream media ever since the fall of the Shah.
Her friends there told her they aspired to live their lives fully and freely; the majority of people in Iran were tired of being ruled by the ayatollahs, and they remained undaunted by the heavy hand of their theocratic government. "In truth," they told her, "we are not extremists. We are Persians and we have our own calendar, a solar calendar that is not the Islamic calendar. We celebrate the seasons."
Not just that. They also celebrate a fascinating, complex, and gorgeously colourful culinary tradition. ō
— Chris Lowry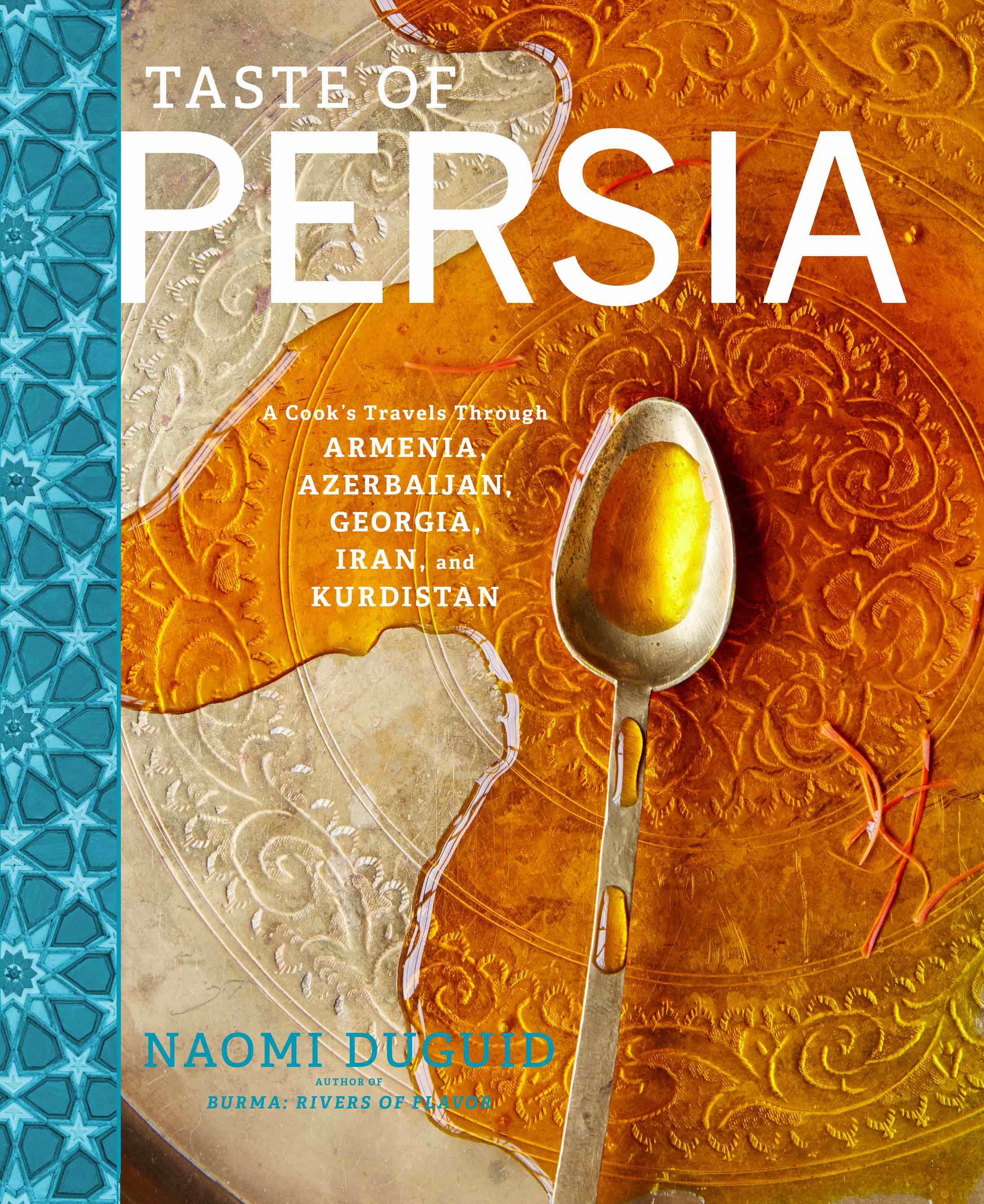 A Sublime 4-Course Persian Feast
Recipes from Taste of Persia
Dried Apricot Soup with Wheat Berries
Serves 6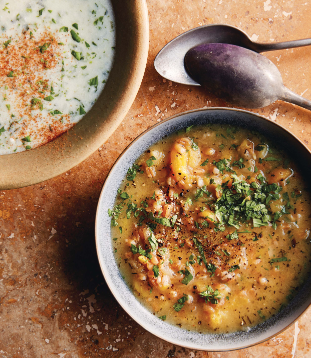 This warming country soup is from Javakheti in southern Georgia, where the majority population is Armenian. It's made with tart dried apricots, emmer wheat, onion, potato (optional), and herbs. I love the way the flavors of cooked wheat and dried apricot dance together. A dollop of thick yogurt or a sprinkling of crumbled feta intensifies the tart-sweetness of the broth. 
• 3 tablespoons sunflower or extra-virgin olive oil
• 1 cup thinly sliced onions or shallots
• 1 cup emmer wheat berries, washed well and drained
• About 5 cups water or unsalted chicken broth; or 6 to 7 cups if using potatoes
• 1½ cups chopped tart dried apricots
• 1½ pounds waxy potatoes (about 4 medium), peeled and chopped into 1-inch cubes (optional)
• 1 teaspoon dried thyme
• 1 teaspoon dried mint, or to taste
• 1 to 2 teaspoons sea salt, to taste
• Freshly ground black pepper
• About ½ cup chopped mixed fresh herbs, such as tarragon, chervil, mint, basil, and lovage—use at least two
OPTIONAL ACCOMPANIMENTS
• 1 cup plain thick yogurt, or ½ pound feta or aged goat cheese
• Flatbreads or toast
Place a wide heavy pot over medium-high heat. Add the oil, and when it's hot, add the onions or shallots. Lower the heat to medium and cook, stirring occasionally, until the onions are translucent. Add the wheat berries and stir to coat with oil, then add 5 cups water or broth and bring to a boil. Add the dried apricots, lower the heat to maintain a strong simmer, and cook until the emmer is tender and the apricots have softened, about 30 minutes.
If using potatoes, add them along with another 1 to 2 cups water or broth, or as necessary to cover the potatoes. Add the thyme, mint, and 1 teaspoon salt, bring back to a boil, and cook until the potatoes are tender, 10 to 15 minutes. Taste and adjust the seasoning if necessary.
Ladle into bowls, grind on black pepper, and top each serving with a tablespoon or so of the chopped herbs. Serve hot, with one or both of the optional accompaniments if you like.
Cucumber and Tomato Salad with Pomegranate Molasses 
Serves 4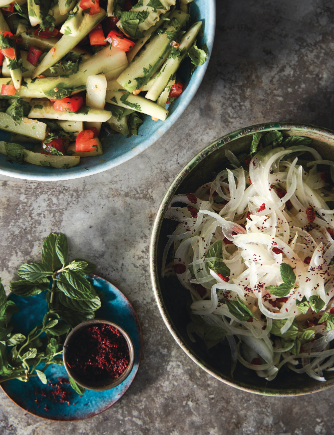 A lively Kurdish restaurant I visited between Arbil, the capital of Kurdistan, and its Assyrian suburb, Ainkawa, like many restaurants in Kurdistan, served families and women on the second floor and men alone on the ground floor. This was one of their salads, long spears of cucumber with a little chopped tomato and plenty of fresh herbs, drizzled with pomegranate molasses. 
• ½ pound Persian or English cucumbers, peeled
• 1 large or 2 small Roma (plum) or other fleshy tomatoes
• ½ cup chopped fresh herbs: one or more of mint, sorrel, lovage, flat-leaf parsley, and/or leaf celery
• ½ teaspoon salt, or to taste
• About 2 tablespoons pomegranate molasses (recipe follows)
• Cut the cucumbers lengthwise in half, cut into 1 ½-inch lengths, and then cut into spears. Set aside in a shallow bowl.
Bring a small pot of water to a boil. Drop in the tomatoes, then use a large spoon to lift them out, let cool a moment, and peel. Chop the tomatoes into 1/4-inch chunks.
Add the tomatoes to the cucumber, then add the herbs and toss to mix. Add the salt and toss.
Add the pomegranate molasses and toss. Taste for seasoning and adjust the salt if you wish.
Green Ajika
Makes 3 cups
Although some Georgians have told me that green ajika should have no garlic in it, this one does, and it's delicious. (The recipe is Mingrelian, from the Samegrelo region in western Georgia; it was given to me by the mother of a friend.) Smear a little on cooked corn on the cob, or dab some onto sliced cucumbers, or… You will find yourself making excuses to use it on all occasions, as I do.
The more finely ground the ajika is, the better. Georgians grind the ingredients in a meat grinder, putting them through the grinder over and over until they are smooth, but a food processor does a fine job. The paste is medium-hot, dense, and salty enough that it keeps well. It's meant to be dabbed on as a condiment, not eaten in large dollops. You can also use it, mixed with a little oil, as a flavor paste for grilled chicken, or add a little to a vinaigrette to spice it up.
The recipe calls for dried red chiles that are seeded and soaked overnight to soften them (to shorten the time needed, you can instead simmer them in water for 30 minutes or so). And, once the paste has been ground, it rests for 6 to 10 hours (loosely covered and stirred occasionally). This pause lets some of the moisture evaporate and ensures that flavors are well blended.
If you want to make a larger quantity, I suggest that you make it in two batches and then combine them in a large bowl. 
• 2 ounces (about 150) dried red cayenne chiles
• 2 large bunches coriander
• 1 bunch flat-leaf parsley
• 1 bunch dill
• 1 bunch leaf celery
• 1 bunch basil
• ¼ cup coriander seeds
• ¼ cup dill seeds
• 4 heads garlic, separated into cloves, peeled, and trimmed of any tough ends
• 2 medium leeks, white and tender green parts only, chopped and well washed, or 6 or 7 scallions, trimmed
• ¼ cup sea salt
Remove the seeds from the dried chiles: This is easiest if you work over a bowl, with another alongside for the cleaned chiles. One at a time, break each chile in half and empty the seeds into the first bowl. Break off and discard the stem if it is still there, and place the chile in the second bowl. When all of the chiles have been seeded, add warm water to cover, cover loosely, and set aside to soak and soften overnight. Alternatively, place in a saucepan with 2 inches of water, bring to a simmer, and simmer for 30 minutes, or until very soft.
Kerman-Bazaar Lamb Stew
Serves 4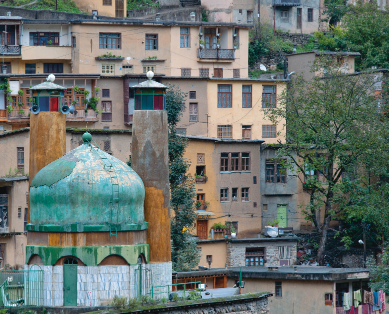 I am still haunted by the gormeh-sabzi I had at a little eatery near the entrance to Kerman's bazaar. Its gravy had a deep meaty flavor with a subtle edge of tamarind tartness. This is my homage to that stew.
Like most stews, this tastes best if made ahead (refrigerate if the wait is longer than an hour), then reheated when you want to serve it. Hold back on the final seasoning until the last moment: You may want to add a squeeze of lemon at that point. Or instead serve lemon wedges alongside. 
• ½ cup dried black-eyed peas, rinsed
• About 8 cups water, plus 2 to 3 tablespoons
• 5 to 6 tablespoons sunflower or vegetable oil or rendered lamb fat
• 1 large bunch coriander, trimmed and finely chopped (2 packed cups)
• 1 to 2 bunches flat-leaf parsley, trimmed of coarse stems and finely chopped (2 packed cups)
• ½ cup chopped fresh dill or 2 tablespoons dried dill
• ½ cup chopped fresh fenugreek or 2 tablespoons dried fenugreek leaves
• 1 large or 2 medium leeks, white and pale green parts only, chopped and washed well (2 to 3 cups)
• ¼ teaspoon turmeric
• 1 large or 2 medium onions or 2 large shallots, thinly sliced
• About 1 pound boneless lamb shoulder, cut into 1-inch pieces
• 2 tablespoons powdered dried lime, or about 2 tablespoons fresh lemon juice
• 2 teaspoons sea salt, or to taste
• 1 tablespoon tamarind pulp
• 4 dried limes
• 1 or 2 lemons, cut in half
Place the black-eyed peas in a pot, add about 3 cups water, and bring to a strong boil. Partially cover, lower the heat slightly, and boil for 30 minutes or so while you prepare the herbs and meat. Check occasionally to make sure that the pot isn't too dry; add more water if necessary.
Place a wide heavy pot over medium-high heat. Add about 3 tablespoons of the oil or fat, then toss in all the herbs and the leeks and cook, stirring frequently, for a minute or two. Reduce the heat to medium-low and cook, stirring occasionally, until the herbs and leeks are very wilted and their color has darkened, 15 to 20 minutes; add a little extra oil if they start to stick. Transfer to a bowl and set aside; place the pot back over medium-high heat.
Add 1 to 2 tablespoons oil or fat to the pot, then add the turmeric and stir. Toss in the onions or shallots and cook until well softened. Raise the heat, add the meat, and cook, stirring and turning it, until all surfaces have changed color, about 5 minutes. Add the cooked herb mixture, the softened black-eyed peas with their cooking liquid, and the dried lime powder or lemon juice and stir well. Add hot water to cover generously, about 3 cups, and bring to a boil. Add 1 teaspoon of the salt, lower the heat to maintain a strong simmer, and cook, covered, for an hour or so.
Meanwhile, cut the tamarind pulp into pieces and place in a bowl with 2 to 3 tablespoons hot water. Use a fork to mash it to help it dissolve in the water. Set aside to soak for 15 minutes or so, then mash it a little more. Place a sieve over a bowl, pour in the tamarind mixture, and use the back of a spoon to press it through the mesh. Discard the tamarind debris and set the tamarind liquid aside.
At this point, the meat and black-eyed peas should be very tender. Prick the dried limes several times with the tip of a knife (be careful not to cut yourself, since they can ricochet if they're very hard) and add them to the stew, along with the remaining 1 teaspoon salt. Cover and simmer for about 50 minutes, checking occasionally to make sure that the stew is not sticking to the bottom of the pot—add water if needed—and that the dried limes are immersed in the liquid; press down on them if need be.
Add the tamarind liquid. There should be plenty of thin dark gravy; if the stew has thickened, add more water. Cover and simmer for about 10 minutes longer.
Taste for salt and for tartness; adjust as necessary, with salt and squeezes of lemon juice. 

Excerpted from Taste of Persia (Artisan Books). Copyright © 2016.
Photographs by Brian John, Gentl & Hyers (food), and Naomi Duguid (travel). Used with permission of the publisher.


CHRIS LOWRY is a media producer and educator In 1988 he co-founded Street Kids International, working with street youth around the world. From 1998 to 2004 he worked in the field of child rights and health, consulting for the Canadian government with UN agencies, and served as a program director at Médecins sans Frontières-Canada. His new photo book Afghanistan Before the Rain of Fire chronicles travels overland through Afghanistan in 1977. He lives in Toronto where he regularly performs concerts as a singer. ecotone.ca 
Comments
Compelling introduction to a new area of cuisine and travel by a woman traveling alone. I am a convert. At dinner last nigh, talk of fruit soup as I had used an exotic local fruit, Mamey, in sweet potato, onion and carrot soup / stew. And here it is! Apricot soup and, is it a soup or a stew! Tomorrow to Books&Books in Coral Gables [in Miami] for this book. Thanks. Great review and excerpts.
I loved every bit of this article. I'm a big fan of Lebanese and Turkish food, and Persian cuisine seems to be pretty much similar to them, with its own distinct flavours.
Add new comment