Finding practices to meet tragedy
Standfirst
Part 2 of a report from Puerto Angel, Oaxaca: the Day of the Dead serves a community's need to mourn a beloved young man.
Body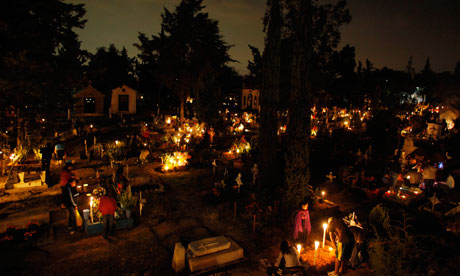 On the 2nd of November in the late afternoon as shadows lengthen, families walk through town to the cemetery carrying flowers, candles and food. Food for the spirits that when alive they enjoyed, food to share with others, food for the family.
At twilight, the cemetery on the hillside overlooking the bay of Puerto Angel is alive with the flickering light of hundreds of candles dancing in the sea breeze. The air is full of the scent of the cempasúchitl blending with the aroma of copal, a traditional incense burned at funerals and Rosario's. I have not been to any other Day of the Dead fiestas in Mexico so I can't compare, but in my town people stay late in the cemetery. Some stay the whole night — visiting the graves of cousins and friends they have loved and lost, paying respects to their families, embracing those whose grief is fresh from losing a husband or a mother, offering to share food and drink. Or gossiping, always the gossiping.
. . . the 60 kilometres of highway people were lined up, throwing flowers in front of the hearse as it passed.
As is the custom here, older women hold a small towel in hand and flip it back and forth with a rhythmic motion to move the air, like a soft fan. Faces gleam with sweat. We are at the end of the rainy season and the air is moist. Sometimes a light rain falls. People often play music that their deceased loved to hear, or a family might hire mariachis to sing at the grave side. In the street, kids light fireworks screaming and scattering as they explode. Dogs rush in and out of the cemetery picking up any scraps of food they can find. It is busy here, chaotic and quiet at the same time.
I have stayed in the cemetery all night on a few occasions, and one such occasion is particularly vivid in my memory. A famous musician from my town had died, mysteriously and violently murdered in Mexico City, and his assassin has never been apprehended. The young man Tony was so beloved in Puerto Angel that when his body was returned to our town, along the 60 kilometres of highway between the airport in Huatulco to the family home in Puerto Angel people were lined up, throwing flowers in front of the hearse as it passed.
On the occasion of the first Day of the Dead after his death his family had erected a grand marble structure with a roof and statues of Jesus and angels. It was a tomb, you could say, with an urn resting up high, and a flame, that I heard people whisper, "would never go out." Tony was quite famous so they had spared no expense.
His family and friends from childhood all gathered that night after many of the town folks had left the cemetery. The candles burned down low and shadows danced in every corner. I'm not sure why, but I stayed too, alone. There followed a time of singing and remembering that has become one of the most poignant memories of my life here. There in that marble tomb, with banks of flowers behind her, Tony's sister might have stepped out of a film from the Epoca de Oro de Cine Mexicana. Wearing a black strapless evening gown, her jet black hair was pulled back from her face and adorned with a crimson hibiscus. Her lips and fingernails were the colour of her flower and her hand softly brushed away tiny beads of moisture as they accumulated on her pale forehead.
And a young fisherman. And a barefoot disheveled woman. And a teenage boy with spiked hair. No, no, no, they sang, solo or in duets or all together. 
She stood between two men with guitars. Without a cue, this spectacular looking woman began to sing her heart out for her brother. Song after song. I have never heard a version of La Paloma to equal the one she sang that night. She was one of many who sang of their love and their loss. I remember the lined face of a handsome older gentleman. And a young fisherman. And a barefoot disheveled woman. And a teenage boy with spiked hair. No, no, no, they sang, solo or in duets or all together. They would pause and stories of Tony and his life were offered; silly things, important things, dark and mysterious things. They pondered his sudden death and his generous life. It was, all of it, a prayer for his soul and for their own.
I do not cry easily. I never knew the man. But I wept that night. There is no other word for it. 'Cried' just doesn't even come close.
We stayed, passing the tequila bottle around until the sun rose out of the sea. At the end there were about 15 of us. We looked one another in the eye and embraced as we left and walked silently to our homes. It was unspoken, this intimacy of a special, tender night that had enveloped us. I like to imagine the spirit of Tony himself, wandering among us. To this day when I see a person from that group in passing we never fail to smile or nod, or acknowledge in some way one another. No big deal. Just that. A nod. A smile. All these years later.
M. S. MARTIN is a retired Canadian film editor, director, producer and writer who worked in the US and Canada, She lives with her two Xoloesquincles, Pancho and Xonena in Puerto Angel, Oaxaca, Mexico, and is writing her first novel.