Wild Culture Bedside Table - November 2013
Standfirst
What we're reading this month and why — from a seminal work of Latin American fiction set in the Mexican revolution to a devotional practicum on living in place.
Body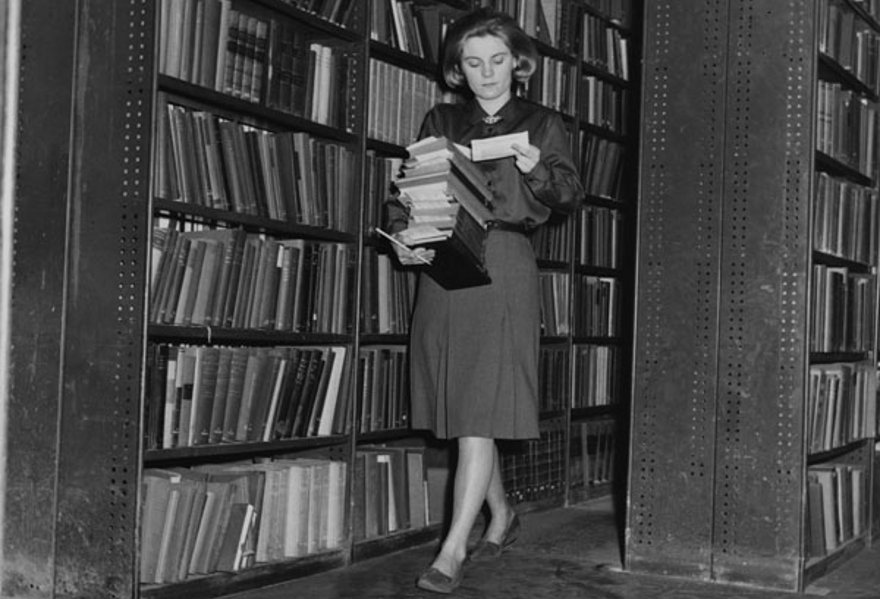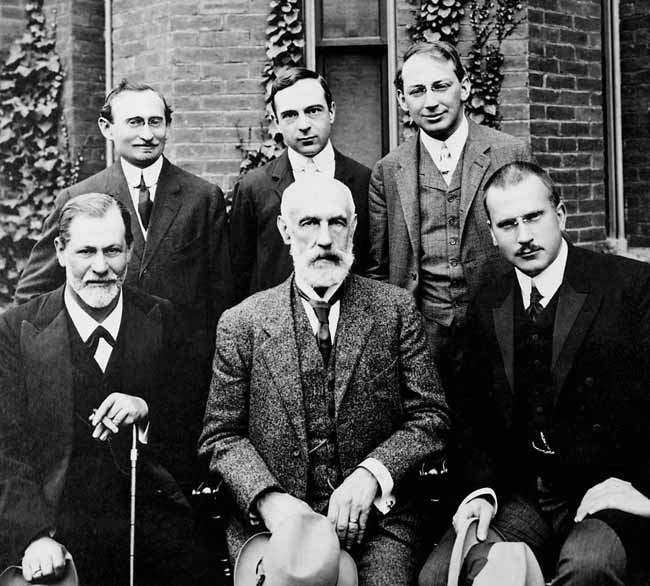 Freud (left, front row) and colleagues at the Clark University Conference (1909), Carl Jung (right, front row).
Civilization and Its Discontents
by Sigmund Freud (1930)
Freud investigates the age-old tension between order and chaos as a central dynamic in the making and interpretation of literature. Texts will be drawn from drama, fiction and poetry from Antiquity to the present. Authors include Sophocles, Shakespeare, Racine, Beckett, Prevost, Bronte, Faulkner, Morrison, Blake, Whitman, Dickinson, and Rich. The primary friction, writes Freud, stems from the individual's quest for instinctual freedom and civilization's contrary demand for conformity and instinctual repression. Freud states that when any situation that is desired by the pleasure principle is prolonged, then it creates a feeling of mild contentment. Thus our possibilities of happiness are restricted by the law. Many of humankind's primitive instincts (for example, the desire to kill and the insatiable craving for sexual gratification) are clearly harmful to the well-being of a human community. As a result, civilization creates laws that prohibit killing, rape, and adultery, and it implements severe punishments if such rules are broken. This process, argues Freud, is an inherent quality of civilization that instills perpetual feelings of discontent in its citizens.

The Structure of Scientific Revolutions
by Thomas Kuhn (1962)
A revoluntionary theory on scientific progress that attracted attention far beyond its field. "Kuhn does not permit truth to be a criterion of scientific theories, he would presumably not claim his own theory to be true. But if causing a revolution is the hallmark of a superior paradigm, [this book] has been a resounding success". - Nicholas Wade, Science. Thomas S. Kuhn was the Laurence Rockefeller Professor Emeritus of linguistics and philosophy at the Massachusetts Institute of Technology. His books include "The Essential Tension; Black-Body Theory and the Quantum Discontinuity, 1894-1912; " and "The Copernican Revolution".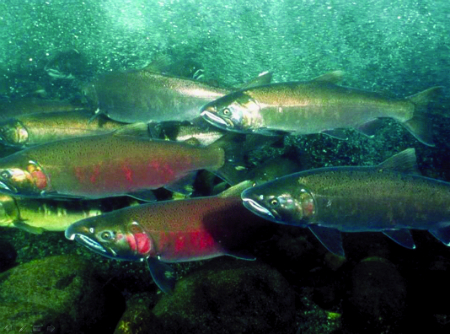 Mills reports on the northern California river restoration projects designed to bring back the dwindling salmon populations. Photo credit.
In Service of the Wild: Restoring and Reinhabiting the Damaged Land
by Stephanie Mills
This is a soul-stirring book about caring for and healing the good earth by the author who wrote Whatever Happened to Ecology?. Mills starts at home on her 35-acre home in Michigan and proceeds to her outline of devotional attempt to know the place and to forge a relationship with the land and all that is on it. She then describes five restoration projects including one in Chicago and another one nearby emphasizing prairie restoration, the University of Wisconsin in Madison's arboretum, an effort in Northern California to create conditions favorable for salmon, and a reforestation project in India. The author makes a convincing case that restoring and reinhabiting damaged land is "a proper and necessary vocation for all twenty-first century people."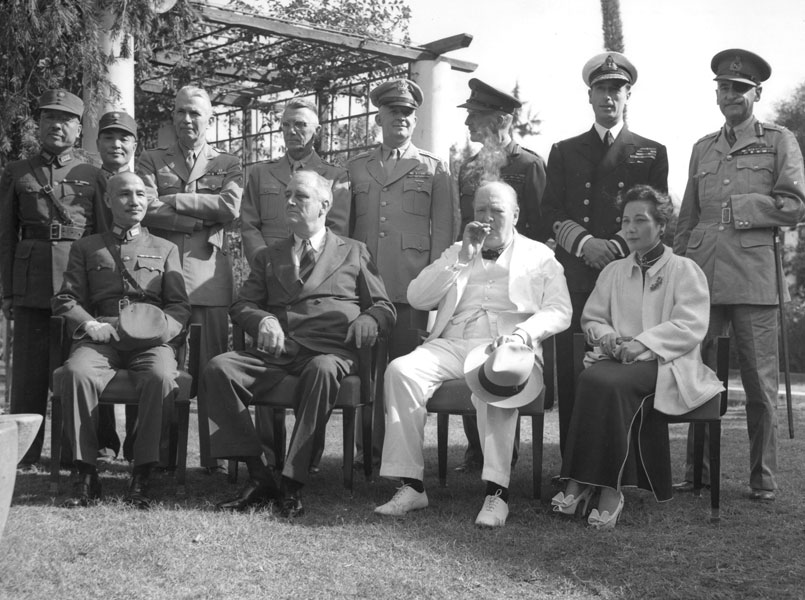 At the Cairo Conference, November, 1943. Chaing Kai-Chek, Roosevelt, Churchill and Madame Ka-Chek (front row);
Stilwell, fourth from left in the back, Mountbatten second from right.
Stilwell and the American Experience of China: 1911-1945
by Barbara Tuchman (1971)
Using the life of Joseph Stilwell, the military attache to China in 1935–39 and commander of United States forces and allied chief of staff to Chiang Kai-shek in 1942–44, the book explores the history of China from the Revolution of 1911 to the turmoil of World War II, when China's Nationalist government faced attack from both Japanese invaders and Communist insurgents. Deeply engaging stories of the macninations between the heads of the Allied Command of US and UK, Chinese; the Japanese stories, including its 50 year campaign, from 1888, to rule their part of the world, are uncomfortable, Stilwell is an intriguing character — part John Wayne and almost incapable of diplomatic obsequiousness — who struggles to deal with the complexities of Chinese decorum and face saving. Winner of the 1972 Pulitzer Prize.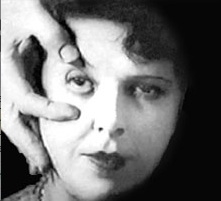 by John Berger (1972)
A study of the ways in which we look at art, which changed the terms of a generation's engagement with visual culture. Revolutionarily for his time, Berger analyses the manner in which men and women are culturally represented, and the subsequent results these representations have on their conduct and self as well and mutual perception. Based on a BBC television programme of the same name, this is a very influential text on art criticism. Although the book and programme make the same case, they do so in slightly different ways, and the programme is well worth watching. For the photographer, the book has the advantage of putting photography in the context of western art. For the student new to critical theory, it has the advantage of being produced for a mass audience, and has as a central aim the de-mystification of art. These two points make it relatively easy to understand. A further advantage this book has is that many students have not had the opportunity to study photography, but have studied art, and so the book presents a logical progression for them when they start to study photography.

In the streets during the Mexician Revolution.
By Carlos Fuentes (1962)
Hailed as a masterpiece at publication, Fuentes's harrowing voyage into the soul of modern Mexico. The novel's acknowledged stature in Latin American fiction, and its appeal to a fresh generation of readers, inspired the new translation by Alfred Mac Adam, translator (with the author) of Fuentes's "Christopher Unborn." As in all his fiction, but perhaps more significantly in this book, Fuentes is a passionate guide to the ironies and burden of Mexico's historical path and the anguish of the present day.